'Dammit Theatre…Ive Missed you!' – Rocky Horror Show, Orchard Theatre, Dartford 31.08.2021
After 531 days, the Orchard Theatre has finally opened its doors to the public following the Pandemic which shut down many theatres. It was also the first theatre show I was seeing since February last year, to say I was excited was an understatement as i have missed the thing that I adore and allows me to escape. Tonights show was a perfect show to begin my journey once again!
The Rocky Horror Show is a musical comedy with music, lyrics and book written by the mastermind of Richard O'Brien. It tells the story of a newly engaged couple Brad and Janet, who get caught in a storm and end up coming to the home of a mad transvestite scientist, Dr Frank-N-further. When taking in they witness the unveiling of his new creation, a sort of Frankenstein-style monster but in the form of an artificially made, fully grown and perfectly physical muscle man named Rocky Horror. Although originally it was as stage production, it was the film adaptation Rocky Horror Picture Show in 1975 that the show began to receive its cult following and still loved by many to date.
Now, if you were brand new to seeing this muscial with no clue of the story/following you may sit there and wonder, what was going on – with the audience shouting comebacks to many of the lines mostly to the narrator it can be quite unusual but as Frank-n-Furter would say it is also 'pleasurable'. Mainly because it is is all part of this theatre experience and without it, just wouldn't be Rocky Horror! It is also such a joy to be part of a Rocky Horror audience, seeing those dress up as the characters or Phantoms (which I very happily did so), to then see them react and shout out the classic combacks just brings the whole thing together – Participation is always welcome and needed to make this show what it is! However, if you don't know the story you will of course know at least some of the classic songs 'Dam it, Janet!' 'Sweet Transvestite' 'Touch-a, Touch-a, Touch- a, Touch-me' and of course the renowed 'The Time Warp' its amazing to see these songs sung live. Especially from this cast!
Usherette/Magenta – Suzie McAdam
Janet – Haley Flaherty
Brad – Ore Oduba
Narrator – Philip Franks
Riff Raff – Kristian Lavercombe
Columbia – Lauren Ingram
Frank-N-Furter – Stephen Webb
Rocky – Ben Westhead
Eddie/Dr Scott – Jo Allen
Phantoms – Reece Budin, Darcy Finden, Jordon Fox, Rachel Grundy
The whole cast were at their best, with most not being able to work the past year you can see the joy on their faces with being back on stage and providing entertainment, something they love and I am sure missed! it was great to see them give it their all. Stephen Webb returns to his iconic role of Frank-N-Furter and I swear every time I see him in the role he just gets better! Taking every high heel step in his stride, he is always such a joy to watch and his relationship with the whole cast is perfect. Stephen's team made up of Magenta, Riff Raff, and Columbia played by Suzie McAdam, Kristian Lavercombe and Lauren Ingram all were excellently cast to perform the roles. Kristian no stranger to the role again excelled at Riff Raff and Suzie McAdam ensured her Columbia was remembered with her excellent drugged moment having the audience giggling and wondering 'what ever would she do next?'
Taking on the iconic couple of Brad and Janet was Strictly winner Ore Oduba and Haley Flaherty, both had great chemistry on stage. Ore had a lovely warm tone to his voice which was shown in his rendition of 'Once in a While,' it was such a delight to listen to. It was amazing to see him perform live, with the prospect of a triple threat I am intrigued and interested to see as to what roles he takes on in the future as I would love to see him again. Now, it wouldn't be Rocky Horror without the Narrator played by the audience favorite Philip Franks, his quick wit to all the audience calls excelled all expectations but also how up to date he was with his jokes – including the slight error that the Orchard Theatre made in thinking they ordered Frank-n-Further wigs but actually got sent 52 tins of Frankfurter hot dogs! He will guarentee to have you laughing out loud – and that's just the way it should go!
I couldn't of asked for a better night, that left me emotional and smiling from ear to ear. No matter how many times you see this show, you will see something different each time that makes sure an evening entertainment is provided. Whether you dress up or don't, you will for sure be up on your feet dancing with the cast to 'Time Warp!'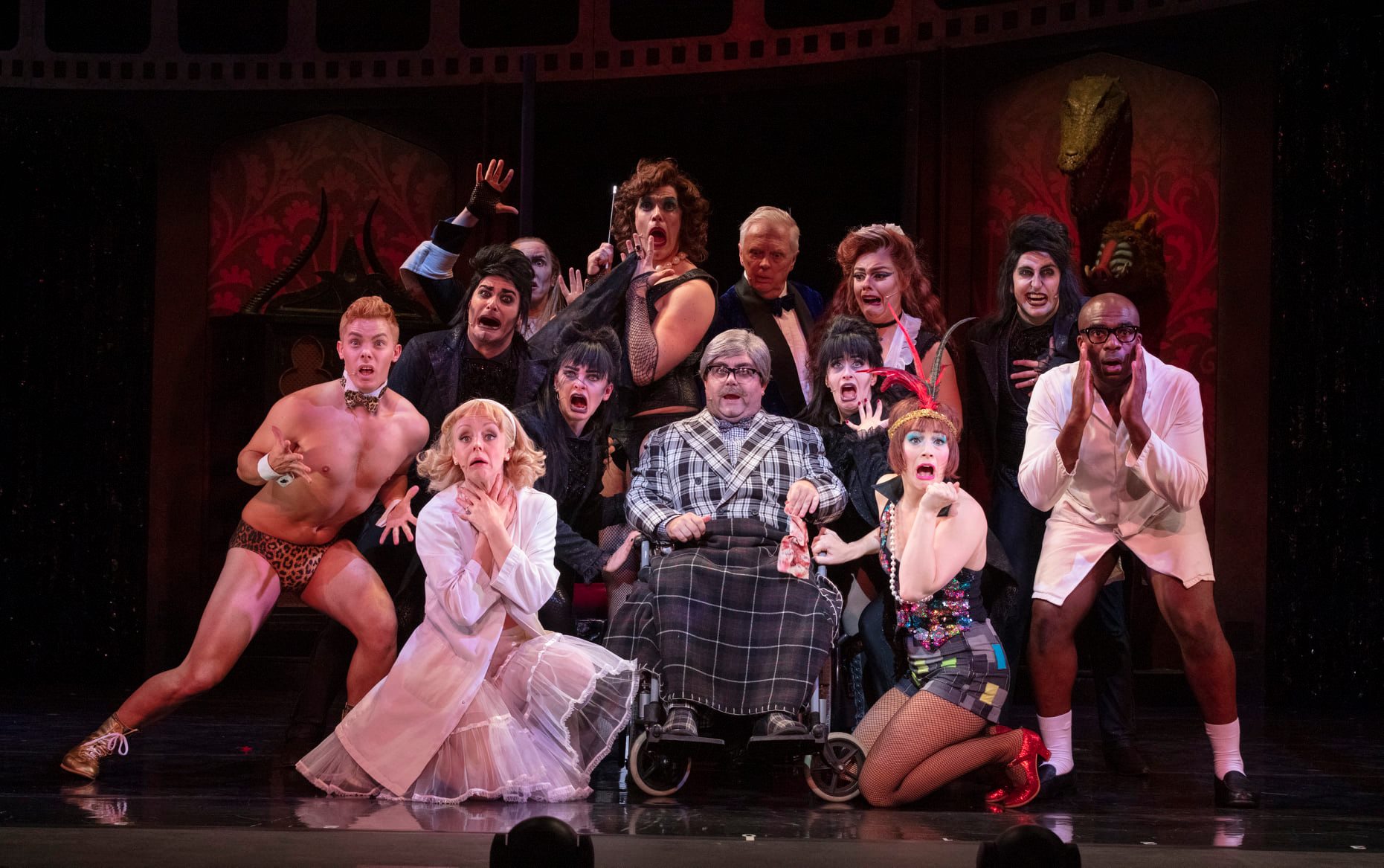 Rocky Horror Show plays at the Orchard Theatre until Friday 3rd September, for all ticket information go here. It will then continue on its tour around the UK, for all dates and ticket information go here.