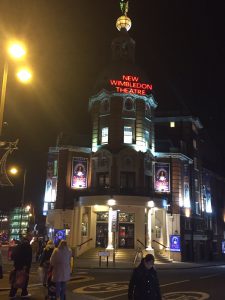 After Legally Blonde had finished, it wasn't long until Jon announced his next role in the upcoming tour of Sister Act the Musical. However this time he was on a limited run with the show, as not long after that he announced he would be performing in the 2017 tour of The Wedding Singer, so we needed to get tickets near by and before the end of the year. Thankfully his final week was at the Wimbledon Theatre, and tickets were purchased for the Friday night! On a cold, Christmassy evening I headed to Wimbledon to once again see one of my favourite west end stars.
Sister Act is a musical that is quite close to my heart, being that I myself have performed as a nun in it with my old Amateur dramatic group in Basingstoke, it was my final performance with them and one to remember as it is such a fun show! Based on the hit film starring Whoopi Goldberg, it tells the story of Deloris Van Cartier a wannabe famous singer, who witnesses a murder that her boyfriend Curtis mob leaded, and after running to the police she finds herself in hiding for her life in a struggling convent in Philadelphia, run by Mother Superior and her fellow nuns. Although at first it seems like hell to Deloris, she finds solitude in the Nun's choir, and helps them flourish their beautiful voices, and save the convent, she learns a lot about herself along the way too.
We took our seats at the New Wimbledon Theatre, having been there twice before I knew that high was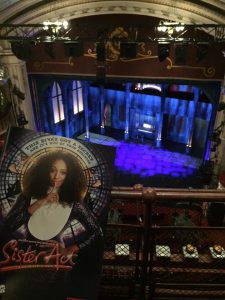 better if you wanted to get the value of money, so this time for what we could afford, and tonight we were up in the upper circle row B seat 11 and 12. Surprisingly I was very happy with our view, and could see the full stage without any obstructions. So I would recommend these seats if you were going to any show here, as you can see from the photo.
Now onto the show, tonight's production was directed Craig Revel Horwood, known mainly as being a Judge on BBC's Strictly Come Dancing. He welcomed the audience to the show, an advised us that all instruments on stage were live. This confused me a little, but I was up for something different and true to his word characters were coming out with numerous instrument, from guitars, to triangles. I appreciate that Craig wanted to do something different, but to me it really didn't work, it almost took away from the show as some characters couldn't really perform their role as well as they could. For the bigger numbers, and scenes in Curtis's Bar such as 'Take Me to Heaven, and The Finale' but for the smaller numbers such as 'It's Good to Be a Nun,' and 'Raise Your Voice' you became a little to distracted by the instruments (Such as the Accordion strapped to Sister Mary Patrick's chest, you couldn't miss it!) then what was being played, where so much more could have been done with the scene. It was nice to see that 'I Haven't Got a Prayer, and 'The Life I Never Led' were limited with their instruments which allowed both the performers to grab the audiences attention throughout, which should be the case in all the numbers. Nevertheless I congratulate Craig for trying something new, and it may have worked for some, but sadly it wasn't for me.
Now onto the cast for the night:
Deloris Van Cartier – Alexandra Burke
Eddie- Jon Robyns
Mother Superior – Karen Mann
Sister Mary Robert – Sarah Goggin
Sister Mary Patrick – Susannah Van Den Berg
Sister Mary Lazarus – Rosemary Ashe
Sister Mary Theresa – Allison Harding
Monsignor O'Hara – Tim Maxwell-Clarke
Curtis – Aaron Lee Lambert
Joey – Samuel Morgan-Grahame
TJ – Sandy Grigrlis
Pablo – Ricky Rojas
Michelle – Joanna Francis
Tina – Aiesha Pease
 Now I have already mentioned that many of the Nun's were accompanied with a musical instrument and my views on that, but i noticed that Susannah who played Sister Mary Patrick never seemed to be without one, except from the bar scene, I found it difficult to see her character, and at times she felt a little too much that she was trying to impersonate the film actress Kathy Najimy, but also having a accordion strapped to her for the duration of the show it be came so much of a distraction that you couldn't just watch her. But not all nuns had a instrument friend, Sarah and Karen who played Mary Robert, and Mother Superior, there character portrayed were well suited to the role, however both had a different take on each. Such as Mother Superior having a cheeky glass of vino during her number 'I Haven't Got a Prayer' although something that may not have happened really it was a comic take on the number. Mary Roberts number 'The Life I Never Led' also very differently portrayed and it seemed a lot more childish, with the tickling bit, I felt that it lost the real meaning of the song, and although played it cute it didn't work for me, however I can't deny that Sarah didn't have a soothing voice to listen to.
The three Amigos or Henchmen Joey, TJ, and Pablo played by Samuel, TJ, and Sandy had the audience in roars of laughing during 'Lady in the Long Black Dress' and although themselves accompanied by instruments them wooing the Nuns in a style unlike no other was great to watch. They played their roles well, and were enjoyable to watch. Their leader Curtis (Aaron Lee Lambert) also perfect in his role, and Hayleigh (who had seen a previous tour) said he was the best Curtis she has seen.
Now Sweaty Eddie, played by Jon Robyns, you know I will be biased when it comes to Jon but again this role is perfect for him to play, from start to finish. His song 'I Could Be that Guy' was defiantly a highlight to the show, cause who wouldn't love a song that includes bums and homeless people disco dancing? Jon made the audience laugh, care, and sympathiese with Eddie who is just trying to be a good cop. overcome his fears (with shooting). and also get the girl (even when he loves Star Wars).  It is always a delight to watch Jon, and I can't wait to see his new adventure in 2017.
Leading Lady Deloris was performed by X Factor winner Alexandra Burke, I have heard many things regarding Alexandra's performance having performed in Bodyguard on the west end, I was very interested in seeing her, and how well she acted.  I knew she had an amazing voice, cause you don't win the X Factor for nothing, but each song suited her greatly, but her portrayal of wannabe star Deloris had passion, and comic timing that Whoopi Goldberg would be proud of, but I liked the fact that she created a new role rather than copy that of Whoopi, but yet bring some traits in there that you can see at times. She has not put me off wanting to see her in anything else in the future.
Sister Act will continue to Tour into 2017, to find out about venue's and tickets click Here. I am happy that I got to see this show from the audience view, and especially before the new year as Jon will not be continuing as Sweaty Eddie, having got himself the Lead in the upcoming tour 'The Wedding Singer' (He's even closer to home this time!), but don't let that put you off seeing this show, it is one for all and you will come home with a smile on your face, it is one for all family members.