It was time to go to my other local theatre in Dartford for tonights opening night of The Addams Family.
The Addams Family is based on the cult family film of the same name, as many would be led to believe however this is not a staged version of the film but tells a brand new story some years down the line from the first film. Wednesday, now grown up and fallen in love with a 'ordinary' boy Lucas from an 'ordinary' family. She requests from her family 'one normal night' when meeting with Lucas's parents, easily said than done from the kooky Addams family! Although try as they may to support Wednesday's request, with a little assistance of the Addams Ancestors, things don't go to plan!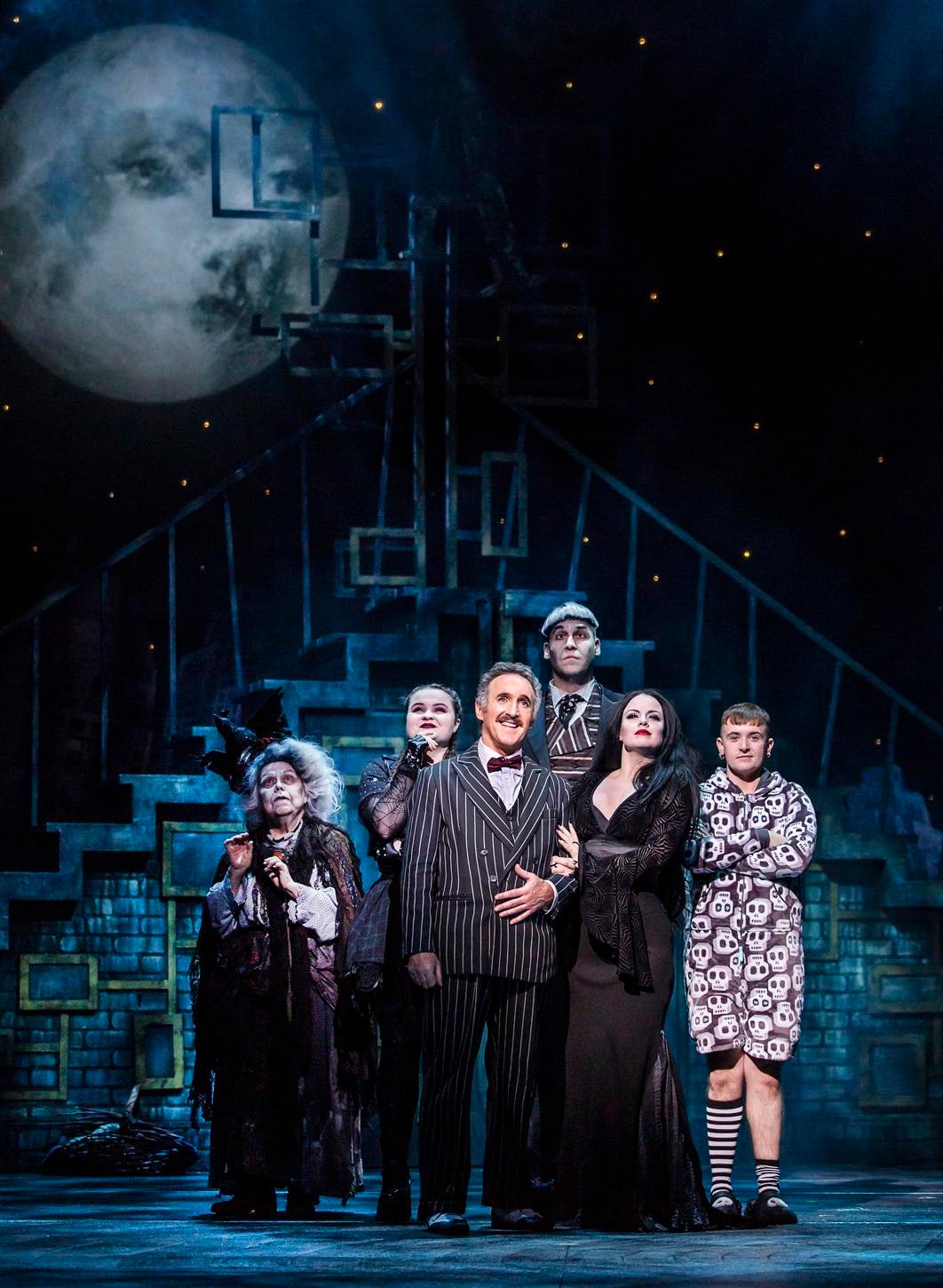 The new story has some fantastic comical moments, however at times it dragged a little. This is not to say it wasn't enjoyed, as it was the performers that brought it to life in such a powerful way which would have been achieved by Matthew White direction. Partnering with the storyline, there are many original songs performed some of which were created for the UK tour, with some of the songs changed from when it was performed on Broadway in 2010. Some personal favourites' for me were 'Pulled,' 'Crazier Than You,' 'Just Around the Corner', and 'One Normal Night!' Each of which stayed with me after, but the other songs again similar to the story did not have the same oomph. One great thing about this show is its set, designed by Diego Pitarch it's simple yet complicated vision was greatly portrayed with stairways, doorways, and painting on the walls literally coming to life!
One of the things I like about this production is the fact that each performer has a character that has a story, its not just the main character but the Ancestors that surround the leading cast throughout the production. They all played a part, over looking the story, and supporting when possible to Wednesday's relationship, and others for that matter.
Joanne Clifton takes on the role as Morticia Adams who effortlessly glides across the stage throughout. A very different role from what she has performed before, allows us to show just how good of an actress she is, but also getting to show her amazing dancing skills especially in the Tango De Amor alongside her on stage love Gomez played once again by Cameron Blakely. Gomez is a role that Cameron was destined to play, it is understandable as to why he has returned to the role as he brings the loveable character life on stage and yet makes sure he makes it his own.
Wednesday Addams, played by Kingsley Morton shows off her many talents especially her amazing voice. With a warming tone each song came to ease with her Pulled especially was perfect and I really enjoyed listening to her! Her other half Lucas portrayed by Ahmed Hamad also strong within his role and their relationship was clear throughout, though lacked affection – however this may be due to certain restrictions due to Covid I suspect, which is disappointing.
A particular favourite had to be that of Scott Paige as Uncle Fester, having previously understudied the role he has on the role full time and its clear why this is so. The role just comes easy to him, he makes Fester funny, strange and loved by the audience. HIs Moon and Me solo, was so enjoyable to watch and he really ensured he made the role his but with a small influence of that of the original actor Christopher Lloyd.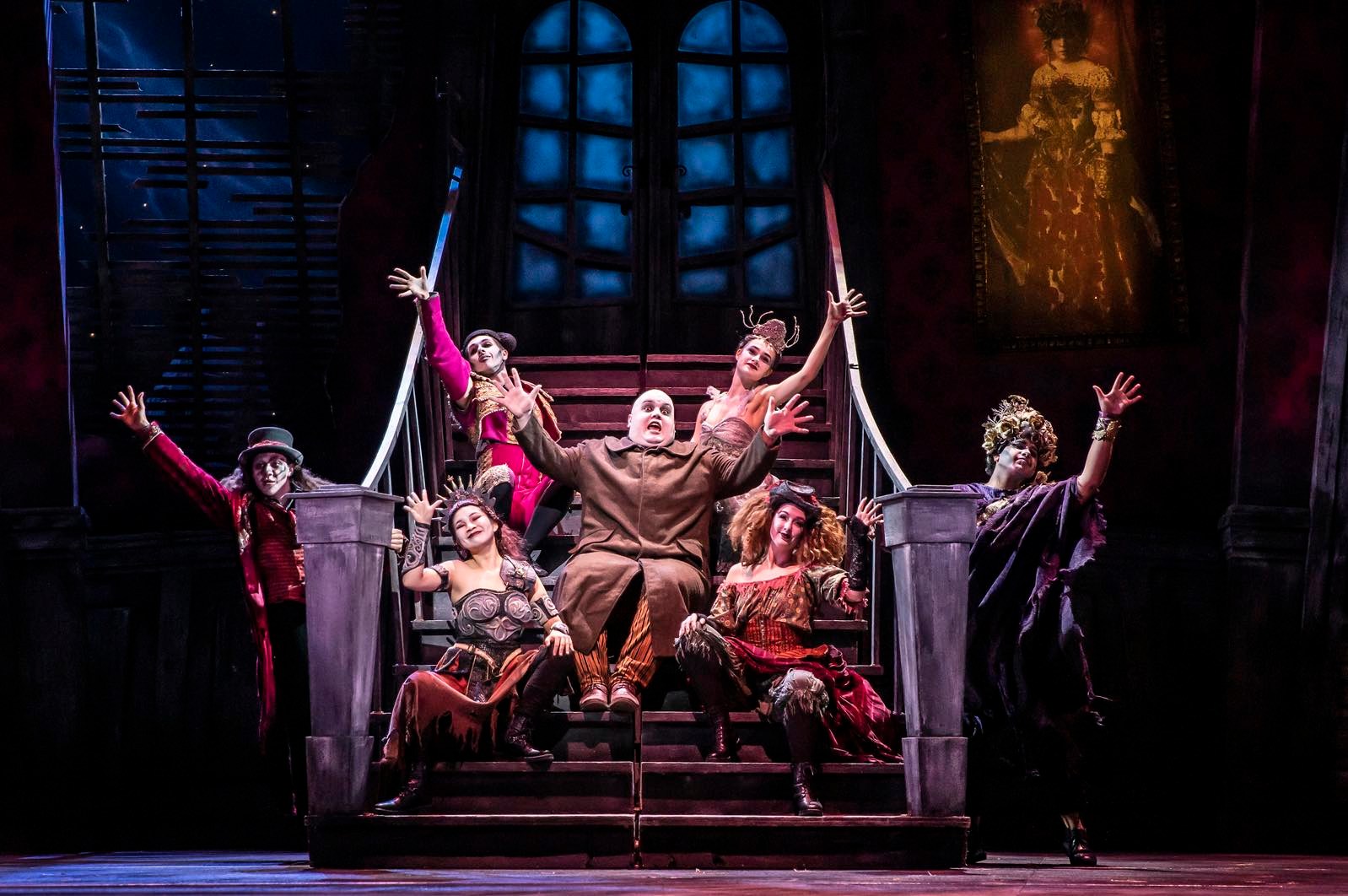 This musical allows the public to see a much loved family being 'pulled in a new direction,' allowing once again for them to bring their strange kooky characters to be enjoyed by all. It is a musical to be enjoyed by all, you are guaranteed to laugh and smile – as they say 'When your an Addams, you have to have a sense of humour!' You go in not knowing what to expect, but come away fully entertained!
The Addams Family plays at the Orchard Theatre until Saturday 26th February, for all information go to their website here. It will then continue on its UK Tour, for all dates/venues and ticket information go here.