It was 5 years today that I caught this production in London and was very excited to see it would be making its rounds nearby on its current uk tour. The first press night of 2022 goes to Jersey Boys!

Jersey Boys is a Jukebox Musical, which tells the story of the Jersey Band The Four Seasons, and how Tommy DeVito, created the band with Nick Massi, Bob Gaudio, and Frankie Valli and how they rose to stardom without a few hiccups on the way. The musical is structured as four "seasons", each narrated by a different member of the band who gives his own perspective on its history and music, and throughout we hear their famous songs that had everyone dancing, 'Big Girls Don't Cry', 'Sherry', 'December 1963 (Oh, What A Night)', Can't Take my Eyes Off You' and 'Walk Like A Man' to name a few!
The four leading men stole the show from the very start and would make the Four Seasons proud, then ensured that the story, every song and step was perfect! You really warmed to each of them, Tommy Devito the founder in ways of the Four Seasons discovering Frankie he brought the team together, however an Italian raised in America, his associations with the mob, and gambling addiction was trouble from the start. Dalton Wood played him so well, a strong character, yet comic in moments that had the audience chuckling! Blair Gibson had the innocence of Bob Gaudio, but also the passion for the role which was greatly recieved by the audience. He had some amazing solo's and a highlight had to be December 1963 (Oh What a Night), although I am not sure as to whether I can listen to that song again the same way I had before!
Having previously seen Lewis Griffiths in Dirty Dancing as Johnny Castle, it was great to see him in the role of Nick Massi. I knew he would be an amazing dancer, which clearly was shown with the every step the boys danced however, this role really enabled him to show off his voice – which is warming and lovely to listen to. His acting was great, including some comical moments that actually made you warm to him instantly! Finally there was Michael Pickering as Frankie Valli, to step into the shoes of Frankie must be intimidating, but to sing his vocals Michael had no problem at all, you really felt that you were listening to the Frankie and it left you wanting more. Along with this, his portrayal of Frankie's story, especially his daughters death was beautiful and you really felt each emotion he gave.
The four boys were supported by an outstanding ensemble, each playing many different roles within the story of the Four Seasons lives, I particularly enjoyed Damien Winchester as Barry and others, who really ensured each character was unique, he also had an amazing singing voice. Michael Levi, also as Bob Crewe was also very enjoyable to watch with some excellent comic moments.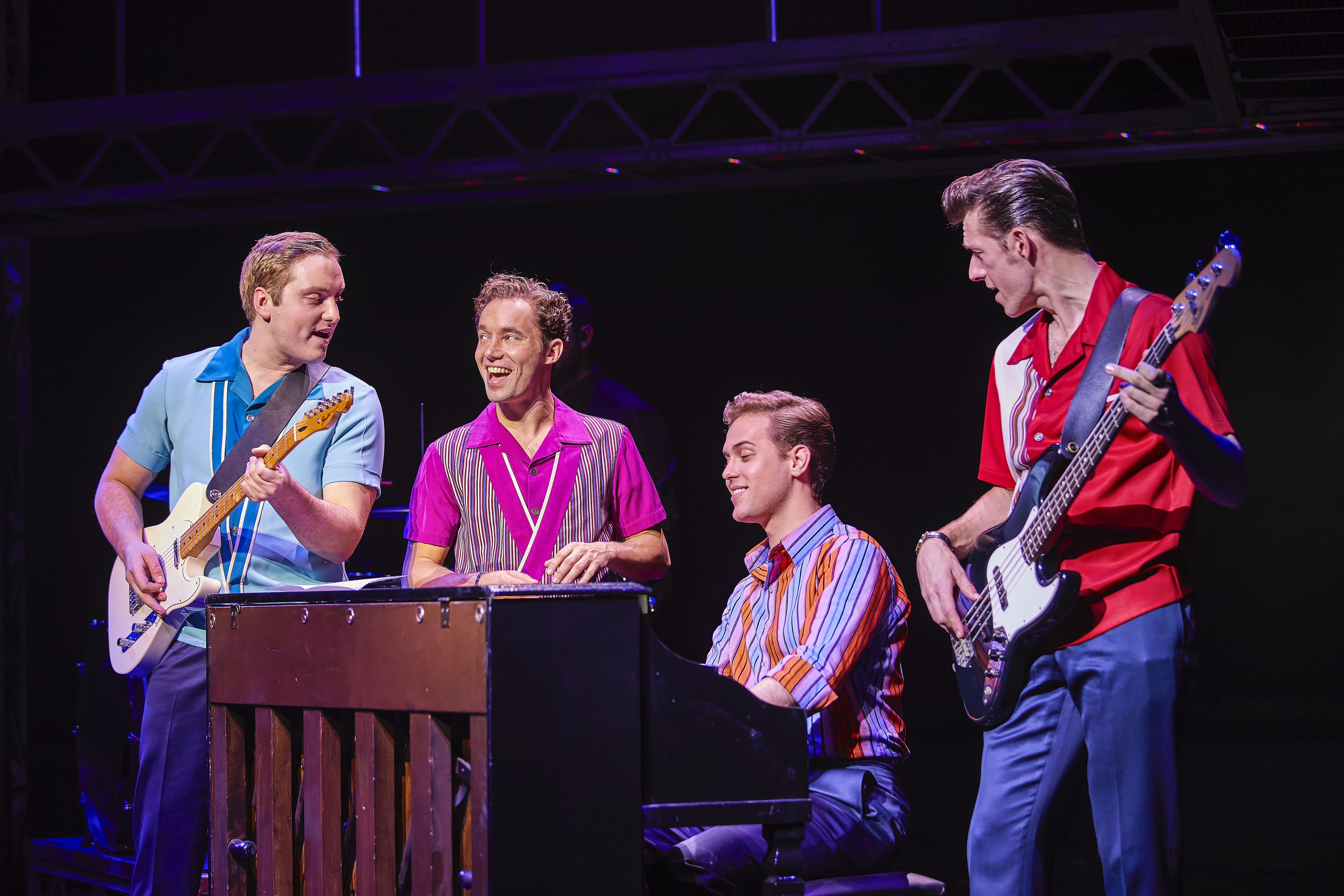 Whether your a fan of 'The Four Seasons' or not, this show is enjoyable from the get go. With every song you are guaranteed to be tapping your feet to the beat with them. By far it is one of the best Jukebox musicals that we have on stage today, respectful to the band, a powerful story and mind blowing music, you are guaranteed an amazing entertainment with no disappointments.
Playing at the Orchard Theatre until Saturday 22nd January, for all ticket information go here. It will then continue on its UK tour, for all dates and ticket information go here.
However, if you are unfortunate not to have this amazing show swing by you, it has just announced a further dates at its current location in London's Trafalgar Studio's for all information go here.