It was back at the Orchard Theatre to watch my first play in what felt like forever! I was not disappointed and couldn't wait to see tonights performance of Mischief Theatre's The Play That Goes Wrong.
Mischief theatre is a drama company that specializes in improvised theatre, formed in 2008 they have had great successes with many successful comedy productions both in the West End and tours. The Play That Goes Wrong, was the production which began their successes and is portrayed as a play within a play. The Cornley Polytechnic Drama Society has been invited to perform their murder mystery production of 'Murder at Haversham Manor' following their past productions of 'Cat' 'James and the Peach' they very much look forward to showing their talents to the audience. However, things didn't always go the way they were technically rehearsed!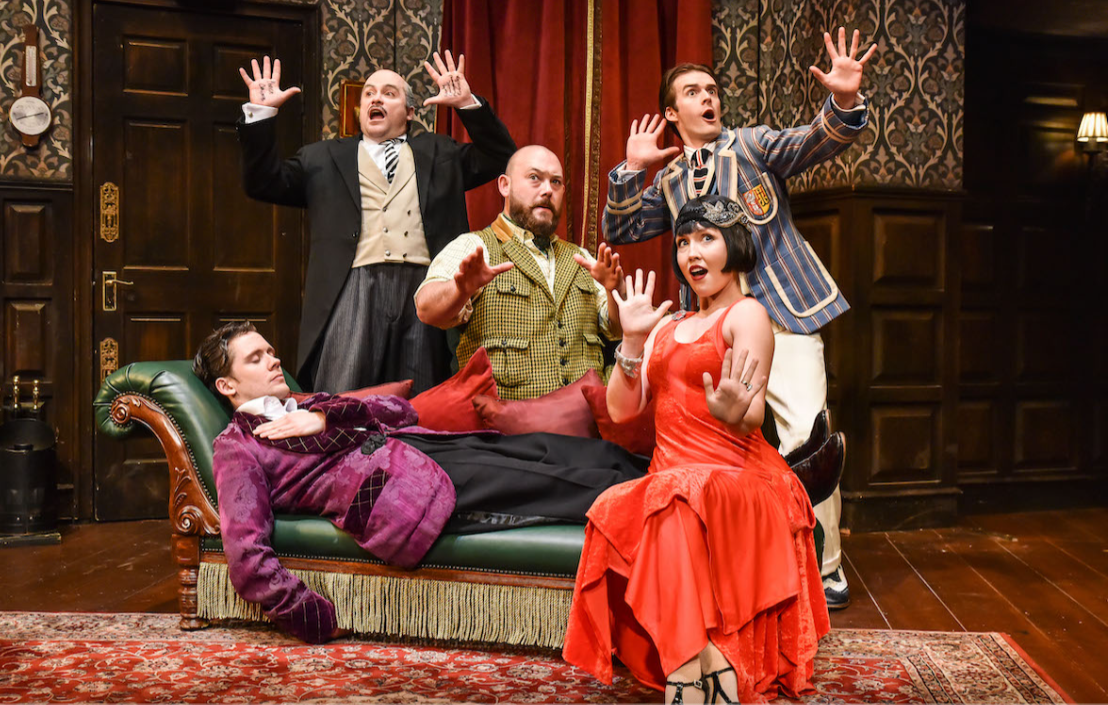 The thing with this production, is you never know what to expect but you will forever be smiling and laughing out loud. From missed entrances, forgotten lines, to props falling/missing and set breaking apart you are left to guess what else could possibly go wrong? But, your excited to find out! When watching the play, you feel as if you are watching the classic British Comedies that we all love, Fawlty Towers, Only Fools and Horses, comes to mind, but yet it is unique in itself that you can't help but instantly fall in love with it. The thing about this production, script is not as important to the play itself that if you missed something you wouldn't be confused because your entertained by what is going on, on the stage and what the actors are doing.
It is always said that it is easy to be a good actor, but for an actor to be act bad can be quite daunting, but for this cast they take it in their stride – in a good way:
Max – Tom Babbage
Chris – Tom Bulpett
Jonathan – Sean Carey
Robert – Leonard Cook
Dennis – Edward Howells
Sandra – April Hughes
Annie – Laura Kirman
Trevor – Gabriel Paul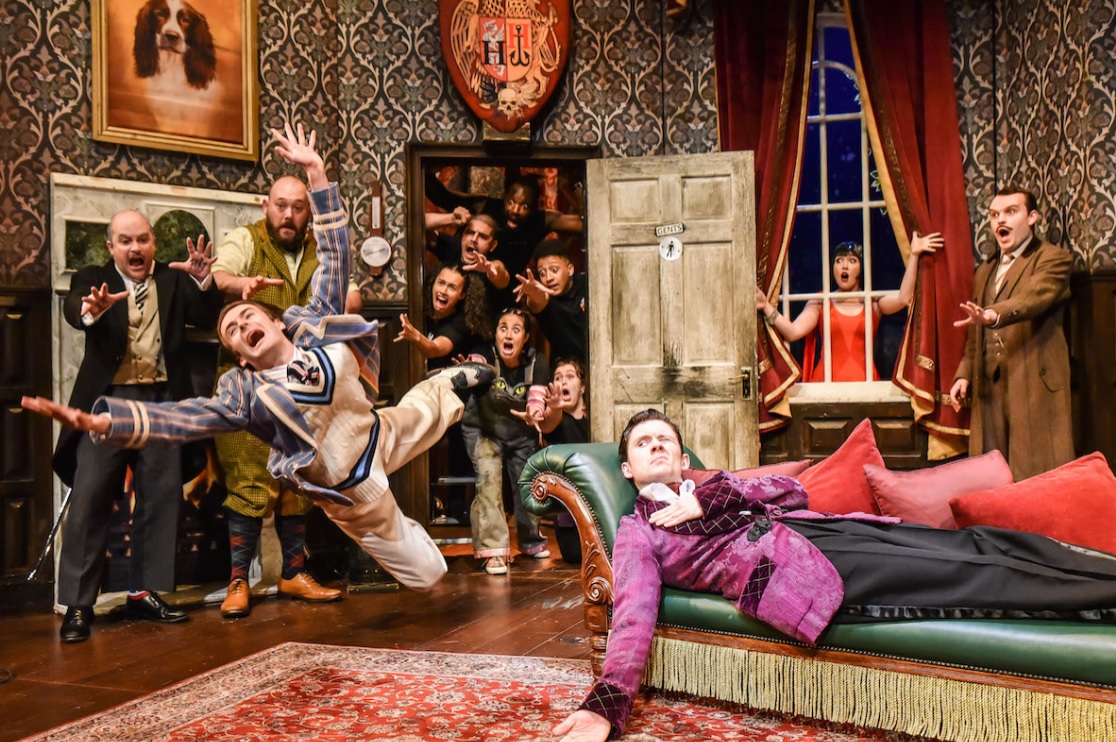 You could not single any of these actors out if I tried, everyone of them had their challenges and although this play is run each night, you would think it was happening brand new each time the actor took the stage. Tom Babbage playing the very likeable Max, new to the society and to the stage you could tell as he was very much happy to be on this stage and milked the applause as Max, when ever he broke the 4th wall to either smile, or wave he made me chuckle as we have all seen this at one point (even if it is normally by a 5 year old in a nativity play) . Tom Bulpett, in the role of Chris the President of the Amateur Group I loved watching, at times he reminded me a little of the young John Cleese in Fawlty Towers which made him instantly liked.
How these actors keep themselves together is beyond me, but the benefit for them is they are a character playing a part, so when they broke the fourth wall and bantered with the audience again you forget it is all part of the act Leonard Cook as Robert was excellent with this and was able to be quick witted to the heckling from the audience and never broke character. Trevor was also a highlight played by Gabriel Paul, who was interacting with the audience from the beginning, but also brought a lot of the gags throughout the play, and being caught up in a few incidents himself, although a stage hand within the group he created a brilliant role for himself!
They all worked excellently with each other, and throughout you could tell that underneath the shock and mistakes they were lapping up the laughs from the audience, which made you know that they were enjoying what they were doing.
Its hard to go into too much detail about this production, without giving to much away cause it really is one that you need to see to enjoy comedy done to its upmost best – guaranteed laugh out loud! No matter how many times you see this play, you feel as though you are watching it brand new and without a doubt will go home feeling happy from a brilliant night of entertainment.
The Play that Goes Wrong plays at the Orchard Theatre, Dartford until Sunday 26th September – for all ticket information go here. It will then continue on it UK Tour for dates and tickets head to their website here – you can also see what other productions they have!
Mischief Theatre, is also returning in November with their recent production and first tour of Groan Ups, having loved The Play that Goes Wrong I can't wait to see what that one has in store! The Orchard Theatre also currently have a deal that if you book both productions, then you get a discount!