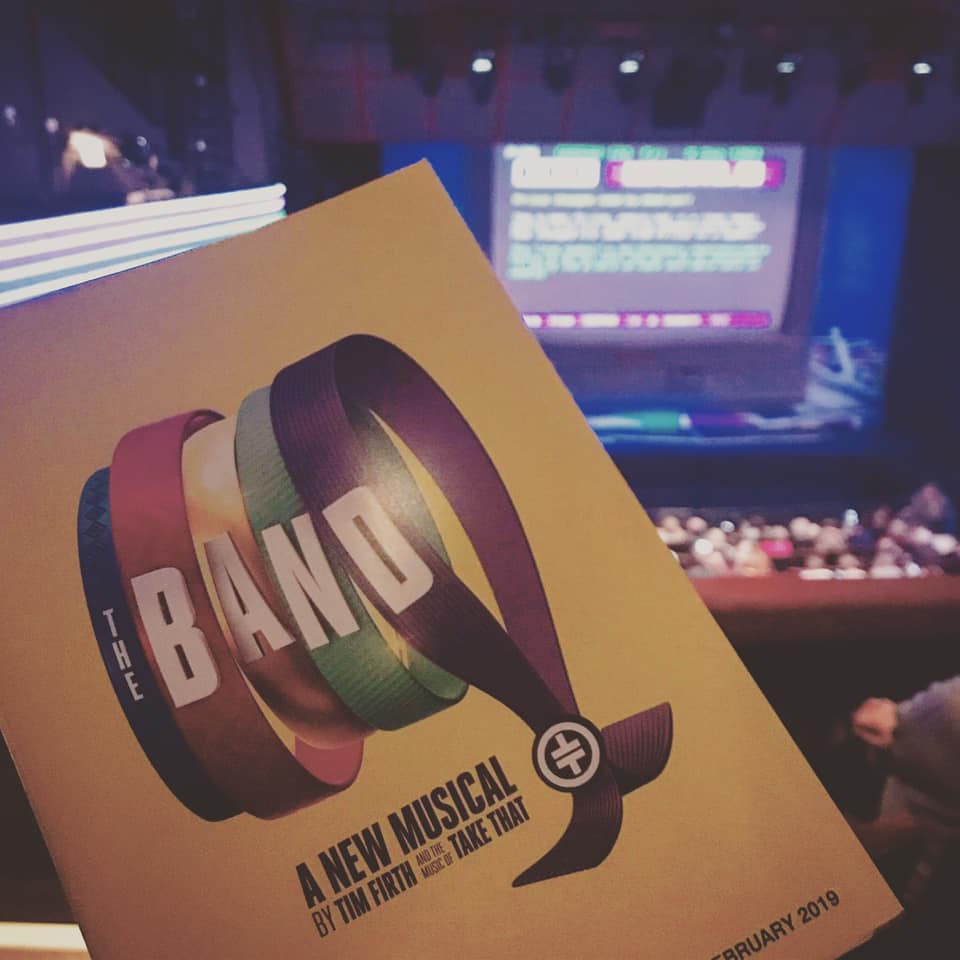 It was back to the orchard theatre for a press night that I had been looking forward to since it was announced it would be coming!
The Band is a new musical which was first heard about from a talent competition 'Let it Shine' on BBC One. It is a new musical written by Tim Firth and includes the music of 90s pop boy band Take That. Now, you may be thinking that this is just going to be another Jukebox Musical that focuses on the story and lives of Take That – you are so far from the truth. A huge plus for this production, is the original story that associates around the music!  In the year 1992, we meet five 16 year old girls for who 'the band' is everything. The group of girls are inseparable but when a tragic accident hits them hard they unexpectedly part ways. After 25 years apart, they try once more to fulfil their dream of meeting the boyband whose music became the soundtrack of their lives. But also relight their friendships, which they greatly missed.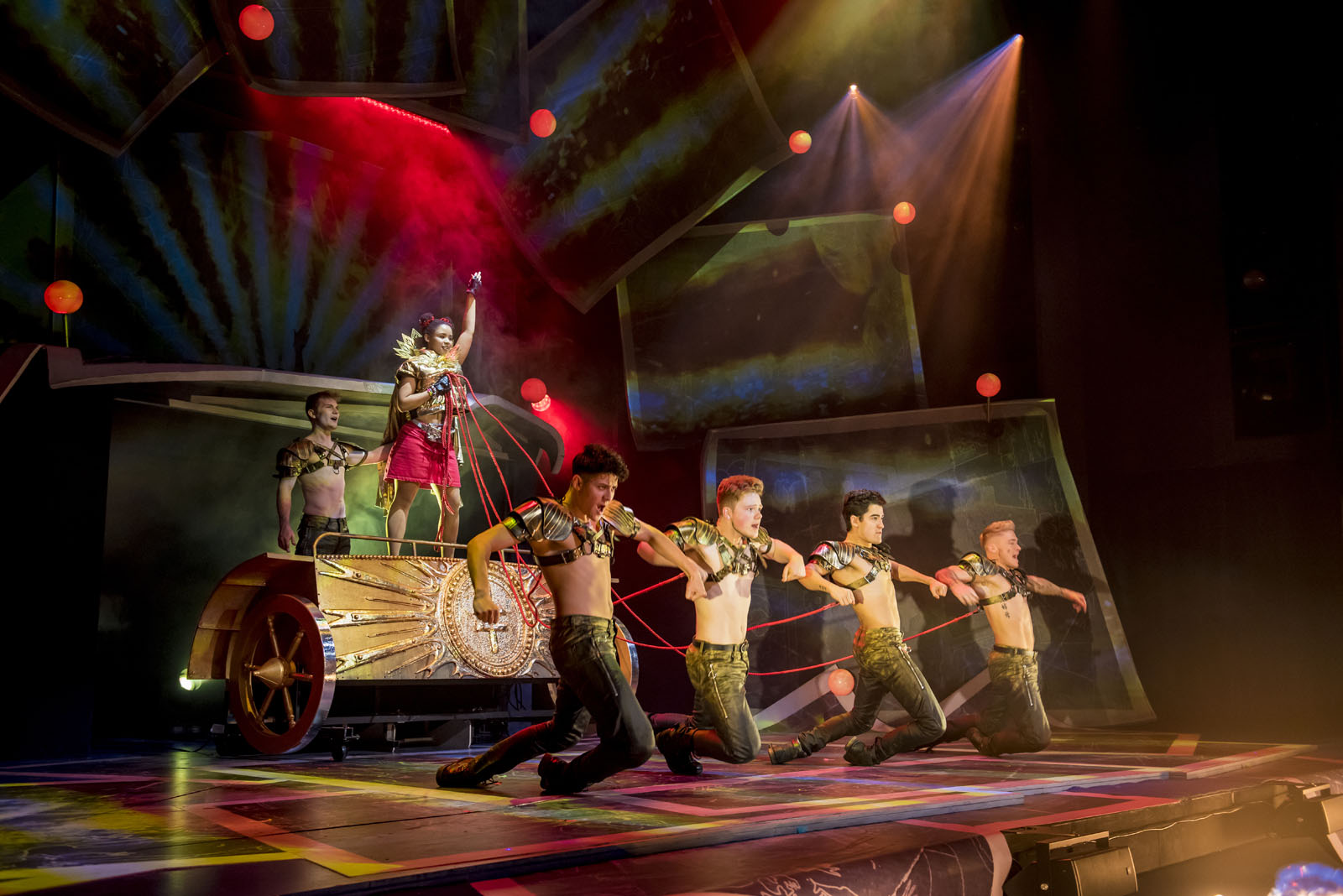 From the very start you are blown away by the impressive and imaginative staging created by Jon Bausor, which included some amazing projection effects – the 1st being the classic Ceefax screen with the updated minute news from 1993, pure genius from the mind of Luke Halls! For those who grew up in the 90s you are transported back, making you reminisce about the past and now disbelieving on how we thought then that we were very high tech! Tim Firths great script, accompanied with Take That's fantastic musical numbers makes for a fantastic production with excellent British comedy moments, classic boy band dancing, and excellent performances all around from the cast.
1st mentions for the cast have to go to the members of 'The Band' performed by original 'Let it Shine' winners AJ, Curtis, Yazdan and newcomers Nick and Sario! They all worked well as a group, throughout the many songs and different scenarios and costumes they faced including an airport and interesting fountain (you'll see). The boys had the balance of singing and dancing at ease and made it look natural, especially the chereography Kim Gavin who clearly studied the many moves take that once performed!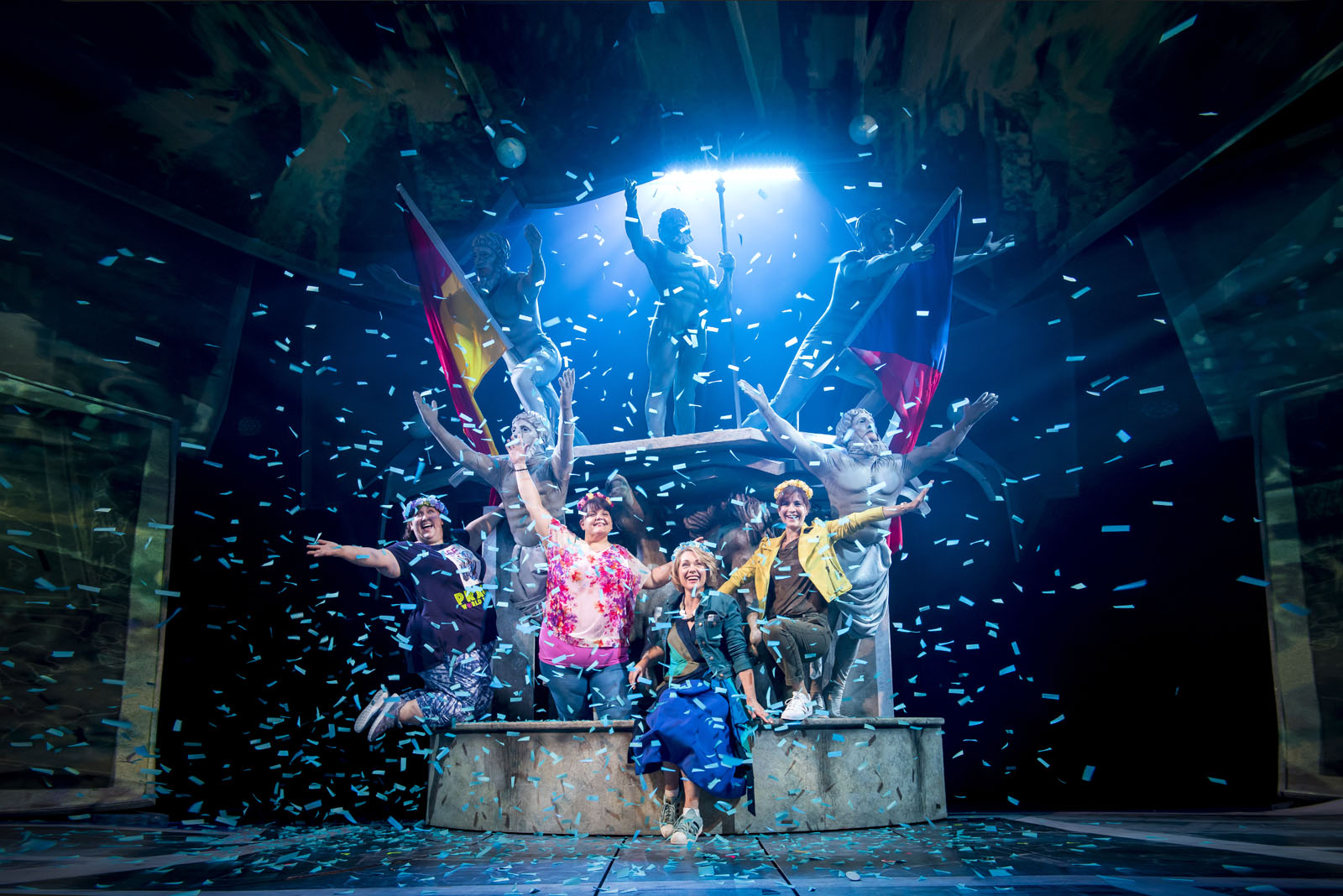 These boys were loved by the cast, in act one we are introduced to they younger characters, Faye Christall plays young Rachel who carries the story throughout and displays all the emotions her role comes across. She was amazing to watch, her older self played by Rachel Lumberg was just as watchable. I particularly loved the British comedy classic moments from Katy Clayton in the role of Heather, who had the audience laughing at her many quick witted comebacks and reactions. Emily Joyce then took on the older Heather, who carried on with the comedy role but also the mature older self with a lot of passion!
A special mention had to go towards Andy Williams as Every Dave! You could tell he was instantly loved by the audience, that couldn't wait for him to come back on stage to see what he could do next. His comic moments were classic – at times I had tears in my eyes!
The Band is guaranteed to bring you back to the 90s, for me it brought back the memories of how much I loved Take That, when I used to watch one of their concerts on repeat on VCR! But it also takes you on a journey of a lovely heartfelt story, that leaves you laughing and smiling throughout, even at times you may need a tissue. There isn't much to not like about this New Musical, I highly recommend catching it before it finishes.
The Band plays at the Orchard Theatre until Saturday 9th February, for ticket information go here. It will continue on its final weeks of its UK tour, for all dates and information go here.