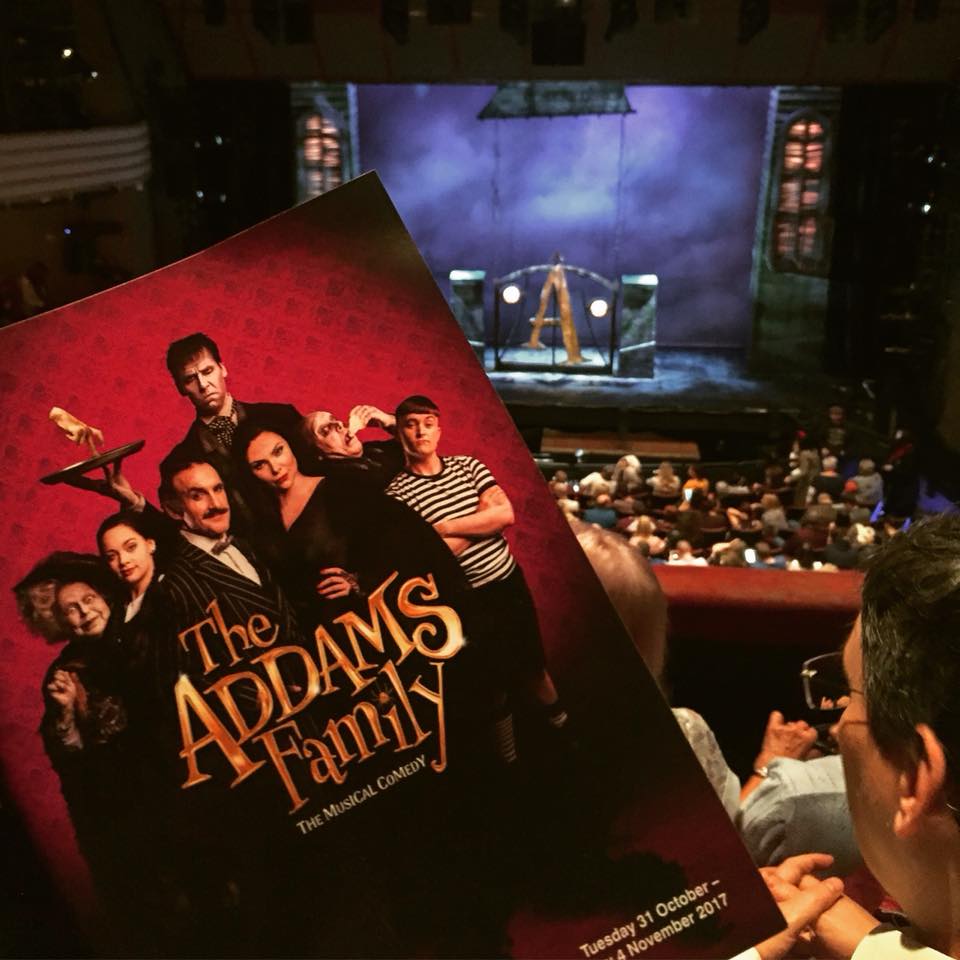 Last night was the perfect night to see this production at the Orchard Theatre, Dartford. For what better thing to do on Halloween than to see The Addams Family Musical's opening night, in its final week of his UK tour.
I had been waiting 6 months for this production to arrive locally to me, having missed the chance to see it in Canterbury at the Marlowe Theatre. I took my seat, this time once again situated in the upper circle, but I was in a central position in Row c seat 26. The full stage could be seen and faces visible also, no complaints were made for this seat!
The Addams Family is based on the cult family film of the same name. However what many would think they were in for, this is not a imitation of the film. The musical tells the story some years down the line from the first film. Wednesday is now grown up, having fallen in love with a ordinary boy  Lucas from an ordinary family. She requests from her family 'one normal night' when meeting with the parents, easily said than done from the kooky Addams family! Although try and they may to support Wednesday's request, with a little assistance of the Addams Ancestors, as always things don't always go to plan! It would be The Addams Families first time in the UK, having performed on Broadway prior in 2010.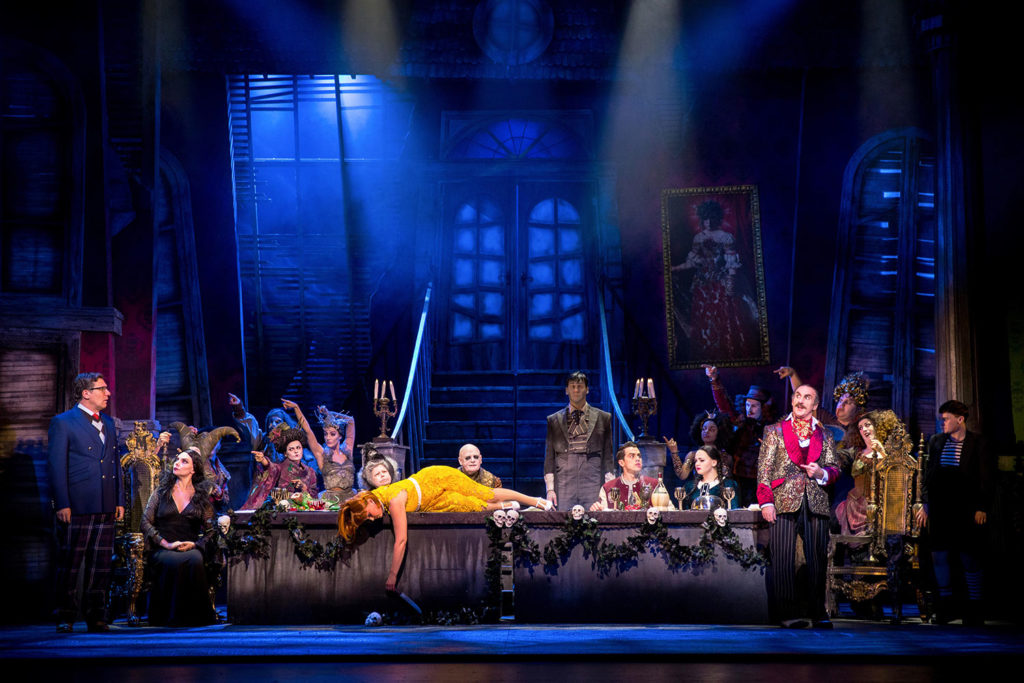 Again I made it to this night, without knowing much about the production beforehand, however I knew of the story and some snippets from my Carrie Hope Fletcher Interview. I was also aware of some songs due to watching Carrie's 'Watch Me Wednesdays' YouTube videos. It was great to see a film inspired musical take the chance in created something brand new, with just the classic characters as influences. The story had some fantastic comic moments, but at times I felt the story dragged. That's not to say it wasn't enjoyed, as it was the performers that brought it to life in such a powerful way which would have been achieved by director Matthew White direction.
Along with the story, there were many original songs performed some of which were original to the UK tour, having some of the songs changed from when it was performed on Broadway. Some personal favourites for me were 'Pulled,' 'Crazier Than You,' 'Just Around the Corner', and 'One Normal Night!' Each of which stayed with me after, but the other songs again similar to the story did not have the same oomph. One great thing about this show is its set, designed by Diego Pitarch it's simple yet in ways complicated vision was greatly portrayed with stairways, doorways, and painting on the walls literally coming to life!
The Cast, even though they were opening their final week of their run, it shone through like it was their first.
Gomez Addams – Cameron Blakely
Morticia Addams – Samantha Womack
Uncle Fester – Scott Paige (1st Cover)
Grandma – Valda Aviks
Wednesday Addams – Carrie Hope Fletcher
Pugsley Addams – Grant McIntyre
Lurch – Dickon Gough
Mal Beineke – Dale Rapley
Alice Beineke – Charlotte Page
Lucas Beineke – Oliver Ormson
Ancestors – Kathryn Barns, Jessica Buckby, Perola Congo, Christopher D Hunt, Gavin Eden, Jacob Fisher, Kirsty Ingham, Rhona McGregor, Jak Skelly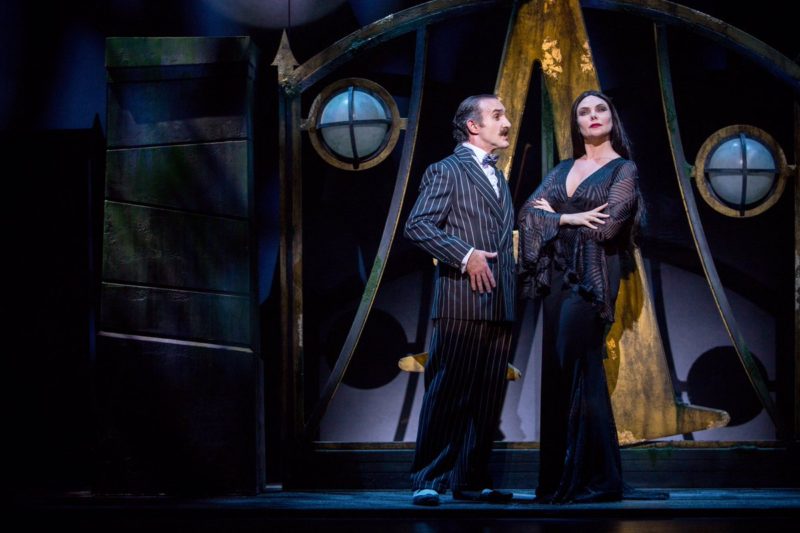 One things for sure is every performer had a character, as well as the ensemble. Performing as many different ancestors of the Addams family, you had a Matador , Ringmaster, Ballerina, Viking, many varieties. They all played a part in the story, over looking the story, and supporting when possible to Wednesday's relationship, and others for that matter.
The known name of the evening would have been that of Samantha Womack, in the role of Mother Morticia she really suited the role, and gliding across the stage just came natural to her along with her sarcasm that is classic Morticia. Her chemistry with her family members was clearly displayed, especially with on stage husband Gomez played by Cameron Blakely. Cameron also great within his role, showed his capability to the quirky Gomez we know. Bringing the character to life on stage, yet still making it his own. Having previously seen him in Les Miserable, it was great to see him in a new role, proving he is a man of many talents, and comedy for sure.
Carrie Hope Fletcher took on the role of Wednesday, with a voice that you will never get tired of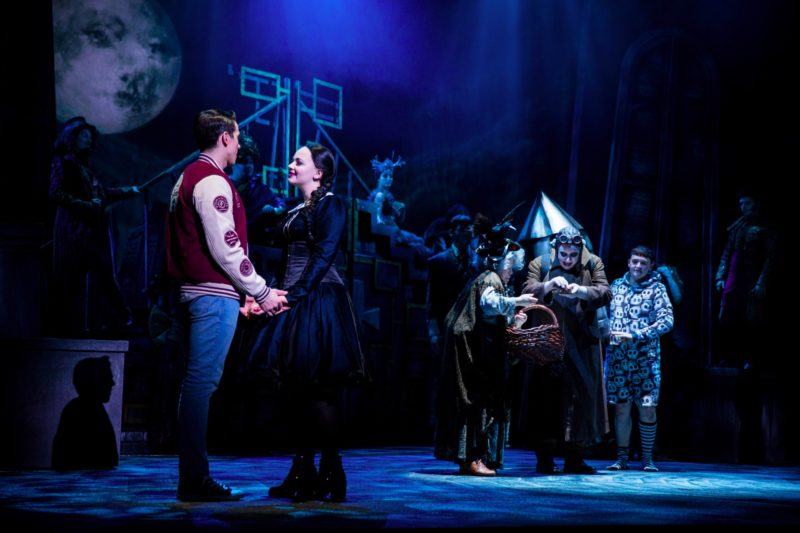 listening to. Her persona of Wednesday was clearly displayed, a complete opposite to Carrie in real life it was great to see her in the role. Her duet with Lucas played by Oliver Ormson 'Crazier Than You' was a personal highlight, their relationship is very strong throughout.
Stepping into the shoes of Uncle Fester was Scott Paige, in place of Les Dennis (who sadly was unwell). I was very excited to see Scott perform knowing he would do well, having previously seen him last year in Chitty Chitty Bang Bang!  He didn't prove me wrong! It just seems to come easy to him, with his personality. What I loved is that he made Uncle Fester his own, rather than that of the film, creating a character that was right for me him and loved by the audience.
One things for sure is this musical is perfect for all ages and guaranteed to get you into the Halloween spirit! If it was to return once more to the UK, I would be more than happy to return to the Addams Mansion! The Addams Family is playing at the Orchard Theatre until Saturday 4th November, which will be its final performances, tickets are limited with best availability on the Friday Matinee 17.00. For ticket information go Here.