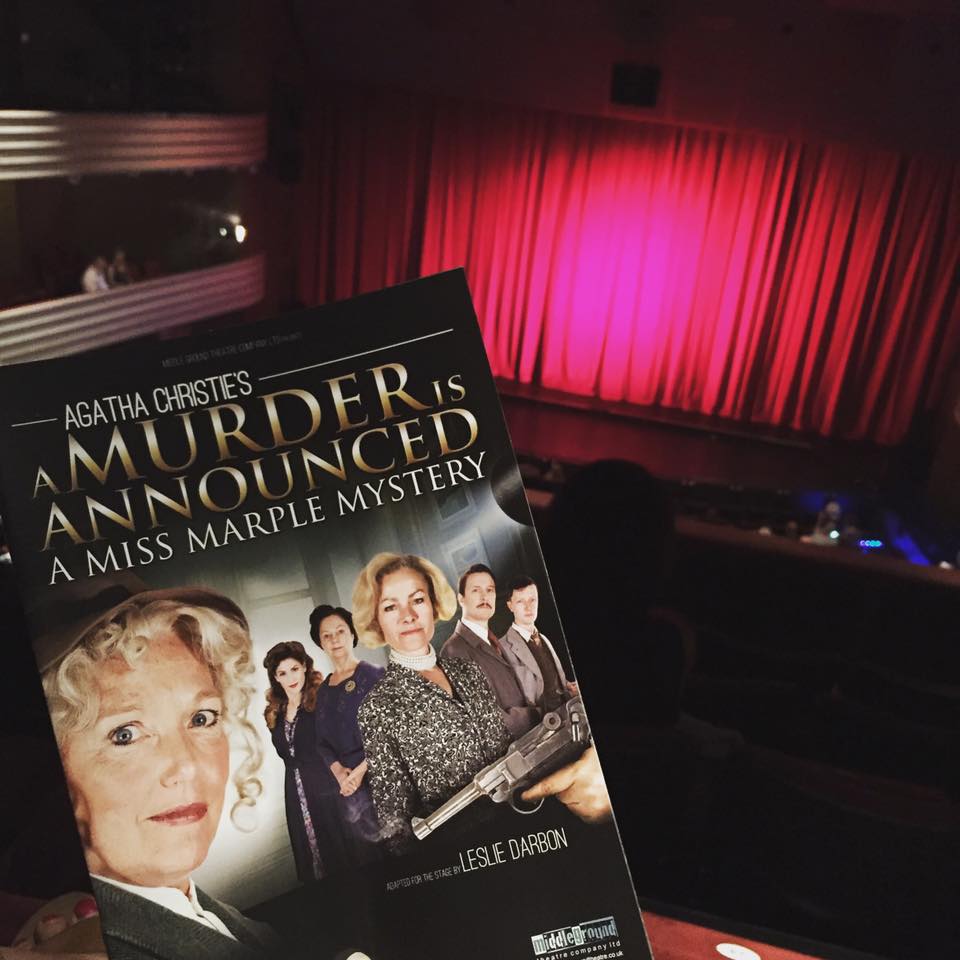 It wasn't long until I was back at the Orchard Theatre, Dartford for tonight's viewing. For a change it was tonight it would be a play performance, the Middle Ground Theatre Company's touring production in of Agatha Christies A Murder is Announced.
I took my seat not knowing what to expect – perhaps a murder? Tonight, I was seated in row e seat 25 central to the stage I could see it all. Faces visible at most, only thing was I was right below the air con so I did get chills…or maybe that was from the play?
A Murder is Announced, is a novel that was written by famous thriller writer Agatha Christie – who also wrote The Mousetrap. Adapted for the stage by Leslie Carbon, it tells the story of Letitia Blacklock, owner and resident of Little Paddocks. On a Friday morning, Dora 'Bunny' discovers published in the local gazette a murder will take place at 18:30 that night at their residence. At first it seems like a joke, but when the clock chimes, lights go out, guns are fired, it all becomes real when a body is found. Now it's up to the local detective, and a local village friend Miss Marple to unravel the mystery, and motive of the murder.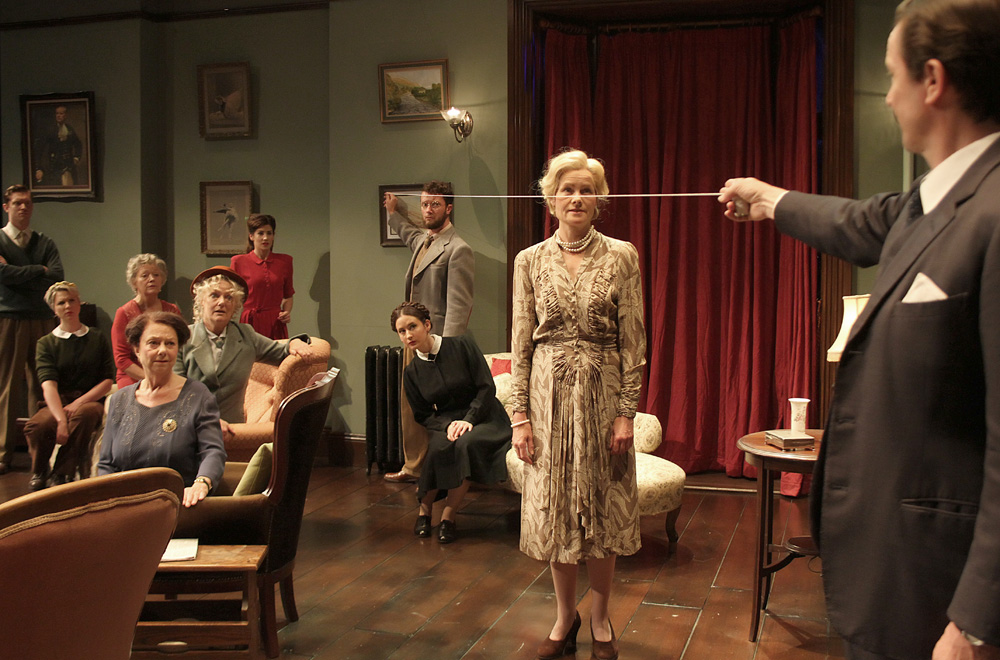 I myself have always been a fan of mystery and detectives, having loved playing Nancy drew games, and murder mystery dinners when I was younger. When invited to attend opening night – I thought I would give it a go and see if I could crack the case myself! Set manly in two drawing rooms of a early Victorian house in 1950, it was a classic murder mystery-you could say similar to that of TV show Murder She Wrote. The was because of the character Miss Maple was the one whom discovered and worked out the clues faster than that of the authority. At times I thought I had the murderer sourced, and with some aspects I was correct in what I was thinking – but like all good murder mysteries this one had a twist, surprising the audience. The story also displayed some tongue in cheek comedy, especially from the policeman! Which lifted the mood at times, but still drawning you in to wanting to get to know who the culprit was. The sign of a good mystery and production. The only irritating thing were the small gaps in-between the scenes, the curtain would come down and he audience would sit there and start talking or eating their snacks. I feel as though these gaps could have been swifter, to avoid this.
Nevertheless I thoroughly enjoyed the performance, with a cast that played brilliantly:
Letitia Blacklock – Janet Dibley
Julia Simmons – Lucy Evans
Dora 'Bunny' Bunner- Sarah Thomas
Patrick Simmons – Will Huntington
Mitzi – Lydia Piechowiak
Miss Marple – Louise Jameson
Phillipa Haymes – Alicia Ambrose-Bayly
Mrs Swetttenham – Cara Chase
Edmund Swettenham – Dean Smith
Rudi Scherz- Matthew Wellman
Inspector Craddock – Tom Butcher
Sergean Mellors – Jog Maher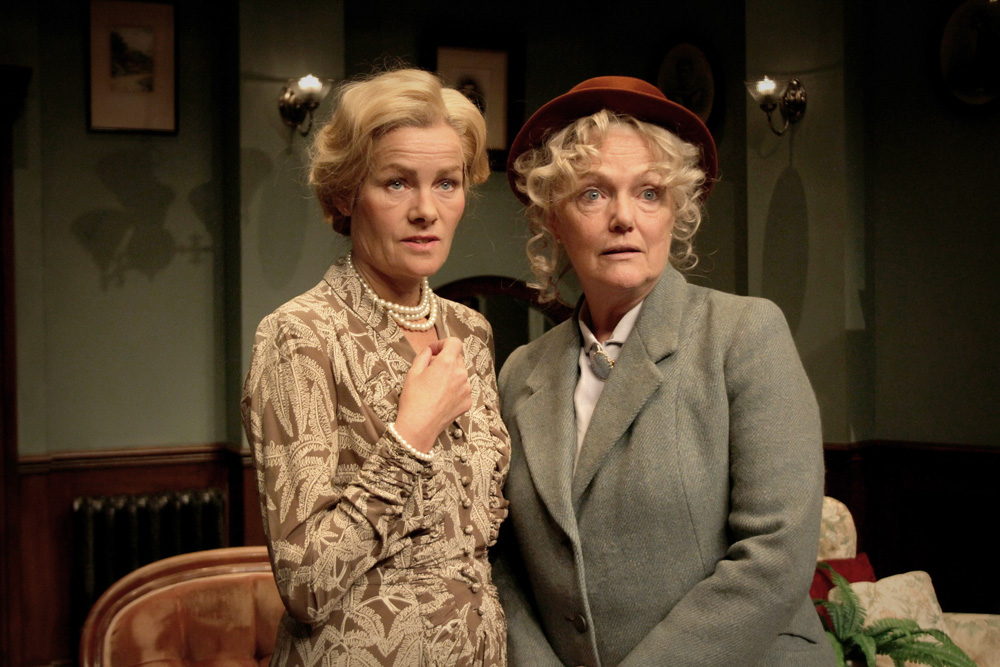 The noticeable name of the night were Janet Dibley, who played Letitia. Known for her role in EastEnders (Lorna Cartwright) tonight she was on the stage as the leading lady, to which she did brilliantly. Her innocence throughout was intriguing. Her dearest friend Dora, or 'Bunny' played by Sarah Thomas was very sweet, her little one liners had the audience smile and fall in love with her.
Most of the tongue in cheek humour of the night came mainly from the characters of Mitzi, and Inspector Craddock played by Lydia and Tom. Lydia especially had brilliant timing and persona to suit some excellent moments that made us all laugh, but Toms great sarcastic and comments didn't go a miss, at times he reminded me that of Jim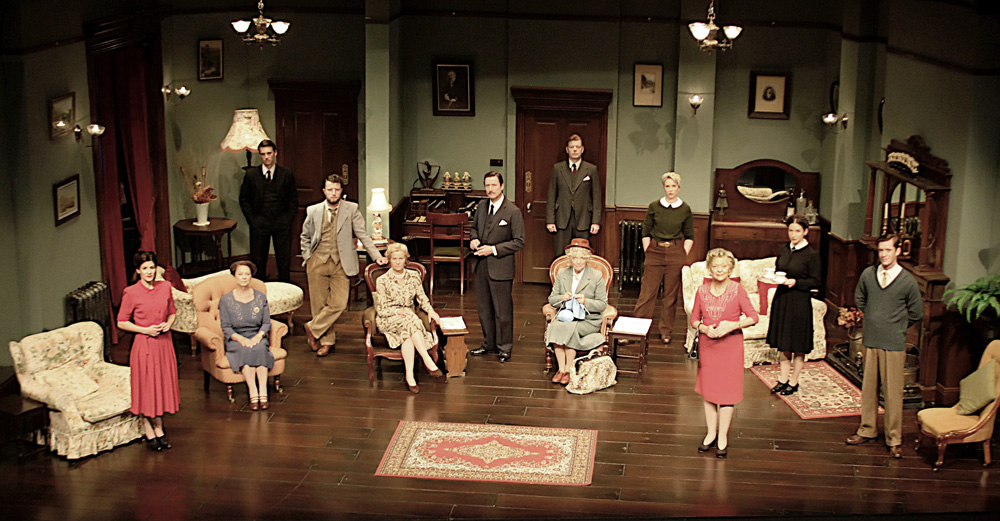 Broadbent, and David Jason.
The main detective however was played by Miss Marple, the cunning as a fox, quick witted neighbourly friend who happened to be in the right place at the right time – so to speak, which enabled her to help crack the case. Louise Jameson was pure delight as Marple, similar to that of Angela Lansbury. But that's not to say that she was a mirror of her, but she made the character her own bringing her to life and making her also loved by all. You were with her throughout the whole performance,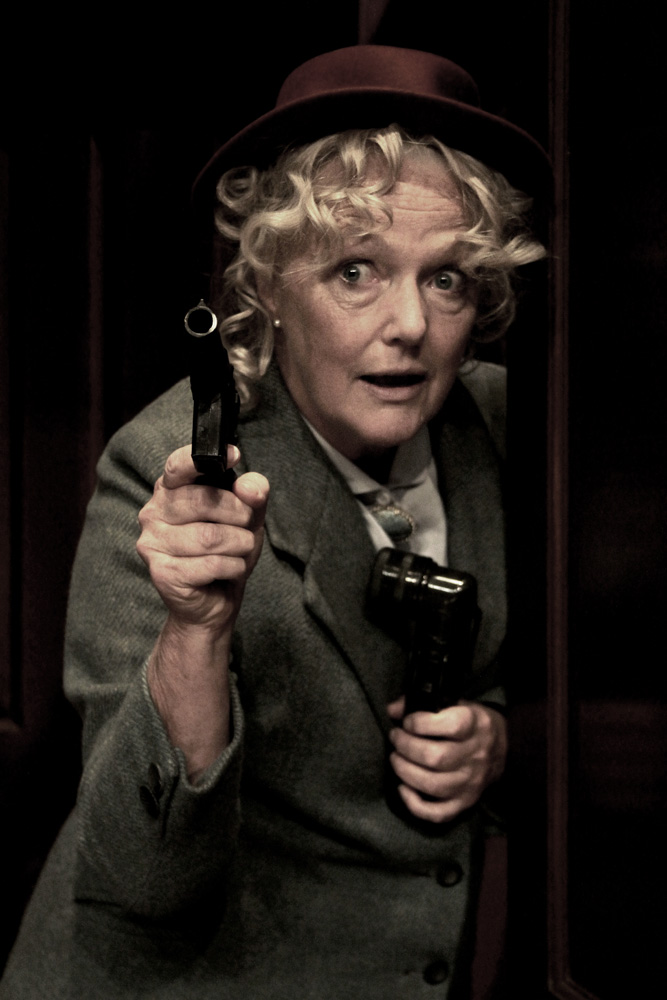 watching her mind tick as the clues were discovered. A strong willed woman that a lot can look up to.
The rest of the cast held strong throughout, not giving anything away until the last minute, it was thoroughly enjoyable to watch as it all came together for the big shock at the end – I won't say a word! But if you love Mysteries this is the play for you, I know that now I will be keen to view any further productions of this sort – to see if I can crack one of the cases!
A Murder is Announced is playing at Orchard Theatre, until Saturday 19th August for ticket information go Here. It will then continue on its tour till November around the UK – for further information go Here. A lovely evening out.