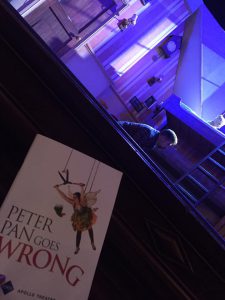 Having seen 'The Play That Goes Wrong' I was excited to see that there were further productions heading to the west end from the same company Mischief Theatre. However being that the festive period I knew just which one to choose to get us in the mood for Christmas. Tonights viewing would be the return to West End 'Peter Pan Goes Wrong' and my crew this evening would be Graham, Jess (who recommended The play That Goes Wrong' in the first place) and Jonathan!
Tonights show was being held at the Apollo Theatre, I have been to this theatre before, where I saw 'The Curious Incident of the Dog in the Night Time'.  before the incident with the roof collapsing. Then I was up in the Balcony front row, which following the event is now blocked off with a replacement ceiling. For this performance however I was delighted to see that Front Row Centre of the stalls were available, and at a reduced rate than the rows behind it, due to the stage being high, however I took the chance, and when we took our seats, the stage wasn't as bad as it said, and we could see all the stage from where we sat. At times yes we did need to crank our necks to see the actors when they were far down stage, but we were right in the action that was happening on stage! As you can see from the photo!
Peter Pan Goes Wrong has the similar antics to that of its father The Play that Goes Wrong' being that it is the same 'Amateur' dramatic group that is putting on their festive play, tonight's being the story of Peter Pan, and the Darling children's. However this portrayal didn't go as planned as they wanted it to be. From the very start we can see that things aren't as they are supposed to be, what with the stagehands trying to get the lights to work, and playing with the electrics, and the performers running around the auditorium with comments of 'I don't know if I can do this, I feel really sick' and ' I don't know where I need to be.' The once the play was introduced by its director it was all go, and chaos at the same time. Although similar to the Play that Goes Wrong, with banging of heads, objects falling from the sky, and performers passing out/hurting themselves to which the stagehands need to step in. However this time there was a little extra, with a revolving stage involved you knew something was going to glitch, lovers affair, electrocuting, and flying antics. I feel with this show again you would get something different each time, and tonight a lot more audience involvement, as although they say 'This is not a pantomime' they still incorporate cheeky moment that the audience could shout out that had us cheekily laughing. Also there were a lot of children in the audience, and they don't hold back when Hook (the Director) was trying to take the bottle off the poison with his Hook, when a kid shouted 'Use your other hand' which led to him ad-libbing, which had us in hysterics. I guess in ways you have to see it to understand, and again if you love classic British Comedy, similar to those of 'Fawlty Towers' and 'Monty Python' it wont disappoint you, and we all had a great time.
 The Cast tonight were:
Performer (Character) – Actor
Chris Bean Director (George Darling, and Cpt. Hook) – Harry Kershaw
Robert Grove Co-Director (Nana, and Starkey) – Oliver Senton
Jonathan Harris (Peter Pan) – Daniel Pitout
Sandra Wilkinson (Wendy Darling) – Byrony Corrigon
Dennis Tyde (John Darling, and Mr Smee) – Syndey K. Smith
Francis Beaumont (Narractor, and Cecco) – Laurence Pears
Max Bennett (Michael Darling, and The Crocadile) – Matt Cavendish
Annie Twilloil (Mary Darling, Lisa, Tinkerbell, and Tiger Lilly) – Adeline Waby
Lucy Grove (Tootles) – Susan Harrison
Trevor Watson (Stage Manager) – Bailey Patrick
Jill Jones (Asst. Stage Manager) – Katherine Charlton
Phil Phillips (Asst. Stage Manager) – Susan Harrison
Again it is hard for me to pick out the actors, as each of them should be praised for what they do on stage, I mean I don't know about you but playing an actor, who is bad at acting is a tricky one, and they all look natural doing so. They all work well as a team, and how they don't have each other in fits of laughter each night is beyond me! I will also mention Laurence who played the Francis/Narrator was very impressive with his magic skills, that even left us confused and bemused to how he did a few tricks! Also my friend Jess realised that she had been to school with Annie/Tinkerbell, Adeline Waby who did excellent in her first West End Show. I loved watching all the cast together, and I can tell they love what they do.
Peter Pan Goes Wrong is performing a limited run at the Apollo Theatre till the 29th January, and for tickets go here. However if you can't get to London, I found out that it will be Aired on New Years Eve on BBC one which was pre recorded for all to see!  But who knows its come back twice, im sure there a third time lucky in there too! I do recommend it, it is one for all family and it is one for the whole family. Now my next venture with Mischief Theatre will be The Bank Robbery, but this was a great show to end the year on!