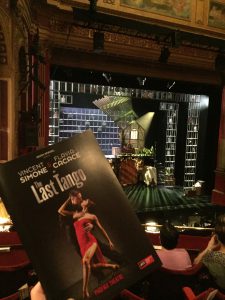 I have been planning my theatre trips for the remainder of the year, and last week I had anouther one to add to the list Just from a single tweet from Box Office Uk a theatre ticket website that do amazing deals on anything west end! (For their website click here) asking me to get in touch. I promptly followed and messaged them, and they asked if i would be interested in viewing a production to review for my website,  I responded yes and within minutes confirmation of tonight's show was all completed.
Now recently one of my favourite tv shows has returned to BBC on Saturday nights. Tonight I would be seeing 2 performers live in action from that tv show 'Strictly Come Dancing, Vincent Simone, and Flavia Cacace in The Last Tango
I was very excited, as it was something completely new to me, I have always loved dance, and am so envious of those who can (as sadly it is not my top Fortay when it comes to performing myself.) I was also interested how they were going to portray this show, would it be similar to strictly? One dance after another or would there be a there a story behind it? So when we got to the Phoenix Theatre, I purchased a programme, and we took to our seats, awaiting to see what we were in for.
If you have read my blog you are aware I have visited this particular theatre a fair amount of times, the box office uk hit me up with amazing seats in the dress circle row D numbers 27, and 28 which was to the far left on the aisle, I was not disappointed, our view was great, and no restrictions at all. From taking a gander around I would happily say anywhere you sit in the dress circle you won't be complaining and would get your money's worth! Also I can now say that I have sat in each section of this theatre and I really do feel it is the best theatre with great views in every seat. So thank you Box Office for the great view!
Now onto the show. Vincent Simone, and Flavia Cacace are one of the uks most famous and successful Argentine Tango act, having toured around the Uk with this show, they were now making themselves home in the west end for their final performances. 'The Last Tango' not only performs amazing dance numbers, but what I loved the most was there was story between the steps. A story of finding love, building a relationship, family, and heartbreak. We see this as we are introduced to George played by Teddy Kemper, who is rumanging through his attic of memories focussing mainly on his love, how he met his wife and the times they spent together through their relationship, he would focus on an items which were then portrayed into stories though the many dance numbers by Vincent, Flavia and the amazing talented ensemble behind them. Teddy was great, his character throughout was very sweet and playful, he had the audience chuckling with his actions, particular the moment on the rocking horse, it allowed the audience to relax in ways and help space out the story well, and towards the end you feel so much for him, and with the help of the dances you could also tell how much he loved his wife.
The dances were accompanied by singer Oliver Darley singing the classics such as 'Perhaps, Perhaps, Perhaps' 'Boogie Woogie Bugle Boy' 'When I Fall In Love' and those were a few favourites. His voice was warm, and seemed to change with each song to suit the style. He also brought character to the songs changing his costumes with the era they were in, and interacting well with the dancers, along with singing with Anna Woodside who slayed the whole dance and singing making it effortless in her stride! As did the other dancers Callum Clack, Huges Ward, Aaron James, Grant Thresh,  Diana Girbau, Jemima Loddy, and Rebecca Herszenhorn who also sung while danced and took it in their stride, they danced beautifully together, and it was lovely to see that they had their own solos, and moments in the story to show their amazing talent in all genres of dance.
But what can I say about Vincent, and Flavia. The two are actually one, when they dance they flow so well, and the passion they have for what they are doing is unreal, when they tangoed at times you couldn't tell who's feet were who's, especially the final dance. How they don't kick each other I will never know. They were memerising to watch and you can't help but smile when they dance. There is a song that l love to listen to on the Little Mermaid broadway soundtrack called 'One Step Closer' where Prince Eric teaches Ariel the way of dance and one lyric stood out when watching Vincent and Flavia dance. 'Dancing is a language that is felt instead of heard' and I now fully agree from having watched what I watched tonight!
I thank Box Office Uk for inviting me to see this production that may not have been on my list to see, but now I am so glad I did, as it has now opened me to going to further shows the future and hey I may even try a ballet if I'm lucky! The Last Tango is performing at the Phoenix Theatre, performing now until the 3rd December. For tickets please go to the amazing Box Office website http://www.boxoffice.co.uk/arts-and-theatre-tickets/musicals/the-last-tango-tickets.aspx along with many great deals for other shows currently being performed. If you have a love for dance, and the arts this is the show to watch and enjoy!