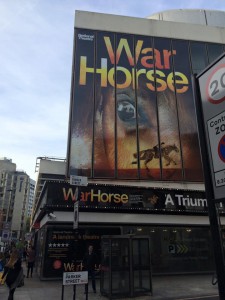 It has been a goal of mine since I've been in with partner to see this show, and when I sadly heard that it was due to close next year the goal was put in faster pace. Although Graham has been very understanding with my passion for Theatre and has seen a play, and a musical with me already, and not forgetting seeing me perform in three productions since we have been together I completely respect him and love him more (however he has yet to see me at a stage door…). However I have always been mindful of which shows I pick for Graham to join me, and I knew that he would enjoy this one, and well being my birthday week…how could he say no.
We had booked a few days off together having not had a break for sometime since we have moved to Kent, and one of those days included my 26th birthday and since I was rehearsing 'Sunset Boulevard' in the evenings, our only full day together without another agenda was on Tuesday and my choice was to spend it in the City that I love London. The day before Graham asked what I would like to do there, I wasn't fussed I just loved being in the city, but I suggested a walk around the museums, then a meal and a drink, and  maybe if we could purchase tickets go and see the evening performance of the National Theatre's War Horse. To my surprise he said yes! which followed closely with a debit card buying tickets that night!
So after a day of looking at the different exhibits in the Science Museum, a drink in Covent Garden, and then a lovely meal at Zizzi's it was off to the New London Theatre
I was so excited we had purchase front row E to the left hand of the stage numbers 44, 45 both selling at £25.00 each, there wasn't a warning of restricted view, but having seen the play before I knew we wouldn't be
disappointed, as the performance is in the round, and it is not a massive theatre I feel as though anywhere you sit to watch this show you won't get a bad view. The last time I had seen the play I was seated on the same left hand side but at the far back row I and even then our view was great! you may not get a full view at times but that is the way of theatres in the round, but you don't loose any of the powerful story being told.
The story of War Horse is based on the novel by Michael Morpurgo, a book that I own, and loved reading. It still surprises me that it is a children's novel. it tells the tale of Joey a captured Foal who is brought to Devon to be auctioned, he lead a competive bid between brothers but it is Ted the poor local drunkard farmer who wins the auction on the money that was meant to pay for the farm's mortgage. When Ted returns home with Joey his wife Rose fear that this would lead to them loosing their farm, but Albert their son promises that he will be able to raise the foal and train in to be sold. During the training Albert forms a strong bond and friendship with Joey which leads to the jealousy of his cousin Billy who gets his father to get Ted drunk and make a bed, that if Joey learns to plough within a week, he will give Ted 39 Guineas (the amount that Ted paid for Joey) if not then Billy will get the horse. Distraught at what his father is done Albert puts his full attention in training Joey to plough and by all odds the horse that was bred to hunt successfully gets taught to plough winning the bet, and the money.
News of the outbreak of World War One reaches Devon, and all men, and horses are taken to help fight for their country. Ted knowing the power that Joey has leads him to sell him to the cavalry. Albert distraught at what his father has done, and it is Lieutenant James Nicholls, (who would often sketch Albert and Joey riding in the country) promises Albert he will look after his fine horse. Albert to young to join the army, finds himself stuck but promises and swears to Joey that he will be with him again, and watches him leave, along with his cousin Billy.
Joey gets shipped to France, along with his field partner Topthorn who bond together and inseparable. The charges of the British cavalry are overwhelmed by the fire from the new technology machine guns of the Germans. During the first charge, Nicholls is shot and killed, which leads Billy to be assigned to ride Joey into battle. When they lead they sadly get captured by German Troops. Albert learns that Nicholls has been killed in action, when he receives his sketchbook of all the doodles he sketched of Joey, and being that he can now enlist Albert takes himself to the army and goes to France where he befriends private David Taylor.
The Germans who have taken Billy to a French farm being used as a makeshift hospital, refuses to give his knife to them leads to being killed. Joey is now in the hands of Friedrich a German officer who just wants to survive the war, and when a shell kills most of his comrades he switches his coat and identity with an enlisted medic to do so. He comes across a young girl from the family who own the farm Emillie, who takes to the horses and helps take care of them while they support pulling an ambulance for wounded soldiers, all seems well until the Germans force the two fine horses to work as draft horses, Topthorn getting old and tired is inspired by Joey and goes with him until the exhaustion is to much and sadly passes.
Friedrich mourns the death of Topthorn and while doing his group becomes attacked by a tank and is killed, driving Joey to run. He then gets caught in barbed wire in No Man's Land between the enemy lines. The Germans and British each send out a man under a while flag to go and aid to Joey. successfully cutting him free the two bet on a coin toss, and British take the injured Joey back to camp.
Albert meanwhile with David in the field encounter Emilie alone and traumatized and take her to British headquarters on their way the find a dead horse with Billy's knife, Albert thinks the worse and believes the horse is Joey. Hearing the name Emilie tries to talk to Albert about his horse but is interrupted by an attack which leads to David being shot and killed, and Albert being blinded by tear gas.
Rescued and safe in the British encampment, Albert tells his story to a nurse, when Joey is brought to the same camp by soldiers. The doctor assesses Joey's injuries and claims him to unfit, and too hurt to be helped and prepares to kill the injured Joey. Albert lost in his story whistles and Joey responds to him. Learning the full story, The soldiers agree that Joey is to live, and Albert will care for Joey during their joint Convalesces. the end we see Joey and Albert the horse and farmboy return home safe to Devon at the end of the war together.
I have always been one for learning about History having studied it in GCSEs and As Levels the World Wars have always been an interest of mine, and I love that this one focuses on the animals that fought as well.  It shows the compassion and strength that the horses had to fight through to support the troops, and it wasn't easy. over 8 million horses died on all sides fighting in the war.
The Cast tonight was as follows:
Albert Narracott – James Backway
Ted Narracott – Colm Gormley
Rose Narracott- Jayne McKenna
Billy – Simon Jenkins
Captain Nicholls – Dominic Hodson
Freidrich Muller – Alasdair Craig
Emilie – Claire Louise Connolly
David – Tony McGeever
Now there are many other characters throughout the story played by many members of chorus, and each brilliantly portrayed, but the above are the named characters who you learn a lot more about. the Narracott family were lovely and you could really understand the desperation of the mother who just wants her husband and son to get what's best, and the father who is just trying to find acceptance and the will to give his family what they deserve. then Albert played by James Backway, was brilliant and loved watching him and the passion he had for Joey, it must be hard but yet so rewarding to work alongside and ride Joey in this production and to have the audience sympathise with his sadness and passion to get his horse back must be hard to do each night but he surely did it.
Emillie and Freidrich also to me are brilliant characters, Emilie a young girl not truly understanding of what is happening around her and lost and scared in the danger finds refuge in these two horses, and you can tell how affected she is when they are taken, as they are her release from this terrible event Claire really did demonstrate this throughout, and you just wanted her to have the horses back and play. Alasdair as Freidrich showed the desperation that some soldiers went through to ensure they would return home to their families, and also that he too had the horses as an escape from the hell he was living, you really feel for him when he gets caught and taken back onto the battlefield and upset that he never does make his way home, as many soldiers didn't.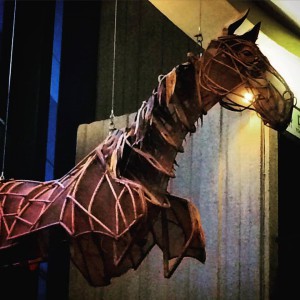 Now you may be thinking ok so those are the human actors, but what about the animals. And believe me this is the true magic of the play is the role of Joey and Tophorn all being performed by 3 puppeteers who fully transform to create this real life horse, that throughout the night you completely forget that this is a puppet (the photo is the form of which Joey is). When I saw the play the first time I saw that they had a making of DVD in the gift stand, so when I got home I checked on Amazon and cheeky found it a little bit cheaper and purchased it that night. Watching it was a great insight on how the transformation to Joey is done, and I learnt that each puppeteer learns the ins and outs of a horse and many of whom go and work, and ride the queen's guards horses in London. When all of them are in the puppet they all learn that they have to breath in unison to ensure that they each go on the same beat, and thoroughly watch and ensure that every movement from his ears, breath, tail flip is to a tee, and yes they do it! so convincing that Joey has been known to interact well with real life horses when out in the community, it just goes to show just how amazing these puppets are, and if you want to see something magical then War Horse is just that, you don't think twice or ashamed that you cry for this character that you are watching.
I am so happy that I got to see this production one more time before it sadly leaves its run on the West End, and I got to share it with the boyfriend (who did actually enjoy it even though he says its just a horse…we won't go there). There is rumour that it is going back on tour again but I can't find myself wanting to see it because I just feel that it wouldn't have the same affect it has in its home theatre, as most of the time it will be to the front so I would feel less of the performance. So I highly recommend going to see this and catching it before it leaves, don't be put off by the cheap tickets cause as discussed any seat I feel your view will be amazing! so get your tickets now or you'll regret it!!