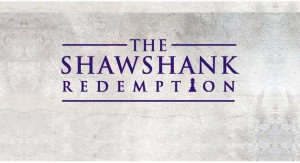 So after 4hrs of working in an office, I was granted a half day to travel down south to the Sea. Brighton, a much loved place of mine, that brings back memories, and tonight I would get to experience something new, by attending the theatre which would be the first time, however I had been to the Brighton Centre quite a few times.
A couple of months back my best friend Natalie posted on Facebook about wanting to buy tickets to the Play adaptation of Stephen King's The Shawshank Redemption and if anyone else fancied coming along, so with a quick comment I put myself forward! I had only vaguely seen the film myself when my sister was watching it, and I think mum wasn't too happy for me to watch it at the age I was (now I understand why), so I didn't really know the full storyline (and I couldn't go on the Family Guy version either!) so was quite exciting to see something brand new, and also go to a Brand new theatre.
As I have said it was the first time that I would be sitting in the Theatre Royal in Brighton having passed it many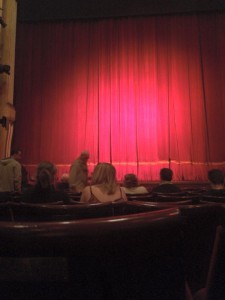 times when visiting, and although I noticed some good shows would be performed there is was never a choice to go to mostly because of travel I suppose, but Natalie will soon be moving there so who knows what the future holds. It was a very traditional theatre, and when inside it was very similar to some small theatres in London, I was quite surprised to see that it have 4 Tiers, stalls, circle, grand circle, and a balcony which I can only imagine the height from there! We had some very good seats, at the price of £33.50 we were seated dead centre in Row J and there was nothing to complain about, the show hadn't completely sold out, which was expected being a Tuesday night a day after opening, and we didn't have anyone in front of us, but even if there was I still don't think our view would have been too affected from it. so I recommend sitting here, and from what I could see anywhere in the stalls you would have had a pretty good view, I can't say anything for the Circle and above however but maybe in the future. What surprises me is that some top West end tours perform at the Royal, and both Priscilla, and Hairspray are due to hit the stage, which both have flamboyant bit scenery so I would be intrigued to see how they set the stage, and whether some bits are moved about, changed or removed to suit the stage, as its not the biggest and quite narrow, but they must do it some how.
The Shawshank Redemption is a cult fiction written by thriller author Stephen King, it was part of 4 different stories from his novel Different Seasons, a novel that was very different to his other stories such as Carrie and The Shinning. The Shawshank Redemption is a story that tells the tale of Andy Dufresne, a banker who is sentenced to life and the Shawshank state prison for the murder of both his wife and her lover, to which Andy claims that he is innocent. During his time at 'the Shank' he befriends fellow inmate, Ellis Boyd "Red" Redding, the go to man who claims he can get anything the inmates wish for but at a price.  It follows Andy and the terrible truths of prison life in the 1940, and 50s, and how he cunningly tricks the warden, and claims his freedom on the end.
Before the play, The Shawshank Redemption was release in cinema's in 1994 staring Tim Robbins as Andy, and Morgan Freeman as Red, the film it self was a slow burner, and a box office disappointment, however it received multiple award nominations, and outstanding reviews for its acting, story, and realism, it then grew to have a cult audience with consistent showsing on television and extraordinary success in the video market as one of the top rented films with many watching it over and over again. Tim Robbins claims that "All over the world, wherever I go, there are people who say, 'that movie changed my life."
Within those fans were surprisingly two stand-up comedians, Dave Johns, and Owen O'Neill, and when working together appearing in a version of Twelve Angry Men at Edinburgh Festival in 2003, they expressed their love for the film, and figured that it was perfect for the stage, the play reflects Stephen King's original story than that of Frank Darabont's film, and was first produced in 2009 at the Gaiety Theatre in Dublin, it has since had two further productions, which included a transfer to London. in 2013 the adaptation was completely rewritten and mounted in Edinburgh, and now, more than 30 years since it was first published, it is now set to entertain a new generation of audiences, in its first major UK tour, with a very strong cast.
Tonight's touring cast was as follows:
Andy Dufresne – Ian Kelsy
Ellis 'Red' Redding – Patrick Robinson
Warden Stammas – Owen O'Neill
Brooksie – Ian Barritt
Tommy Williams – George Evans
Bogs Diamond – Kevin Mathurin
Entwistle – Owen Oldroyd
Hadley – Joe Reisig
Rooster – Leigh Jones
Rico – Declan Perring
Dawkins – Ged Simmons
Kelly – Julian Mack
An all male cast, whom all performed wonderfully together like a tight brotherhood on stage, that brought heart, fear, and laughter to the play to help draw there audience in, you had Rooster, and Bogs, the bullies and feared of the group played by Leigh, and Kevin they gave a strong performance, and although Rooster has the most annoying laugh ever (which I suppose is why he is 'Rooster) his adaption from being a bully, to vulnerable when Bogs gets taken to another prison, makes me relate it to a school playground in my days. Rico brought the comedy to the play, the sweet, innocent, young character who just wants to understand the meaning of life, and learn the bible, he had the audience smile and laugh to bring light to the story being told, which was a nice release at times which such a strong tale.
The two main characters Andy, and Red were greatly performed by Ian and Patrick, Ian I had recognised before having been on Casualty, the Bill, and Emmerdale. He was another actor who has corrected me in my belief that TV stars cannot transfer to stage, he was so strong in his role, and I can only imagine what it took to create Andy, and try and get into his mind to understand what the character went through in prison knowing he was innocent, and how he was treated in prison affected him. When we asked him at the stage door how he was enjoying it he replied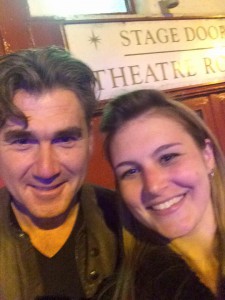 'i'm loving it.' Patrick had a touch act to follow in some sense having Morgan Freeman as the known face of his character, but watching him I completely forgot, and he made the character his own, that although he is a tough, strong character Patrick demonstrated this excellently but still the audience are drawn to him, and warm towards him comforted by his narration that you want to continue to hear more, I sadly didn't get a photo with him but he did draw a smiley face on my programme.
I was very happy that I chose to come as see this production and I thoroughly enjoyed it, and seeing something different that I wouldn't normally choose to see, so I thank Natalie for finding it, cause I knew I wouldn't of, and sometimes its good to just take the plunge and go and see something you might not want to, because it may turn out that it becomes something you wont forget, and make you want to read the book, and then maybe down the line get round to watching the film too, but for once I say the Film has a touch act to follow! If The Shawshank Redemption is coming to a theatre near you, I would get buying those tickets!