Tonight it was back to reviewing myself and I really couldn't wait to return to the Orchard Theatre to catch Waitress once again! It has to be in my top 5 Favourite musicals!
Waitress is a musical based on the 2007 film of the same name written by the late Adrienne Shelley. It focuses on the life of Jenna Hunterson, a waitress at a local diner and pie baker in an abusive relationship with her husband Earl. When Jenna discovers that she is pregnant, she starts to look for ways out and sees a pie contest and its grand prize is her chance of freedom! But getting that contest is more than what she expected with a side affair with her gynecologist Dr. Jim Pomatter. The musical it self introduces music and lyrics by Sara Bareilles and book by Jessie Nelson. It is the first musical to have an all female creative team!
No matter how many times I see this musical, it will always guarantee to put a smile on my face but also know make me tear up just a little bit – being that one of the songs assisted in helping me announce the birth of my little girl! The Story is uplifting and entertaining with something for all to enjoy, with the beautiful score, comical moments and heart warming scenes – what is there not to love? Having seen this show now a few times, it gives you a chance to view something you may have necessary noticed to your previous viewings. Tonight, I thoroughly enjoyed watching the choreography, simplistic yet powerful created by Lorin Latarro it brought a contemporary style to the stage and gave it a unique take on dance numbers in musicals. It was if the cast were all one, and each going on the journey of the song/story with the character singing.
I was very excited to hear that David Hunter was returning back to the role of Dr Pomatter, the role he originated back in the west end during its London run! David's take on Dr Pomatter, is brilliant, he had the comic timing, the innocent yet naughty character that you knew cared for Jenna so much, but also his voice is strong and content that well suited each song he delivered. His relationship with Chelsea on stage was such a joy to watch and you can tell that both of them were enjoying performing on stage together – even with a cheeky chuckle during the Act 2 Reprisal of Bad Idea. Having missed her at Bromley, I was looking forward to catching Chelsea Halfpenny as Jenna -she did not Disappoint! Her vocal's were outstanding during each song but by far blew the audience away with her renditions of What Baking Can Do and She Used to be Mine – which brought a tear to my eye and her emotions were clearly portrayed throughout every lyric. She was made to play this role.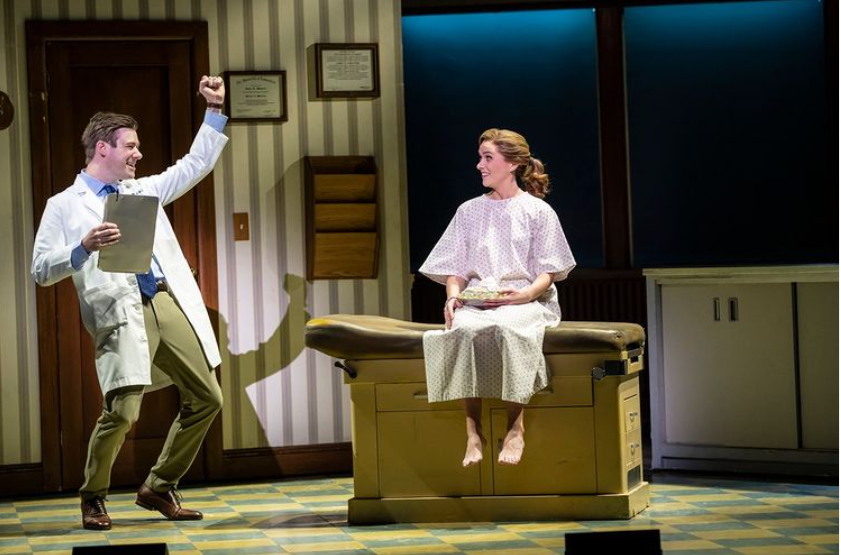 Tonight was a debut of Liam Mchugh in the role of Ogie, which thoroughly shocked me when learning this as he was on that stage like he had played that role a million times! He channeled the role of the loveable yet strange unique character and was an instant favourite of the audiences – he can also can do some pretty high kicks! His relationship with the equally loveable and innocent Dawn played beautifully by Evelyn Hawkins was so much fun and a real delight to watch. Along with this you had Wendy Mae Brown as Becky, who had the sass and heart for the role her comical moments with Cal played by Christopher D Hunt, were a personal highlight and were excellently delivered that had the audience laughing out loud!
The whole cast delivered an outstanding performance and made sure the audience were given a great night out to the theatre. No matter how many times you see this show, it does not fail to make you smile – maybe even tear up just a little. Its an instant love from the moment the first pie is baked and is just delicious for all to enjoy – it is by for NOT a 'Bad Idea'! I can only hope I can take my little girl to see it one day!
Playing at the Orchard Theatre until Saturday 9th July 2022, for all ticket information go here. It then continues on the final leg of its tour with a few venues to go – for all dates and ticket information go here.