Harriette Douglas steps in as guest Rose Reviewer:
It was great to be back at the Orchard again just a week after my last visit. This week to see Beautiful, the Carole King musical, which was completely new to me.
Taken from the Beautiful tour website: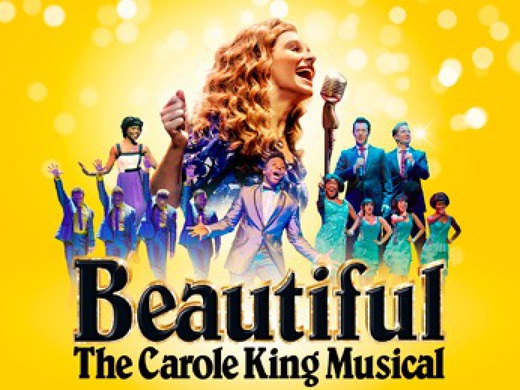 Carole King, the chart-topping music legend, was an ordinary girl with an extraordinary talent.
She fought her way into the record industry as a teenager and sold her first hit, 'Will You Love Me Tomorrow', when she was just seventeen. By the time she was twenty she was writing number ones for the biggest acts in rock 'n' roll, including The Drifters, The Shirelles, Aretha Franklin and The Monkees. But her greatest challenge was to find her own voice and finally step into the spotlight.
Beautiful is the untold story of Carole King's journey from schoolgirl to superstar. From her relationship with husband and song-writing partner Gerry Goffin, their close friendship and playful rivalry with fellow song-writing duo Barry Mann and Cynthia Weil, to her remarkable rise to stardom.
I have to confess my Carole King knowledge was limited. I knew nothing about her life and wasn't entirely convinced I knew many of her songs. Or at least that's what I thought before tonight, when I recognised every song that was played. Turns out that legend status of hers is very well-deserved.
Thankfully, this cast more than lives up to her reputation. Molly-Grace Cutler, who plays our leading lady, has one heck of a voice. She belted out hit after hit, delivering a particularly powerful rendition of 'It's Too Late' at the point where Carole's marriage falls apart. In her acting she conveys the true heartbreak of Carole's story – her repeated attempts to make her marriage work before she calls it quits.
Her chemistry with Tom Milner, who plays husband Gerry, helped to convey their tumultuous relationship, equal parts harmony – as seen in their duet 'Take Good Care of My Baby' – and tension. The pair work well together.
For me, one of the slightly unsung stars of the show is Jos Slovick, who plays rival songwriter Barry. Not only does he provide some of the most comic moments of the script, but he also has a lovely, melodic voice.  You don't get to fully appreciate it until Act Two when he does some solo singing for 'Walking in the Rain' and 'We Gotta Get Out of This Place'.
Otherwise, it is hard to single out others in such an incredibly talented cast, all of whom not only sing but play at least one instrument as well, providing the music for the entire production. Together, they truly bring to life the swinging 60s, filling the theatre with energy and making the audience want to get up and dance (which we did, at the end).
The set really added to this atmosphere as well. Most of the scenes take place in a recording studio, the bright lights, instruments and continuous bustle demonstrating the hectic lifestyle of all these artists and songwriters looking for their big break.
From beginning to end, Beautiful had me captivated. Jam-packed with hit songs, and in full 60s-swing, it captures the heart of a generation and delivers Carole King's story elegantly. Simply put, it was beautiful.
Beautiful's final date at the Orchard is Saturday 30 April; you can get your tickets here. For other tour locations check here.