After enjoying a night viewing The Play Goes Wrong, I was excited to see that Mischief Theatre would be returning to the Orchard with one of their Newest productions. Known mainly for theatrical mishaps, Mischief have brought on tour a new serious comedy 'Groan Ups' a more study of life that goes pear-shaped!
Set within a school room, the audience follows the life of five different characters as they journey from pre-pubescence to maturity. Starting as playful rebellious six-year-olds then they are 14 forming emotional ties before they turn into and 30 year old's returning as a school reunion.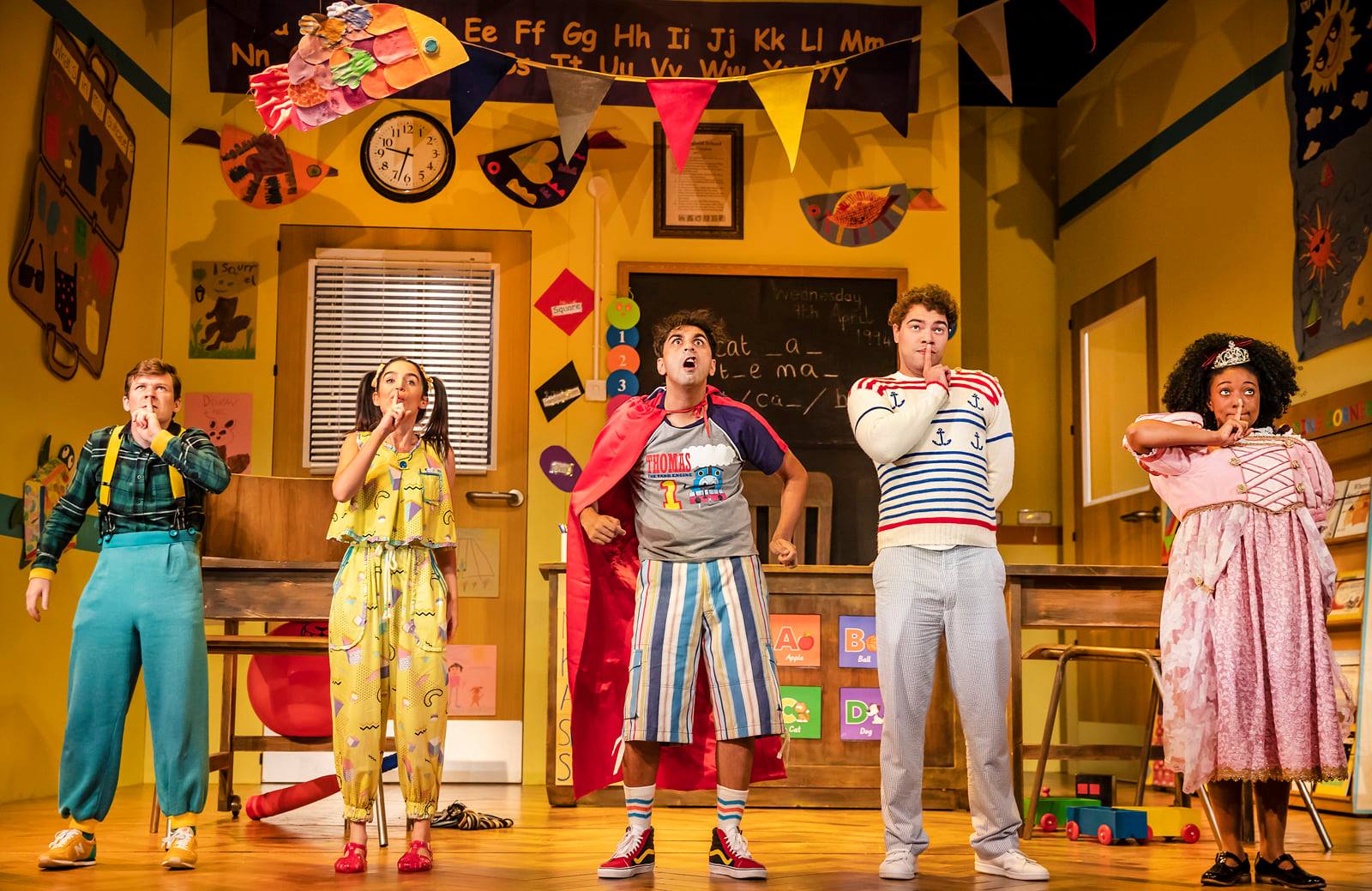 The play itself takes time to warm to, with the first act not being as funny as the second. Although cute and at times relatable the comedy in the first came across unrefined, with adults playing younger ages it's hard not to go over the top, however when in the second act the comedy fitted well and led to the audience laughing out loud! But, without the first act the second act wouldn't have been half as good as it was, as it laid the foundations of what was to happen for some of the characters. So in all, the show complemented each other but also covered how the patterns of childhood can be replicated in adult life.
The cast tonight did Mischief theatre proud and being a small cast it allowed them each to have their moment within the story. Matt Cavendish as Simon excellently portrayed the bullied yet just trying to fit in kid that we all had within our schools, then turns to the desperate adult who proves he is successful, his comic timings were perfect and his paid relationship with Jamie Birkett as Chemise was a personal highlight that brought out most of the laughs at the end of the night.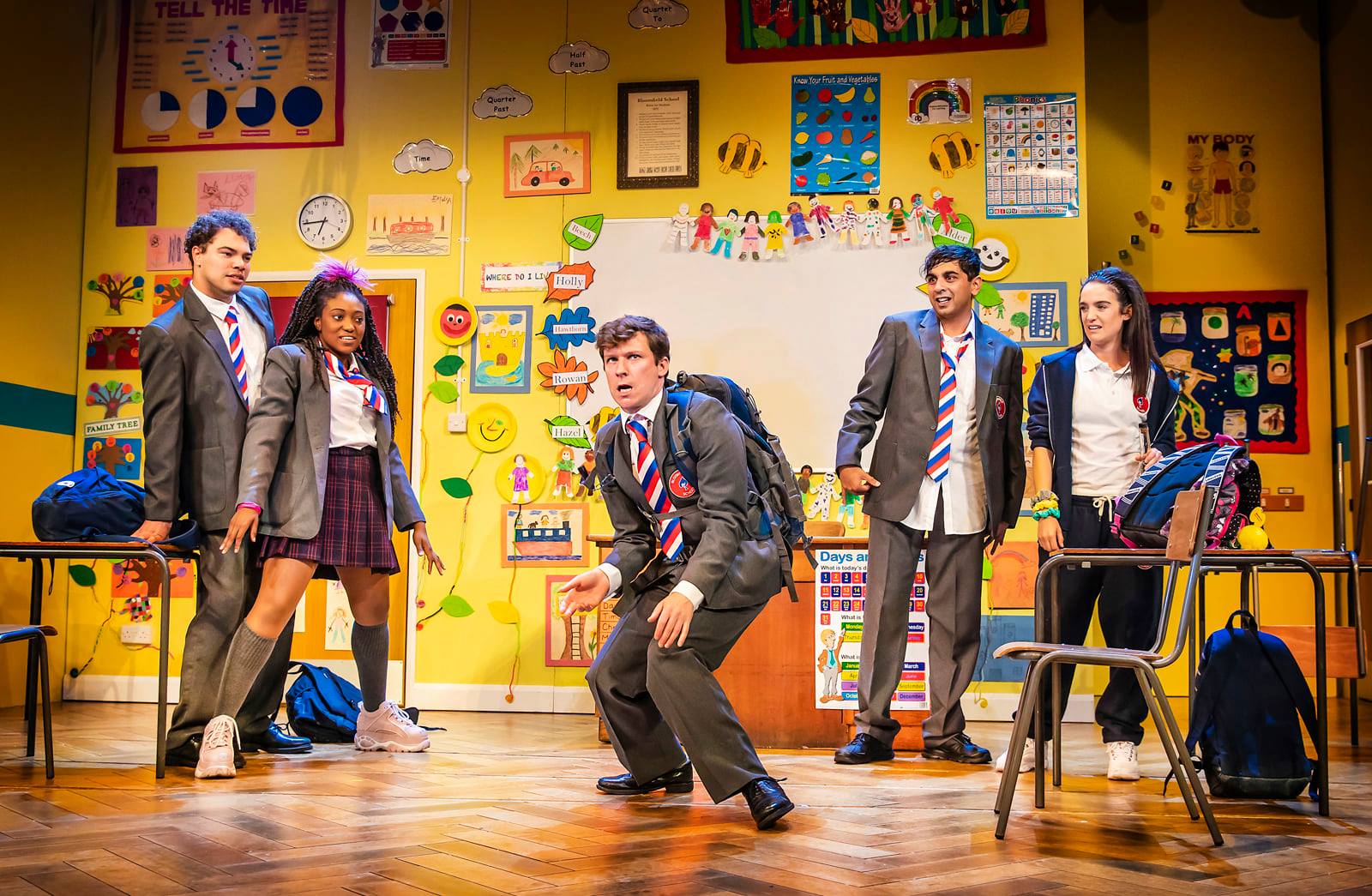 Lauren Samuels, as Katie the more down to earth successful student was brilliant to watch and shows a clear difference to that of the 'popular' can't let go of her school years Moon played by Yolanda Ovide whose timing with some brilliant one liners couldn't have been better. Then there were the two cool boys Spencer and Archie played by Dharmesh Patel and Daniel Abbott, both excelled within their roles, Daniel in particular holding back a secret that Archie was too ashamed to admit and clearly demonstrating the emotions that are still similar in todays society. Dharmesh, again completed the naughty not a care in life student perfectly, that goes on to reflect in his adult life with a down and out job and the wish to not live out his youthful days. You also would not trust him with a hamster!
No matter which way you take this play, you will guaranteed say, I knew a kid like that or just maybe, I used to be that kid. You will also come away smiling having enjoyed a different comedy that we can all reflect on and makes us laugh out loud. Mischief Theatre's different take on comedy proves that they can achieve more than the slap stick farce but create a meaningful, entertaining production.
Playing at the Orchard Theatre till Saturday 6th November, for all ticket information head here. It will then continue on its growing tour, for all venues and ticket information head to their website here.