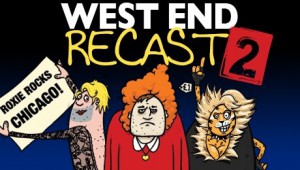 It had been 2 months since I had the privilege of sitting in a theatre, and 2 months was long enough for me to think that this was wrong! It was time to scan over twitter and see what my favourite west end stars were up to, and as luck had it, I stumbled across many retweets from those particular favourites, advertising a certain event/performance to take place in early November.
West End Recast was making a reappearance in West End Recast 2!! the reprise of the last show in March, and having missed that one, I wasn't going to miss it again!
West End Recast is a performance put together by many west end starts the twist however is that they sing songs to which they would never sing on the real west end stage. Age, Ethnicity, gender, height, weight, shape, hair length, hair colour, eye- colour, voice type, accent are just the few of the subheading by which actors are categorised in a casting for a show. if the Actor does not look  like what is required for the role they are going then they get let go, let alone singing a note of the score first! This is what West End Recast is all about, a chance for those performers that get turned down, or don't get to sing songs that they wish to sing in front of an audience a chance! Which brings a whole new light on the character and maybe they even perform it better! More than just a kooky evening of entertainment and laughs, West End Recast plays with the notions of potential, testing the regimented waters and asking what if?
Now as I said before finding out about this performance was due to the many retweets of it on twitter, and those performers were Nathan Amzi (Rock of Ages, Urinetown), Julie Atherthon (Avenue Q, Lift), Jon Robyns (Avenue Q, Spamalot), and Cynthia Erivo (I Can't Sing, Sister Act, Dessa Rose), so you can tell why I wanted to go! Joining them would be Sabrina Aloueche (We Will Rock You), David Bedella (Rocky Horror Show), Gina Beck (Les Mis, Wicked), Daniel Boys (Avenue Q-Takeover, Any Dream Will Do Tv Show), Rebecca Brewer, Fra Fee (Les Mis), Oliver Hembrough, Nick Holder (Les Miss, JCS, Miss Saigon), Cassidy Janson (Dessa Rose), Leon Lopez (We Will Rock You Tour), Michael Matus, Annette McLaughlin, Katie Rowley Jones (Wicked, Sister Act), Jull Winternitz.
Each of them would bring a new portrayal of a song from a West End Show current and past, and I was so excited to see what they would bring and they brought it!!
Tonights, Act One line up was as follows:
1.Phantom of the Opera – 'Phantom of the Opera'
Peformed by Sabrina Aloueche (Phantom) & Michael Mattus (Christine)
2. Grease -'Greased Lighting/Born to Handjive'
Peformed by Katie Rowley Jones (Danny)
3.The Last Five Years – 'A Miracle Would Happen'
Performed by Cassidy Janson (Jamie)
4. The Full Monty – 'Big Black Man'
Performed by Oliver Hembrough (Horse)
5. Oliver – 'As Long As He Needs Me'
Performed by Leon Lopez (Nancy)
6. Little Shop of Horrors – 'Dentist'
Performed by Rebecca Brewer (Orin Scrivello)
7. RENT – 'Out Tonight'
Performed by Jon Robyns (Mimi)
8. Sunday in the Park with George – 'Finishing the Hat'
Performed by Jil Winternitz (George)
9. A Chorus Line – 'Music in the Mirror'
Performed by Nathan Amzi (Cassie)
10. Gypsy -'Rose's Turn'
Performed by Nick Holder (Mama Rose)
11. Company – 'Being Alive'
Performed by Cynthia Erivo (Bobby)
Quite a good line up I thought to myself when scanning through it before the performance started was happy that I would get to see Jon, Nathan, and Cynthia twice that night, and there performances were brilliant in the first Nathan as Cassie was brilliant, it was interesting to see him take on that role and song, as he himself used to be a ballet dancer, so he could in a way relate to what Cassie was singing, but he also made the audience laugh with him which was quite nice to see, and also giving him a serious song to show how strong his voice is and just why he was a finalist on The Voice. Jon's Mimi was also quite interesting, being that he was singing one of my favourite songs from RENT it was quite entertaining watching him walk on in a black waistcoat and fixed up with some make up I later found on twitter to have been applied on by Cassidy. He really worked the song, and brought a new twist to the song…always pops into my head when it plays in my car now (not sure if that's a good thing or bad, but what can you do). Cynthia closed the first act which wasn't expected as from the programme it stated differently and there must have been a last minute change earlier in the day, nevertheless when you watched her perform it was clear why it was changed. Cynthia, as expected had the audience on their feet when she finished, Being Alive became her song, and although usually sung by an actor, you didn't care cause from her standing centre stage she made it her own. I will never tire of listening to her! which is why im annoyed I Can't Sing! and Dessa never had a soundtrack!
Other Highlights of Act One had to be Rebecca Brewers rendition of 'Dentist' it had the audience laughing from the start, and with the cameo of the men (Nathan, Nick Holder) coming on to sing the chorus it just put the song in a whole different perspective, and you could see that it could actually work with having a girl sing that song…I mean girls do enjoy causing pain sometimes don't they? Leon Lopez's 'As Long as He Need Me' I thoroughly enjoyed, as it was nice to see a how a man would portray that song, and how they would interpret the some emotionally, and Leon really got into it and it defiantly showed. Nick Holder's 'Rose's Turn' made me smile, and entertained many in the audience too.
Act One was a tough one to follow, and it got me excited for Act 2. Though it did upset me that those that were sitting next to me and Hayleigh had decided to leave during the interval, and did not return after Act One. I guess they weren't to sure what they were watching, but it can't be for everyone, all I know is they better have regretted it!
Act Two Line up was:
1. Jesus Christ Superstar – 'Too Much Heaven on Their Minds'
Performed By Sabrina Aloueche (Judas Iscariot)
2. West Side Story – 'Maria'
Performed By Gina Beck (Tony)
3. Annie – 'Tomorrow'
Performed By Michael Matcus (Annie)
4. Shrek – 'Who I'd Be'
Performed By Cassidy Janson (Shrek)
5. Billy Elliot – 'Angry Dance'
Performed By Rebecca Brewer (Billy Elliot)
6. Sunset Boulevard – 'With One Look'
Performed By David Bedella (Norma Desmond)
7. Matilda – 'Naughty'
Performed By Julie Atherthon (Matilda)
8.Ragtime – 'Your Daddy's Son'
Performed By Fra Fee (Sarah)
9. Miss Saigon – 'I Still Believe'
Performed By Daniel Boys (Kim) & Jon Robyns (Ellen)
10. Les Miserables – 'Castle on a Cloud'
Performed By Annette McLaughlin (Cossette)
11. Dreamgirls – 'I am Changing'
Performed By Nathan Amzi (Effy)
12. Frozen – 'Let It Go'
Performed By Daniel Boys (Elsa)
13. Memphis – Memphis Lives in Me.
Performed By Cynthia Erivo (Huey)
Act two knew it had a competition to win after Act One and boy did it come with a vengeance! Sabrina was great with her rendition of 'Too Much Heaven on their Minds' and it brought back some nice memories of when I was in JC earlier that year. Gina Beck wowed the audience with her Tony in West End, performing 'Maria' so beautifully sung that if stood next to a man performing the number you would have been more interested in her! Cassidy made the audience laugh having walked on the stage with a green face, thinking she would be singing something from Wicked but alas she was caught out and with the removal of her witches hat to reveal two ogre ears, she began her version of 'Who I'd Be' from Shrek, now this is a another favourite of mine, and I always love singing this song even though its for a male, I was defiantly jealous of Cassidy singing it, but it made me smile seeing a girl do it!
Julie Atherthon defiantly brought a different turn with her rendition of the innocent Matilda's song 'Naughty' which actually really worked well. She turned the song into an adult version that suited the song, with a glass of wine in hand and a bottle in the other it was quite entertaining to watch, and her singing was great, she even entertained the band on stage making them giggle. Now when I sing it in the car, I can't help but sing it that way now. Daniel and Jon's duet from Miss Saigon was good, and their voices worked well together, also they have a lot in common with them both playing the role of Princeton and Rod in Avenue Q. I even suggested that they should have done 'Special' from Avenue Q with one playing Kate the Monster, and the other Lucy the Slut, to which they both agreed.
The second act drew to a close, and again it was with the amazing Cynthia Erivo just after Daniel Boys Frozen performance of 'Let it Go' which got everyone involved! Once again Cynthia brought the house down, with 'Memphis lives in me' having the audience again on their feet, and they remained standing for the bows.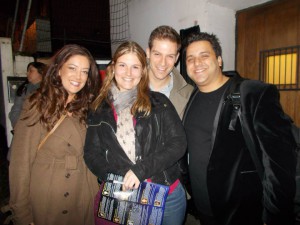 As soon as the performer began to leave the stage, it didn't take long for myself and Hayleigh to run around to the stage door, and we were very lucky to have first dibs on who ever came out. Also lucky Nathan, Julie and Jon all came out at the same time, and with a huge hug from Nathan, and a chat with Julie and Jon a quick autograph on the programme and then I took what has to be one of my favourite photos from a Stage Door ever! These Three I will not stop following around West End, I do feel bad that I didn't get the chance to see Nathan in Urinetown, but i'm sure he will be in something amazing soon, and Julie I always keep a close eye on to see her again. But Jon I knew was set to be the alternate Huey in the new Musical hitting West End Mempsis, so tickets will be bought for that!
We Managed to get further signatures from Cassidy Janson and we congratulated her on her performance in Dessa Rose and how much we enjoyed it, and also Daniel Boys who took into consideration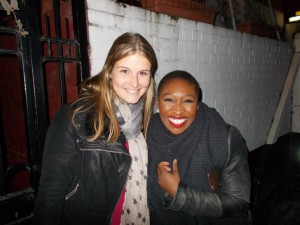 the choice of song I said earlier. Then just before leaving, and third time lucky I finally got a photo with Cynthia Erivo and also got to congratulate her on her performance in Dessa Rose, and how much I loved her in it and I Can't Sing! She is such a genuine girl.
We left the stage door in high sprits having got the autograph's and photos we wanted, I was even lucky to have received a lot of tweets from them also which is always a bonus for me! You should see my favourites on my profile which always remind of some amazing times! West End Recast was a brilliant night out, and a chance to see something completely different and also bring new light to musical numbers. This was number 2 of this particular show, and I hope number 3 may be just around the corner cause it will be great to see what new numbers they can come up with, and see what the performers can do!
I highly recommend it for anyone who is anyone that loves the theatre! I hope to see you in the audience at the next one, I know I will be!