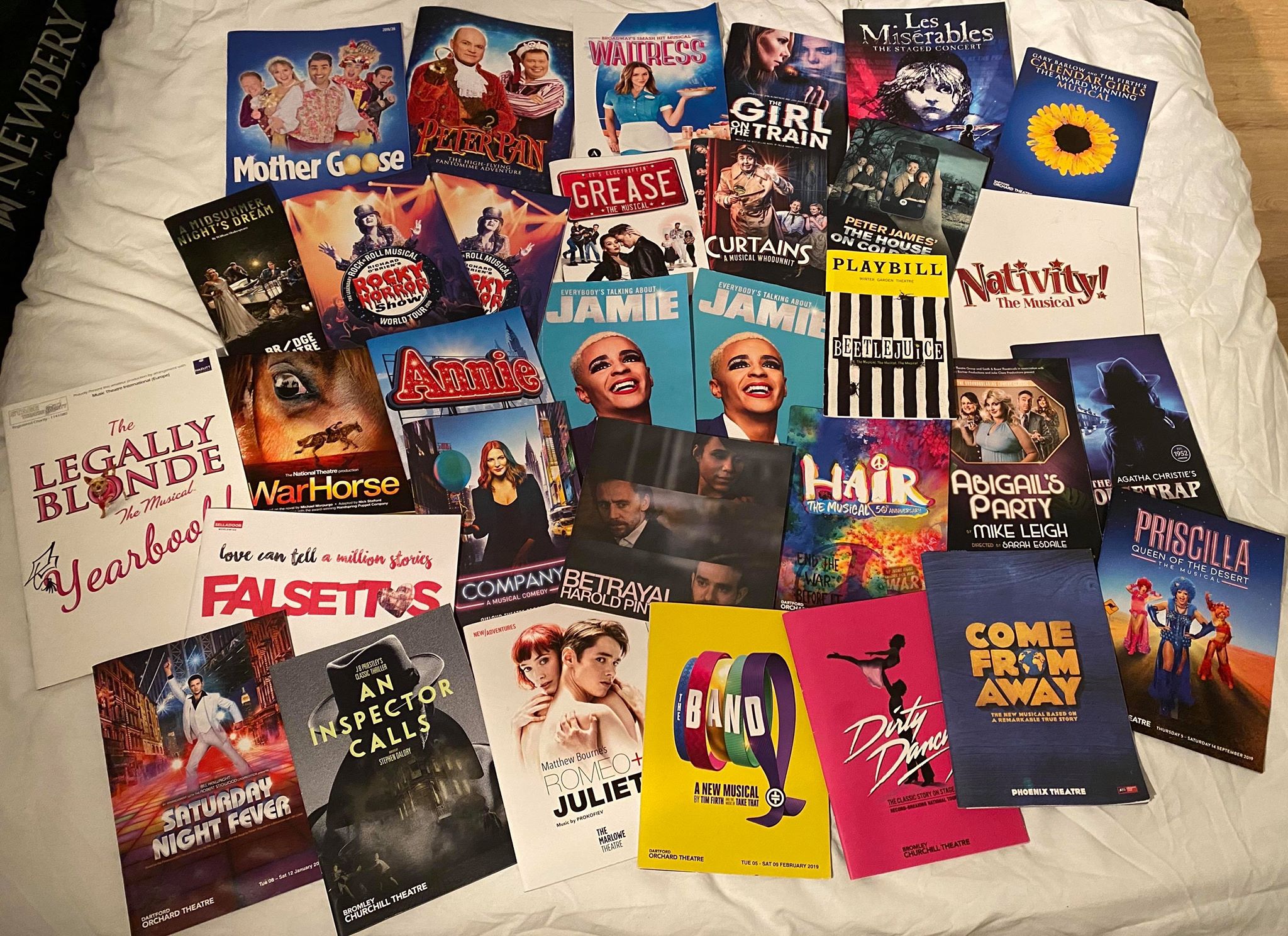 And so, another year is coming to an end – where has it gone?!? As far as years go, this one hasn't been too bad personal and with viewing, a little less than what I saw last year but then 2020 is looking to be quite interesting! Especially with the Theatre Tokens I got for Christmas and Birthday and also I am delighted to be blogging for the Marlowe Theatre in Canterbury!
But that's not to say that my viewings this year have not been exciting! Take a look below to see my 2019 Top 7 viewings:
7. Company – Gielgud Theatre, London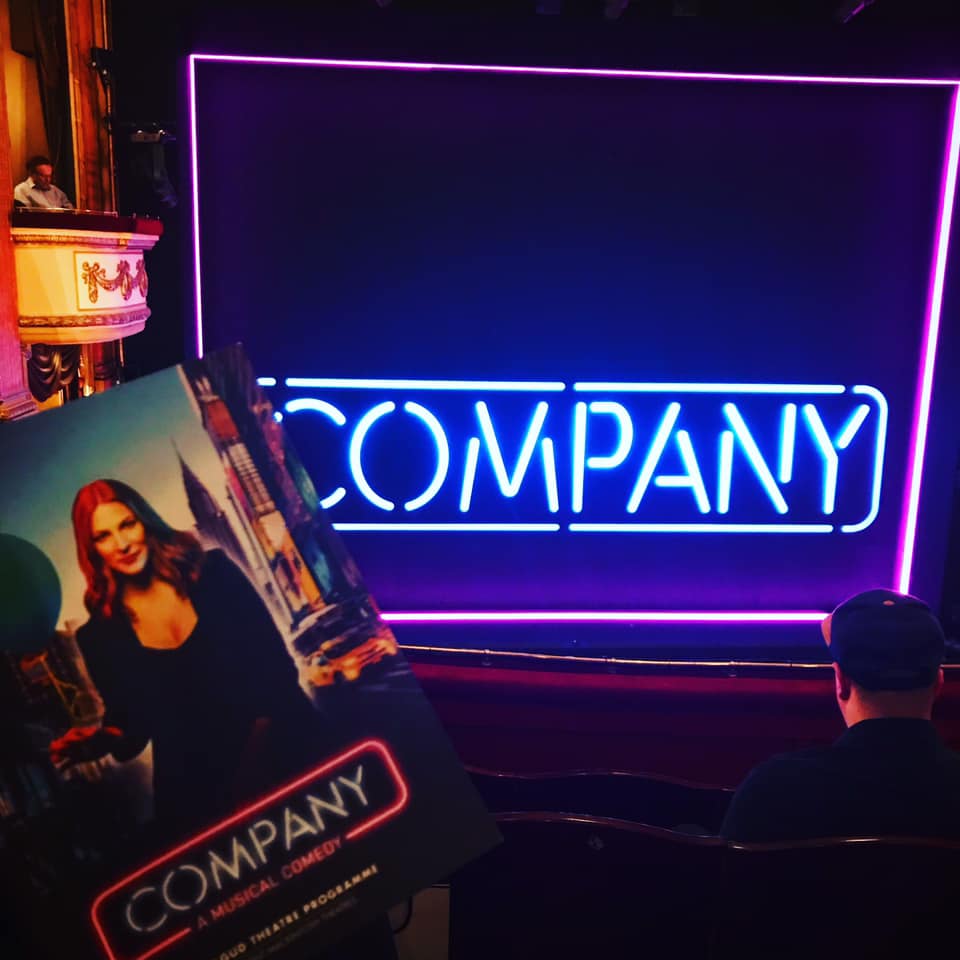 It took 2 attempts to catch this high reviewed show for me, the 1st ended with an abrupt end in Act 1 due to cast sickness – a first experience in my theatre viewings. I was not going to let this one go, with the help of TodayTix Rush tickets I managed to get tickets within the final week of viewings and see the full cast smash it.
Company brought a brand new take on the Stephen Sondheim classic by swapping the role of Bobbie to a female which was played by Rosalie Craig, that and the amazing cast including Patti Lupone, Alex Gaumond, Mel Giedroyc, just added to this amazing production that greatly deserved the many Olivier's it won in 2018. Making a great first entry in my top 7!
For the Full Review, go here.
6. Betrayal – Harold Pinter Theatre, London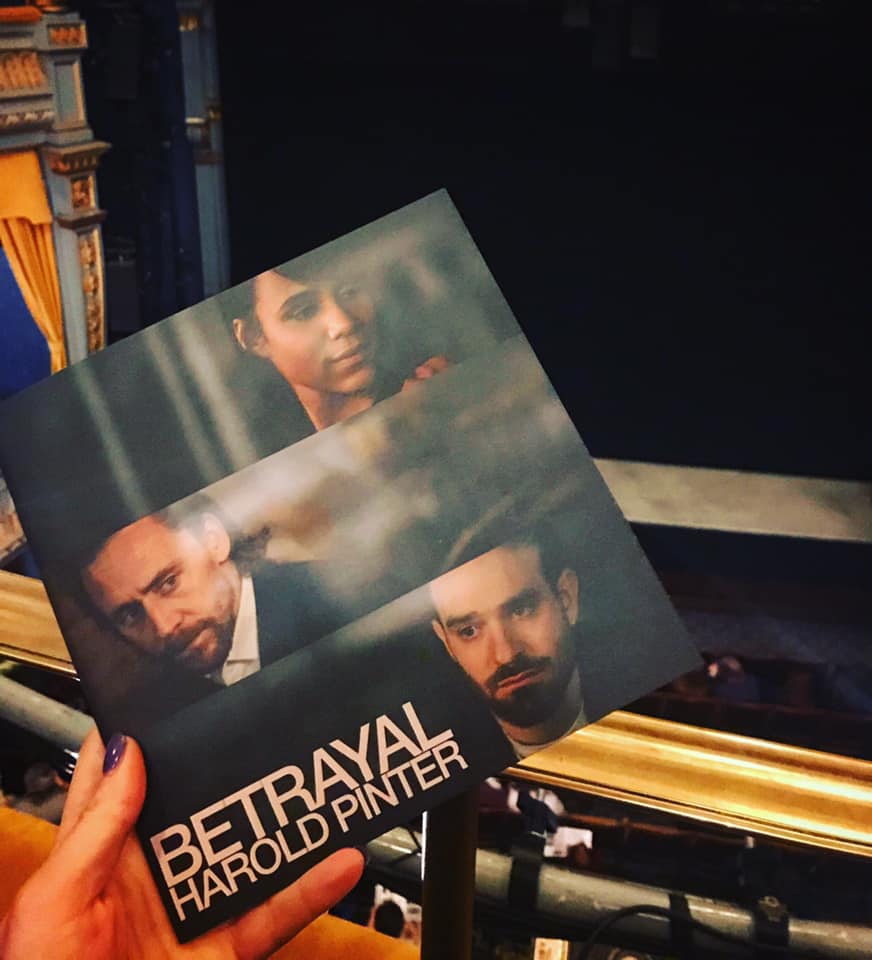 My first Harold Pinter productions – seen, having studied him during my degree it was great to see one of his plays live. The bonus for this viewing was Tom Hiddleston was performing in it!
Performed by a cast of 3 (Tom, Charlie Cox, Zawe Ashton), telling the story of an affair from the moment it finished to end on how it all began introduced a compelling and powerful play that I couldn't help but fall in love with it and break it down.
For the Full Review go here.
5. Waitress – Adelphi Theatre, London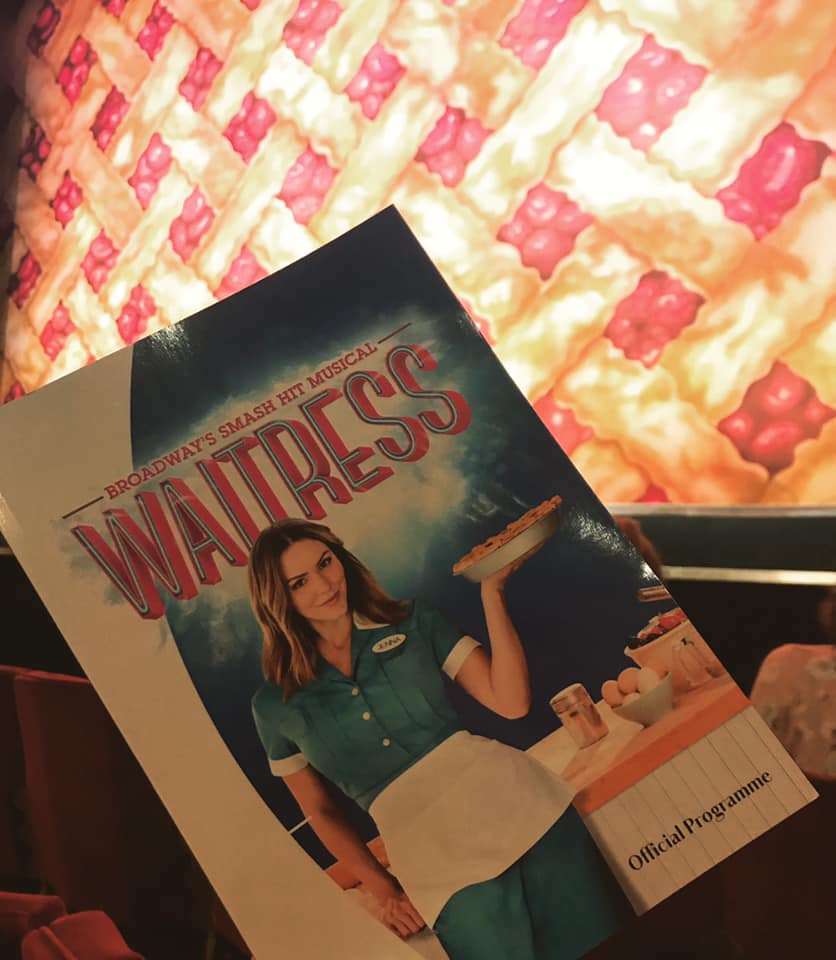 I could not wait to catch Waitress having finally moved from Broadway to the West End. On a Wednesday Lieu day and the help of TodayTix Rush tickets I managed to get some great seats!
Its sad to see that it hadn't been selling as well as to should with the various star casting put in to help with the ticket selling, it really shouldn't have to if the public would give this uplifting feel good show a change – the soundtrack written by Sara Bareilles is a regular listening as they are just so many great songs!
Closing sadly in July 2020, for all ticket information head here.
For the Full Review go here.
4. Everybody's Talking About Jamie – Apollo Theatre, London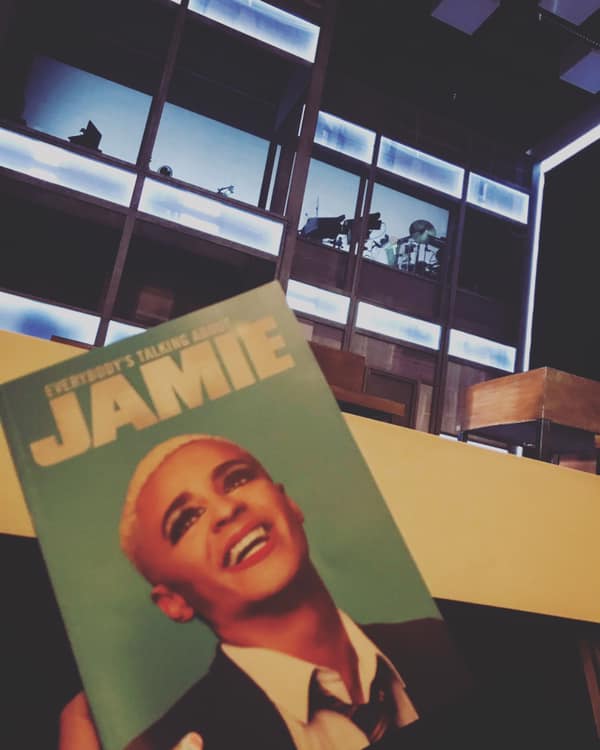 It was so good, I was lucky to have seen it twice! This musical had been on my hitlist since it hit the West End but, when hearing that one of my favourite drag queen Bianca Del Rio was going to be in it…it didn't take long for me to enter the lottery nearly every day! I was so happy to have won it during my Lieu two show day! I was then delighted to have been given the invitation to the Venue day by Marlowe Theatre, to get ready for the 2020 tour coming up with Layton Williams. I got to meet not only Layton, but the original Jamie .
That all being said, there is something so humble about this musical. which is why it deserves all the love it is getting. An original musical with original songs and a true story that all can learn from. Not only can I not wait for the tour to come to Marlowe theatre, I am looking forward to how it transfers to a touring production.
For all information about Everyone's Talking About Jamie at the Apollo Theatre, go here. For tickets for its stay at Marlowe Theatre, Canterbury go here.
For the April Viewing, go here. For the Venue Day review go here.
3. Warhorse – Troubabdour Theatre, Wembey Park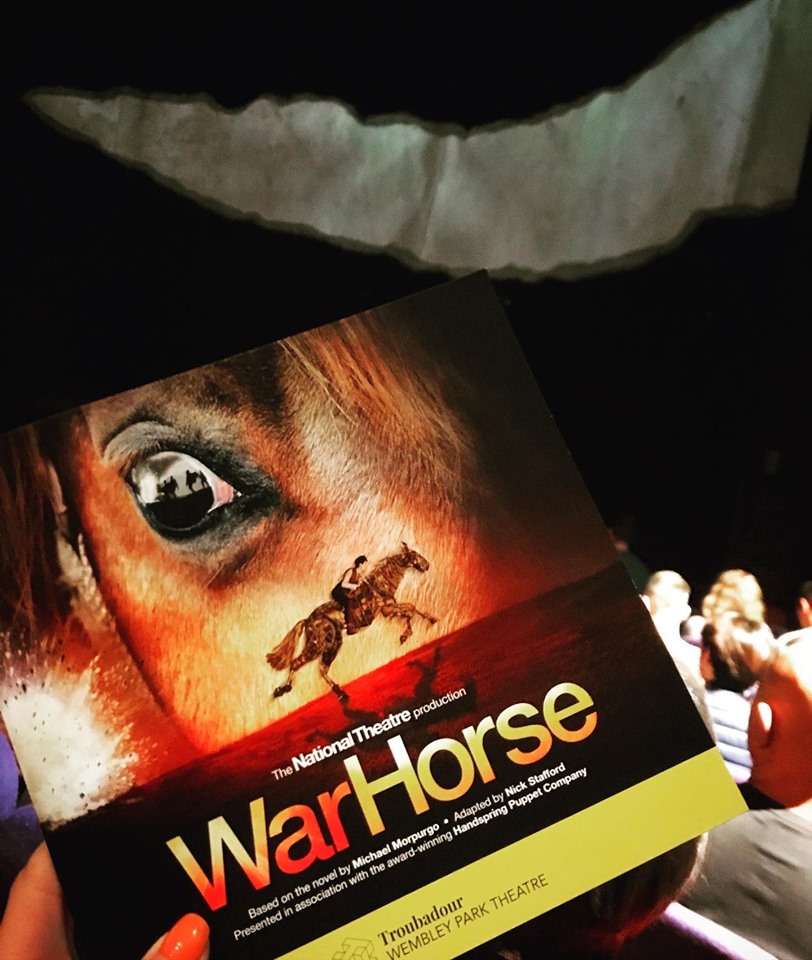 Once again, I was so lucky to have been invited to not only catch this stunning piece of theatre but to also help raise money for the Poppy Appeal.
WarHorse will always be a play close to my heart, this viewing was no different and yet I felt more emotionally attached to it this time – being that I am very lucky to loan an amazing horse. The puppetry alone can sell the tickets whether your a horse lover or not, you can enjoy and appreciate the story being told. It greatly deserves to be on my Top 7!
For the Full Review go here.
2. A Midsummer Nights Dream – Bridge Theatre, London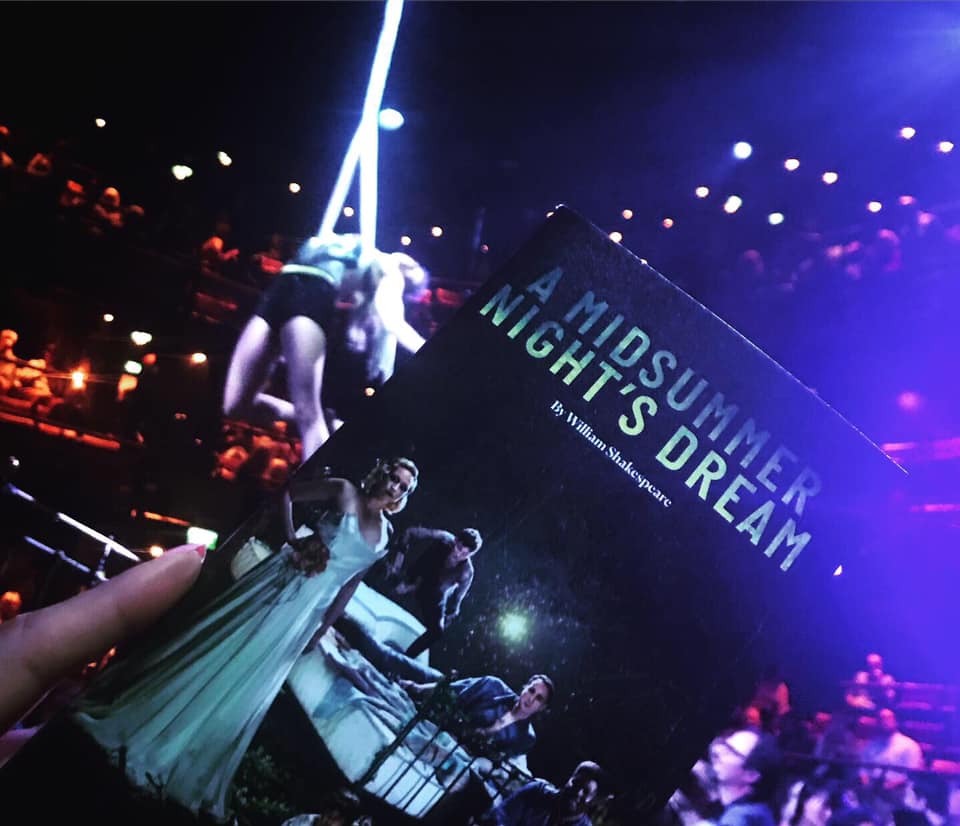 Who would ever thought a Shakespeare play would make it as my 2nd top viewing of 2019. This production deserves it, this orignal new take on the classic romantic was mesmerising, hilarious and so much fun! It would be my first experience of an immersive production and it pulled out all the stops! I got in Puck's way, stood next to Titania (played by Gwendoline Christie) joined the parade in the love of Oberon and Bottom, held hands with a fairy and ended dancing with Helena and Puck in the finale!
Once I saw it, all I wanted to do was go back. There is always something about watching Shakespeare live that makes you understand the script a lot clearer and learn that so many parts are funny that you may not have thought they were! There was nothing I didn't like about this production!
For the Full Review, go here.
1. Beetlejuice the Musical – Winter Garden Theatre, New York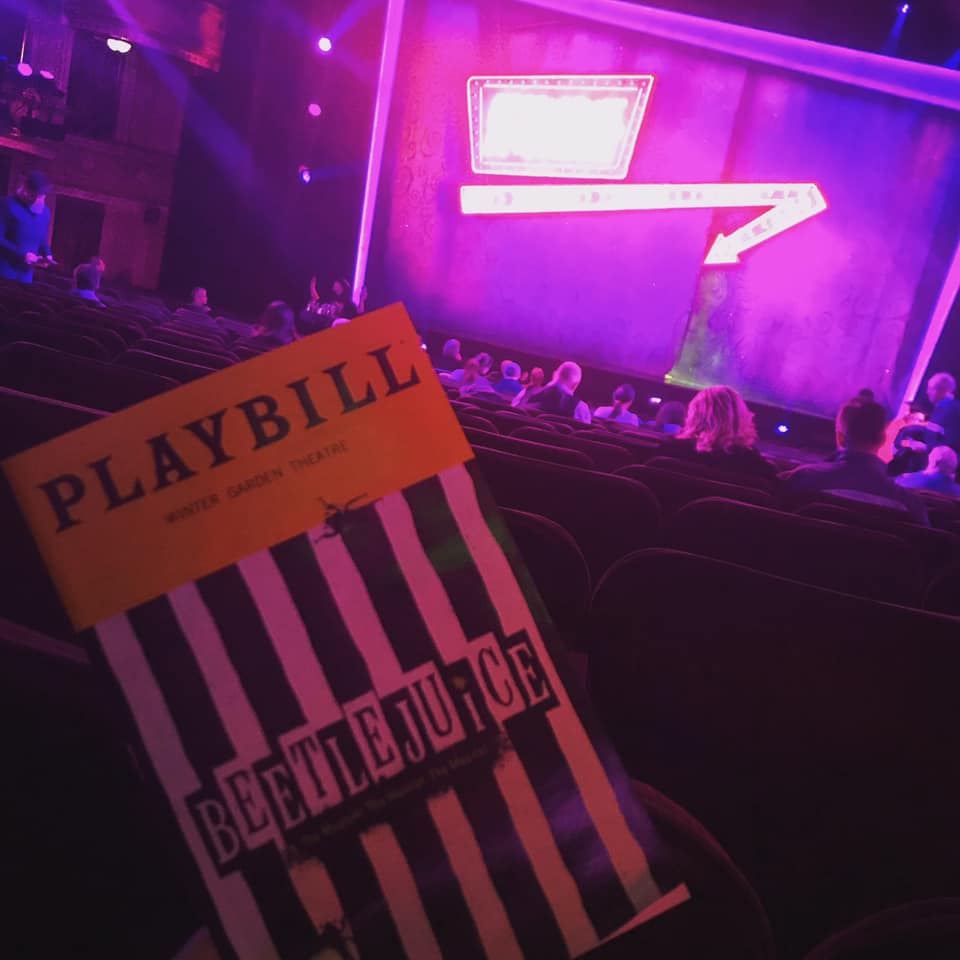 I could not go across the pond to New York City and not see a Broadway musical…boy did I choose a good one! Being a lover of the film, I made sure that it would be a show that was not yet on West End or due to be – Beetlejuice.
Although, some jokes were missed being that we didn't live in the states but this unique and fun take on the Tim Burton classic did not disappoint! The soundtrack also…has to be my top soundtrack played since seeing it in April! I can only pray and hope that it makes a West End appearance, as all i want to do is get back on a plane and see it over and over again! Which is why it deserves my top spot!
For the Full Review, go here.
and there you have it, my favs of the year. That's not to say I didn't like all my viewings, just these stood out to me when seeing.
For all my viewings this year and past, head to the Dates for the Diary Page on the site. Now, roll on 2020 viewings!