It was back to the Churchill for tonight's press night of the current 2019 UK tour of Grease the Musical. The last time that I had viewed this production was 2017, which sadly didn't meet expectations so I was looking forward to seeing what this current production had in store!
Grease is the 50s musical classic, it tells the tale of Danny Zuko, and Sandy. Having met during the summer holidays and fell in love, they believed at first it was a summer romance. But when Sandy unexpectedly enrols at Rydell High, she sees a side of Danny that she never knew. Will their relationship blossom? With the support of the T Birds, Pink Ladies, and students, only the school year will tell. With the support of the classic musical numbers such as 'You're the One that I Want,' 'We Go Together,' 'Summer Loving' and 'Beauty School Dropout' this hand jiving musical is great for the youth!
Directed by Nikolai Foster he goes back to the musical roots and revamp the old classic to suit its original production – with a few changes of their own. The thing about Grease the musical is many think they are going to see that of the John Travolta, Olivia Newton-John world famous film rendition, they couldn't be more wrong. With this production, they kept the 'Greasers' as the 'Burger Palace Boys', than the 'T-Birds' which many revivals of the musical took on after the film. 'Look at Me I'm Sandra Dee' was also not performed during the girls sleep over but with the whole class. However, they took some new approaches of their own to the original, with the introduction of a new original Danny solo 'How Big I'm Going to be,' putting 'Those Magic Changes' in Act two rather than in the Act 1 and sending Sandy to the Dance, when originally she stays at home alone. It allowed this production to be unique in itself but yet still portray the much loved musical for all.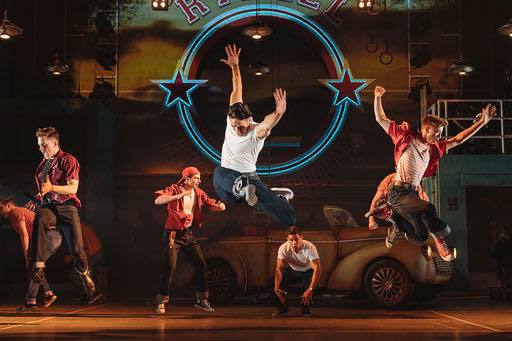 Choreographer Arlene Philips, creates new and different approaches for the musical numbers. Steering away from the classic, knowable moves and brings a whole new twist to the songs 'Grease Lightin' and 'Born to Hand Jive'. It was nice to see something different, then knowing what the next move was going to be and allowed you to fully enjoy the classic 60s dance crazes brought to life by a very talented cast! Another thing I loved about this production was the set, huge in comparison to some touring production designer Colin Richmond created a retro and cool setting of Rydell High and the 60s vibe!
The cast were as follows:
Danny Zuko – Dan Partridge
Sandy – Martha Kirby
Kenickie – Louis Gaunt
Rizzo – Rhianne-Louise McCaulsky
Doody – Jordan Abey
Roger – Ryan Anderson
Sonny – Damian Buhagiar
Frenchy – Eloise Davies
Marty – Tara Sweeting
Jan – Natalie Woods
Patty Simcox – Jessica Croll
Eugene – Dale White
Cha-Cha – Abigail Climer
Johnny Casino – Will Haswell
Vince Fontaine – Darren Bennett
Miss Lynch – Corinna Powlesland
Ensemble – Jonathan Hermosa-Lopez, Dom Hutcheson, Emily Beth Harrington, Ruby May Martinwood, Thea Bunting, Lindsay Mcallister, Kevin O'Dwyer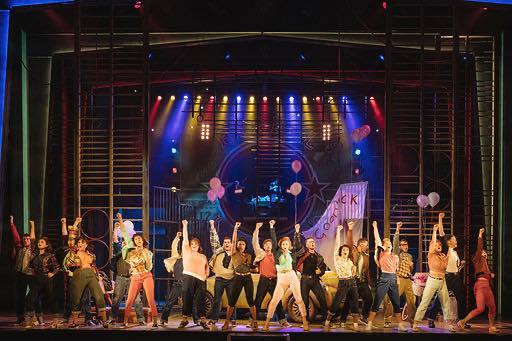 There was clearly an amazing amount of talent portrayed on the stage! The girls had the voices and the boys were amazing dancers. Martha takes on the Sandy with so much power, her rendition of 'Hopelessy Devoted' clearly portrayed this as her voice clearly showed the many emotions going through her head! Her man in question Danny, played by Dan Partridge had amazing moves, but was not as strong in the his voice. That being said, his acting with in the role portrayed the cool yet lovable character with brilliant comic moments.
Leading the Pink ladies was Rhianne-Louise McCaulsky as Rizzo, she had sass and bitchiness all in one. 'There are Worse Things I Could Do' is a huge favourite for all the die hard fans and Rhianne delivered and it was one of the best renditions I have ever seen! One couple I loved watched grow was Roger and Jan, played by Ryan Anderson and Natalie Woods there chemistry and duet 'Mooning' was delightful and they both complemented each other greatly!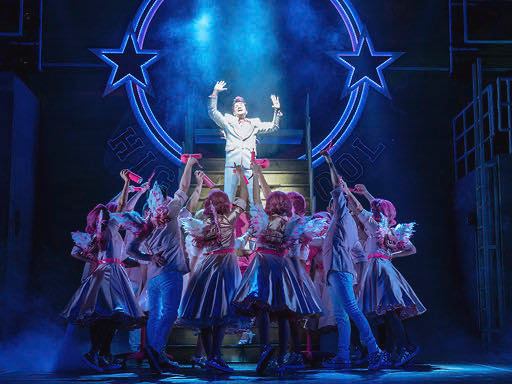 Stepping into the Teen Angel role for this weeks run was 90s Music star Peter Andre, new to the stage his 'Beauty School Dropout' was by far one of my favourite scenes in the show. accompanied by the whole cast in guardian Angel wings Peter showed his voice was strong and also a glimpse of his acting ability alongside Frency played by the amazing Eloise Davies! It was so enjoyable to watch throughout, that if it could be on repeat I would not have been disappointed!
Grease the Musical might not be the film, but it surely does make up a great night out for all that love the soundtrack. A brand new rendition returning to the roots to introduce a new generation to this classic and to fall in love with it.
Sold out at the Churchill Theatre for this week, Grease continues on its UK tour and has just announce it will continue in 2020. For all information about dates and venues, head to their Website here.