Last night was my first time at The Marlowe Theatre and i am delighted to now be a fellow blogger/reviewer at this beautiful venue! For my first press night, I was in for something new Matthew Bourne's Romeo & Juliet
When you think of Shakespeare's classic love story, many would think of the traditional english or maybe Baz Luhrmann's 1996 film version. Matthew Bourne has not only completely reimagined this story but completely transformed it, into the most unique yet stunning version i have set my eyes on. Based the colour neutral Verona Institute in the not too distant future, where groups of young people are drugged and forced into conformist submission. Institutionalised into a routine, Romeo comes to the institute as a request by high political parents to be put under control. Little did they know he was stumble across beautiful Juliet – who is pure of heart but broken due to the lust of guard Tybalt. Their love is strong and with the support of their fellow inmates they are able to embrace their love, but Juliet's past comes back to haunt her and in doing leads to a tragic end.
There is no denying that Matthew Bourne's choreography is out of this world, to be able to tell such a powerful story and different take on a loved classic is phenomenal and all to which is done through the beauty of dance that it creates a language of its own. Each step and move speaks a line within the tale with every dancer perfect in every spin! They all create a powerful energy that displays both their frustration and submission in the variety of scenes, especially during the 'institute dance' as when the guards backed are turned their rebellious side takes light. These emotions were all assisted through Terry Davies's reconfiguring of Prokofiev's score which makes the familiar sound strange and edgy, perfectly complimenting each dance number and a romance unfold.
The romance of Romeo and Juiiet, played by Paris Fitzpatrick and Cordelia Braithwaite is compelling and mesmerizing to watch. Fitzpatrick's Romeo was perfectly created with a lovely, dreamy innocence that was a complete opposite of Braithwaite's Juliet filled with determination and strength. When the two came together the love was embraced and sexually driven throughout, their passion and relationship was clearly displayed which again was the complete opposite to Juliet's unwanted acquaintance with thuggish, threatening guard Tybalt played excellently by Dan Wright.  Another romance that i thoroughly loved to watch was that of Mercutio and Balthasar, played by Danny Collins and Jackson Fisch in a world that already keeps boys and girls separated, these two stand tall and their love for each other is clearly displayed, along with the heartache of a tragic end. It was so moving to watch them both and a powerful message that was strong throughout.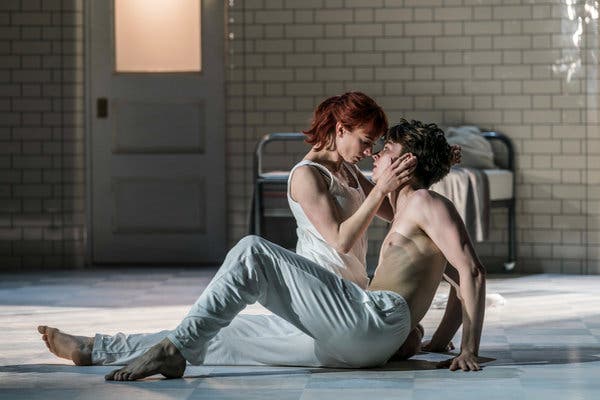 This was my first Matthew Bourne production, it really has opened my eyes to the power of dance and it will not be my last! This brand new take on this tale, is powerful and stunning in every way. For all dance lovers, you can not fault it but his performances are an amazing way to fall in love with dance in a whole new way!
Playing at the Marlowe Theatre, Canterbury until Saturday 21st September for all ticket information go here. It will then continue on its tour, for all final dates and venue's go here.