After a quiet summer, I was looking forward to heading back to the Orchard theatre especially as it has just completed its brand new refurbishment – which I can say is excellent, slick, and with comfy new seats whats not to like? I was very much looking forward to tonights viewing, being a huge fan of drag I was not going to turn down the chance to review the new tour production of Priscilla Queen of the Desert!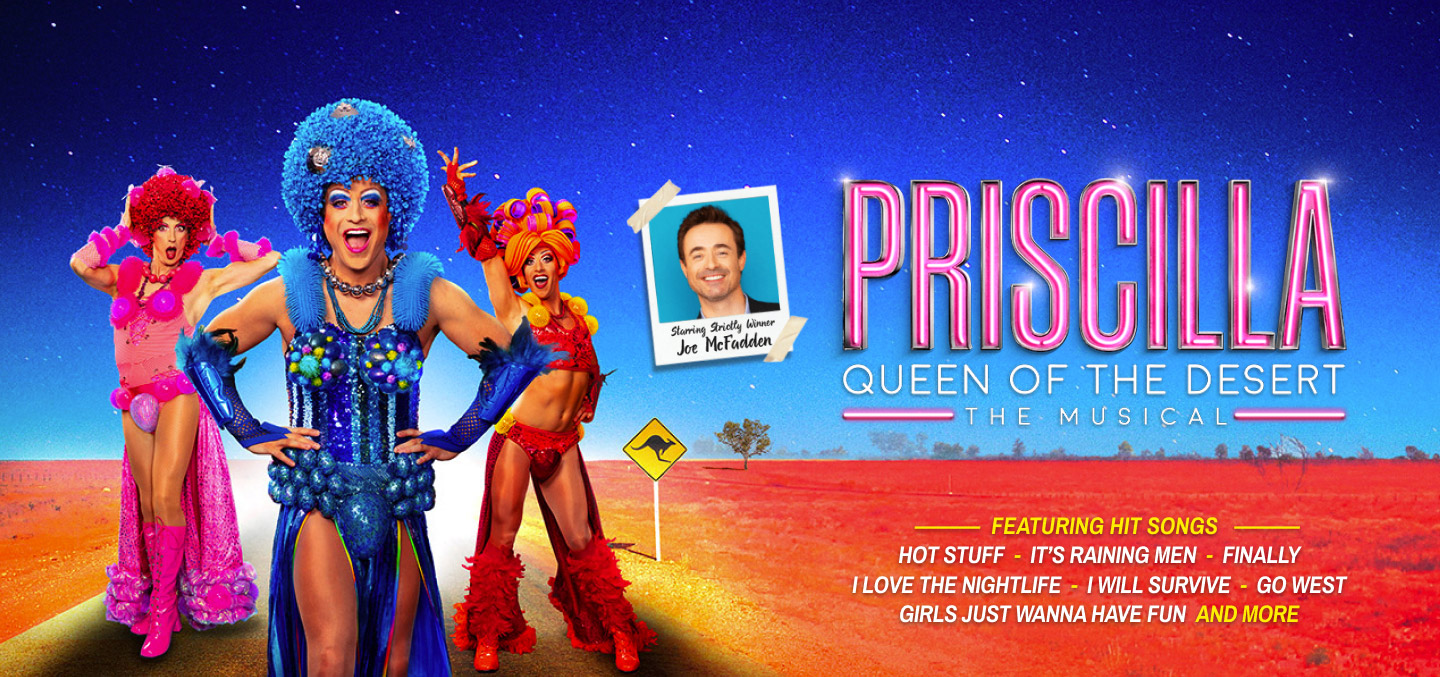 Based on the 1994 MGM cult classic film of the same name, the musical tells the story of two drag queens Tick and Adam and a transgender women, Bernadette.  The three head west from Sydney in their bus, 'Priscilla' to perform in a drag show at a casino in Alice Springs that Tick's 'wife' manages. For Tick its a journey to finally meet his son Benji, worried about what he would think of his father Tick finds support from his fellow queens, who all come to for forefront of a comedy of errors while during their travels, encountering a number of strange characters, as well as incidents of homophobia but along the way they widen their comfort zones and find new horizons they never thought they would!  With classic disco songs that gets everyone dancing, 'It's Raining Men,' 'Hot Stuff,' 'I will Survive,' the list goes on!
This show is about acceptance and how to celebrate and excel inbeing who you want to be, in current age the art of drag is not a stranger within our entertainment with tv shows such as Ru Paul's Drag Race, and musicals Kinky Boots and Everybody's Talking about Jamie' people a falling in love with it every day. Priscilla is one that helped start it all, but also shows the difficulty that those had to go through to feel accepted within the community. It is a lovely message and its great to see how todays society has improved and moved forward – that's not to say it doesn't still come without its troubles however.
Tonight's production is a brand new revamp so to speak of the past productions, produced by Jason Donavan (who played Tick in the Original London Cast), directed by Ian Talbot with choreography from the mind of Tom Jackson Greaves this production shows a triple threat of talent, fun, and glamour! From the beginning the cast display the amazing disco moves, the full emotions of the story and it is clear that they are loving what they are doing. The costumes full of colour, feathers and sequins compliment the staging that is limited  allowing the full focus to be on the queens. In past productions "Priscilla' has been a full bus that took up the stage, for this production it was cleverly broken down and fitted like a jigsaw which helped with the scene changes to flow easily – all created from the clever minds of Charles-Cusick-Smith & Phil R Daniles Throughout you could tell that the audience were loving each moment, me included.
The cast to night was quite small in comparison to past versions:
Tick/Mitzi – Joe McFadden
Bernadette – Miles Western
Felicia/Adam – Nick Hayes
Diva's – Aiesha Pease, Claudia Kariuki, Rosie Glossop (Shirley)
Bob – Daniel Fletcher
Miss Understanding – Kevin Yates
Marion – Miranda Wilford
Cynthia – Jacqui Sanchez
Frank – Edwin Ray
Farrah/Young Bernadette – Jak Allen-Anderson
Ensemble – Emma Crossley, Jordan Cunningham, Justin-Lee Jones
Joe McFadden leads the cast as Tick, having seen him dance when winning Strictly Come Dancing and act in his past production of 'The House on Cold Hill' both of which he excelled at tonight he added his amazing warm and soft singing voice showing his full talent within the role. He was innocent and sweet, with a little bit a cheeky that made the audience fall in love with him straight away. Joe was perfect within the role and was a pure delight to watch. Joining his trio was Miles Western ad Bernadette and Nick Hayes as Felicia/Adam both of who excelled wonderfully within their rules Miles shows a loving yet feisty Bernadette who really made the role his own, showing the true emotions of a transgender women. Nick had the sass, attitude and yet vunerable Adam in the palm of his hand showing the confidence of his character and the breakdown of emotions he portrayed during the conflict at the bar was moving and powerful to watch. All three shared a great friendship and chemistry that was clearly displayed on stage and you could tell that the friendship reflects off too!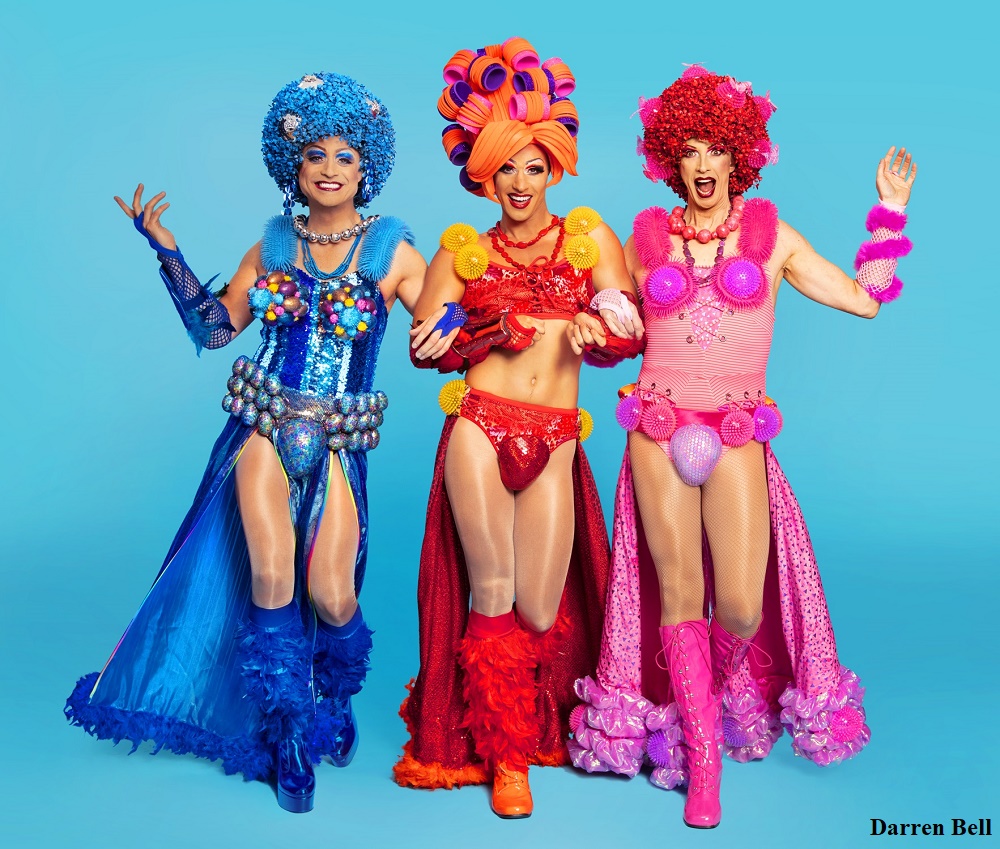 Daniel Fletcher steps into the role of Mechanic Bob, who was such a loveable character from the moment he stepped in to help. With perfect comic timings and on point reactions, he had the audience chuckling away in their seats. The relationship he grew with Bernadette was a pure delight to watch and you warmed to him instantly and respected him throughout on how he was towards all three of the queens. It was great to see him again on stage!
The Diva's played by Aiehsa, Claudia, and Rosie have some amazing pipes and slayed everyone of the songs throughout the production. With amazing steps and attitude they made sure they were the true Diva's on that stage whenever present. Rosie also showed her flexibility within her two roles from glamour to outback waitress a complete opposite character but also showed her amazing acting ability.
The full cast were all on top form with energy like no other, with every kick, slide, and strut they did not put a foot wrong and for Jacqui Sanchez as Cynthia – well lets just say her aim is pretty good!!
If your looking for a feel good, loveable, entertaining and fun show Priscilla Queen of the Desert will guarantee them all and more! The show greatly deserved its standing ovation and I wish it well on its upcoming tour around the rest of the UK as it really is a great night out and a fantastic version of the cult classic! Playing at the Orchard theatre until Saturday 14th September, for all ticket information go here. For all dates and upcoming venues head to their website here, you will not be disappointed!