A girls day out was planned and when planning things we could do, I was delighted to find that my suggestion was accepted! Having had my eye on this performance and being a favourite Shakespeare play of mine, I was very excited to finally be seeing A Midsummer Nights Dream at the Bridge Theatre! Along with seeing it live, I would also experience my first Immersive production and chose to stand in the pit for the full performance – I was NOT disappointed!
A Midsummer Nights Dream is one of William Shakespeare's romantic comedies, with many various loves falling for one another – with some assistance of a cheeky fairy Puck. Directed by Nicholas Hytner, he brings a whole new take to the love triangle story and gives a contemporary take to the Shakespeare classic.  In this version, rather than Tatiana Queen of Fairies falling in love with Bottom – who gets 'gifted' with a face of a donkey, it is Oberon the King of Fairies. You also had sections of characters bringing in a few modern day language and also had a cheeky 'portrait' on a borrowed phone from the audience. These little takes brought the play all that more to life but, then there was the amazing aerobatics as many of the ensemble flew and spun above the audience. Also, as much as I loved learning about Shakespeare when I was younger and knew the gist of most of the stories it isn't until I get to finally see them performed that I fully understand the full effect of the language and tale. You laugh a lot more throughout that is for sure and more than what I was expected to!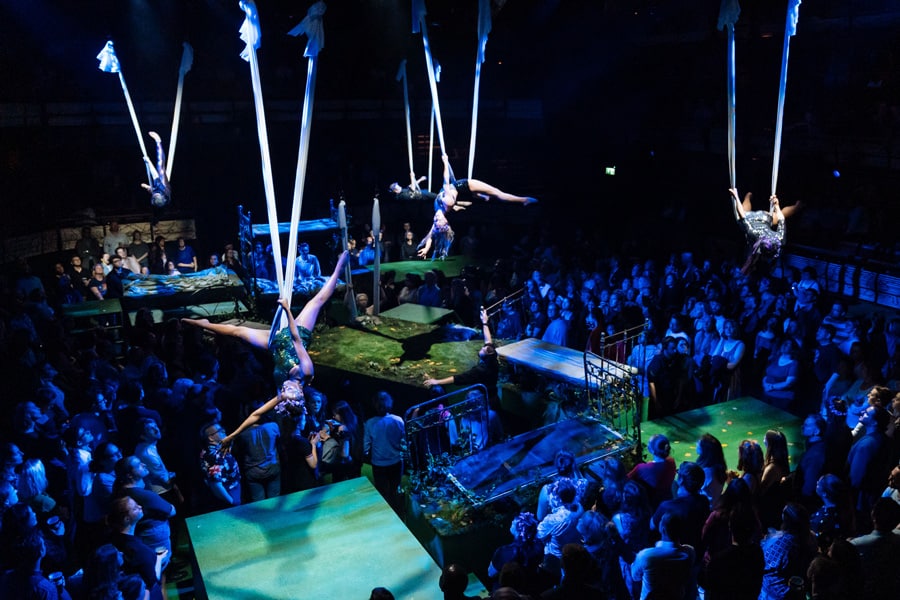 Now again, this was my first experience of both standing for a full duration of a play – a Shakespeare play and immersive. I loved every minute of it, with being up and close with the performers – sometimes having to stand aside to let them pass and also watching the staging immerge and disappear from various positions of the pit – with the kind guidance of the stage crew you did not miss a thing and the story still flowed throughout with hardly an disruption. With most of the performed done above the audience, you also did not have much blockage from anyone who was taller than you.  It was great to experience and also at times being part of the production when guided by the players to either move and dance around the performing space – especially at the end, but I wont ruin the surprises!
Now this all wouldn't be possible without the amazing cast that help this production come to life:
Thesus/Oberon – Oliver Chris
Hippolyta/Titania – Gwendoline Christie
Philostrate/Puck – David Moorst
Hermia – Isis Hainsworth
Helena – Tess Bonham Jones
Demetrius – Paul Adeyefa
Lysander – Kit Young
Egeus – Kevin McMonagle
Quince – Felicity Montagu
Bottom – Hammed Animashaun
Flute – Jermaine Freeman
Snout – Ami Metcalf
Snug – Jamie-Rose Monk
Starveling – Francis Lovehall
Oberon's Fairies – Chip Kureya, Jay Webb, Charlotte Atkinson, Lennin Nelson-McClure, Rachel Tolzman.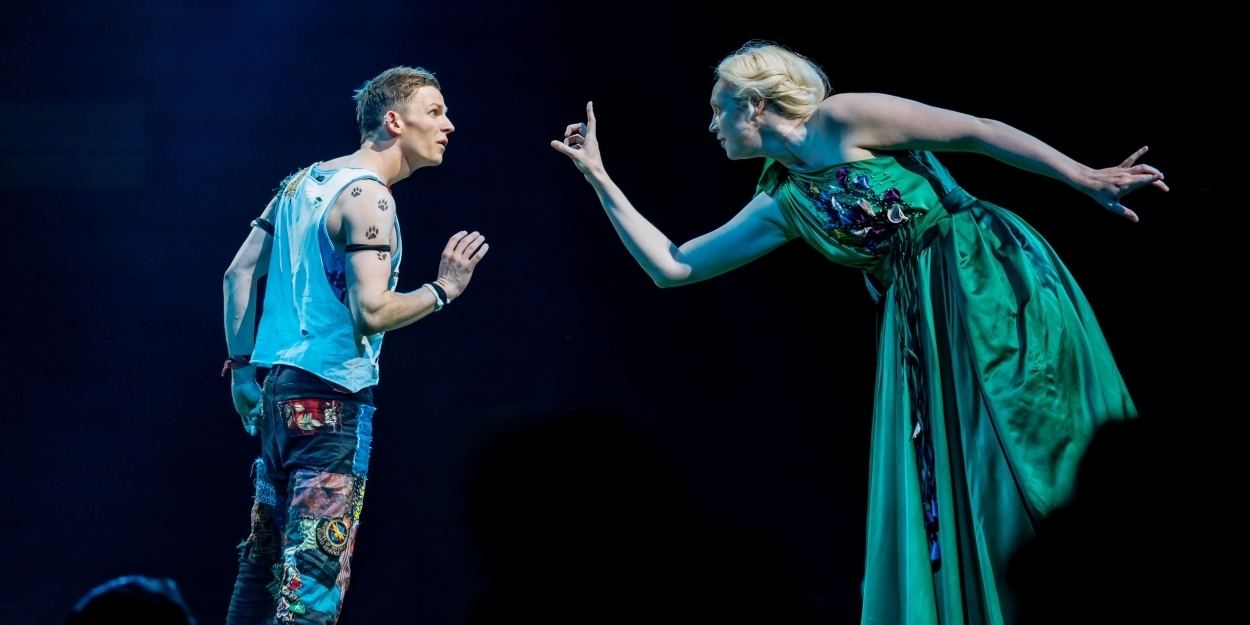 The well known name of the night comes from a known knight of Game of Thrones Gwendoline Christie takes on another strong women role as Hippolyta/Titania, queen of the Amazons/fairies. Her grace on stage was well established throughout and the power she shone from above and down in the woods! She would never break character and throughout took the persona of both characters with ease, showing just how powerful women can be by being the one to manipulate the love of Oberon. Her partner in crime Puck played by the amazing David Moorst who excelled as the Robin Goodfellow, his whole body transformed into a very punk like Puck and he was mesmirzing to watch. Not only that, but he made silks look easy and did not slip a single line when flipping or hanging upside down. He also, had brilliant interactions with the audience throughout, that made the immersive theatre that more enjoyable.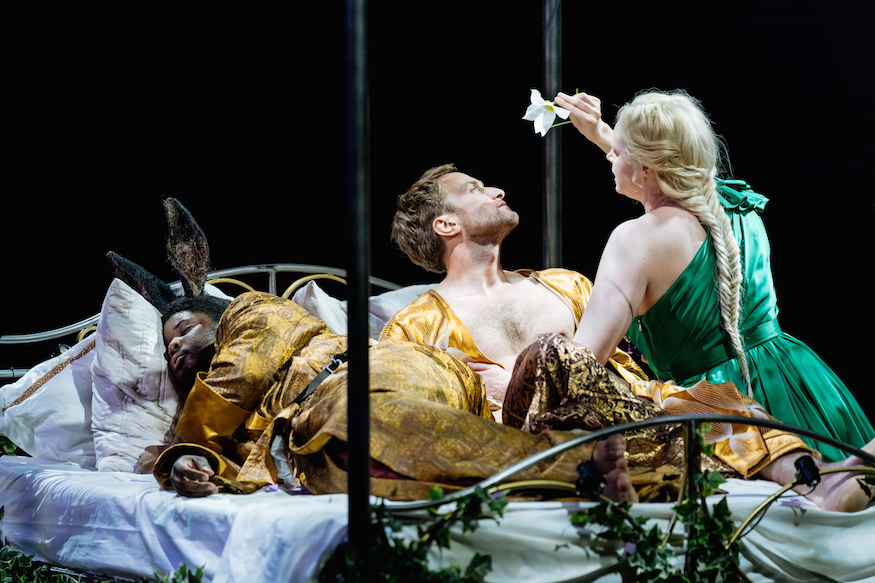 Thesus/Oberon performed by Oliver showed two different characters, from the strong willed Duke and then there was Oberon who at first shows strong wil and power transforms into a innocent that has gracefully and entertainingly fallen for an 'ass' of a man – Bottom. Both of whom made the relationship truthful and in hilarious – but all in good humour and respectfully also! His partner in crime Hammed Animashaun again slayed within the role and had the audience loving and eating out of the palm of his hand from the start, you never knew what he was going to do next – but looked forward to when he took the stage!
There was no denying that the whole cast were on top form, from the quartet of love running through the forest, the fairies flying through the air, to the players of the most dramatic play you will ever get to see! From the go you were in the dream with them all and loved every minute and could tell that they too were loving the audience interaction encouraging them to partake when needed. The smile did not leave my face and gladly stood for the 2 hours 25 mins!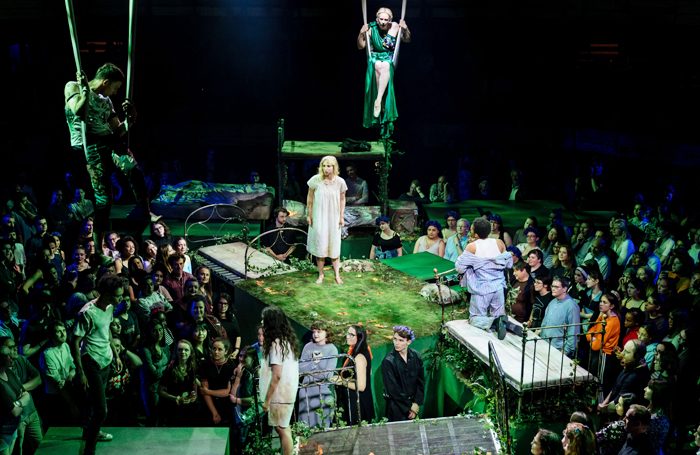 A Midsummer Nights Dream plays at the Bridge Theatre, until 31st August 2019. For all ticket information go here, you could also try your luck £15 Rush Tickets on the TodayTix app. You will NOT be disappointed – this is Shakespeare at its best!