With a day off work on a Wednesday…its not hard to guess what I was planning to do! Thanks once again to TodayTix for making my 2 show day perfect, starting off with gaining 1 Rush ticket for the Matinee performance of Waitress the Musical happy to say I managed to get Row B Seat 10 at just £25! I was very excited to be finally seeing this recently transferred musical from Broadway, having heard some great things about it.
Waitress is a musical based on the 2007 film of the same name written by the late Adrienne Shelley. It focuses on the life of Jenna Hunterson, a waitress at a local diner in an abusive relationship with her husband Earl. When Jenna discovers that she is pregnant, she starts to look for ways out and sees a pie contest and its grand prize is her chance! But getting that contest is more than what she expected with a side affair with her gynaecologist Dr. Jim Pomatter. The musical it self introduces music and lyrics by Sara Bareilles and the book by Jessie Nelson. It is the first musical to have an all female creative team!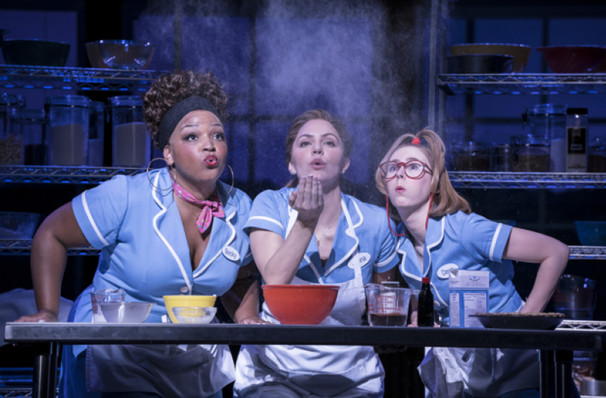 One things for certain is this musical is so uplifting and makes you smile throughout, leaving you feeling good when you leave and wanting more! I genuinely miss it and have been listening to the soundtrack a fair few times. Sara Bareilles captures every moment and emotion throughout the score with some memorable songs. Complementing the songs is the script, which is beautifully planned out by Jessie Nelson and makes sure that the audience chuckle and cry at just the right times! What's not to love? Its amazing that this show is not getting the bums on seats that it greatly deserves, this is mostly helped by the amazing cast that tells this great story:
Jenna – Sarah O'Connor (Understudy)
Cal – Christopher McGuigan (Understudy)
Dawn – Laura Baldwin
Becky – Marisha Wallace
Joe – Stephen Leask
Earl – Peter Hannah
Nurse Norma – Nicole Raquel Dennis
Dr Pomatter – David Hunter
Ogie – Jack McBrayer
Ensemble – Piers Bate, Olivia Moore, Nathaniel Morrison, Charlotte Riby, Mark Willshire, Leanne Pinder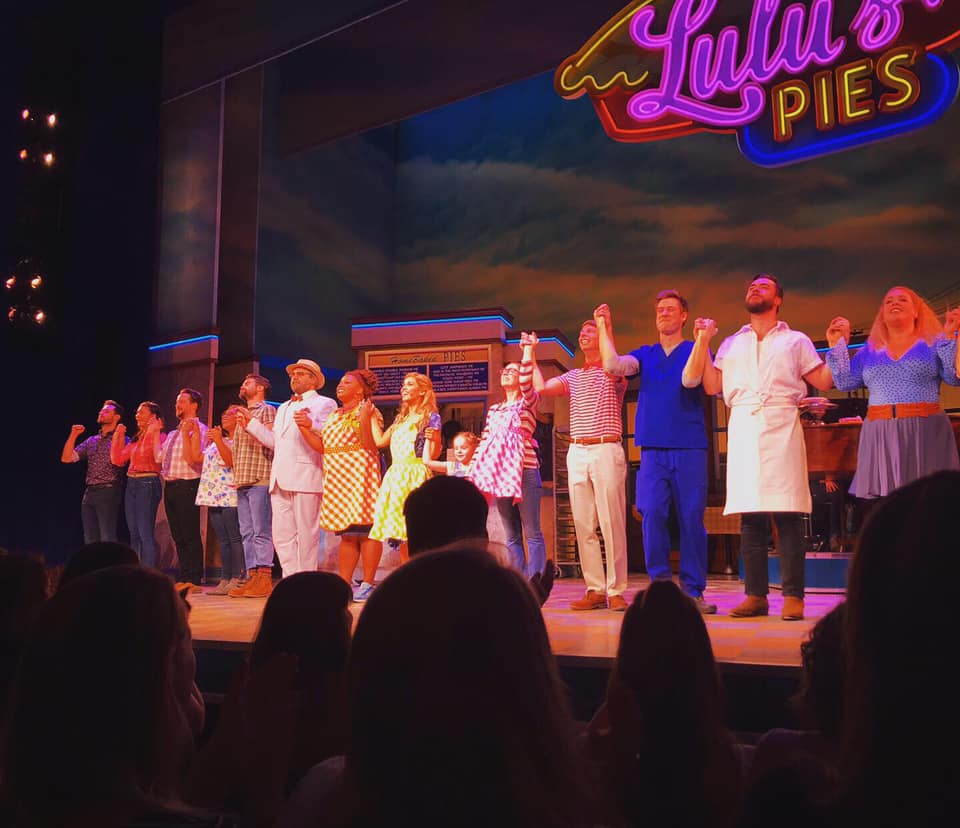 Sarah O'Connor steps in to the shoes of Jenna from Katherine McPhee (who was currently on leave in the states), I instantly was warmed by her performance as she was a perfect throughout. Her voice in particular suited every song she sung, especially 'She Used to Be Mine' which moved everyone nearly to tears at the end. Her relationships with Earl and Dr Pomatter was clearly displayed and you could tell which one she truly cared about. Peter Hannah showed true brute husband, who was very insecure and controlling and times you felt bad for him but angry at how he treated her – excellently done by Peter. I fell in love with David Hunger the moment he stepped on as Dr Pomatter, his character was so loveable and sweet, making your chuckle away at his awkwardness that he excellently displayed throughout the encounters with Jenna.  You could see he really loved her.
Jenna's two right hand ladies Dawn and Becky played by Laura Baldwin and Marisha Wallace were so much fun to watch. Great friends they were and you could see they would be off stage too. Laura's Dawn was geeky and sweet, everything you could have wanted in the role her chemistry and relationship with Ogie played by the fantastic comedy actor Jack McBrayer was entertainingly funny yet cute at the same time. Then you have Marisha's feisty Becky, who had some amazing one liners that were delivered perfectly everytime, especially towards Cal.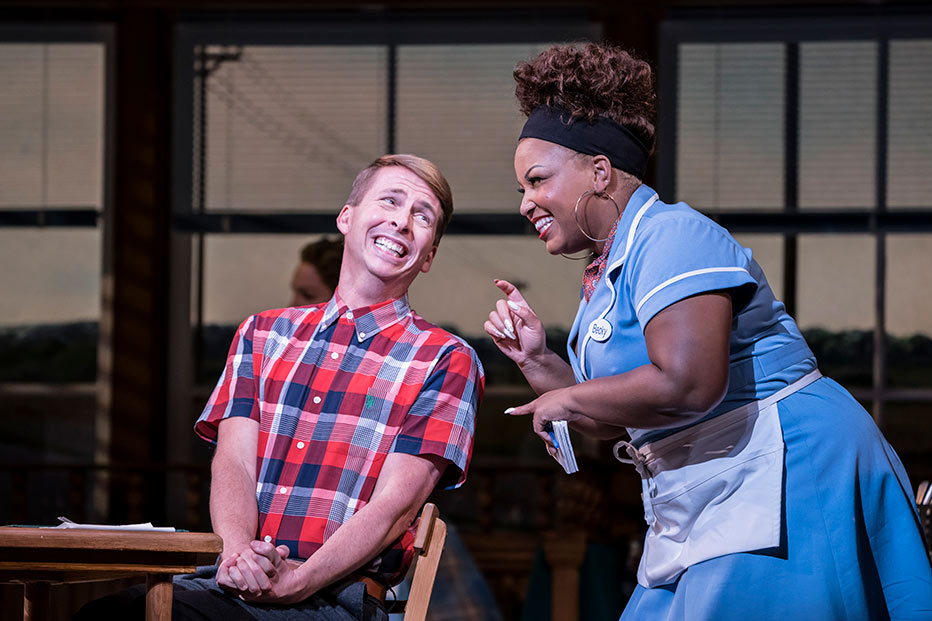 The full cast are thoroughly enjoyable to watch, from the excellent chorography to some outstanding acting. Waitress is the feel-good musical to go to if your looking for an enjoyable night out for all. With recent casting news for the upcoming cast change, I'm sceptical as to how the show will do , but fingers crossed it continues as it deserves to be!
Waitress the Musical plays at the Adelphi Theatre, for all ticket information head to there website here. However, I would highly recommend downloading the TodayTix app and enter for Rush tickets – but remember you have to be available on the day to purchase these tickets and you can only get up to 2 tickets. For the Website go here.