Last night I was back at the Orchard Theatre, after some time apart – what a show to kick start my viewings once more!! Having received excellent reviews from its past productions in Manchester and London, I was excited to see what Hair the Musical had in store!
Now, I have the original recording of this musical on Vinyl and shameful to admit I had only played the two songs I knew from the song 'Aquarius' and 'Hair' but now having heard it live, along with the story the vinyl will be in full use on my turn-table!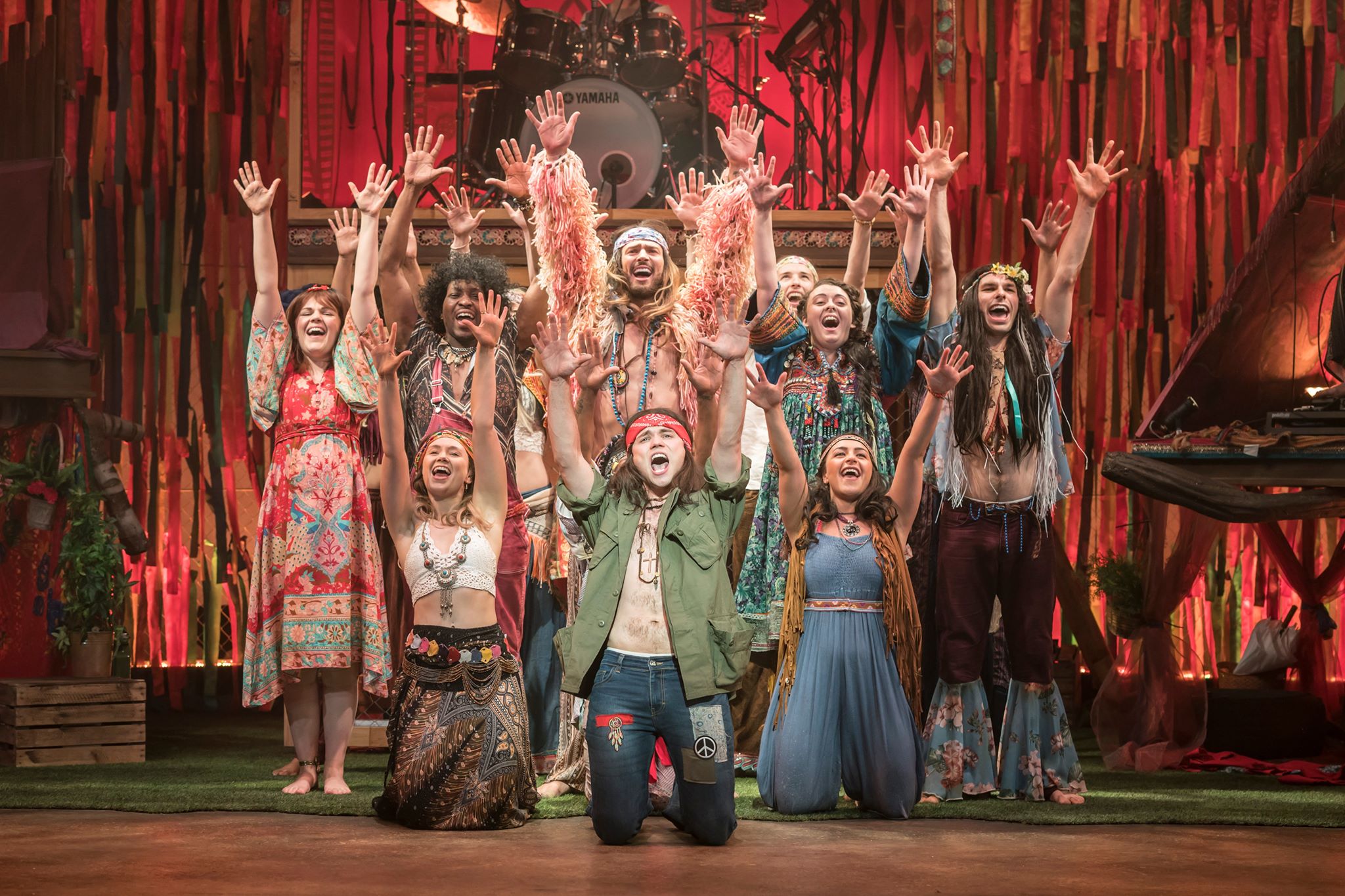 This production marks the 50th Anniversary of Hair the Musical written and set during the 1960s it portrays the 'Hippie' Movement and the Vietnam War. the story revolves around a Tribe that is blended with individuals and their different stories. The main story in particular comes from Claude who receives his draft card to join the War and his struggle to decide if he should go or continue with his tribe and fight for freedom, equality and love. The story itself takes its time in becoming established and we start with being introduced to many of the characters, it appears to be all over the place which in some ways is suitable for this particular musical given tripping of the hippies. 
The whole musical is beautifully colourful and mesmerizing throughout, from its rainbow simplistic staging to its groovy, smooth choreography by William Whelton which compliments the 47 songs throughout. But one thing is 'the Tribe' is what brings this fantastic colourful production together, especially with some powerful vocals: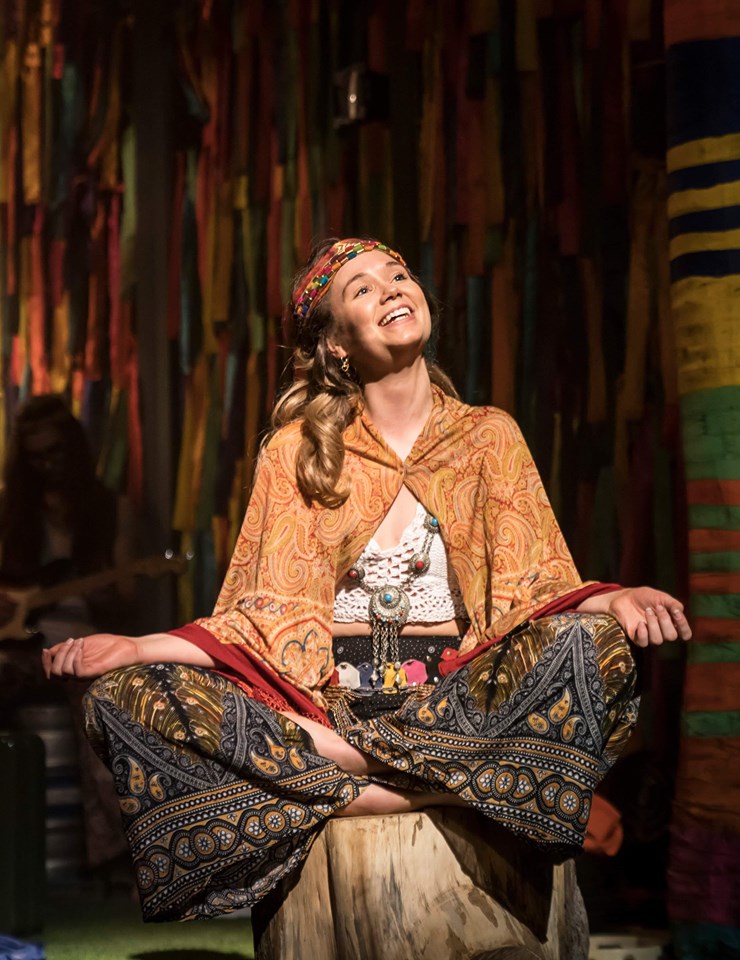 Jeanie – Allison Arnopp
Glowy/Margaret Mead – Tom Bales
Raven – Louise Francis
Hud – Spin
Cassie – Natalie Green
Jackson – David Heywood
Woof – Bradley Judge
Dionne – Aiesha Pease
Berger – Jake Quickenden
Helena – Laura Spillett
Crissy – Kelly Sweeney
Claude – Paul Wilkins
Shelia – Daisy Wood-Davis
Not one of these cast members could I fault, they were all amazing to watch its hard to pick the favourites as they all slayed with each other. But I have to give some mentions! Paul Wilkins takes on the role as Claude and perfectly demonstrates the characters thoughts and feelings throughout his predicament of to go to war or not. Hollyoaks star, Daisy Wood-Davis shows she is more than a tv actress has her many solos showed her amazing vocals that was warming and heartfelt throughout, especially during 'Easy to be Hard.'
Natalie Green, had the flexibility of many roles but also had the amazing voice in every range possible. Then there is X Factor's Jake Quickenden as Berger who was fantastic within the role, a complete contrast to how he is known Jake had stage presence like no other with the perfect character from jumping around half naked to singing handsomely throughout the show – I hope this is not the only musical that he will be in.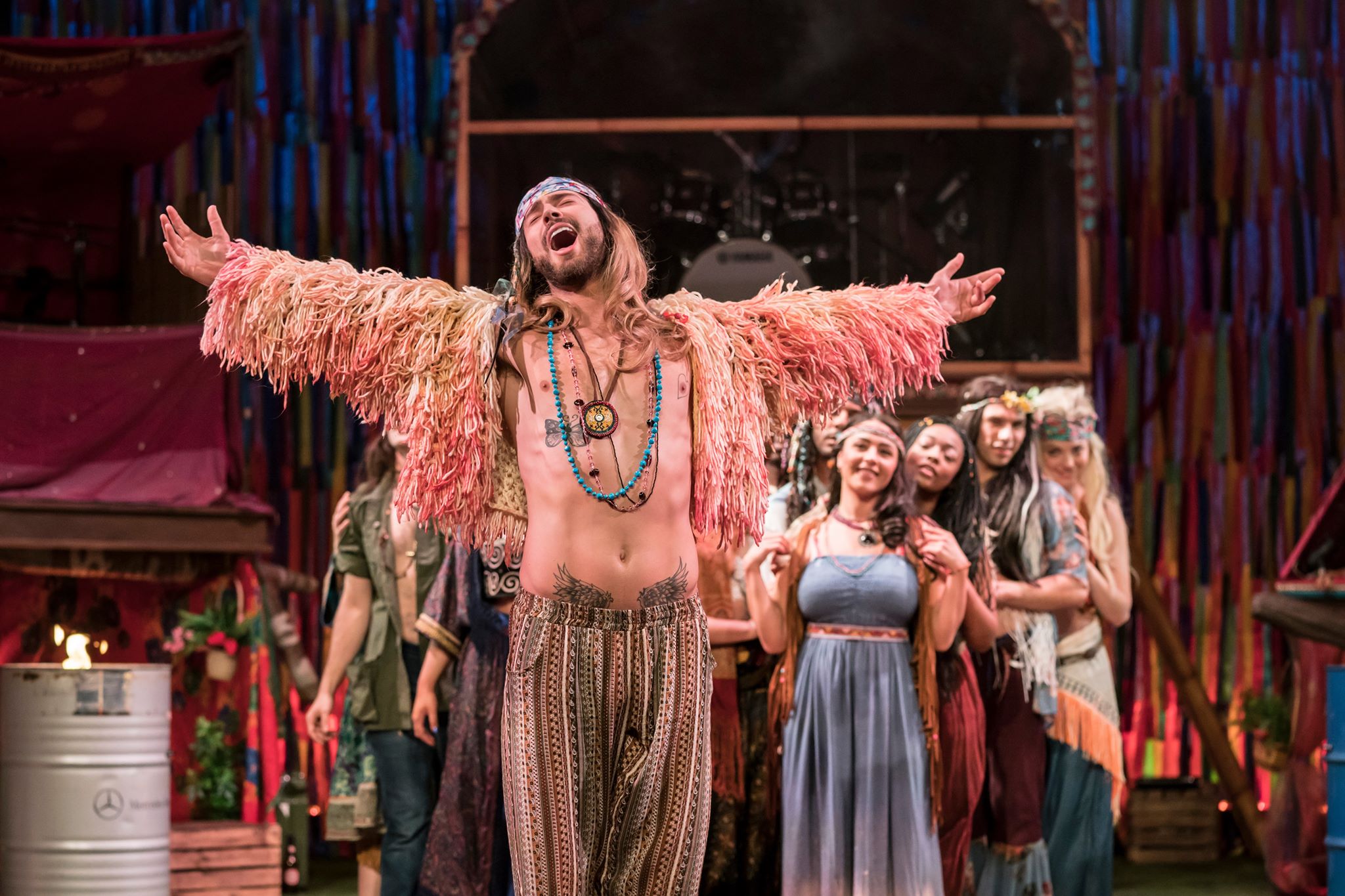 Hair The Musical may not be for everyone, but you could tell the audience loved it and were dancing in their seats in the end. For the ultimate flower power night out, this is the musical for you! Playing at the Orchard Theatre, Dartford until Saturday 18th May 2019 – for all ticket information go here. It then continues on its UK tour – for all dates and ticket information go Here.