A planned holiday to visit friends in Washington D.C, what better way to end an already amazing holiday then to end up win the city that doesn't sleep? New York City! We had very little planned for when we arrived, but one thing we did have booked was of course a Broadway show! Now, I wanted to make sure it would be a show that I wouldn't be able to see on West End and I was very excited to hear that this particular show was going to be in its previews, Beetlejuice the Musical!
This would be my second Broadway show, having seen the original Lion King Musical (I say original as it had the song 'Morning Report' and the full versions of 'Chow Down' and 'Maddness of Scar') I knew I was in for a treat and was positive that Graham would enjoy it just as much! I was not disappointed as Broadway knows how to put on a show!
Beetlejuice the Musical is based on the famous 1988 Tim Burton film of the same name. it tells the story about recently deceased couple Adam and Barbara Maitland who try to haunt the new inhabitants of their former home Charles and Lydia. Lydia who has recently lost her mother, becomes fascinated with the after-life and in hope to reconnect with her mother she calls for help from a devious bio-exorcist ghost named Betelgeuse (pronounced "Beetlejuice"), who is summoned by saying his name three times. Now the story itself takes a slight curve ball from that of the original story by Tim Burton, this book written by Scott Brown and Anthony King focuses a lot more on Lydia and her wish to find her mother than that of Adam and Barbara's battle to win back their home. It brings a whole new unique take on the classic story with some cleverly written songs by Eddie Perfect (can't wait for the album), making it it's own version completely but still has many references and best bits from the film – The Sandworm, the Shrunken head and of course the famous 'Day-O. It allows this show to be welcome to newcomers, but also for the die hard fans to enjoy – just don't go thinking you will see the film.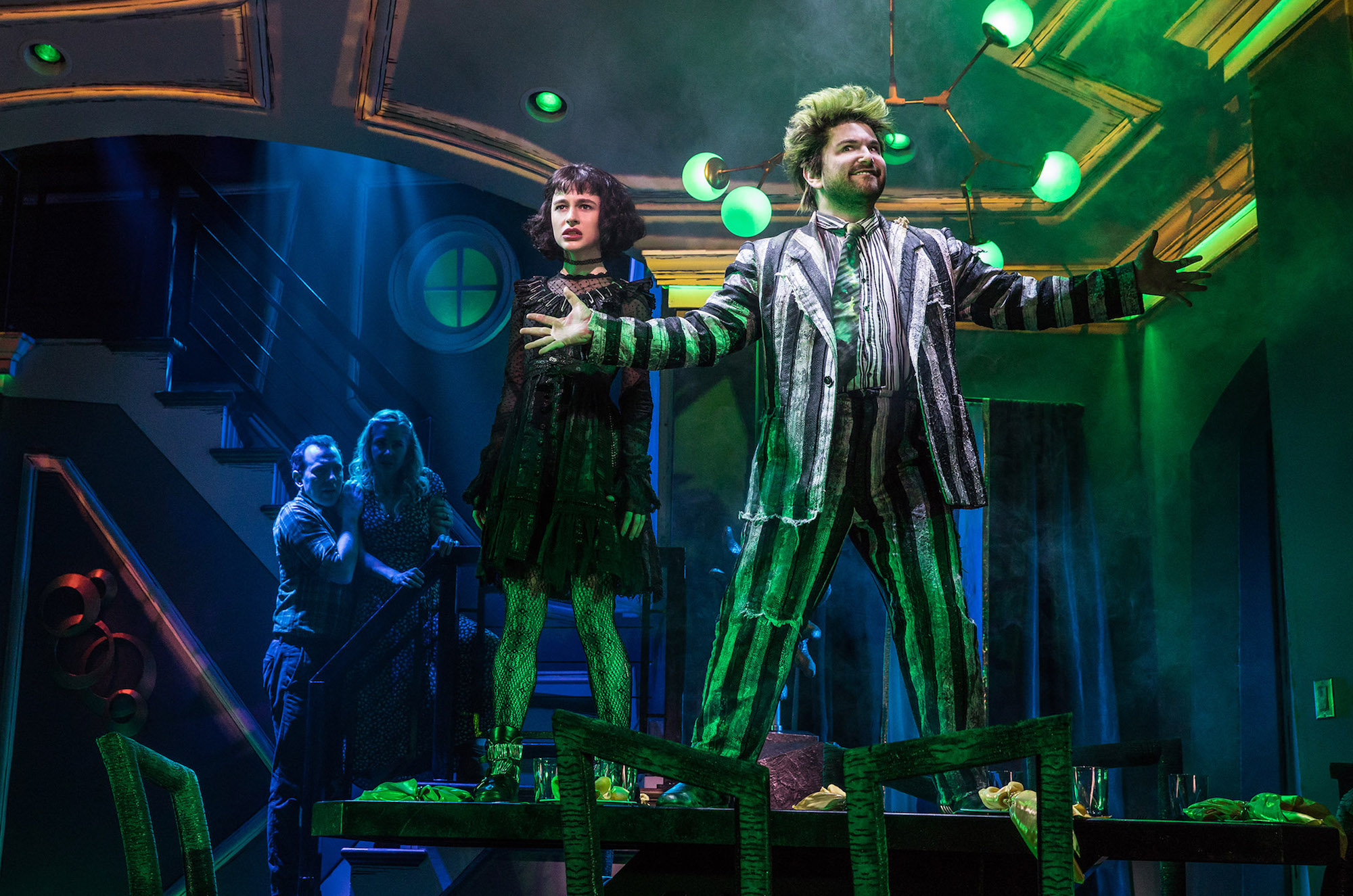 From the moment you step into the auditorium you are blown away by the view, the set is a show in itself. Created from the mind of David Korins – who created the set of Hamilton and Dear Evan Hansen, he makes sure that the audience is mesmerized by what they see. He made sure that Tim Burton was a strong influence throughout the different version of the Maitland's home, with stripes and easter eggs thrown in from many different Burton Films such as the wall paper being all hand drawn flowers taken, and the chandelier reflecting that of Jack Skeleton's bow tie (Nightmare Before Christmas). But it wasn't just the set, it was the special effects such as 'Sandy' coming out, Adam being muted by an iron plate, the famous prawn hands and Betelgeuse huge hand and face appearing when he finally summoned was all jaw dropping and it greatly deserved his Tony Nomination!
Being in the previews, we were lucky to have the full cast performing tonight:
Beetlejuice – Alex Brightman
Lydia – Sophia Anne-Caruso
Barbara – Kerry Butler
Adam – Rob McClure
Charles – Adam Dannheisser
Delia/Miss Argentina – Leslie Kritzer
Maxine Dean/Juno- Jill Abrahmovitz
Maxie Dean – Danny Rutigliano
Otho – Kelvin Moon Loh
Girl Scout – Dana Steingold
I was so excited to be seeing Alex Brightman on stage, who was returning to the Winter Gardens Theatre after performing as the original Broadway Dewey Finn in School of Rock. Tonight he was a whole new character Beetlejuice, originated by Tim Burton regular Michael Keaton Alex takes on a different and unique take on the character from voice and characteristic to body language that made him perfect for the role. He had the audience eating out of the palm of his hand and he was loving doing it.  His leading girl Lydia played by Sophia Anne-Caruso who has a beautiful stunning voice that slayed every solo she had, her character also which was in ways influenced by the original Wynona Ryder was brilliantly done.
Then there is the Maitlands played by Kerry Butler and Rob McClure, when I saw the Kerry was playing I was very much looking forward to seeing her perform being a very well known name on Broadway. Both Kerry and Rob had the innocence of the Maitland's perfect, with great chemistry on stage. They had excellent moment's that had the audience loving them.  Then there was the complete opposite couple of Delia and Charles, Lesleie Kritzer for me stole a lot of scenes with her perfect comic timing and approach, she was amazing to watch throughout especially during the 'Day-O' song and when she was Miss Argentina 'What I Know Now' proving she could not do just one role perfect but two! Her relationship with Charles played excellently by Adam Dannheisser was enjoyable to watch.
There was nothing about this show you couldn't love, whether being a die hard fan or a newbie you could appreciate what you were viewing.  Even though some of the jokes within the story went over mine and Grahams head – because it was American entertainment based it did not take away from the show. If anything it made me wish for a hopeful transfer to West End, because I would be intrigued to see how the jokes would transfer. I guess we will just have to see how it does in the Tony's as to how it continued success will be! Fingers Crossed but, either way I was so happy I chose this production to see!
Beetlejuice the Musical is currently playing at the Winter Gardens Theatre, for all ticket information head here.