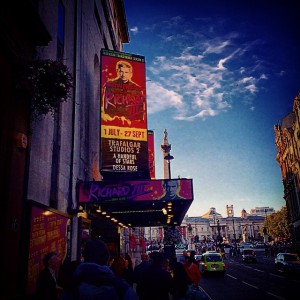 It had been far too long that I hadn't been to London to see a show, which was just not good enough.  Then with a single tweet from my favourite West End star as if you didn't know, Jon Robyns, announcing his next role it was clear what my next viewing would bewould be the production that would take me home to London City. Dessa Rose.
Not only was it Jon that attracted me to want to see this musical, but to get the chance to see Cynthia Erivo again having seen her earlier that year in 'I Can't Sing' I was interested to see what she was like in a different role, and to listen to her sing again was a good reason too.
I purposely didn't look up too much information on Dessa Rose having never heard of the musical before I looking forward to watching something brand new and different to what I usually see on stage. All I knew was it had never been performed on a London stage before, and only been performed in New York City in 2005. I was excited to see something brand new, and was not disappointed!
The story is based on the book by Sherley Anne Williams, and with the support of Lynn Ahrens writing the script and lyrics with music by Stephen Flaherty they all combine to tell the story of Two young women searching for acceptance and in doing so discover the true value of unconditional friendship.
Set in 1846 in the ante-bellum south, in North America during the time of black slavery, the musical is portrayed with two young ladies version of their story to which cross over.
ACT ONE
Dessa Rose is a rebellious 16 year old African-American Slave, and Ruth a desolate, plantation-owning white women deserted by her husband.
Dessa's Story starts with her history, beginning with her love Kaine who sadly was murdered by their master after Kaine stood up to him. Dessa distraught and knowing the father of her unborn child is gone, she fights back and because of this is punished getting branded in the inner thigh and cut just before she gets sent away to the chain gang, to walk for miles and miles to market to be sold. One night the chain master forces himself on her, but before he follows through Dessa kills him out of self defences.  But in the white community she is seen as a murderer and is sentenced to hanging, after her baby is born.
Adam Nehemiah a writer fascinated with black slavery, and especially Dessa's story visits her in prison to write her story for his book. Dessa see's through him and leads him on confiding in him her stories but also manipulating him by flirting to get what she wants (a bath, and to smell the fresh air one last time). Adam believing that she wants him, falls for her trick and when he takes the chance, Dessa is quick to respond with a slam on the head with a bucket. Dessa runs and escapes prison, which causes her to create a new name for herself 'Devil Women' and Adam to fascinate on her in a different way. To not stop looking for her until he has his revenge.
Dessa is lucky enough to find Nathan, and Harker fellow black slaves on the run for freedom, they help Dessa escape and hide from those looking for her, but when Dessa goes into labour they seek refuge and help at Ruth's home farm…
Ruth is a young girl, brought up right by her mother, but also by her black nanny who mainly looked after Ruth all her life, Ruth loved her more than her mother…Ruth's dreamed of falling in love and having a family, and when meeting Bertie she felt that her dreams had come true, she was wed, had a beautiful home with her nanny by her side, and a daughter on the way.
However not everything was perfect, Berties appearance at home was growing shorter, and not long after it seemed he never returned home, Ruth held herself high, believing that her gambling husband would return to her one day to her, and their daughter, even with others whispering behind her back (including her mother) that she was abandoned and alone. To distract her from the truth and after the death of her beloved Nanny, Ruth turned her focus on harbouring runaway slaves, not caring what others think, she chose to allow them into her home, not wanting to know their story or where they came from, she only wished they would support her home and assist with helping keep the land in order in payment to stay there safe.  It was due to this, she came to meet Dessa…
Ruth supports Dessa in giving birth, and while Dessa rest she supports the new born baby knowing that Dessa herself will be able to provide the baby with milk that she requires, and still feeding her daughter Ruth feeds Dessa's child.
When Dessa awakes, and demands to have her baby back, Ruth informs her that she was only supporting the child to help her, but Dessa too proud to allow this asks for her child and takes an instant dislike to Ruth and how Nathan, Bertie and others are accepting to her, and letting her in. Dessa promises her daughter she will fight for her, and will claim her free unlike her brothers and sisters who have not been so successful, and states that she will not name her child unless she names her free.
ACT TWO
Nathan, Harker and the fellow black slaves wish for freedom, but to get to that they need the money to travel north where they can be safe.
Ruth now aware that she is a laughing stock of the town, and by her family and friends she seeks acceptance of those around her (much to Dessa's dislike) especially Nathan.  She agrees to support the slaves into giving them their freedom, and help come up with a plan to earn the money they need.
Dessa throughout is against what Ruth is doing, especially when she finds Ruth and Nathan alone after a night together. But still she joins the runaways and goes with the plan that Ruth and Nathan have chosen.
Ruth would join the slaves in travelling up North but while on their travels, Ruth would take Nathan to Slave Market's selling him to potential client for a nice sum of money, however Nathan wouldn't stay for long and would run and the first time he would get back to Ruth and the others, and that he did many times.
The plan was working wonders, and the money load was growing, Dessa not wanting to believe it still carried on with the plan, stands in as Ruth's personal slave and nanny to both her daughter and Ruth's and on one night that Ruth gets invited to spend the night at a gentlemans house while on travels does their friendship being to form. with a night of drinking, the gentleman goes to take advantage of Ruth, and though Ruth says no he continues until Dessa stands up to him and supports Ruth. Having been through something herself she stays with Ruth that night, and looks after her. Although Dessa still not wanting this friendship it fights through.
The slaves can all see freedom on the horizon with just enough money to send them on their way. While leaving the gentleman's house, Dessa is spotted by Adam, she plays him at first saying that she is not who he thinks he is, but Adam stays is positive and calls to the sheriff.  Asking him to check her inner thigh that will determine that she is who she is by her brand.
Ruth fights for Dessa much to her amazement and states that Dessa is her girl and does not wish for her to be stared at by the Sheriff. Ordering it to be done by a lady to protect Dessa's dignity. Adam fuming, refuses, but the sheriff supports and calls upon his own slave and elderly black lady who he states that he trusts and knows that she will never lie.
But she does and states that Dessa has no brand upon her thigh, and she is free to go. Adam distraught collapses with failure. Dessa is free, and will join her friends up North, and it was all thanks to Ruth, and with that forms bond and friendship that would be forever strong
The end is a happy one, Ruth is content with those she has helped and even though she knew that her and Nathan could never be, she returns home with her daughter and with the little money that she has on the side of the life of crime. And Dessa, she finds love in Harker and with him bring up her daughter, to which with the freedom she has rightly gained names her…Ruth.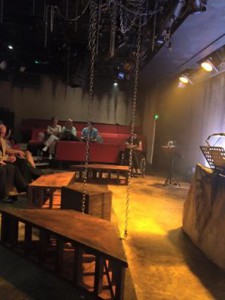 Andrew Keates took on this amazing production as the director, and does a first-rate job on bringing the story to life creating a sense of space with figures etched against a sun-kissed landscape, in just a tiny studio.  I have only seen Andrew once before when he was a guest speaker at the West End Eurovision, and until I saw him in the audience that night, it got me even more interested with actually seeing some of his work!
And truly the space that the performers performed in was limited, it was set in the round well wrapped around the performance space, and with limited set changes of just a table/stools and chains for the actors to act and create the scenes with, it was very powerful and effected as it made you focus more on the story being told. You can see my view from the photo to the right, and just how intimate it was in the studio. I had never been to the Trafalgar Studios before, and aware that it is actually an old cinema that has been converted into 3 different performance spaces, we were in studio 2, which was on the bottom floor, on the top floor was Martin Freeman play King Henry in Henry IV but that's another thing. We Paid £25 pound and it was a good price for the venue.
The Cast that night was as follows:
Dessa Rose – Cynthia Erivo
Ruth – Cassidy Janson
Adam Nehemiah – Jon Robyns
Nathan – Edward Baruwa
Dorcas – Sharon Benson
Bertie – John Addison
Kaine – Fela Lufadeju
Ruth's Mother/Susannah – Cameron Leigh#
Annabel – Abiona Omonua
Robert Steele/Mr Oscar – Alexander Evans
Rose/Ada – Miquel Brown
Harker – Gabriel Mokake.
Cassidy Janson gave an amazing performance, being my first time watching her act and sing having seen her in the past at the You'll Never Walk Alone concert it gave me a great insight in her performance to which I thoroughly enjoyed. She partnered well, and her Harmonies with Cynthia were a memorable pleasure.
Cynthia herself was extraordinary and just perfect in her performance as Dessa, her voice was amazing and through it you could hear her pain and beauty with great diction and tone. You can't keep your eyes of her when she performs she is funny, humble, vengeful, vigilant, vicious, strong, and she had so much energy and you knew that she felt every line, and lyric she performed, if I could watch her do it all again it was be such a delight.
Cassidy and Cynthia were a perfect duo and worked very well with each other, and they also shared the stage with an amazing company John Addiance played brilliant in his many roles during the show, Edward Baruwa's who played Nathan was great in his role of the passionate black slave driven by freedom, and his rendition of the Scheme to get that freedom was one of the best entertaining moments of the musical. The rest of the company also were wonderful all drawing in the audience with there amazing voices and they helped support the story truly believing every word they sung or said.
Jon Robyns role was not what I expected, and was completely different from what I have seen him perform before. Nevertheless Jon seemed happy playing this well against type of role, and his ambitious, selfish, bigoted Adam, was a villain of layered monstrosity, and his build up that he portrayed of him which slowly revealed this lustful, advantage taken and deranged seeker of revenge was strong that it pained me to admit that it was a character who I took a instant dislike to, it was just weird seeing Jon in this role and I wasn't sure if I liked it? But it was interesting to see him in a new light, and his voice sung with sneering accuracy suited for the role.
I was very pleased to have witness an amazing piece of theatre, annoyingly myself and Hayleigh missed Jon and Cynthia as they left quite briskly after the production being that they were rehearsing for further productions they were in after the run was over with Dessa. But we did get to meet Martin Freeman! I sent Jon a tweet to which he kindly sent one back apologising for missing us, but it was a delight to see us in the audience which made it all worth it.
It's sad to think Dessa has finished on the West End, and to those who missed it you missed out on something special, and if it does appear again it will be tough to beat!