Having heard the casting for this upcoming production, I wasn't going to miss out on a chance on catching this actor perform once more! So when my friend offered to purchase tickets, I was delighted when she made it to the end of her purchase!
Betrayal is a Harold Pinter Play and the last Pinter Play of this years season. Directed by Jamie Lloyd it is a 90 minute production, the plot covers a Seven-year extramarital affair between Emma and Jerry, who would meet behind her husband and his best friend Roberts back in a secret flat. The story it self is set in reverse from the moment Emma's and Roberts marriage has ended, to how the affair begun. It has been said that Pinter himself that this play is the one that mostly resembles his own life.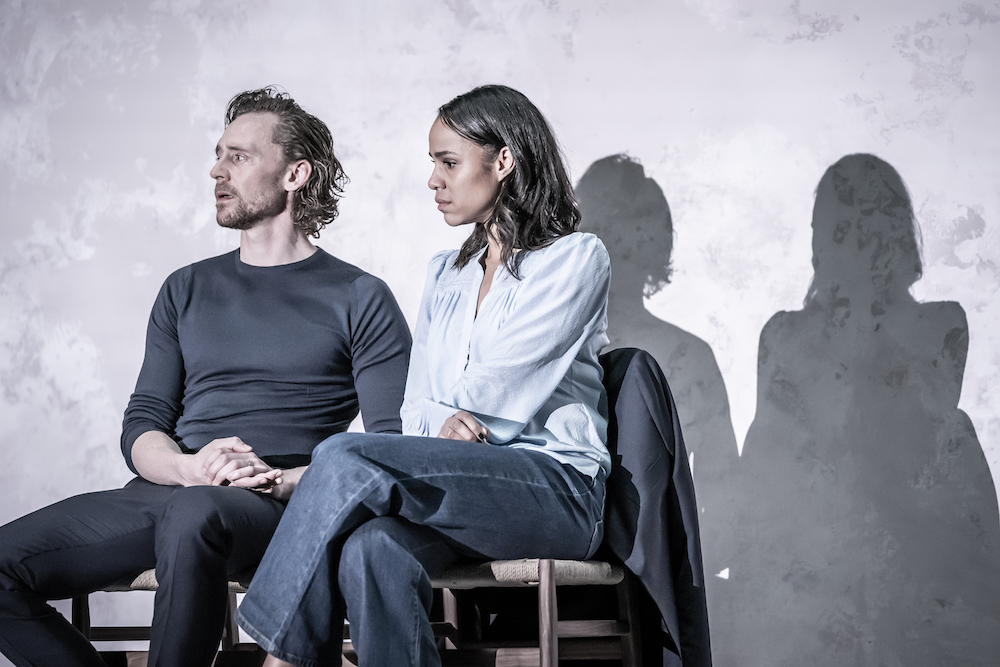 I had known nothing of this production and had only in the past studied Pinter's play The Birthday Party, I knew there would be dry humour in some form throughout the story a regular occurrence within his many plots, I wasn't expecting this production to be funny given the storyline but throughout there were many moments of chuckling within the audience. Jamie makes sure that this story is fantastically displayed through the trio of performers. The staging also created by Soutra Gilmour was also ideal pairing to the story, simplistic with limited props, the use of the rotating circle reflecting from what I took from it time passing throughout the seven years, going forward and backward but not being able to change what was happening.
The cast as mentioned was very small, with only 5 characters, 3 main being present throughout:
Robert – Tom Hiddleston
Emma – Zawe Ashton
Jerry – Charlie Cox
Tom Hiddleston, known as Marvel's Loki God of Mischief takes on an opposite role of Robert. You could not flaunt his performance and although in the beginning we hear him to have cheated on his wife over the years when we go back in the play we question if this is really true or a way for him to come to terms with his marriage being over and a way to get out and make it easy from the hurt his wife has brought him – well this was my thought anyway. Tom displays all emotions and personality, charm, upset, love and anger and excels at them all.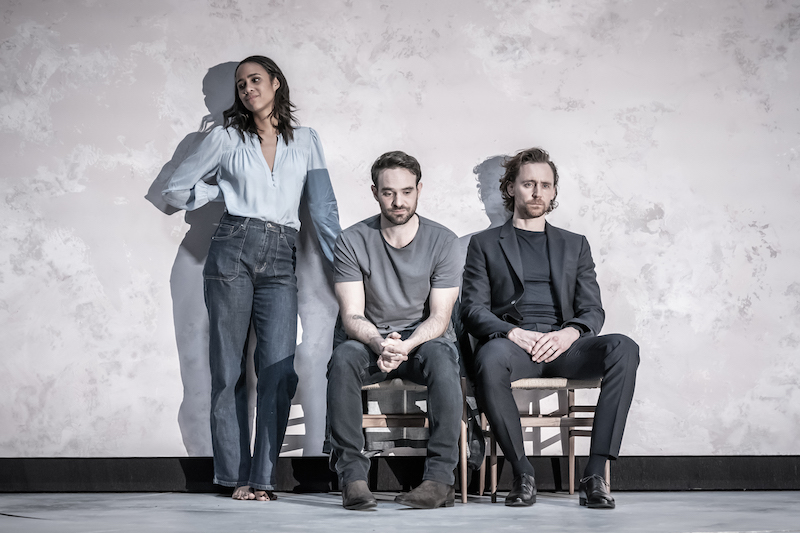 His wife Emma played by Zawe Ashton (Fresh Meat) is beautiful to watch, although at first we do not warm to her – being that she has chosen to have an affair with her husbands best friend, but when you watch her go back you feel for her slightly. She loved her husband but not all marriages are perfect and when someone comes along and whisks you off your feet providing you with attention you may not have received for a while you follow her choice and love for this person. That person is Charlie Cox  (Stardust as Jerry, who himself has a family of his own but a troubled one – with travelling and his wife working long hours. He falls for his best friends wife and you can see the excitement in doing so but also the focus in trying to keep his friendly afloat. Charlie had the awkwardness yet sly character perfect for this role, he was great to see live and show his true potential as an actor.
I can see why this is one of Pinter's favourite plays, as it leaves you with a wide set of emotions and pondering who you most sympathised within the story. Powerful and moving, this play is a great viewing which is highly supported by its star studded cast. Having extended due to popular demand and success, Betrayal continues to play at the Harold Pinter Theatre until June 8th. For all ticket information, go here.