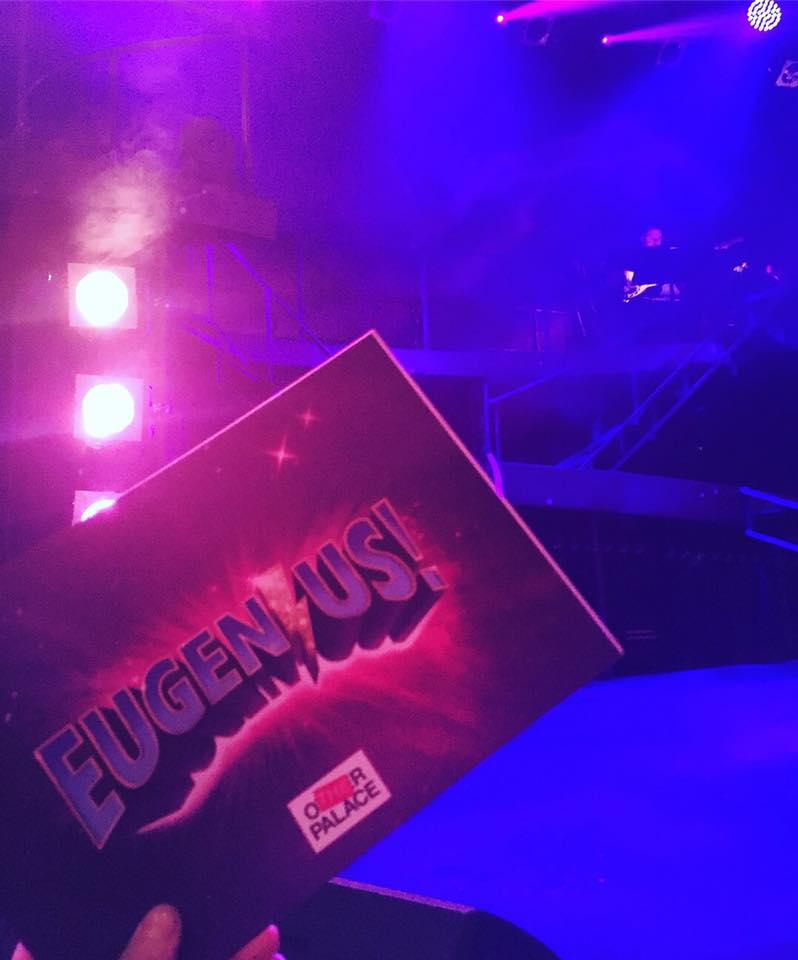 After a very stressful week, I was very happy to have this day planed for something to look forward to. Feeling quite down, I defiantly chose the right musical to go and see, that didn't fail putting a smile on my face.
After a lovley chilled day out in London with my friends it was off to meet my theatre friends of All Things West End. Tonight's performance will be brand new to the Other Palace Theatre, a second time at this lovely theatre that welcomes new productions allowing them to shed light on some amazing talent and stories. The last time I had caught the brilliant Big Fish the Musical and coincidently I was sitting the in the same seat of A18.  Front row can be great, allows you to be up close and personal with the cast, this show being three tiered at times you needed to look up, but it didn't take from the story at all. A little to the left hand side, which means at times some performers would block others but, having sat here twice it hopefully wont be my last!
Eugenius is the creation of A1 singer Ben Adams and Chris Wilkens, it tells the story of Eugene, a high school geek with a love of comics. He dreams of 'Tough Man' and 'Super Hot Lady' and when he awakes his dreams come to life in his very own comic book. Afraid to go further with his dreams, best friend Janey does this for him when a scout comes looking for new talent.  Leading to Eugene going to Hollywood and meeting sleazy big shot, Lez.  But when things don't go as Eugene hoped, his story takes a alternative turn and becomes a little more real than he had thought. Can Eugene save his comic, along with Janey and Feris?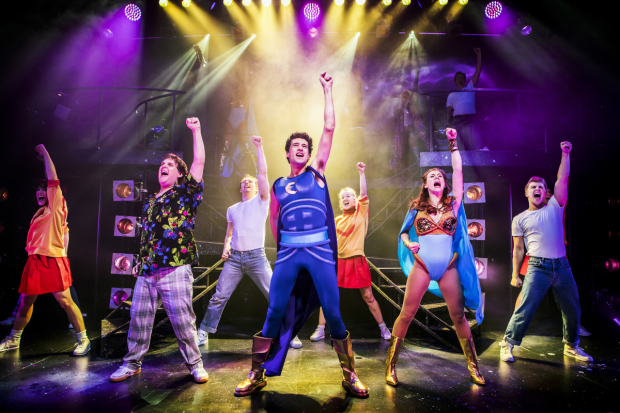 The story itself is very light-hearted, with great 80s references that many of that era can relate to, such as many classic 80s films (Sci-fi, Horror), costumes, and technology (how big were the mobile phones!) all incorporated into this one musical. Its a feel good show, that leave you laughing and smiling from ear to ear when you leave the auditorium from all the silliness – it is not one to be taken too seriously! One thing about this production is the music, Ben and Chris really out did themselves as all of the songs just stay in your head and you actually leave the show knowing most of the songs. I for one downloaded the soundtrack (currently available on ITunes and Spotify) as soon as I hopped on the train. Each one has an 80s style kick to them, from dance, electro 'She's Amazing,' Vanilla Ice's style 'Who's that Guy' and the classic power ballad 'Comic Book Kind of Love'.  A particular favouritse for me has to be 'Don't Shoot for the Stars (Shoot Higher)' and 'Go Eugenius' that has been on repeat in my head, all songs just give you a warm happy feeling. Again leaving you laughing but loving the lyrics. This musical shows that its ok to be who you are and stay true to yourself – if you want to be a hero be one. Also if you have a dream, go for it.
The full cast were on top form, being the second show of the day it was full energy from the start – that may be because Ben Adams, and producer Warwick Davis were in.
Eugene – Liam Forde
Janey – Laura Baldwin
Feris – Daniel Buckley
Evil Lord Hector – Ian Hughes
Theo – Scott Paige
Lex – Cameron Blakely
Gerhard/Tough Man – Shaun Dalton
Carrie/Super Hot Lady – Melissa James
Eugene's Dad/Lord Tough Man – Alexander Evans
Stock Jock/Laurence/Flock of Eagles Singer – Brian Gilligan
Space Diva/Mrs Truthstretcher – Alison Arnopp
Jocks – Jacob Fisher. Alex Tranter, Luke Dowling
Cheerleaders – Frances Dee, Chloe Chambers, Rosie Heath
Making his West End debut is Liam Forde in the title role of Eugene, he had all the emotions for the role and the perfect geek persona! His voice however is beautiful with each note he sung, a loveable character that has the audience cheering for him throughout – Literally. His two partners in Crime Janey and Feris, were performed by Laura Baldwin, and Daniel Buckley. Laura having seen her previously in Big Fish, it was great to see her in a new role where she really came into her own, taking each song easily, her pop star number 'The Future's Bright' was entertaining and her comic timing perfect. Her relationship with Liam is clearly displayed and their duets 'Happy Endings Don't Exist' and 'Comic Book Kind of Love' were very love Ballard that both portrayed brilliantly. Daniel Buckley takes on the geeky Feris in his stride, he clearly was made for the role, his balance of geek, and rapping god is true 80s.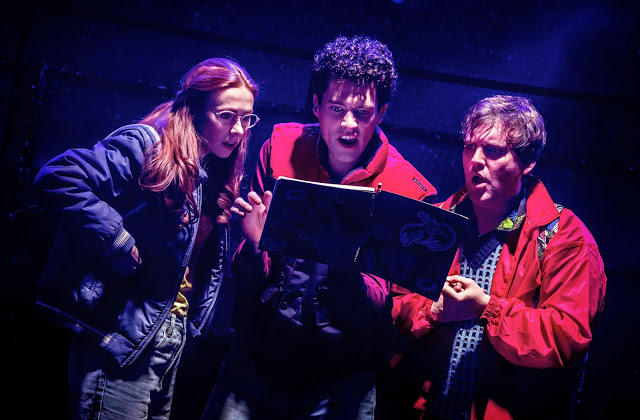 There were a varied mixture of heros and villans within this story, Cameron Blakely as the sleazy producer Lex gives the role power, entertainment, and comic brilliance. Along with Ian Hughes as the classic Villian – as British make the best villains both take on the part with ease making them loved by the audience. Then there were the Heros, Melissa James is the stunning Super Hot Lady, who had the looks, moves and attitude for the role. Along with with Shaun Daltons Schwarzenegger Tough Man, they were great heros to save the day!
One things for sure is the whole cast are fantastic in every role they portray, it was great to see Scott Paige perform once again in a different role as Theo that was made for him, but also demonstrated his ability to adjust to each role given to him. The full company made it clear they had their own roles within the story, clearly taking on the power of the story. There dancing and singing were on top form. that the audience would not see a slow moment throughout.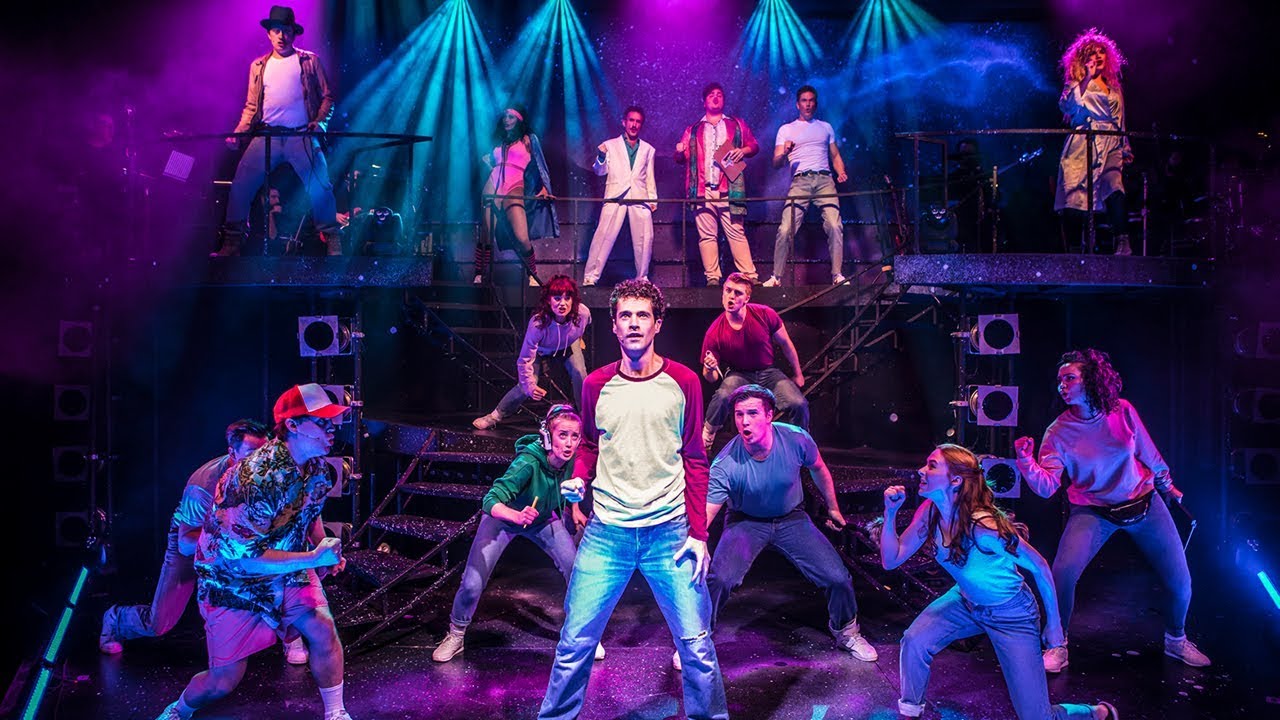 When the show comes to an end it is clear that the audience had the best evening, with a highly deserved standing ovation the finale felt like a 80s rock concert with us dancing, and fist pumping the air throughout. It really does get you going, that makes you want to return again and again to escape the reality of outside. Everyone loves it, it highly deserves a theatre of its own to share to more of the public, one can only hope this will be the case.
Till then, Eugenius! performs at the Other Palace until the 3rd March, tickets are available on their website here. Trust me you wont be disappointed, if I can get another viewing in before it goes I will be one happy Geek!
Below are cheeky photos with the cast at stage door, along with Ben Adams, and Warwick Davis!