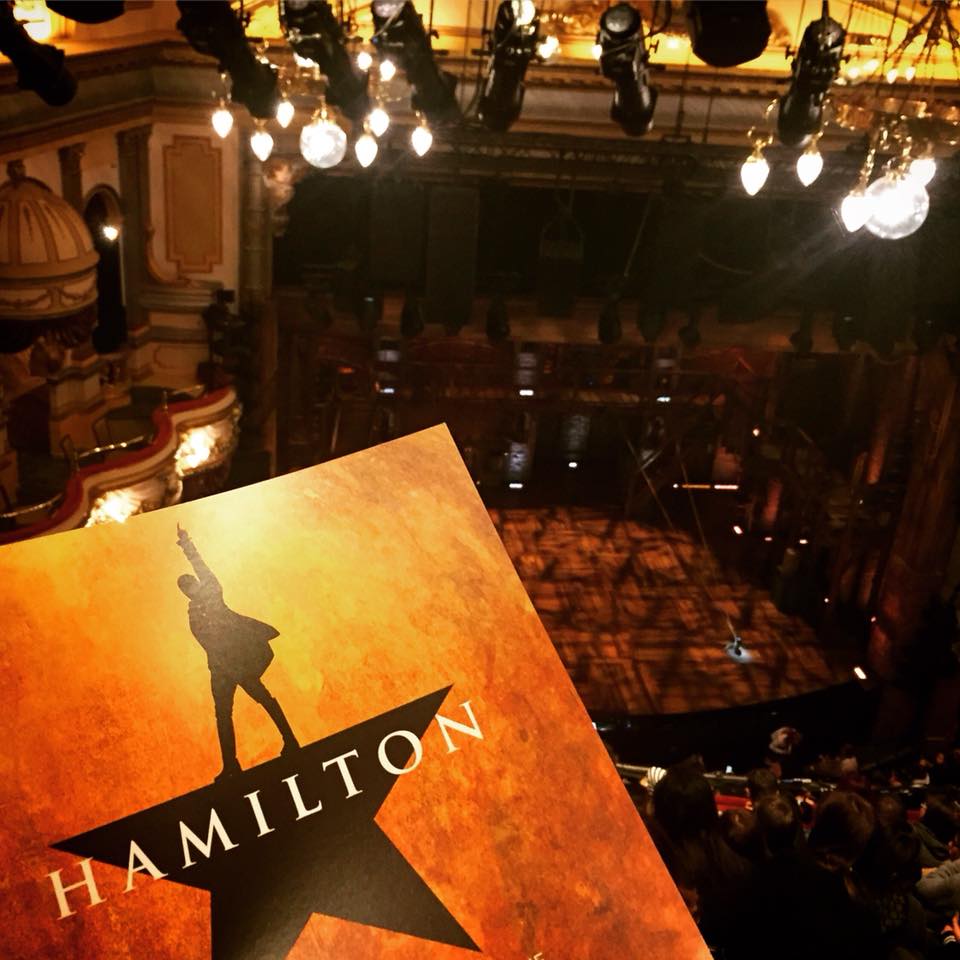 Having waited for just under a year, after I was lucky enough to grab tickets I was finally going to 'the room where it happens!' Trust me it was worth waiting for! It was finally time for Hamilton!
Having stumbled across the soundtrack in 2016, having heard great things I had listened to some of the songs and fell in love – within minutes I had bought the whole album, repeated a lot during my summer holiday that year! When the announcement came that it would come to the West End, I was so excited to finally see it live rather than the cheeky vids you can sometimes find on YouTube!
Although I had been to this theatre twice before, tonight it felt that I walked in to a brand new one. The Victoria Palace renovation is absolutely stunning, fresh and clean Cameron Mackintosh did an amazing job! Although we were seated at the very back row of the grand circle, Row k seat 30 to be exact our view was very good, only negative was a the very back when the actors ran along the back balcony we were unable to see their faces, only there bottom half. That being said thought it was not at all bad for the price I paid!
Hamilton is from the amazing musical mind of Lin-Manuel Miranda, who stumbled across Ron Chernow's biography Alexander Hamilton. When learning about one of the founding fathers of America, inspiration hit with the support of Thomas Kail (Director), Andy Blankenbuehler (Choreographer), and Alex lacamoire (Muscial supervisor, Orchestrator and co-arranger), after six years the musical finally opened Off Broadway and officially opened on Broadway in July 2015. The musical with an amazing Hip-hop soundtrack focuses on Alexander Hamilton, one of America's mose unlikely founding father, he was a penniless immigrant from the carribean who comes to New York during the time of the American Revolution. Hamilton worked his way to becoming George Washington's right-hand man and first Secretary of the Treasury, we watch him grow and sadly fall when he comes to a tragic end in a duel with the vice president, Aaron Burr.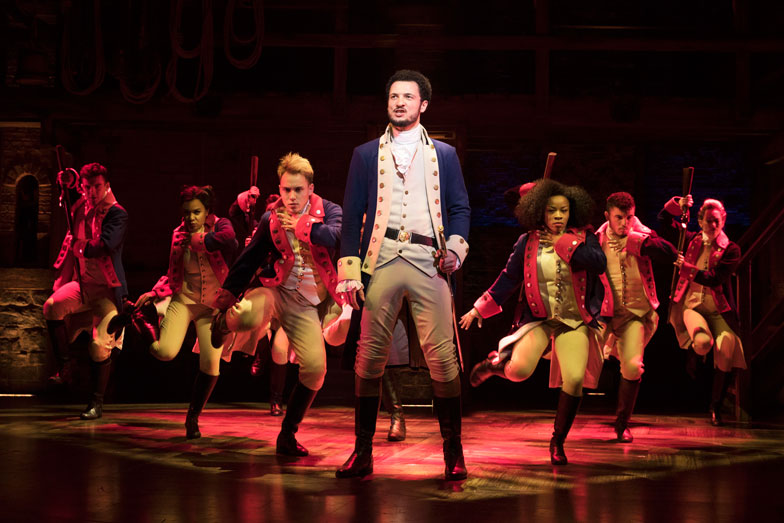 Now being placed in London you would wonder whether this show would make it or break it, being that this musical is about how America parted with the United Kingdom to claim their own independence from King George. The thing is, it isn't the story that makes this musical for me, but the way it is told. The story it self is very interesting, having lived in the states myself I had learnt much about the revolution and how it came to play. You do learn a lot, however you can't deny that the soundtrack that tells this story is amazing to listen to, but so much better live than listening through earphones. Told completely through hip hop, the show is sung throughout – with only small moments of script, the catchy songs such as 'My Shot,' 'Wait for It' 'The Schuyler Sisters' all of whom come together amazingly. As much of it is rapped, I noticed myself understanding more of the story whilst watching it, than from the many times that I had listened to the soundtrack. Its clear that Thomas Kail worked hard to ensure that this would happen, but also throughout the show has the most amazing beautiful stylised choreography you will ever see in your life, displayed by a talented cast, but also from the mind of a great Choreographer Andy! It is truly mesmerising to watch with each step and song that is performed. It all comes together greatly that you can't help but fall head over heals in love with. Many a times did a tear appear in my eye, I am not ashamed to admit.
One things for sure though, this atmosphere couldn't have been made without the talented performers that perform each night to sell out audiences, we were lucky to have the full cast performing tonight:
Alexander Hamilton – Jamael Westman
Eliza Hamilton – Rachelle Ann Go
Aaron Burr – Giles Terera
Angelica Schuyler – Rachel John
George Washington – Obioma Ugoala
Marquis de Lafayette/Thomas Jefferson – Jason Pennycooke
Hercules Mulligan/James Madison – Tarinn Callender
John Laurens/Philip Hamilton – Cleve Spetember
Peggy Schuyler/Maria Reynolds – Christine Allado
King George – Michael Jibson
Ensemble – Jade Albersten, Curtis Angus, Johnny Bishop, Courtney-Mae Briggs, Jack Butterworth, Kelly Downing, Leslie Garcia Bowman, Leah Hill, Waylon Jacobs, Miriam-Teak Lee, Gabriel Mokake.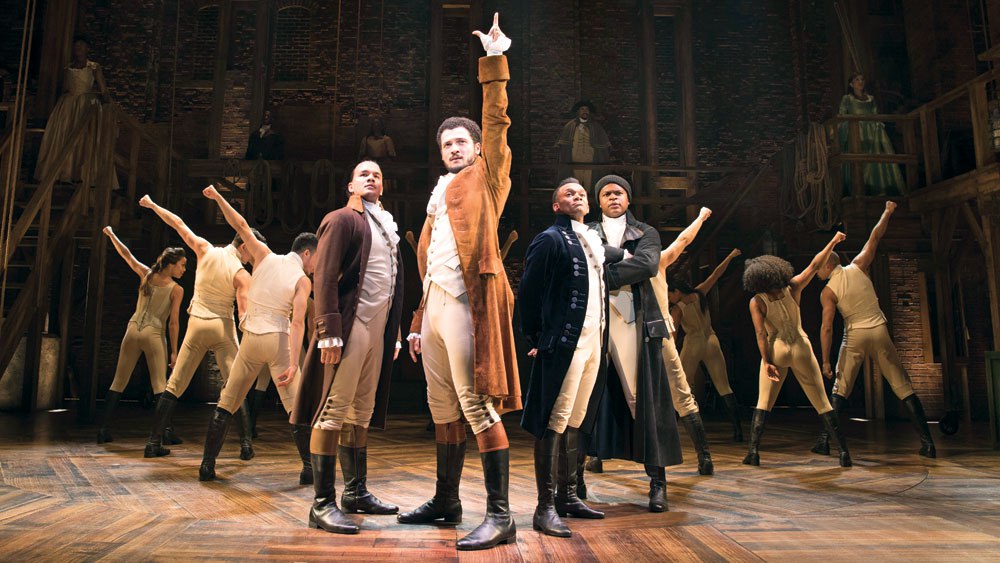 What I loved the most when they announced the cast of the West End Hamilton, I congratulate Lin on casting someone unknown in the title role. Fresh out of RADA, Jamael Westman takes on Hamilton, a demanding role whom barely leaves the stage. But this never seems to faze Jamael, who we see grow within the role and his character throughout. His relationships with each character is clearly displayed, unique to one another. He has a good voice for the role, that makes the audience fight with him throughout.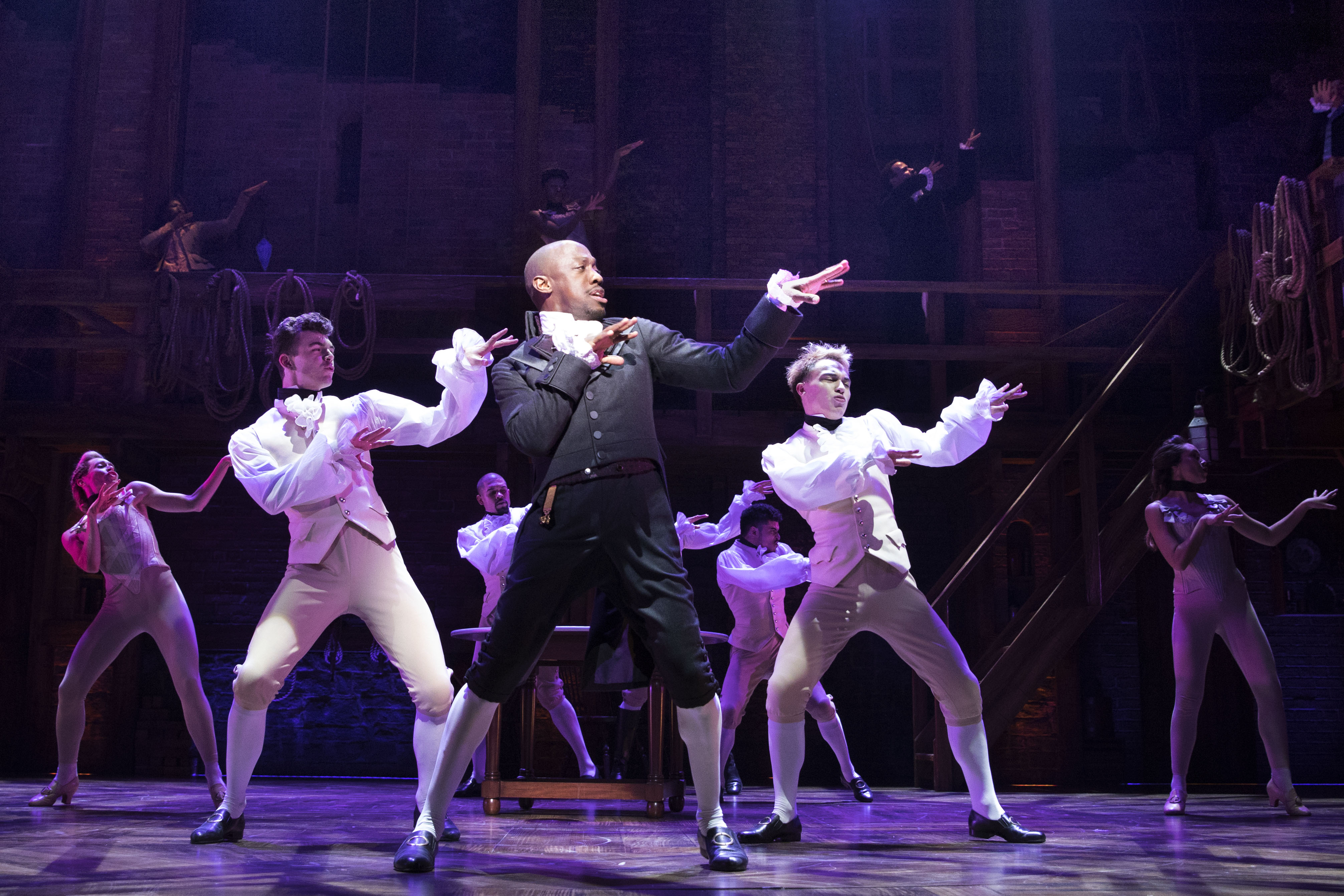 Along with Jameal is a very strong male cast, Giles Terera takes on the role of Aaron Burr the villain in a way of the musical but proves he is worth of the role with each solo performed excellently and strong throughout, 'Wait for It' and the 'Room Where is Happens' were personal highlights mainly due to how he performed. Obioma Ugoala has a powerful deep voice, his role as George Washington was very warming to watch, I could listen to him all night. Then there was the trio, Jason, Tarrin Callender, and Cleve, all of whom lit up the stage with brilliant moments that you fell in love with and even had the audience chuckling at times.
Then there were the ladies, each on a Schuyler Sister.  Rachel John leads the trio as Angelica, a loving sister with a big heart. Rachel has the voice, attitude for the role along with Rachelle Ann Go as Eliza Hamilton. Christine Allado, is a soulful lady especially as Maria Reynolds!
Then there was Michael Jibson, who takes on the risky role of King George. Its amazing how much stage presence he brought within the role that we only see a fair few times within the show. He had the audience in the palm of his hand each song he sung, making the role his own and created a king that was funny, but powerful all the same.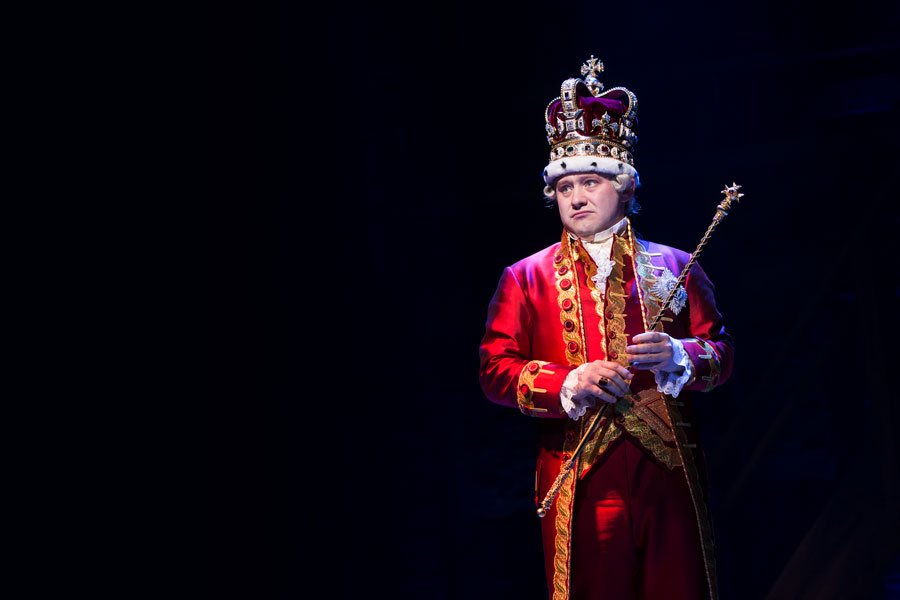 Without doubt the full cast are strong, talented, and amazing that bring this amazing musical to life every show. It was everything I wanted it to be and more, it truly is a unique musical, that is famous within its own right. Tickets are high demand and are very tricky to come across, that's not to say they aren't available. There are a lot of rules in place in regards to purchasing a ticket on Ticketmaster, however if you also get the Hamilton App on your smartphone you can try the lottery – I know I will be!