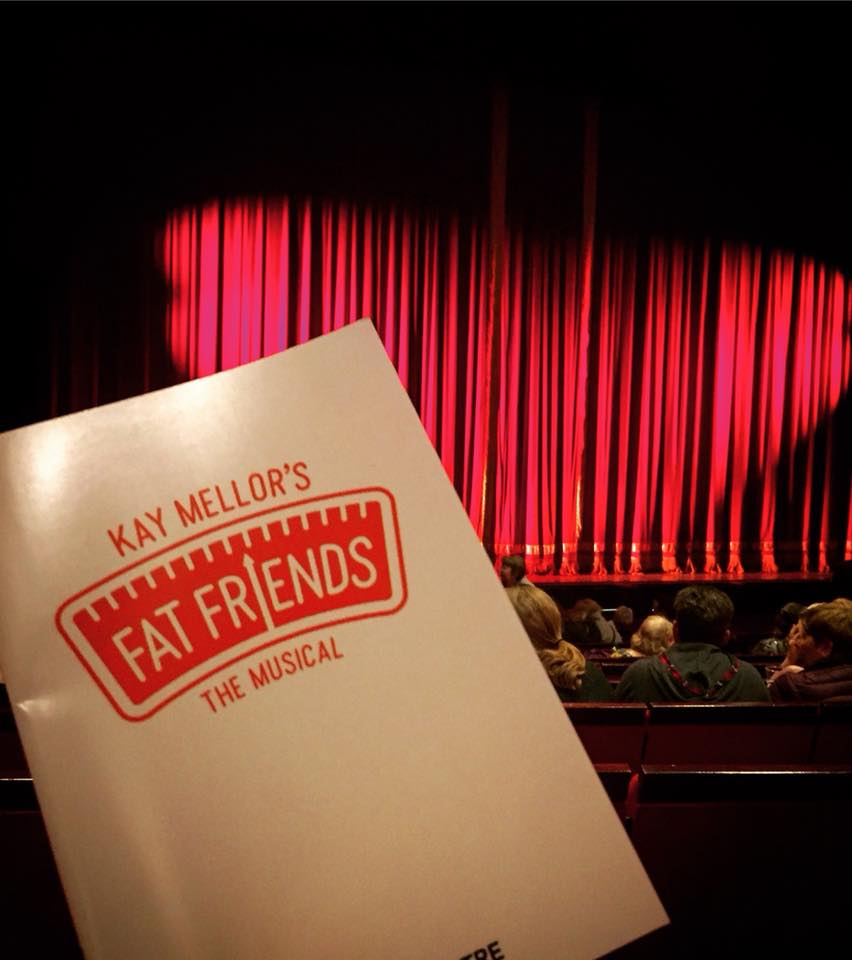 Second week in a row, 7 days had been too long! I was back at the Churchill Theatre for tonights viewing of a brand new musical based on a TV classic!
I took my seat Row L, seat 32 my view was absolutely fine. With full stage being seen and faces visible.
Fat Friends the Musical focuses on the upcoming wedding of Kelly and Kevin. Kelly has dreamed about this day all of her life, but recently she has put on a lot of weight and her mother Betty – a Yoyo dieter, has been trying to encourage her to loose a few pounds before the big day. Strong-willed Kelly is happy with her lot and fiancé kevin, it isn't until she finds that she can't fit into her dream wedding dress that things need to change! Even after the shop owner Lauren tells her they don't do the dress in her size, Kelly still uses her savings to buy the dress that is two sizes too small! On the other side of the story Betty has recently lost five stone and up for super slimmer of the year. The final competition is fast approaching and a winner will be chosen with Betty a hot favourite to win. When it doesn't go as planned, Kelly kicks off which leads her with a catastrophic results for all of her Fat and not Friends.
Based on the 2000 4 series hit TV show of the same name, creator Kay Mellor has always planned that it wasn't the end for the comedy series she just didn't know what…when asked to write a book for another musical it was then clear where she wanted to do. She created Fat Friends the Musical fifteen years on from the debut of the TV series, bringing all the much loved characters back for all to enjoy. The story itself is predictable at times as to where it was going to go, but there were some certain surprises that the audience doesn't expect! With that being said however you can't help but enjoy this upbeat, loveable show making the audience chuckle, sympathise, cheer, and without a doubt HUNGRY! Set in current day also, the audience can relate to the events within the story, but also we have all been there in regards to worries about our weight – without doubt we have all been on a diet at least once. This show celebrates this, but also helps you learn that its ok to love who and how you are, to not be ashamed as someone loves you always too. Kay Mellor really has created a unique musical, that is guaranteed to be loved by many.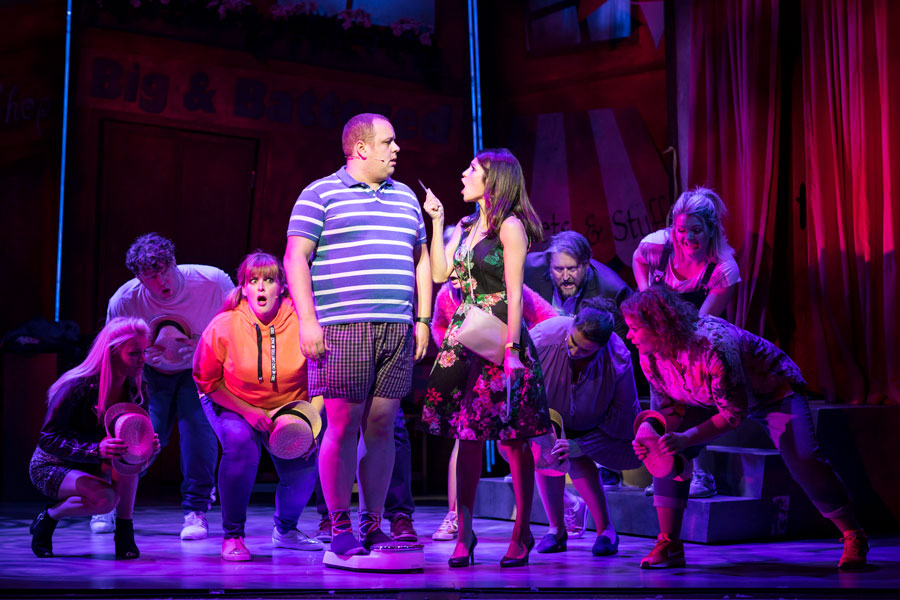 The Musical numbers are spaced well within the story, some at times were short and sweet such as 'Big and Battered' that worked well within the story to keep the energy up. Then there were some that were sung that allowed the characters to display their feelings which was lovely to see. A particular favourite would be 'The Slimmers Club' the name can be deceiving as it had the audience roaring with laughter – and greatly deserved too!
The Cast tonight were brilliant with many known names:
Kelly – Jodie Prenger
Betty – Sam Bailey
Kevin – Joel Montague
Fergus – Kevin Kennedy
Lauren – Natalie Anderson
Paul – Jonathan Halliwell
Alan – Neil Hurst
Julia Fleshman – Natasha Hamilton
Joanne/Pippa – Rachael Wooding
Val – Chloe Hart
Ensemble – Craig Armstrong, Emma Crossley, Ellie Leah, Laura Mansell, Ryan Pidgen, Lizzie Bea, Paul Brangan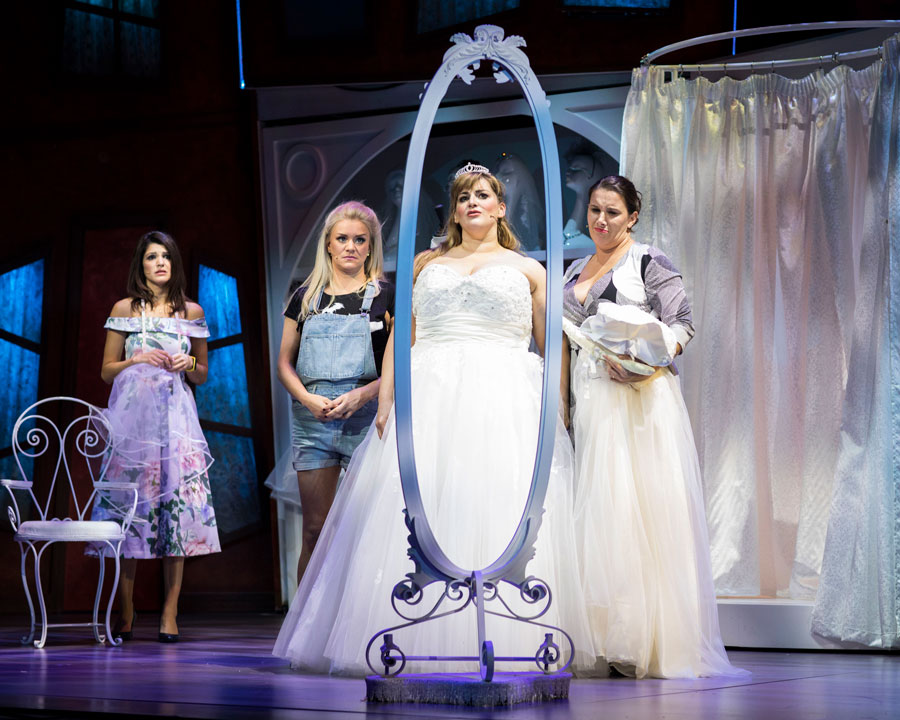 Jodie Prenger takes on the role as the loveable Kelly, crazy in love with her man and her food! Jodie takes comedy in her strive, with excellent comic timing on all that she delivered. But one things for sure is her voice is so strong that every song she sung she made it look easy! I was very happy to finally have seen her live, after loving her during her win of BBC's I'd do Anything. When seeing that Sam Bailey was cast as Kelly's Mum I was surprised as there is not much of an age difference between the two, however I was taken back by how well they worked well.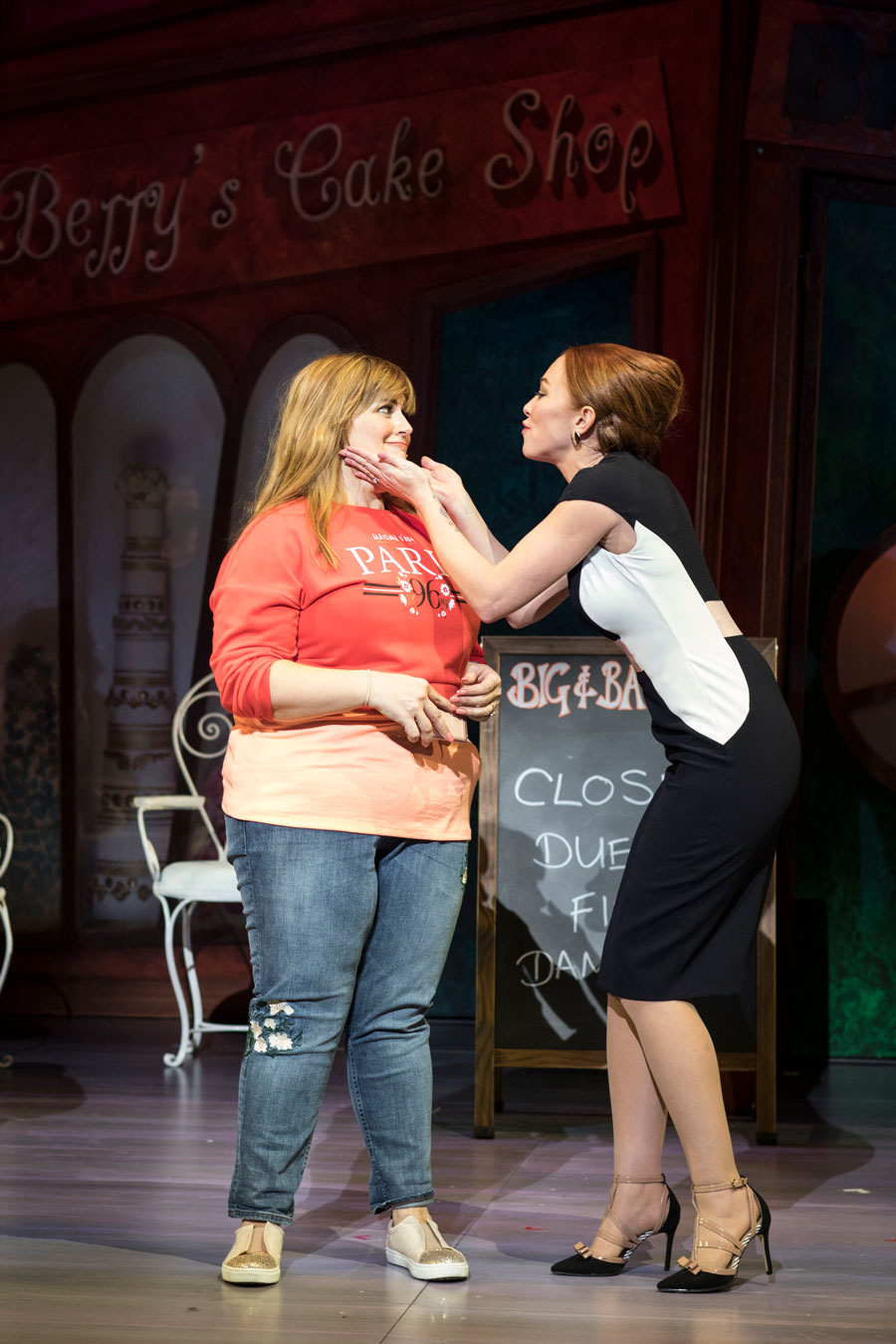 Sam Bailey was a such a loving mum that the audience fell in love with, she had great comic moments, but one things for sure her belt is strong. Her duet with Jodie during the end of 'Going Global' was a delight to watch suiting each other perfectly!
I was delighted to see Joel Montague perform once again, after seeing him in Funny Girl a few years back. Tonight he was Kevin, his partnership with Jodie was perfect and very believable knowing that they truly loved each other. He was well suited for the sweet character, his solo 'The Only Fool is Me' showed his talent greatly and he really gave it his all. Kevin Kennedy as father figure Fergus also had his charm shown in places, especially during his duet with Neil Hurst as Alan. Neil was a lovable character, who reminded me a bit like Peter Kay at times.
Natalie Anderson known for her role in ITV Emmerdale played the role of hungry for love Lauren, very sweet within her role and a good singing voice. Her chemistry with vicar Paul played by Jonathan Halliwell was clearly shown throughout, to which the audience were keeping their fingers crossed their love will see through. Leader of Superslimmers company Julia Fleshman dreams of stardom, Natasha Hamilton who was once in Atomic Kitten takes on the role with ease. Along with her right hand lady Pippa played by Racheal Wooding they made a right pair. Pippa also wasn't only Racheal Wooding's role, who also took on Joanne, sister to Kelly wit the attitude to boot! it was great see Rachael performing again, as she always takes on a character giving it her all, you can't help but watch her during chorus scenes as she is always up to something that will make you chuckle.
There is no doubt that this show is full of amazing talent, that get the audience falling in love with them all. With great comic moments, and music it is a great night out for all. A classic British musical that we should be proud of, and different than the other musicals currently.
Fat Friends the Musical is performing at the Churchill Theatre, Bromley until the 20th January for all ticket information go here. It will then continue to embark on its UK tour, for all venue information go here.