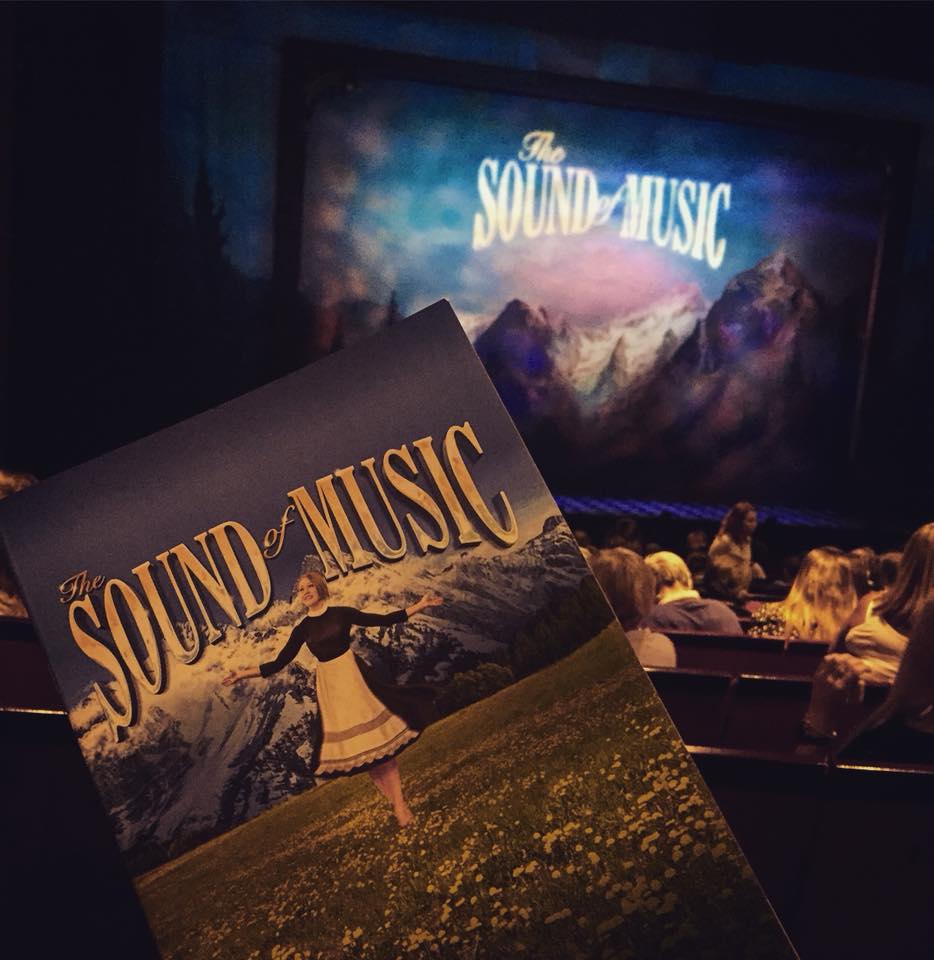 2018, welcomes a new Theatre year! Starting back at one of my locals the Churchill Theatre for the first Press Night of 2018, tonight's viewing was a classic Roger and Hammerstein The Sound of Music. I was looking forward to seeing this production front on, having seen it previously in the pass by my old Amateur dramatic group at on the side line.
I took my seat in Row P seat 27, a little further back but no issue for view and faces were visible throughout. The only thing I did notice was at times anyone standing at the top of the stairs in the Von Trapp house that didn't come forward couldn't be seen, but this wasn't disruptive to the story at all. I do always say it but the Churchill is a great theatre for its seats and views, never have I had a complaint wherever I have been placed.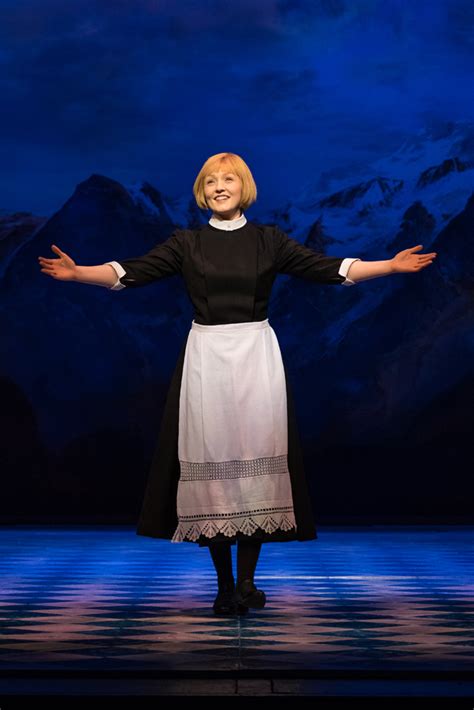 The Sound of Music is a musical based on true events of the famous Von Trapp Family. Maria an aspiring nun has been assigned as a governess to look after strict and stern Captain Von Trapp's 7 children. We follow Maria though a change in her life she didn't expect, along with Romance she never thought would happen. Based before the start of World War Two, you also see the famous escape of the Von Trapp's to freedom from the German takeover of Austria. A story that is known by many, as the 1965 film starring the legendary Julie Andrews is a regular on the tv, but it is such a happy musical.  With its classic songs such as, 'Favourite Things,' 'Do-Re-Mi,' 'Sound of Music' and 'Eldeweiss' you are guaranteed to know at least one – i'd be surpised if you didn't!
One thing about this production is it is not only the performers that bring this story to life, but for a touring production the set design created by Gary McCann is amazingly designed, created to bring each scene to life. With being such a big set, I was pleasantly surprised to see there was no mishaps watching each scene slide in and out swiftly to keep the story going. It just add to the story that is excellently directed by Martin Connor, who bought forward the happiness, sadness, love, and laughs to the classic story.
The cast tonight were:
Maria Rainer – Lucy O'Byrne
Captain Von Trapp – Neil McDermott
Mother Abbess – Megan Llewellyn
Sister Berthe – Lucy Miller
Sister Margaretaa – Zoe Ann Bown
Sister Sophia – Tammy Davies
Franz – Jon De Ville
Frau Schmidt – Pippa Winslow
Liesl – Katie Sherman
Friedrich – Frazer Powell
Louisa – Anastaisa Holland
Kurt – Theo Hill
Brigitta – May Hayward
Marta – Isabel Godden
Gretl – Sophie Woods
Rolf Gruber – Jordan Oliver
Elsa Schraeder – Kara Lane
Max Detweiler – Howard Samuels
Chorus – Chrissie Perkins, Sam Newman, Joel Baylis, Holly Willock, Andy Hawthorne, Lewis Barnshaw.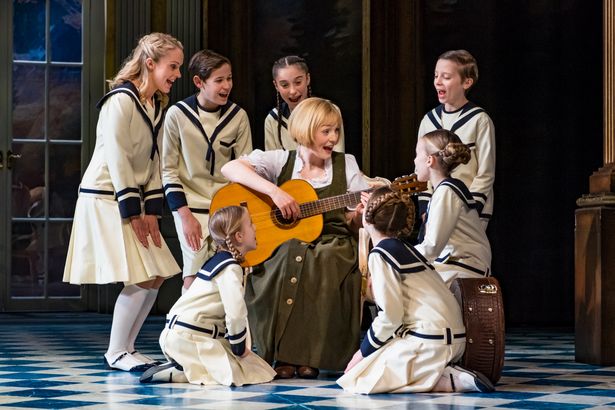 Lucy O'Bryne takes on the title role of Maria once again, following great reviews from her last tour in The Sound of Music. When you finally see her in action, you can understand why! She takes on the role brilliantly that makes the audience fall in love with her quick wit, loveable, yet strong character that Maria was intended to be. Her voice also compliments each song she sings, clearly displaying her talent and reason for being runner up on The Voice. Neil McDermott known for his role in BBC's EastEnders, performs as the strict Captain Von Trapp, not a stranger to the musical having played the role of Rolf in the past, his take on the Captain allows the audience to go on a journey with him. We clearly see his transition back to the loveable dad that he was when he meets Maria, its a delight to watch. His relationship with Maria also is clearly displayed, knowing immediately how much he cares for her, and him to her. There duet 'Something Good' was beautiful, clearly showing their love.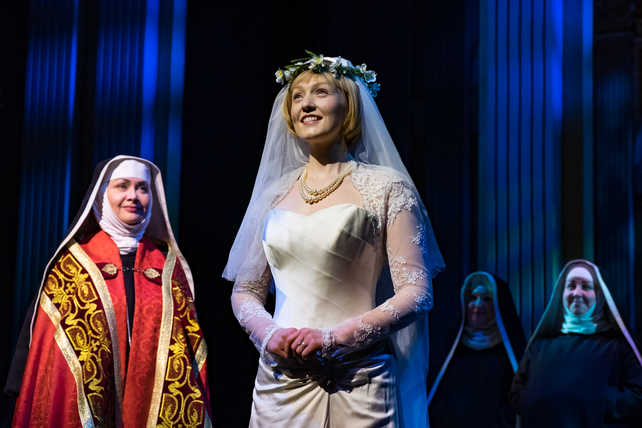 Other mentions to the cast go to Howard Samuels in the role of Max, I loved his take on the character. Camp, yet also business driven it was great to watch, but you could also see how much he really cared for his family during the escape. Megan Llewellyn as Mother Abbess received a greatly deserved applause for her rendition of 'Climb Ev'ry Mountain' with not a note out of tune.
Now it wouldn't be The Sound of Music without the 7 Von Trapp children, each providing the audience with a unique character that made them loveable from the start. Katie Sherman in the role of the eldest daughter Liesl, was sweet and innocent, her duet 'Sixteen Going on Seventeen' with Rolf played by Jordan Oliver had some excellent choreography that had the audiences dazzled with each step.
The Sound of Music must be on every musical lovers list to see, and if you haven't then this week is a great change to catch a great rendition of the production. Guaranteed to make you smile at some point, the talent, visuals, and performance gives it its all with no disappointment. I am delighted I was invited to see it and a great show to kick start my New Year! It is also a great one for all ages that the family will love!
The Sound of Music will be performing at the Churchill Theatre until the Saturday 13th January, for all ticket information go to here. It will then continue on its UK tour, for further information go here.