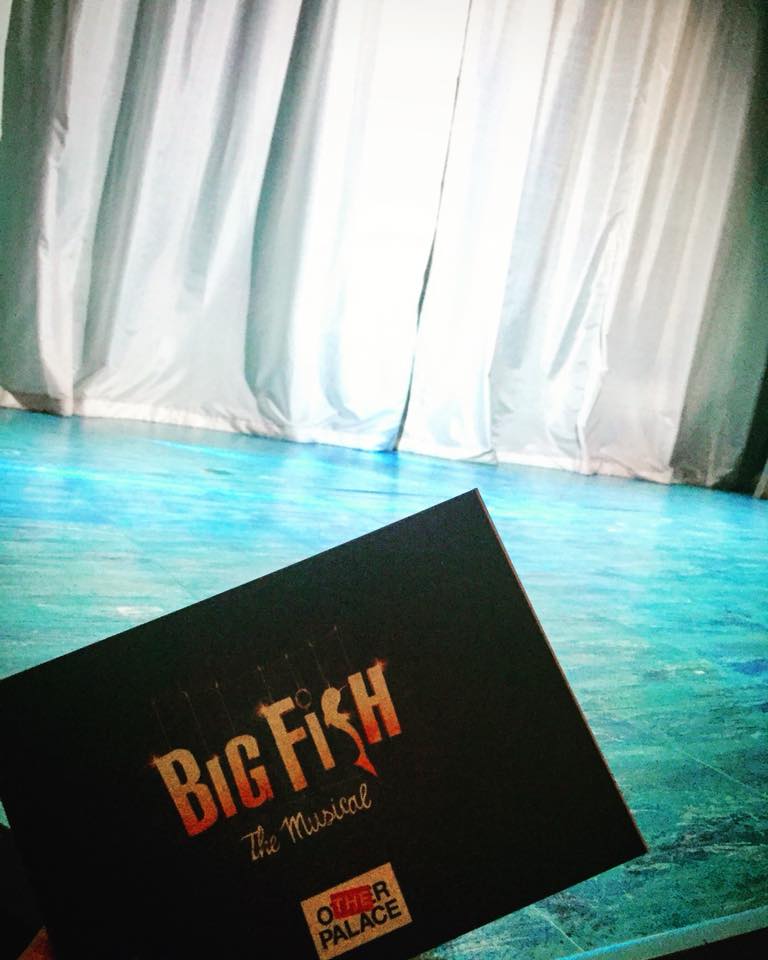 It was a spur of the moment, rare day off in the middle of the week – what could I do? Scanning through social media, I stumbled across the Facebook post of the new upcoming production performing at the Other Palace. I took my chances and viewed for seats to be surprised to see front row seats available right before me. It wasn't long till I was calling the box office, finally using my birthday theatre tokens.
I had never been to this theatre before, it isn't common these days to see brand new musicals perform at The Other Palace. Tonight, it was Big Fish the Musical's turn. I took my seat front row, right on the corner of stage right, all was visible but at times due to being in the round depending on where the actors placed themselves would some others be blocked – but it didn't matter, as you are made to feel part of the story.
Big Fish the Musical is an adaption of the novel of the same name by Daniel Wallace, and the Columbia Pictures film screenplay by John August (for the Tim Burton direction of the film). It tells the tale of travel salesman Edward Bloom, and his son Will. Edward famous for his story telling and jokes, we see his visions brought to life as Will looks for what's behind his tales.
John August (book), and Andrew Lippa (music and lyrics) combined has written one of the most moving, beautiful, and magical productions I have ever seen in musical theatre. With the excellent direction From Nigel Harman, they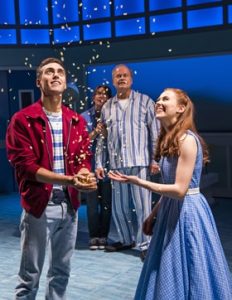 have given life to a masterpiece. It has its audience laughing throughout, falling in love with the stories as much as Edward loves telling them. From the very beginning you feel so involved with the story and at times, literally! The performance, along with the music draw the audience in, that without towards the finale, there are no dry eyes in sight!
I just loved how it was performed/directed, incorporating a hospital ward within the story telling, clearly displayed within the costumes and props that reflect what is told and yet have a reflection on hospital gowns, and Pyjamas. Bringing the imagination to life, but yet still remain in the ward. I also loved that their were snippets of the film incorporated, or rather that of Tim Burton, if you are a true fan you will see the theme,and characters that appear in the play. The Musical songs, one after another were beautiful, fun, and heartfelt, I loved them all. Some of which were new to the production than that of the broadway production, but that just made it more unique. Both 'Daffodils' and 'How It Ends' brought tears to my eyes, and eve  to those who were beside me also. I can only hope for a cast recordings, just to relieve it again and again.
The cast tonight was on top form, with only being the second night into its previews. After weeks of rehearsals, you could see that they were happy to finally be performing in front of an audience!
Edward Bloom – Kelsey Grammer
Sandra Bloom – Claire Burt
Will Bloom – Matthew Seadon-Young
Josephine – Frances McNamee
Witch/Jenny Hill – Londi Oshinowo
Amos/Don – Forbes Mason
Karl – Dean Nolan
Story Sandra – Laura Baldwin
Story Edward – Jamie Muscato
Zacky – George Ure
Story Jenny – Tanisha Spring
Mermaid/Librarian – Sophie Linder-Lee
Dr. Bennett/Mayor – Jonathan Stewart
Peggy/Girl with Cat – Gemma McMeel
Boy -Jaxon Knopf
One thing about this production, is there is plenty for the cast to do! With double up in roles, each performer has their moment in the story, and Edwards stories. Along side the principles it was great to see them all working to well together, clearly displaying that they were having such fun on stage. Particular mentions go the Karl played by Dean Nolan,, a giant with a big heart and moves like no other! Not many men can dance in heels but Karl made it look easy! Forbes Mason as Amos/Don was also a delight to watch, having the audience giggling throughout whenever he graced the stage. Having previously seen him in Doctor Faustus last year, tonight it was the complete opposite and it as great to see him in a comic role – something he performed very well in!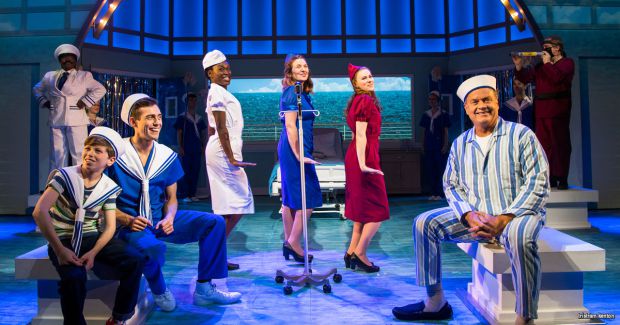 Kelsey Grammer, well known for TV show Frasier but also a Broadway star. He makes his West End Debut in the role of Edward Bloom, a loving father and by far perfect for the role. He took it in his stride, all the emotions of his character he performed from the telling of dad jokes, to his love for his wife and son. You instantly fall in love with him, which is greatly displayed by the audience in the final scenes.  It was such an amazing experience watching him perform and even more a pleasure to have met him in person – he is by far just as sweet in person as he is on stage. Jamie Muscato takes on the younger form of Edward Bloom, bringing his stories to life. I had previously seen Jamie in ensemble roles in Rock of Ages, and The Light Princess, tonight he showed me his full potential, he is by far a triple threat, similar to Kelsey taking the role in his stride. His singing has such a lovely tone, his dancing spot on, but his take on the role and the acting was so enjoyable to watch.
Matthew Seldon-Young, Will Bloom son of Edward Bloom had a great take on his role of a son just trying to find out who his real dad is. The audience watch him throughout with varied different emotions of frustrations, embarrassment, but also love that is clearly displayed towards his family, wife, and soon to be son. His voice as a warming tone to it, which was greatly displayed in his solo 'Strangers.' 
I came away from this production somewhat happy and emotional, but in such an amazing way! This musical is something that everyone can relate to, as we have all come to experience the sadness when we loose and watch a love one pass. This musical portrays a reflection on this, in such a strong magical way that enables its audience to remember their loved ones – it especially did for me. I highly recommend this production, for all to try and catch it before it finishes on the 31st December, I will be trying my best to get a second viewing in there at some point.
Big Fish will play for its limited run at the Other Palace Theatre, London until Sunday 31st December for ticket information go here. Get your tickets now!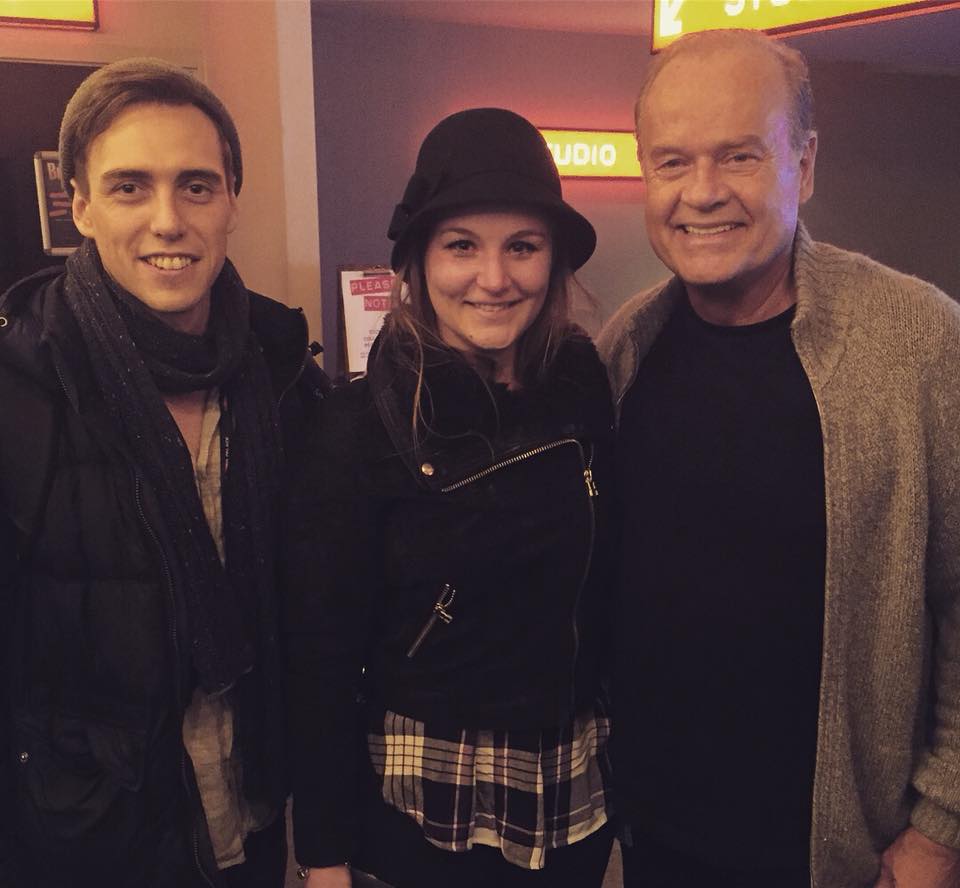 To the left is photo with Jamie (left) and Kelsey Grammer (Right) – it is a stage door I will never forget!