Having been apart for a few weeks, it wasn't long till I was back in the city! Today's viewing was a cheeky matinee, which was part of my girls weekend, what better way than a trip to the theatre and what better show to see than Mamma Mia!
Though the years, this musical has travelled all around the West End Theatres, starting at the Prince Edward in 1999, Then the Prince of Wales the 2004, it is now onto its 19th Year at the Novello Theatre opening first in 2014. Ill be honest in saying that this particular musical had never really appealed to me – and yes I did see the film first, but that wasn't the reason why I hadn't been.  I had seen it plenty times on the TV shows promoting, again I just wasn't wowed. It wasn't until I finally attended West End Live this year and I got to see the cast live in action, that I thought why not? Watching my friends also dancing and singing along, it was clear it was one to go with them.
I had never been to this particular theatre before, but having past it a fair few times being local to other shows such as The Play That Goes Wrong, Lion King, and 42nd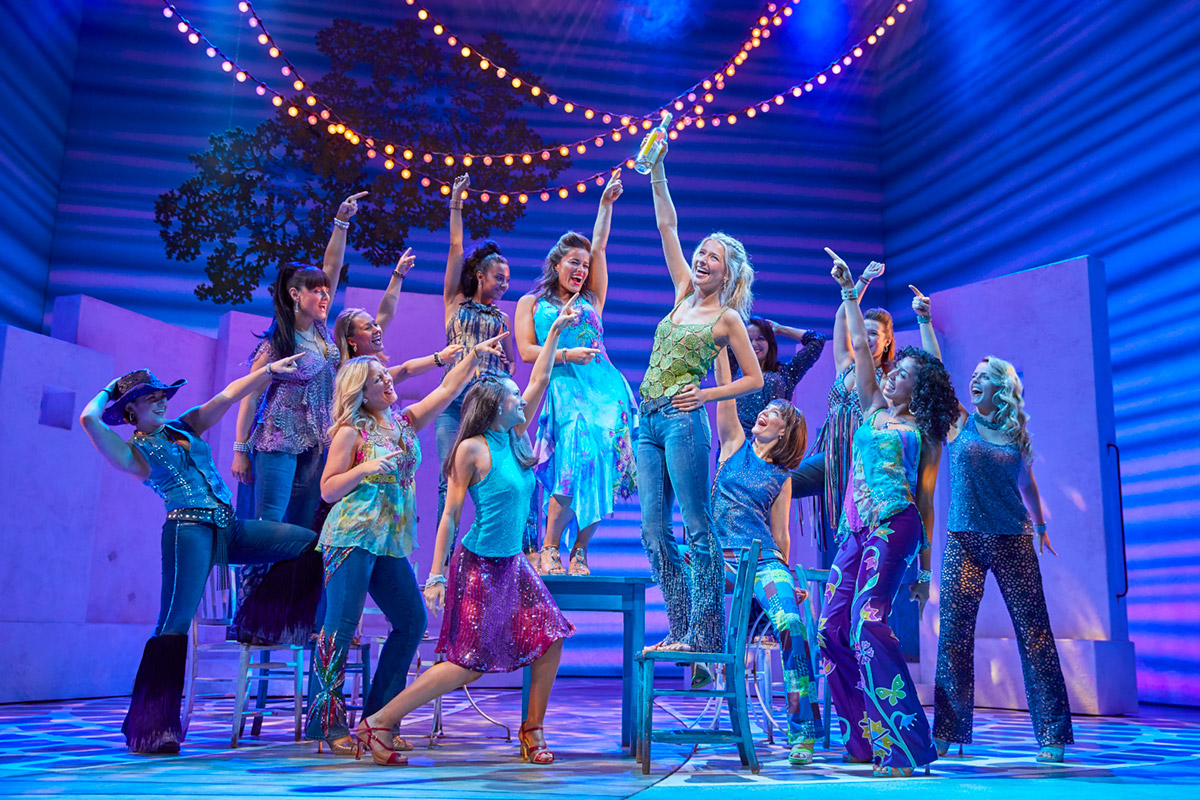 Street. I didn't have a lot of pennies to spend, so it was to seat plan to plan where to sit. I opted for the balcony, some are reluctant but with the price they were the seats for us. At 15.00, we just made it to our seats before the end of the overture we were in Row C seats 13 – 15. It was quite high up, but the full stage could be seen! Even the actors behind the set you could see them awaiting to go on – but this wasn't distracting, the set is simple with just 2 pieces of set suited for the hotel/outside of the Greek island. The rest was the performers, and props. I would recommend these seats, which cost my friends and I £27.50.
Mamma Mia! is a jukebox musical which was written by Catherine Johnson – a British playwright, based around the songs of pop group ABBA, 22 songs exactly. It tells the story of soon to be wed Sophie who lives on a Greek island with her mother Donna, who just gets by running her hotel. On the eve of the wedding, Sophie's quest to discover the identity of her father brings 3 possible men from her mothers past back to the island that they were last visited 20 years ago. Suddenly its a trip down the aisle, no one will forget.
A simple story line, brought to life by ABBA's timeless well known songs which helps brings this musical of love, friendship, and plenty of laughter from the audience and performers. It was great to see so many people enjoying themselves during each number, from smiles, to swaying it
was a given that the audience were not disappointed. A highlight for me was the choreography by Anthony Van Laast, it was so entertaining to watch especially Lay All Your Love on Me! Not many people can dance with flippers – and they made it look easy! Its what made this show come to life in each number they performed, mesmerizing the audience with each step.
As said before, we had just made it in time when the show started meaning I didn't have time to purchase a programme before I took my seat. Therefore I didn't know if there was any understudies/alternatives until I could get one in the interval. Today's matinee had a few in place:
Sophie Sheridan – Georgina Castle
Donna Sheridan – Caroline Deverill (Alternative)
Tanya – Kate Graham
Rosie – Jacqueline Braun
Sky – Christopher Jordan-Marshall
Pepper – Matt Jordan Pidgeon (Understudy)
Eddie – Nye Rees
Harry Bright – Alasdair Harvey
Bill Austin – Dugald Bruce-Lockhart
Sam Carmichael – Robbie Scotcher (Understudy)
Ali – Stacy Leanne Mills (Understudy)
Lisa – Harriet Bunton
I am always accepting of understudies and truly support them so it was great to see some taking on some of the roles tonight. There also seemed to be a running theme of sets of 3's in tonight's casting 3 ladies, 3 dads, 3 boys, and 3 girls, coincidence maybe?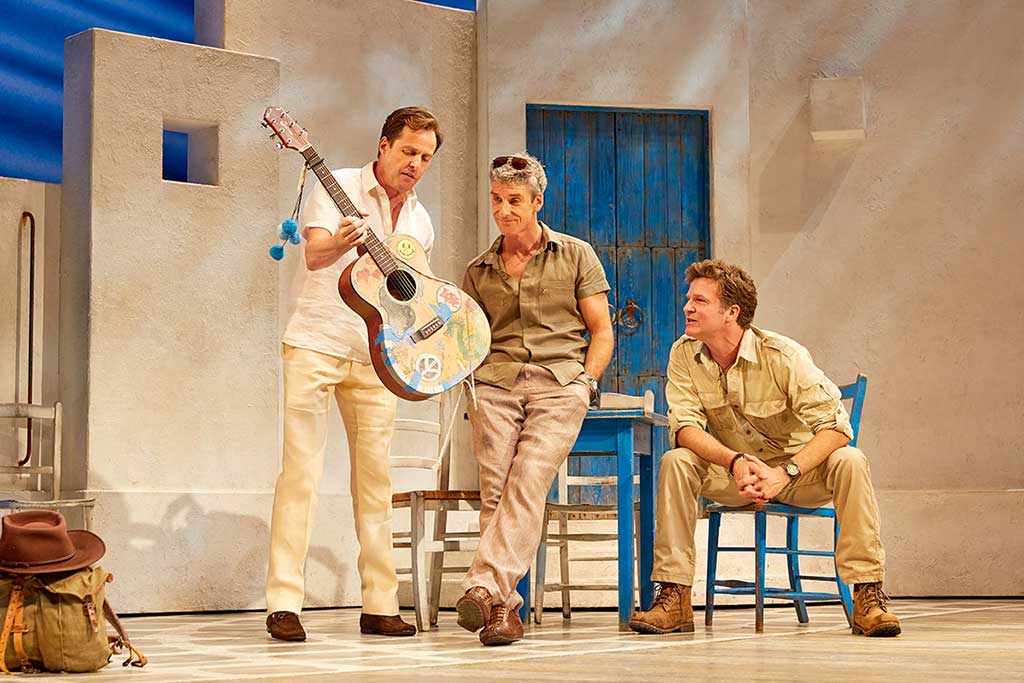 The three possible dads Harry, Bill, and Sam, I hadn't noticed at first but I had already seen one prior to todays performance. Alasdair Harvey tonight took on a different role than Khassoggi in We Will Rock You, but transforming into top British Harry Bright. Enjoyable to watch, he was very funny in his role – it was great to see him on stage again. Dugald took on the role of adventurer Bill Austin was also great to watch his number with Tanya Take a Chance on Me was a highlight. Sam tonight was played by first cover Robbie Scotcher, his voice was lovely to listen to however at times his acting was quite wooden at lacked emotion. I would have liked to have seen a little more from him being a lead in todays performance.
Then their is the trio of young boys, Eddie, Pepper, and Sky had great comic moments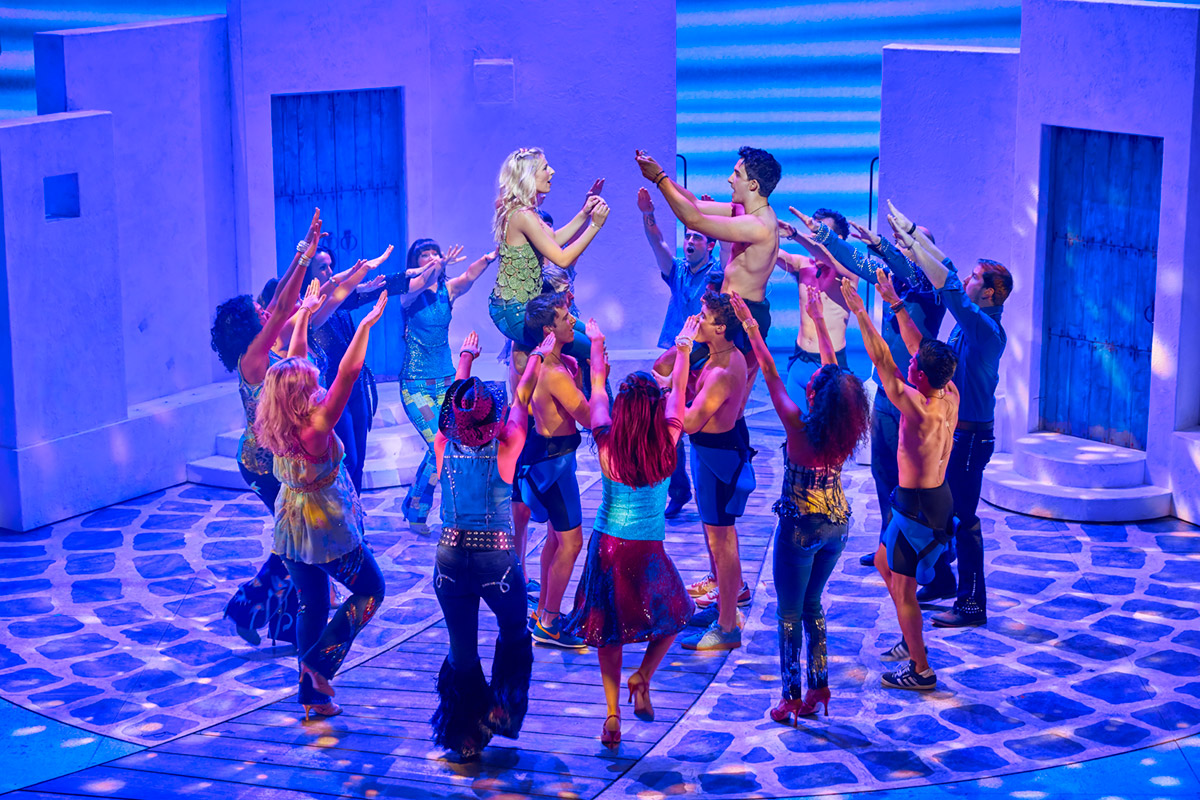 within the musical, Pepper played by understudy Matt Jordan Pidgeon couldn't step out of time! He can also jump very high! Christopher's Sky again had a great voice, but sometimes his acting would slip however his chemistry with Sophie was greatly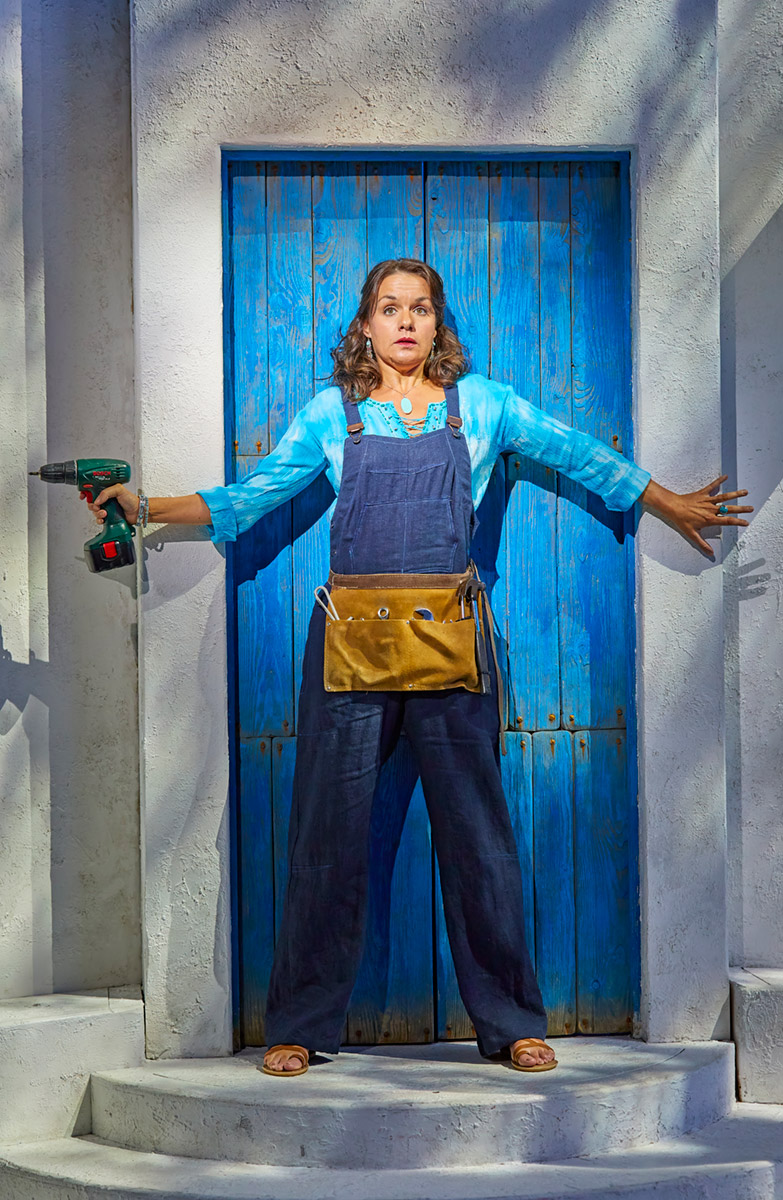 displayed.
Then there are the ladies, tonight we had the alternative Donna – who I had also seen at West End Live, so I didn't know she was until I saw the programme. Nevertheless she was a great Donna, suiting the motherly role but also the rebel, loose woman who knew how to live her life with no regrets and provide the best for her daughter. Her voice was warming to the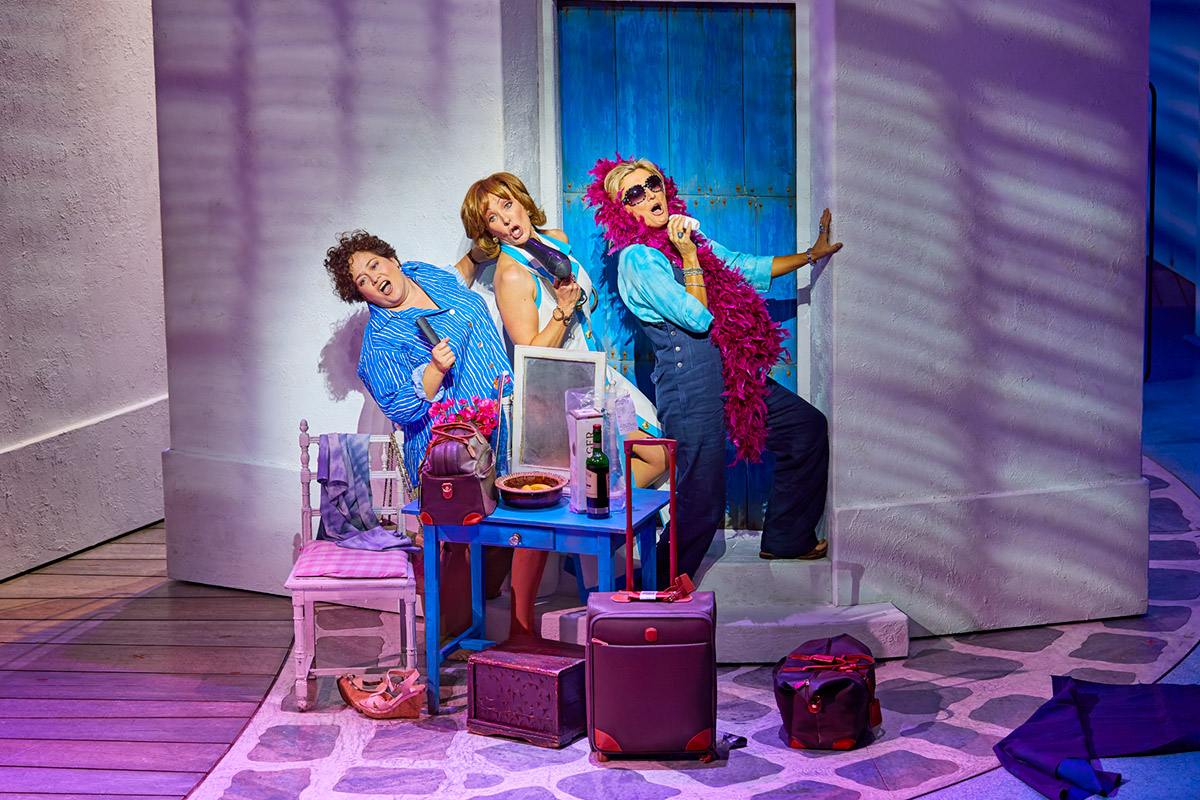 ear, and along with her friends and band mates Tanya, and Rosie played by Kate and Jacqueline each one of their numbers were great and classics such as Dancing Queen, and Super Trouper. Kate had brilliant comic moments, stealing as many chuckles from the audience as she could, along with Rosie's number Does Your Mother Know.
Georgina's Sophie, was innocent and sweet. Her voice was also strong in each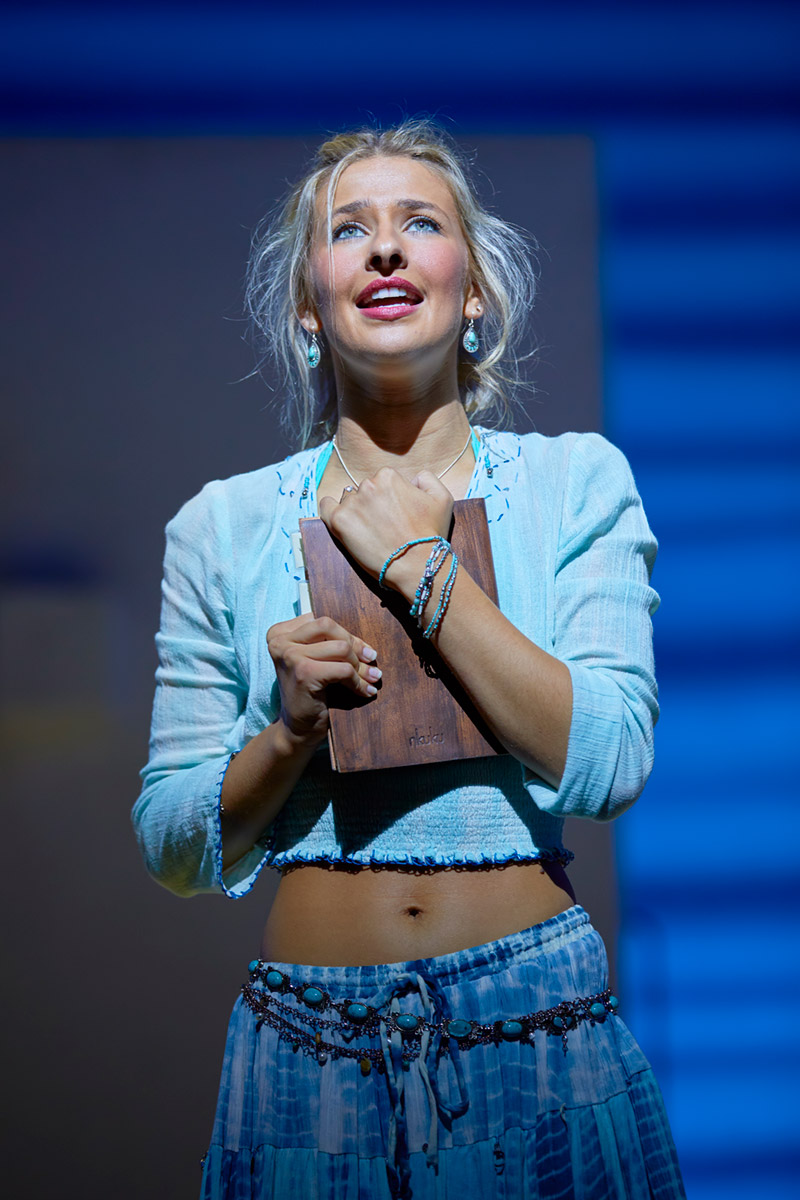 number she sung. But also following her through the story and the emotions displayed was clear for the audience. Again, her love for her mother, and Sky was true.
The whole cast like many shows, all looked as if they were having a great time in each number. Bringing the show to life throughout. One things for sure and as expected, it is so much better than the film by far! Proving to be an entertaining enjoyable show with no doubt. myself and my friends all came away smiling, and singing all the songs – just what you want from a musical!
Mamma Mia! is continuing to play at the Novello Theatre for ticket information go here. Having seen the show, it has made me question what other shows am I missing out on that I haven't felt the urge to see. Maybe its time to plan some more!!