Below is the list of all the Musicals, Plays, and Interviews on this website to jump to the review just click the name!  Check back here to see what's coming up in the near future of my viewing in Theatre!
2020
Mary Poppins – Prince Edward Theatre, London 02.04.2020
Wicked – Apollo Victoria, London 12.02.2020
Dial M for Murder – Orchard Theatre, Dartford 27.01.2020
On Your Feet! – Marlowe Theatre, Canterbury 20.01.2020
The Bodyguard – Orchard Theatre, Dartford 08.01.2020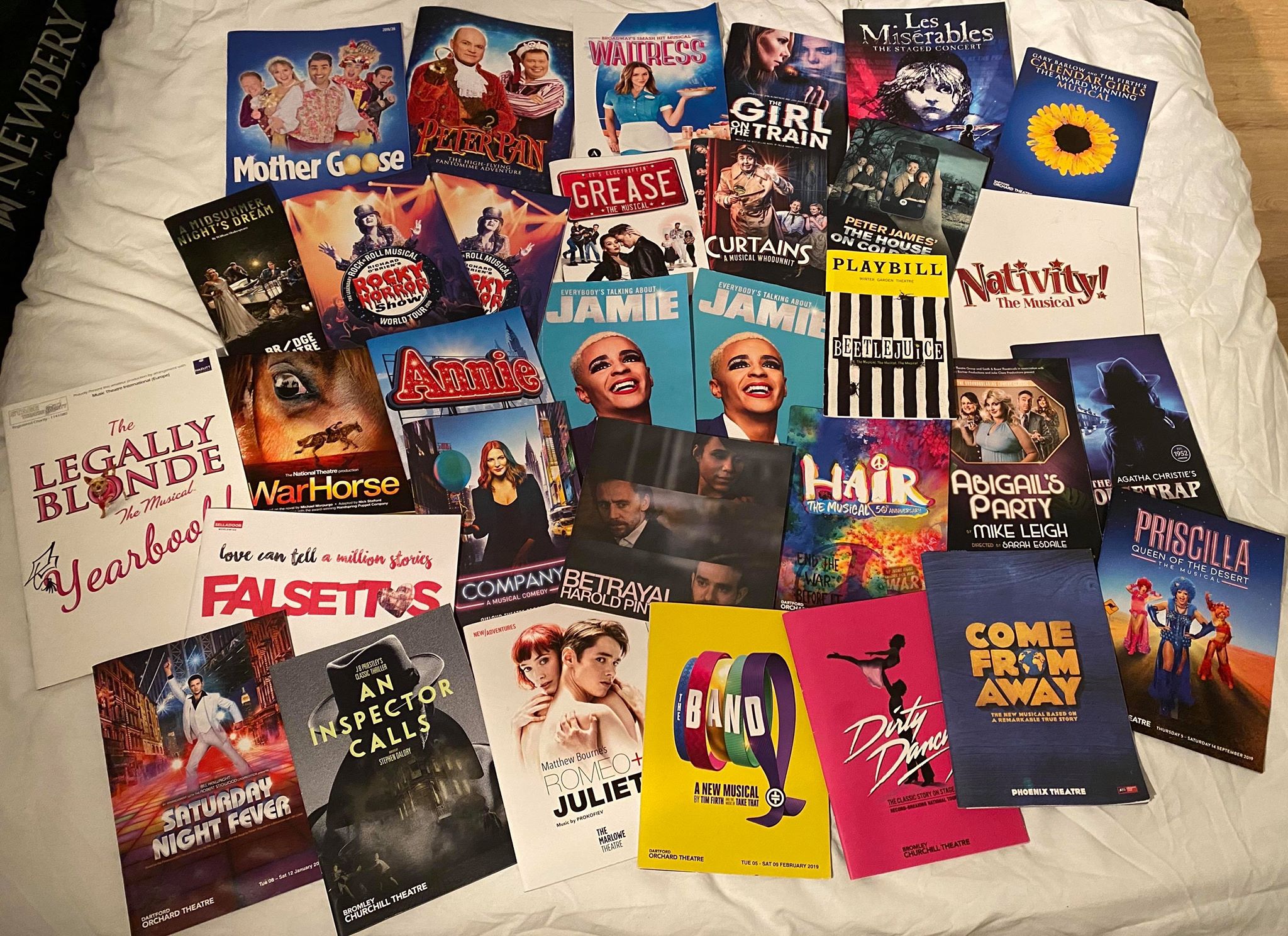 2019 – Top Seven!
Peter Pan (Panto) – Orchard Theatre, Dartford 18.12.2019
Mother Goose (Panto) – Marlowe Theatre, Canterbury 03.12.2019
Curtains! – Orchard Theatre, Dartford 25.11.2019
Nativity! the Musical – Marlowe Theatre, Canterbury 13.11.2019
War horse – Troubadour Wembley Park Theatre, London 10.11.2019
Falsettos – Other Palace, London 16.10.2019
Everybody's Talking About Jamie (Venue Day) – Apollo Theatre, London 16.10.2019
The Girl on a Train – Churchill Theatre, Bromley 14.10.2019
Grease – Churchill Theatre, Bromley 09.10.2019
Rocky Horror Show – Orchard Theatre, Dartford 23.09.2019
Matthew Bourne's Romeo & Juliet – Marlowe Theatre, Canterbury 18.09.2019
An Inspector Calls – Churchill Theatre, Bromley 11.09.2019
Priscilla Queen of the Desert – Orchard Theatre, Dartford 10.09.2019
Les Misérables (Concert) – Gielgud Theatre, London 24.08.2019
Come From Away – Phoenix Theatre, London 27.07.2019
A Midsummer Nights Dream – Bridges Theatre, London 27.07.2019
Annie – Orchard theatre, Dartford 17.06.2019
Everybody's Talking About Jamie – Apollo Theatre, London 15.05.2019
Waitress – Adelphi Theatre, London 15.05.2019
Hair the Musical – Orchard Theatre, Dartford 13.05.2019
Rocky Horror Picture Show – Churchill Theatre 15.04.2019
Beetlejuice the Musical – Winter Garden Theatre, New York City 10.04.2019
Abigail's Party – Orchard Theatre, Dartford 01.04.2019
Betrayal – Harold Pinter Theatre, London 29.03.2019
Company – Gielgud Theatre, London 21.03.2019
The Mousetrap – Churchill Theatre, Bromley 12.03.2019
The Calendar Girls – Orchard Theatre, Dartford 05.03.2019
Dirty Dancing – Churchill Theatre, Bromley 25.02.2019 *Guest Reviewers*
Legally Blonde – Hazlitt Theatre, Maidstone 21.02.2019
The Band – Orchard Theatre, Dartford 05.02.2019
The House on Cold Hill – Orchard Theatre, Dartford 24.01.2019
Saturday Night Fever – Orchard Theatre, Dartford 08.01.2019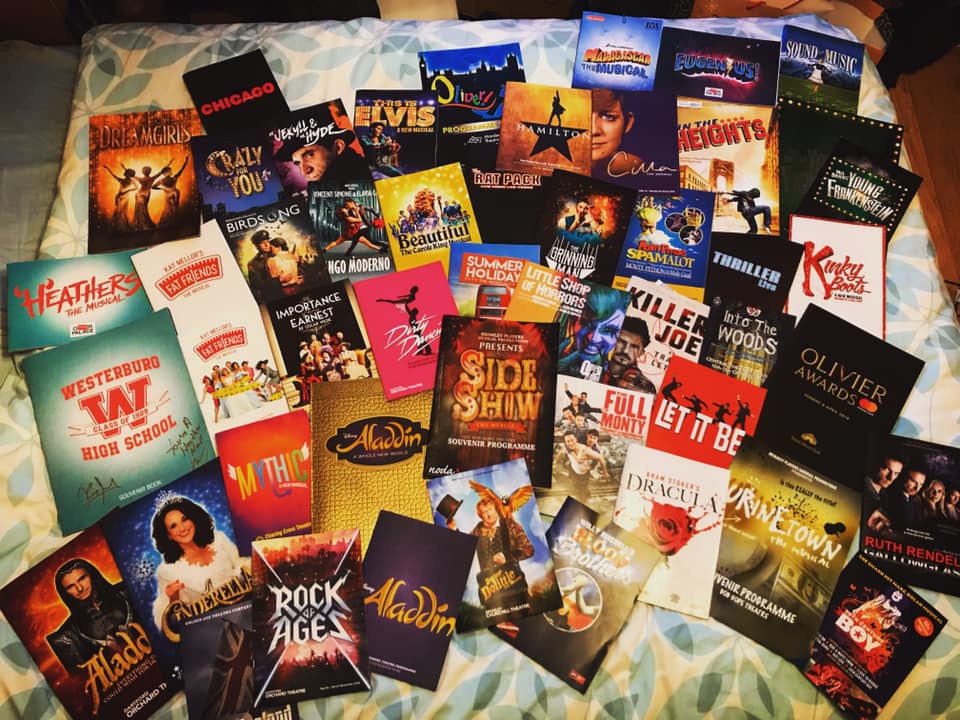 2018 – Top Ten
Aladdin (Panto) – Orchard Theatre , Dartford 11.12.2018
Cinderella (Panto) – Churchill Theatre, Bromley 04.12.2018
Rock of Ages – Orchard Theatre, Dartford 20.11.2018
Doctor Dolittle – Churchill Theatre, Bromley 15.11.2018
Little England – Museum of Comedy, London 14.11.2018
Mythic – Charing Cross Theatre, London 14.11.2018
Blood Brothers – New Wimbledon Theatre, Wimbledon 03.11.2018
Side Show – Bob Hope Theatre, Sidcup 24.10.2018
The Full Monty – Churchill Theatre, Bromley 22.10.2018
Dracula – Churchill Theatre, Bromley 16.10.2018
Let it Be – Orchard Theatre, Dartford 15.10.2018
Into the Woods – The Central Theatre, Chatham 10.10.2018
Aladdin – Prince Wales Theatre, London 02.10.2018
Dirty Dancing – Orchard Theatre, Dartford 01.10.2018
Madagascar the Musical – Churchill Theatre, Bromley 25.09.2018
Heathers the Musical – Royal Haymarket Theatre, London 08.09.2018
Little Shop of Horrors – Regents Open Air Theatre, London 08.09.2018
Summer Holiday – Orchard Theatre, Dartford 04.09.2018
Killer Joe – Trafalgar Studio's, London 3.08.2018
In The Heights – Hazlitt Theatre, Maidstone 19.07.2018
Heathers the Musical – The Other Palace, London 23.06.2018
Kinky Boots – Adelphi Theatre, London 23.06.2018
20th Century Boy the Musical – Orchard Theatre, Dartford 11.06.2018
Beautiful the Carole King Musical – Orchard Theatre, Dartford 05.06.2018
Oliver! – Memorial Hall, Marden 29.05.2018
Young Frankenstein – Garrick Theatre, London. 17.05.2018
Rat Pack Live from Las Vegas – Orchard Theatre, Dartford. 14.05.2018
Birdsong – Churchill Theatre, Bromley 01.05.2018
Spamalot – Orchard Theatre, Dartford 24.04.2018
Urinetown – Bob Hope Theatre, Eltham. 18.04.2018
Chicago – The Phoenix Theatre, London. 17.04.2018
The Grinning Man – Trafalgar Studios, London 14.04.2018
Fat Friends – Orchard Theatre, Dartford 09.04.2018
Olivier Awards – Royal Albert Hall, London 08.04.2018
The Importance of Being Earnest – Churchill Theatre, Bromley 03.04.2018
Thriller Live! – Orchard Theatre, Dartford 26.03.2018
Tango Moderno – Orchard Theatre, Dartford 21.03.2018
Dr Jekyll and Mr Hyde – Orchard Theatre, Dartford 13.03.2018
Gallowglass – Orchard Theatre, Dartford 06.03.2018
This is Elvis – Orchard Theatre, Dartford 19.02.2018
Eugenius! – The Other Palace, London 10.02.2018
Dreamgirls – Savoy Theatre, London 27.01.2018
Hamilton – Victoria Palace Theatre, London 24.01.2018
Crazy for You – Orchard Theatre, Dartford 23.01.2018
Fat Friends the Musical – Churchill Theatre, Bromley 17.01.2018
Cilla the Musical – Orchard Theatre, Dartford 16.01.2018
The Sound of Music – Churchill Theatre, Bromley 09.01.2018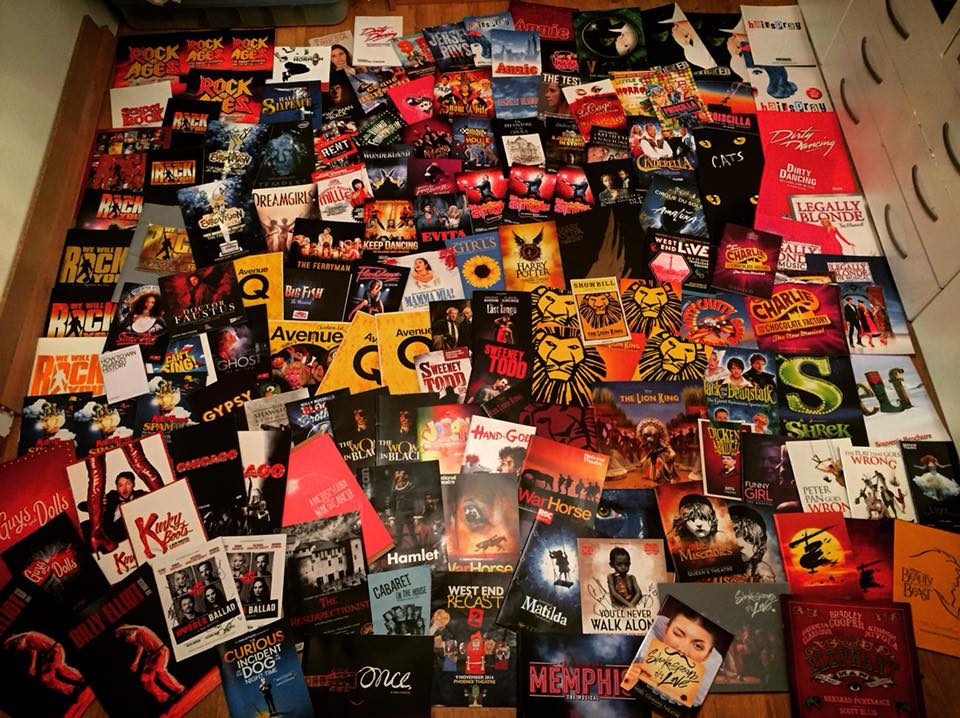 2017
Cinderella – Orchard Theatre, Dartford, 12.12.2017
Snow White and the Seven Dwarfs – Churchill Theatre, Bromley 5.12.2017
Annie – Piccadilly Theatre, London, 30.11.2017
Grease – Orchard Theatre, Dartford 21.11.2017
Wicked – Apollo Victoria, London 14.11.2017
Big Fish the Musical – Other Palace, London 02.11.2017
The Addams Family – Orchard Theatre, Dartford 31.10.2017
Our House – Churchill Theatre, Bromley 25.10.2017
Interview with Carrie Hope Fletcher – 13.10.2017
9 to 5 the Musical – The Central Theatre, Chatham 11.1.2017
Flashdance – Orchard Theatre, Dartford. 9.10.2017
Young Frankenstein – Garrick Theatre, London 04.10,2017
The Phantom of the Opera – Her Majesty's Theatre, London 03.10.2017
A Judgement in Stone – Orchard Theatre, Dartford. 29.09.2017
An Interview with Joanne Clifton – 21.09.2017
The Test – White Bear Theatre, Kennington, London 19.09.2017
Legally Blonde! – Churchill Theatre, Bromley 18.09.2017
The Ferryman – Gielgud Theatre, London 14.09.2017
Son of a Preacher Man – Churchill Theatre, Bromley 7.09.2017
Hairspray! – Orchard Theatre, Dartford 30.08.2017
A Murder Announced – Orchard Theatre, Dartford 15.08.2017
Mamma Mia! – Novello Theatre, London 12.08.2017
Little Shop of Horrors – Orchard Theatre, Dartford 10.08.2017
The Wedding Singer – Churchill Theatre, Bromley 1.08.2017
Half a Sixpence – Noel Coward Theatre, London 29.07.2017
The Tempest – The Barbican Centre, London 29.07.2017
Footloose the Musical – Churchill Theatre, Bromley. 19.07.2017
Tiresia– Etcetera Theatre, Camden, London. 11.07.2017
West End Live 2017 – Trafalgar Square, London 24.06.2017
Evita – The Orchard Theatre, Dartford 30.05.2017
The Girls – Phoenix Theatre, London 19.05.2017
Keep Dancing – The Orchard Theatre 16.05.2017
La Cage Aux Folles – The Orchard Theatre, Dartford 09.05.2017
Harry Potter and the Cursed Child Pts 1 + 2 – Palace Theatre, London 30.04.2017
Book of Mormon – Prince of Wales Theatre, London 24.04.2017
Thoroughly Modern Millie – The Orchard Theatre, Dartford 11.04.2017
The Woman in Black (Tour) – Churchill Theatre, Bromley 03.04.2017
The Wedding Singer – The Orchard Theatre, Dartford 21.03.2017 + 24.03.2017 (yes its that good!)
The Crucible – The Orchard Theatre, Dartford 14.03.2017
Wonderland – Churchill Theatre, Bromley 13.03.2017
Dirty Dancing – Churchill Theatre, Bromley 07.03.2017 (7,000 Performance special)
Boy Stroke Girl – Etcetera Theatre, Camden, London 20.02.2017
RENT – Churchill Theatre, Bromley 06.02.2017
DreamGirls – Savoy Theatre, London 26.01.2017
Jersey Boys – Piccadilly Theatre, London 20.01.2017
Cirque Berserk – Churchill Theatre, Bromley 18.01.2017
'Amaluna' Cirque du Soilel – Royal Albert Hall, London 13.01.2017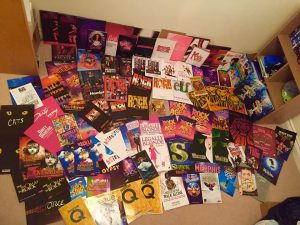 2016
Peter Pan Goes Wrong – Apollo Theatre, London 11.12.2016
Sister Act, The Musical – New Wimbledon Theatre, London 02.12.2016
The Pacifist Guide to the War on Cancer – Dorfham Theatre (National Theatre), London 23.11.2016
Murder Ballard – The Arts Theatre, London 16.11.2016 + 31.11.2016
School of Rock, The Musical – The New London Theatre, London 02.11.2016
Chicago – The Churchill Theatre, Bromley 14.10.2016
The Resurrectionist – Etcetera Theatre, Camden, London 04.10.2016
The Play That Goes Wrong – The Duchess Theatre, London 28.09.2016
The Last Tango – Phoenix Theatre, london 27.09.2016
No Mans Land – Theatre Royal, Brighton 24.08.2016
Guys and Dolls – Phoenix Theatre, London 12.08.2016
Kinky Boots – Adelphi Theatre, London 03.08.2016
The Writers Bloc – The Churchill Theatre, Bromley 30.07.2016
Showstoppers, An Improvised Musical – Lyric Theatre, London 25.07.2016
How to Win Against History – Oval House Theatre, London 21.07.2016 (Guest Review for Theatre Musings)
Funny Girl – Savoy Theatre, London 11.06.2016
Legally Blonde– The Curve, Leicester 30.04.2016
Doctor Faustus – Duke of York Theatre, London 24.04.2016
Parade – The Bob Hope Theatre, Eltham 20.04.2016
Hand Of God – Vaudeville Theatre, London 24.03.2016
Billy Elliot The Musical – Victoria Palace Theatre, London 11.03.2016
Chitty Chitty Bang Bang – New Yorkshire Playhouse, Leeds 23.01.2016
Miss Saigon – Prince Edward Theatre, London. 12.01.2016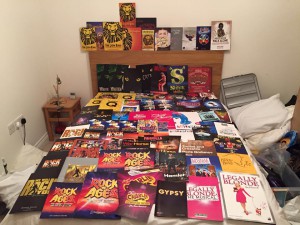 2015
Elf the Musical – Dominion Theatre, London 23.12.2015
Charlie and the Chocolate Factory – Theatre Royal Dury Lane, London 23.10.2015
WarHorse – New London Theatre, London. 29.9.2015
Hamlet – Barbican Theatre, London 24.09.2015
Shawshank Redemption – Theatre Royal, Brighton 08.09.2015
Gypsy The Musical – Savoy Theatre, London. 31.08.2015
The Elephant Man – Royal Haymarket Theatre, London 20.06.2015
Shakespeare in Love – Noel Coward Theatre, London 03.04.2015
Memphis the Musical – The Shaftesbury Theatre, London. 29.01.2015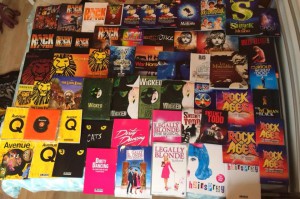 2014
West End Recast 2 – Phoenix Theatre, London 9.11.2014
Dessa Rose – Trafalgar Studios, London 19.08.2014
The Lion King (tour) – Mayflower Theatre, Southampton 26.07.2015
West End Eurovision – Dominion Theatre, London 22.05.2014
We Will Rock You – Dominion Theatre, London 22.05.2014
The Woman in Black – Fortune Theatre, London 10.05.2015
I Can't Sing – London Palladium Theatre, London 22.03.2014
Priscilla, Queen of the Desert – New Wimbledon Theatre, London 14.03.2014
The West End Unites for the Phillippines – Queens Theatre, London 02.03.2014
Cabaret in the House, Jon Robyns – Lauderdale House, London 16.02.2014
The Light Princess – The National Theatre, London 28.01.2014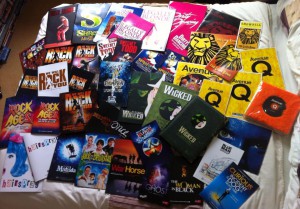 2013
Dicken's Abridged – Arts Theatre, London 14.12.2013
Les Miserable – Queens Theatre, London 2.12.2013
The Lion King – Lyceum Theatre, London 18.10.2013
Spamalot – Playhouse Theatre, London 8.10.2013
Rock of Ages – The Garrick Theatre, London 30.08.2013
Joseph and his Amazing Technicolor Dreamcoat –  The King's Theatre, Portsmouth 08.07.2013
Wicked – Victoria Theatre, London 4.07.2013
Cats – Mayflower Theatre, Southampton 20.06.2013
West End Eurovision – Dominion Theatre, London 25.05.2013
Once The Musical – The Phoenix Theatre, London 25.05.2013
Ghost the Musical – New Wimbledon Theatre, London 9.05.2013
Curious Incident of the Dog in the Nightime – Apollo Theatre, London 25.4.2013
Matilda the Musical – The Cambridge Theatre, London 20.4.2013
Hairspray (tour) – Mayflower Theatre, Southampton 14.04.2013
Rock of Ages – The Garrick Theatre, London 4.02.2013
Woman in Black (Tour) – New Victoria Theatre, Woking 17.1.2013
Spamalot – Playhouse Theatre 7.01.2013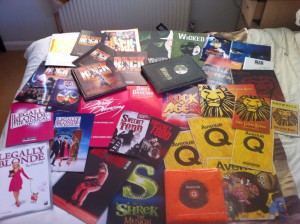 2012
Jack and the Beanstalk Pantomine – Mayflower Theatre, Southampton. 30.12.2012