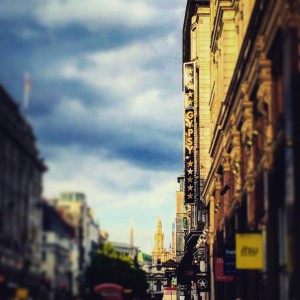 Having had 2 plays in the bag, it was time to return to some music, and boy did I choose a good one to come back too! On July 31st on a beautiful summers evening I took myself to London to meet with Hayleigh for tonight's viewing, having booked the tickets in May we did have to wait awhile so we were pretty excited when the day had finally come, and we would get to see Imelda Staunton in her jaw dropping performance in 'Gypsy' at the Savoy Theatre. It would be the second time at the Savoy, the first time was when I had had the chance to go and see the previews of 'Legally Blonde' with Sheridan Smith, my friend had been given tickets at the last minute and our seats well they were pretty amazing third Row from the front in the stalls and I kindly was not asked to pay.
Tonight however I was seated in a different section, as Gypsy is currently on a limited run, and with that high demand so ticket prices are of the high band compared to some shows the on the West End. I had chosen to go with the Upper Circle front row in the middle at the price of £25.99 the lowest band in the theatre and with a warning of a restricted view. Now many would be put off when they see that note when selected theatre tickets but myself find it not to be, as sometimes they aren't as restrictive as they let on.  I do have a little trick when it comes to buying some theatre tickets when I'm looking to find a good deal, and a reasonable price there is this brilliant website called www.seatplan.com  where members of the public write seat reviews for the theatres on the West End, which is very useful at times especially with restricted seats as they will always write if this is true or not so I highly recommend this site if ever your are doubt full of what seats to choose. So after reviewing the seats that I had chosen and feeling confident that all would be required would be a slight leaning forward at times I pressed the confirm button, and when finally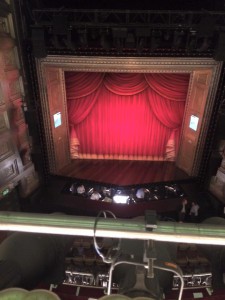 seated in the theatre I wasn't disappointed, yes I did have to lean forward, and sit upright in my seat throughout but the is good for your posture right? But being up high meant that you could see everything and no one in front meant no moving from side to side dodging the head in front! So I would recommend these seats however its not for the faint hearted cause it is pretty high as you can see from the photo!!
Gypsy is based on the1957 Memoirs of Gypsy Rose Lee a famous striptease artist. The story mainly focuses on her mother Rose, (who has become synonymous with "the ultimate show business mother") it follows the dreams and strengths that Rose went to raise her two daughters Louise, and June; to perform onstage and casts an affectionate eye on the hardships of show business In life. From the very beginning of the show we understand the strengths that Rose will go to do make her children stars! She is aggressive and domineering pushing them to perform and play the Vaudeville circuit around the United States in the early 1920s, June the youngest of the two is an extroverted, talented child star, who is always the centre-piece of each number, where the older daughter is shy and would often be cast as the 'boy' in the background character. While Rose has big dreams for her daughters it hasn't come without setbacks which she tells her father in 'Some People' to the extent that Rose takes a golden plaque of her fathers to get the money to travel to an audition.
Act Two we see Louise now a young woman, and Rose true to her word or making Louise a star has built a pale imitation of the Dainty June act for her, this time with girls as back up and not boys, Rose, Herbie and Louise then go together 'Together, Wherever We Go' set off to try and valiantly sell the new 'Madame Rose's Toreadorables' to a fading vaudeville industry. however they find themselves in a tricky situation with no venues left, the acid accidentally gets booked at a burlesque house in Wichita, Kansas. Horrified Rose is concerned about what this would mean to her dream of success, but Louise persuades her to stay and allow them to perform for it would mean two weeks of pay for them than unemployment. They remain and with it Louise gets introduced to three successful strippers on the bill, and advise her on what it takes to become big in the burlesque business, 'a gimmick' something that 'makes your strip special.'  Rose begins to realise that success might not be on the horizon and proposes marriage to Herbie, Herbie agrees but asks her to break up the act and let Louise have  normal life to which Rose reluctantly accepts and agrees to marry the day after their show closes. The last day of booking, Rose, Louise and Herbie are excited for their new life, but outside the dressing room Rose hears that the star stripper in the burlesque show has gotten arrested for solicitation. Desperate Rose cannot resist the urge to give Louise another chance at stardom, and volunteers her to do the strip tease as a last-minute replacement. Louise agrees, but Herbie becomes disappointed at Rose's blind ambition for her daughter and walks out on Rose. Louise still wanting to please her mother goes on, assured by Rose that she needn't strip but just tease the men by dropping a shoulder strap. Shy and hesitant Louise steps on stage singing a titillating version of her and sisters old kiddie act song 'Let Me Entertain You' Louise only removes ones glove, but also along with this speaks directly to her 'audience' Which then becomes her very own 'Gimmick.' We then see Louise perform her number in many flamboyant ways and always following her mothers advice to 'make 'em beg for more, and then don't give it to them!' The song continues to become brasher and brassier, and more and more articles of clothing being taken off. Louise becomes a major burlesque star and with this doesn't need the support of Rose any longer. The two have a bitter argument where Rose sees that Louise has become the sophisticated famous "Gypsy Rose Lee" and with her and Herbie both gone along with June, Rose becomes sad, useless and Bitter and asks "why did I do it? what did it get me?" and sings the famous 'Rose's Turn' All of Rose's unrequited Dreams of her stardom and her personal demons surface, she fantasises about her own lit- up runway, and cheering audiences, but finally admits that all the pushing for her daughters fame was for her. The end however is a happy one were we see Louise and Rose, Mother and Daughter tentatively step toward reconciliation.
Gypsy has been referred to as one of the Greatest American musical by numerous critics and writers and I can understand why, but that is only provided they have an amazing actress playing Rose and London you did yourself proud! we were very lucky tonight to have all main characters performing with just one of the boys having his understudy, so tonight cast was:
Rose – Imelda Staunton
Louise – Lara Pulver
Herbie – Peter Davidson
Tulsa – Dan Burton
June – Gemma Sutton
Tessie Tura – Anita Louise Combe
Mazeppa – Louise Gold
Miss Cratchitt/Electra – Julie Legrand
I Believe that most of the cast that is currently on the west end are those who performed at the Chichester production before the transfer for London.
Now Gypsy is a very small cast show, and limited amount of chorus/swing but I just had to mention the three ladies who play the strippers in Act Two, as there number 'You Have to Have a Gimmick' was just classic, and had the audience in hysterics and props to them performing it as they had to do some pretty cheeky things, including some flashing nights for cover ups, and a trumpet solo I even spoke to Louise Gold at the stage door who confirmed that she plays the trumpet! I wont go into it too much cause it will just make you gutted that you missed it!
I was quite surprised to see that June and Tulsa had limited parts also (as I didn't know the story) so learning that they were only part of the first act was a bit of ah? moment but they were very fun to watch, and Dan Burton can dance, and loved watching him perform and dream during his number. Gemma Sutton looked familiar to me, and I knew that I had seen her before, which I had done in the touring production of 'Hairspray' where she played Amber, and again in Gypsy she was in a blonde wig playing the preppy June.
Peter Davidson plays Herbie, and the last time that I had seen him perform was on the same stage playing Professor Callaghan in 'Legally Blonde' This performance he had a bigger role, and it was nice to see him perform again in a different role as it just showed how much of a showman he can be, as I know he is usually on television and I always have that worry that some TV stars can't really transition from behind the camera to in front of an audience but I feel as though Peter is better on stage , and I loved his take on Herbie so desperate for Rose's love and the need for a family, you really did sympathise with him towards the end, and gutted that his dream didn't become a reality.
Lara Pulver was the first time that I have seen her perform and I hope I get to see her in something else in the future, her performance of Louise was just brilliant, you watch as this young girl goes from Shy and unconfident to strong, successful and bold. which defiantly shows on stage, and if I could have a body like hers, and some of the outfits she wears.
Now for the best performance I have seen in a long time, Imelda Staunton wow…just WOW she by far steels the show, and if I could have stood up on every number she sung I would have but then I would have got loads of funny looks. but I had to stand and applaud for 'Rose's Turn' it was jaw dropping god, and hope to god there is a cast recording for this show. She was and is Rose, and having seen her be Mrs Lovett in Sweeney Todd, it was great to see her take centre stage. I could watch Gypsy over and over just to watch her perform, and she is brilliantly funny with great timing that had the audience loving her even though some of the things her character did weren't greatly approved, but none the less you knew that she loved her daughters and only wanted the best for them.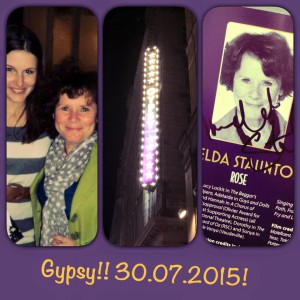 I was lucky enough to meet Imelda at the stage door but she was only allowing autographs and turning down photos so I count my luck y starts that when she was performing in Sweeney Todd I managed to get a photo with her (which is shown in the photo attached, along with her signature.) as I know there were a lot of disappointed faces when she said no.
I am so happy that I got the chance to see this amazing production as it is only on for a limited run, and again another masterpiece comes from the Chichester theatre. Like I said before I hope there is a cast recording because I would love to listen to it all again and relive this classic. if you missed out you should be really gutted. I know I would be. And so this brings me to just over half of this theatre viewing year, and in September I return to some more plays, with 'Shawshank Redemption' in Brighton ( a new theatre too), and then I finally get to see Benedict Cumberbach in 'Hamlet' at the Barbican at the end of the month before my birthday, in the future months I have just purchased tickets to go and see the festive musical 'Elf' at the Dominon in December. So a lot to look forward to, and maybe I can squeeze another one in there too who knows! but I'm kind of busy with rehearsals at the moment currently having landing myself a lead in my new Amateur dramatics group in West Wickham performing as Betty in Andrew Lloyd Webbers 'Sunset Boulevard' in November at the Churchill Theatre in Bromley tickets available on the ATG website!  So look out for my future blogs!