I couldn't wait to catch this current tour of this musical, having loved it when it was in the West End. So I was very thankful I was offered a plus on by the lovely Musical Manda!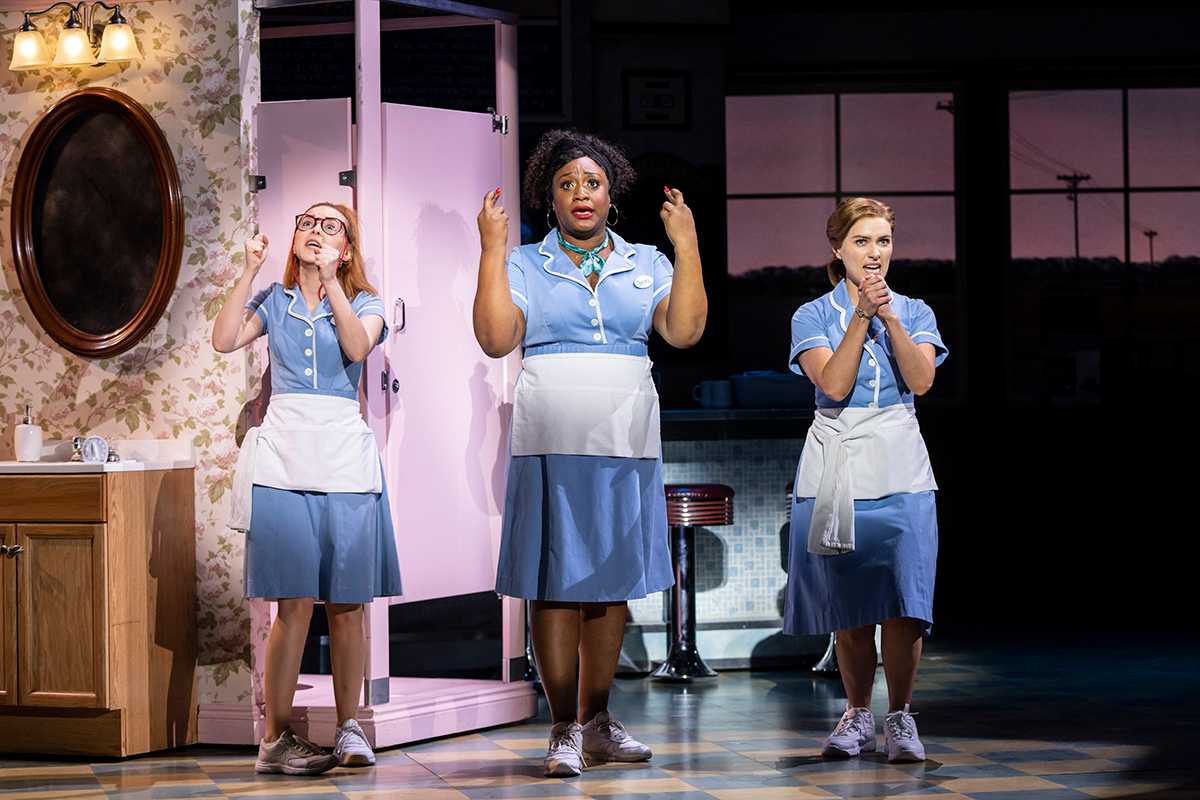 Waitress is a musical based on the 2007 film of the same name written by the late Adrienne Shelley. It focuses on the life of Jenna Hunterson, a waitress at a local diner and pie baker in an abusive relationship with her husband Earl. When Jenna discovers that she is pregnant, she starts to look for ways out and sees a pie contest and its grand prize is her chance of freedom! But getting that contest is more than what she expected with a side affair with her gynecologist Dr. Jim Pomatter. The musical it self introduces music and lyrics by Sara Bareilles and book by Jessie Nelson. It is the first musical to have an all female creative team!
One things for certain is this musical is so uplifting and puts a smile on your face throughout, leaving you feeling good when you leave and wanting more! I genuinely miss it and have been listening to the soundtrack a fair few times. Sara Bareilles captures every moment and emotion throughout the score with some memorable songs that is adored by all. Complementing the songs is the script, which is beautifully planned out by Jessie Nelson and makes sure that the audience chuckle and cry at just the right times! What's not to love?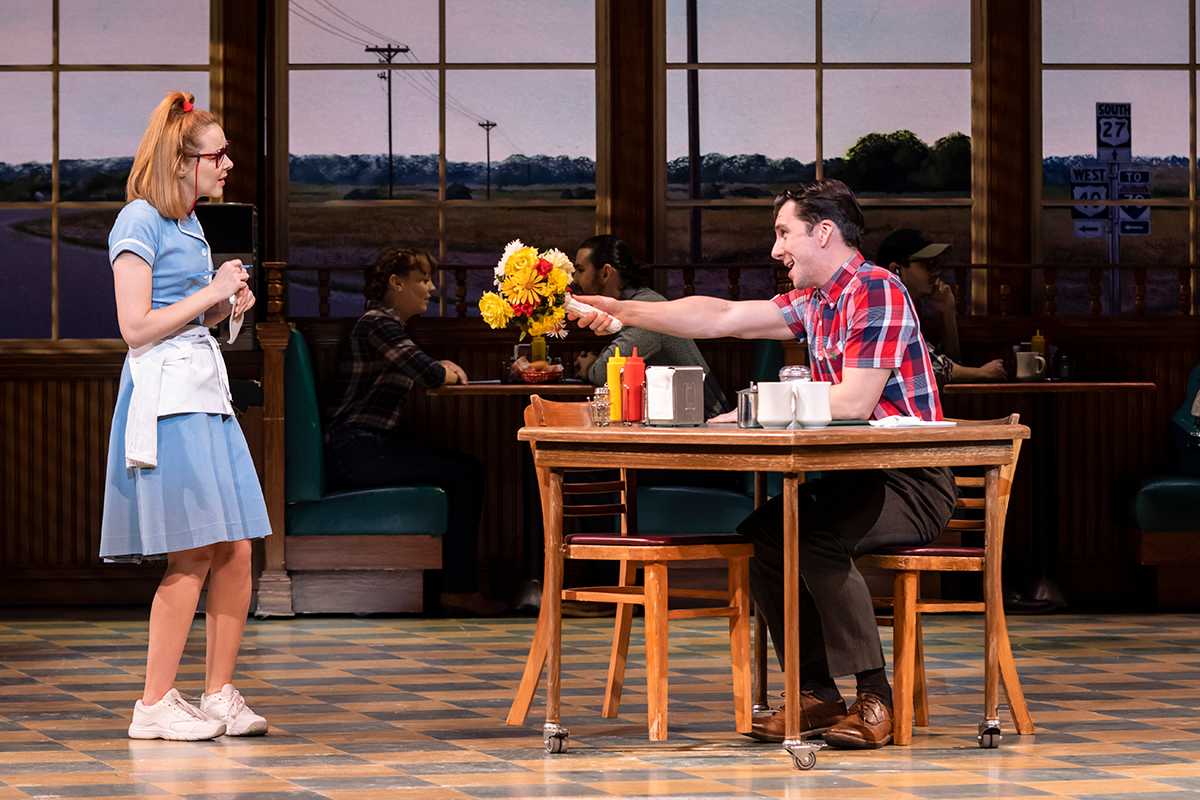 Tonight, both Chelsea Halfpenny and Matt Willis were not performing and we were graced with the talent of Aimee Fisher as leading lady Jenna and Nathanael Landskroner. Aimee's Jenna was beautiful, from her singing to her acting. You instantly warmed to her and followed all her emotions throughout the musical. Her relationship with Nathanael was so much fun to watch that it was clear who she had strong feelings for than that of her down and out husband Earl played perfectly by Tamlyn Henderson. The duo were great to watch especially during Bad Idea and Bad Idea reprise. Nathanael has a warming tone to his voice, but his comic and innocence was what you love most about him, he was really enjoyable to watch.
Then there were the other duo's in the show, George Crawford for me is a perfect comic performer as Ogie. From the moment you meet him you instantly love him and are thoroughly entertained as to what he is going to do or recite next! His relationship with the sweet Dawn, played by Evelyn Hoskins was so much fun to watch that you are really happy that the two find each other. Sandra Marvin also shows off some amazing comical on liners throughout as Becky, but her rendition of I Didn't Plan It was brilliant and a great opening to Act 2. Her on stage 'friendship' with Cal played by Christopher D.Hunt was also greatly portrayed by them both. Joe the owner of the diner, I really warmed to and Michael Starke is by far the best Joe I have seen in this show. His fondness of Jenna was clear that just made him the loveable grumpy man that we all have in our lives!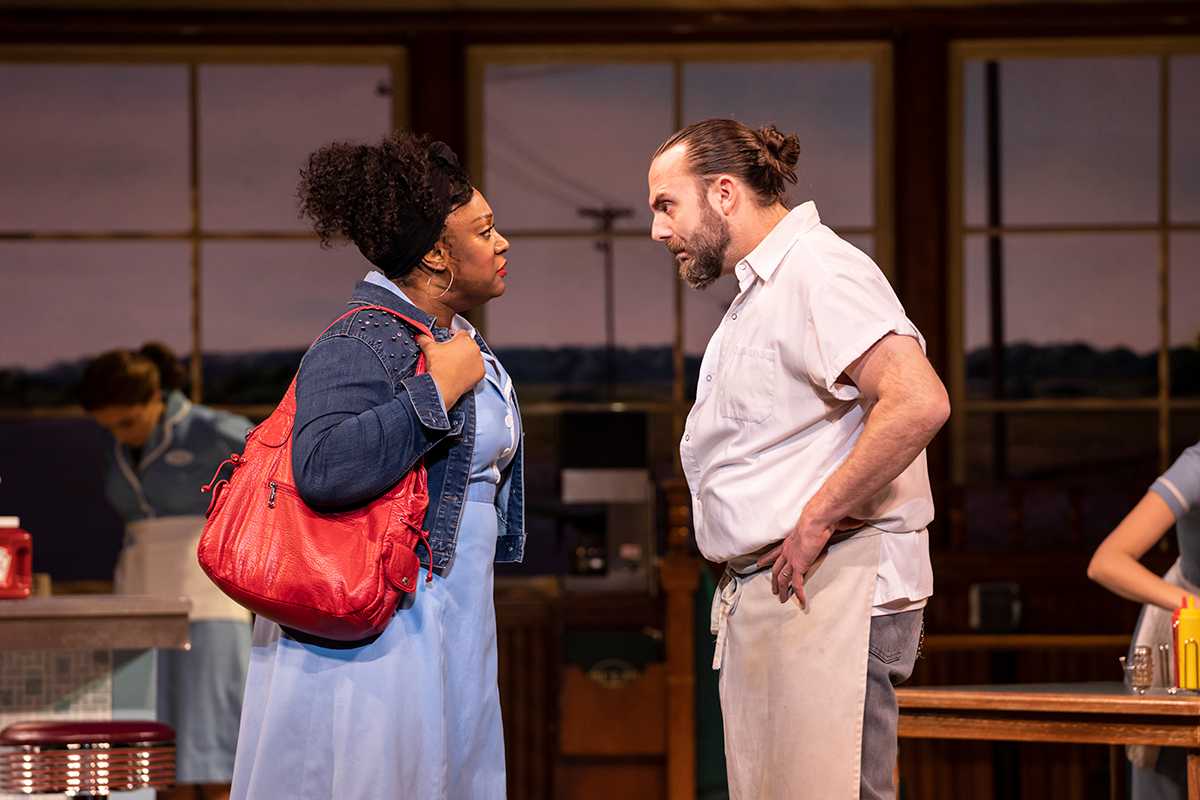 I can't think if anything that would make you not fall in love with Waitress, a moving story, amazing songs, and a talented cast all guarantee that you are in for an enjoyable night at the theatre. It is also one that you can see over and over again and not get tired of it! I know I can't wait for a chance to catch it again!
Playing at the Churchill Theatre, until Saturday 26th February – for all ticket information go here. It will then continue on its UK tour – for all dates/venues and ticket information go here.