Oh what a joy it was to be back starting Christmas with a pantomime, having been postponed from last years restrictions Jack and the Beanstalks brightens up the Orchard Theatre Stage to spread some joy at the end of again a very difficult year.
Jack and the Beanstalk is the classic children's tale, Jack, brother Simon, and mother Dame Trot are struggling to get by. Jack has his heart on marrying his girlfriend Princess Apricot but requires the blessing of her father King Crumble, to achieve this he sets out to get rid of the Giant that lives above them in Cloudland. However, this proves tricky at times with the Giants servant Fleshcreep! But with a bit of help from the audience and the Spirit of the Beans – anything is possible!

They might not be for everyone, but there is something about a pantomime, that helps me get into the Christmas spirit and yes it is the perfect show to bring the little ones but is completely great for adults too! Allowing you to bring out your inner child but also enjoy the jokes that go over the kids head but make you laugh out loud – and this Pantomime had them coming in all directions. With loads of great skits such as the groceries story, mastermind question round and the very impressive lip sync and tongue twister showdown, all thrown in-between the story to entertain the audience and have them chuckling throughout.
But a panto wouldn't be a panto without the cast making it what it is, tonights cast ensured that it returned with a bang and ensured that the we were all entertained. Leading the cast was Christopher Biggins, no stranger to the pantoland he slipped into the many interesting dress styles of Dame Trot mother of Jack and Simon. There is no doubt that Christopher has the art of Panto to a tee, delivering the classic one liners, but ensured that his Dame was true, it was an honour to see him perform. His comic duo number Your Timeless to me with King Crumble played by Derek Elroy was a joy to watch and perfectly fitted the scenario. Derek Elroy, even with a slight hiccup with his microphone didn't let this faze him and delivered a fun performance.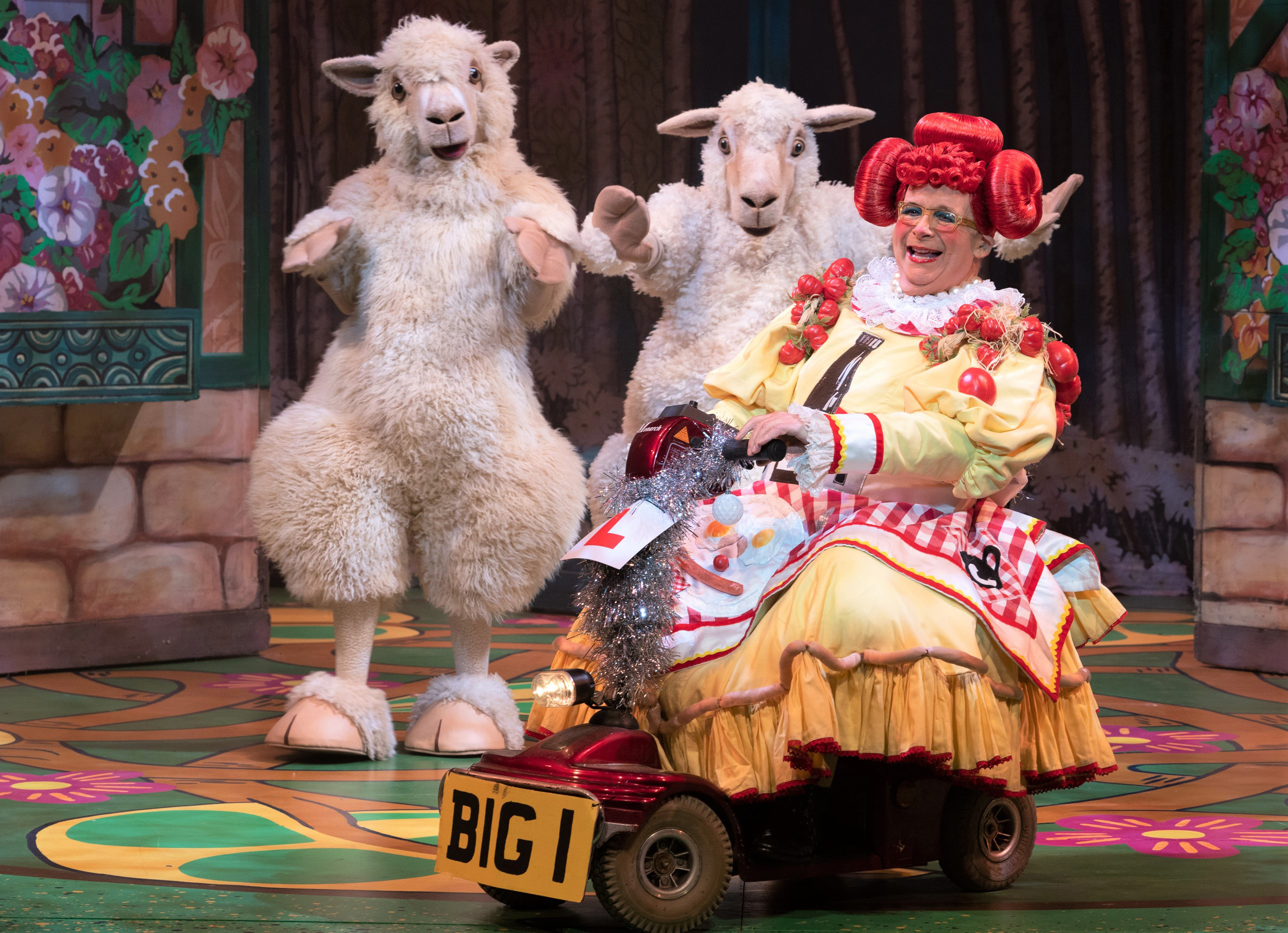 Rikki Jay also, no stranger to the pantomime leads the comedy throughout as Silly Simon Trot and takes each of the skits with ease with the perfect comic timing. Not only that, his improv skills out shone them all, being quick witted to pick up on slight moments – such as the microphone issue, and little mishaps with the tongue twisters. Its another thing I love about Pantomimes is that no two shows are the same and Rikki will defiantly ensure that the audience gets their own unique production.
The leading couple tonight was Pearce Barron as Jack and Milkshake's tv presenter Kiera Nicole as Princess Apricot, both showed of their talents that clearly suited their roles and worked well as a team. However, the two performers that really stood out to me had to be that of David O'Mahony as Fleshcreep and Emily Beth Harrington as the Spirit of the Beans. All I can say is wow both of them have amazing vocals which was clearly displayed in their solo numbers and a fantastic duet in the show – I would have loved to have seen and heard more!
Along with all of this, this show really does give you what pantomime is all about! A great cast, fantastic effect and staging, along with some impressive puppetry it really does give you a great night out and one for all the family to enjoy. You will laugh out loud, boo, cheer and be up in your seats and then back down again multiple times…you will just have to go to understand what I mean!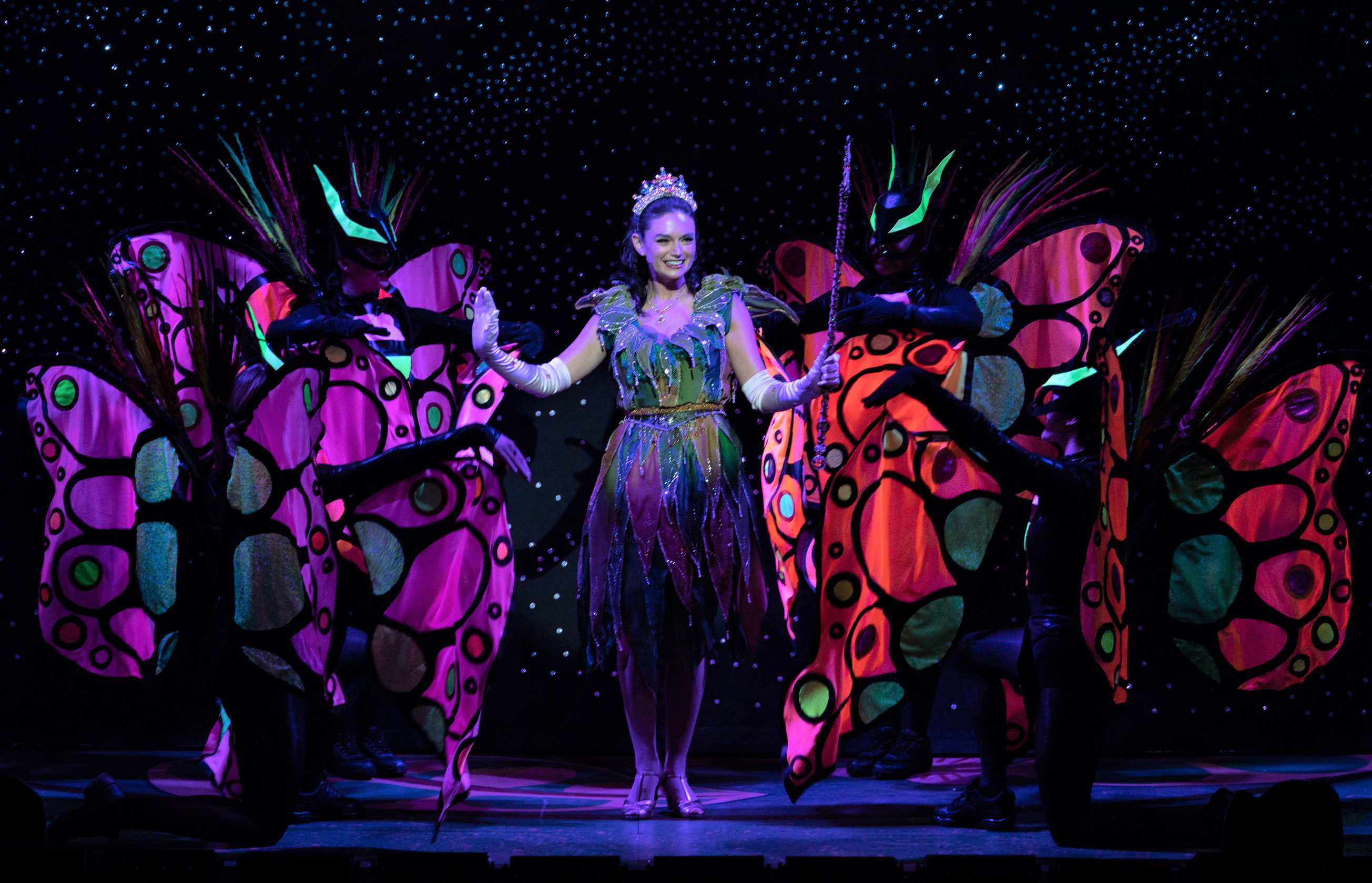 Playing at the Orchard Theatre until Sunday 2nd January 2022, you can grab your tickets here. If you are unfortunate to attend this years, then don't miss out on next years 2022 pantomime Cinderella for all info on how to get tickets to the ball head here.
One