With much joy, it was back to the Orchard Theatre to see this weeks production opening of 'Grease.'
Grease is the 50s musical classic, it tells the tale of Danny Zuko, and Sandy. Having met during the summer holidays and fell in love, they believed at first it was a summer romance. But when Sandy unexpectedly enrols at Rydell High, she sees a side of Danny that she never knew. Will their relationship blossom? With the support of the T Birds, Pink Ladies, and students, only the school year will tell. With the support of the classic musical numbers such as 'You're the One that I Want,' 'We Go Together,' 'Summer Loving' and 'Beauty School Dropout' this hand jiving musical is great for the youth and for the die hard fans!
The thing that many needs to be reminded about the musical production, is that they will be seeing the famous film rendition that stars John Travolta and Olivia Newton-John however director Nikolai Foster makes sure this production goes back to its roots with a slight revamp in its style. He keeps the 'Greasers' as the 'Burger Palace Boys', than the 'T-Birds' – many revivals of the musical took on after the film. 'Look at Me I'm Sandra Dee' was also not performed during the girls sleep over but with the whole class. However, they took some new approaches of their own to the original, with the introduction of a new original Danny solo 'How Big I'm Going to be,' putting 'Those Magic Changes' in Act two rather than in the Act 1 and sending Sandy to the Dance, when originally she stays at home alone.  It allows the audience to come in fresh and see a new take on a much love classic, or rather where it all began!
Arlene Phillips, well known choreographer also brings a new spin on the dance styles of Grease, her new steps for Grease Lighting and 'Born to Handjive' provide a unique take to the songs that are greatly displayed by the full cast. This doesn't stop the audience however dancing the well known moves in their seats! But each dance was a joy to watch thanks to the performers!
The Cast tonight was:
Danny Zuko – Dan Partridge
Sandy – Ellie Kingdon (Alternate)
Kenickie – Paul French
Rizzo – Tendai Rinomhota
Doody – Alex Christian
Roger – Josh Barnett
Sonny – Christian Zaccarina
Frenchy – Marianna Neofitou
Marty – Inez Budd
Jan – Maeve Byrne
Patty – Thea Buntin
Eugene – Matt Trevorrow
Cha-Cha – Alisha-Marie Blake
Johnny Casino – Jacob Fisher
Vince Fontaine/Teen Angel – Peter Andre
Miss Lynch – Corinna Powlesland
Ensemble – Richard Lindord, Elliot Gooch, Dom Hutcheson, Haroun Al Jessal, Hannah-Faith Marram, Kalisha Johnson, Laura-Jane Fenney, Kevin O'Dwyer, Jacob Young.
Now the well known name in this cast, has to be that of music star Peter Andre, having been part of this production before as just the Teen Angel, he takes on an extra role of Vince Fontaine. Playing Vince gave him a great chance to not only show his singing voice – which was perfect for Teen Angel, but also show off his acting ability and showing the audience he still has the moves! It was great to see more of him and you can tell that he is enjoying every minute.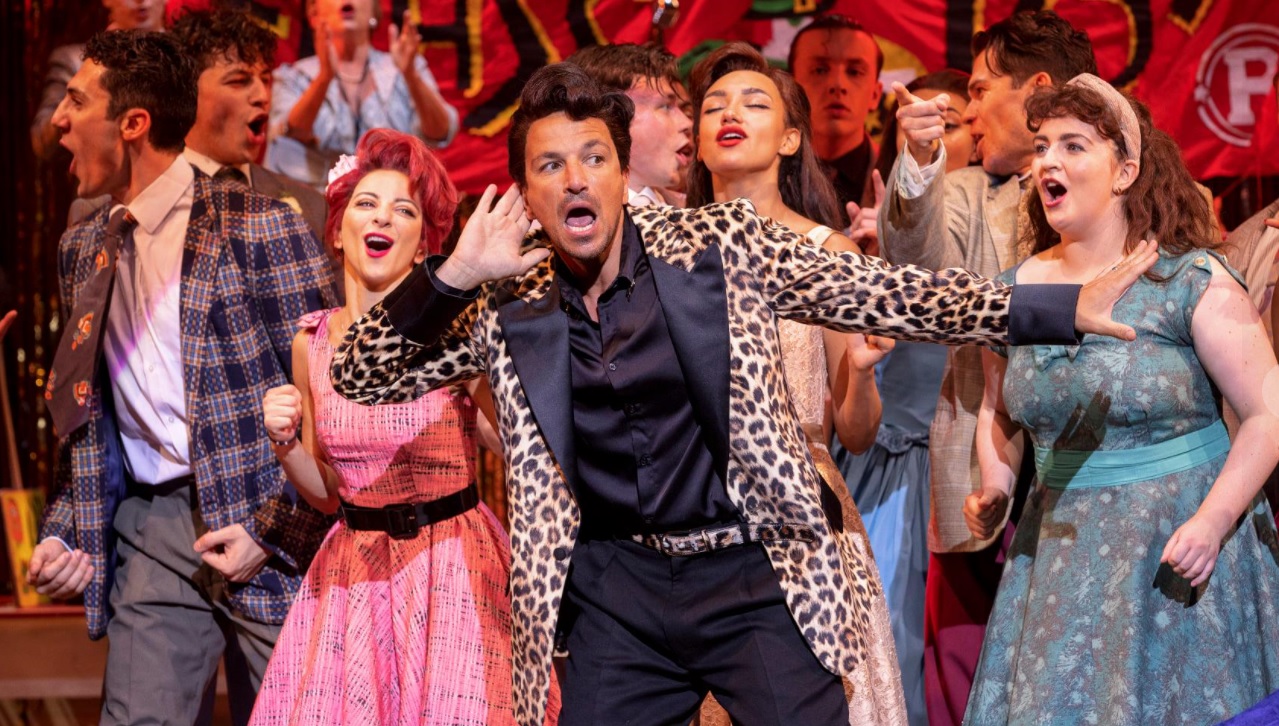 Dan Partridge once again takes on the role as Danny Zuko, he portrays a loveable yet cool Danny with some excellent dancing and a warm tone to his voice. His love interest Sandy played by Ellie Kingdon also showed the sweet and innocent Sandy, however at times her singing appeared forced at times. Their relationship was enjoyable to watch and they had good chemistry.
I thoroughly enjoyed Maeve Byrne and Alex Christians rendition of 'Mooning' which was really lovely to watch and their relationship was sweet and innocent. Inez Budd, as Marty was a delight to watch her solo 'Freddy My Love' perfectly showed off her voice which was strong and warming to ears.
The whole cast had their chances to show just how talented they were, but also that they were having fun making sure the audience had a good night – and that is exactly what they did! Whether you a huge fan or not, Grease will give you a guaranteed fun night out which was shown with tonight's audience who were up on their feet dancing and singing to the Grease Megamix!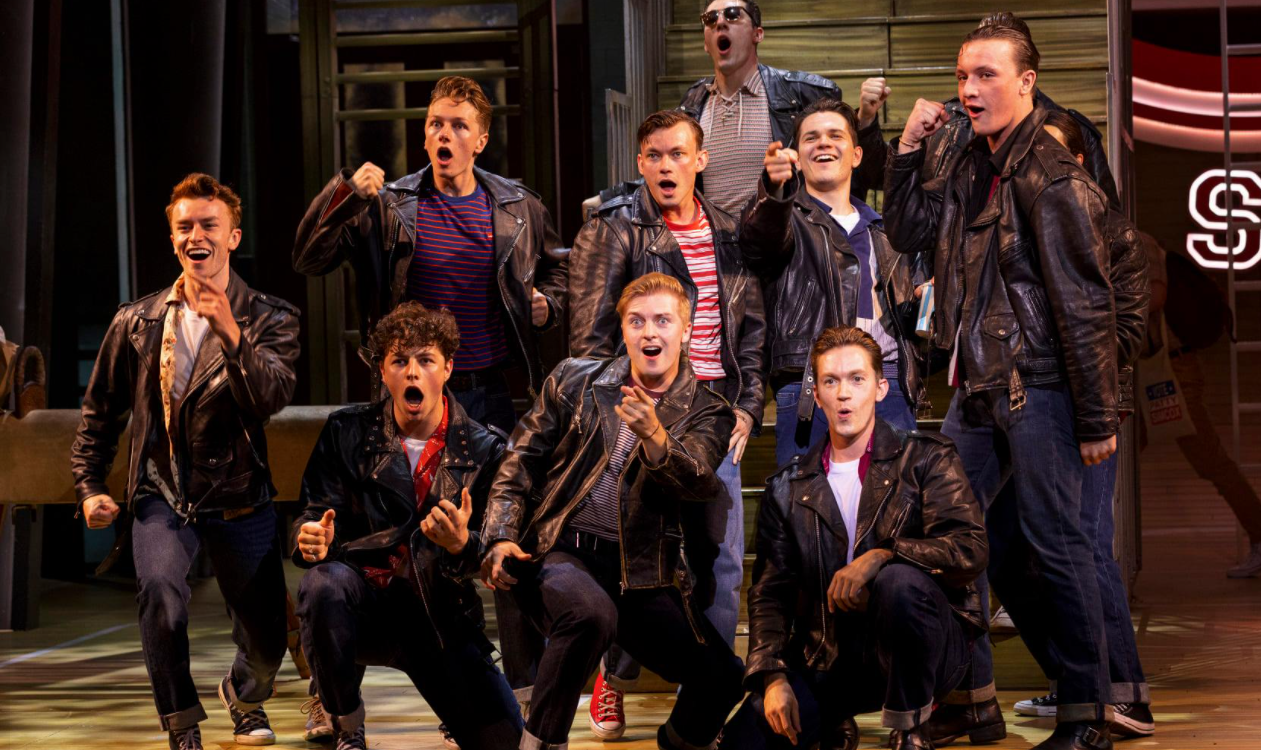 Grease the Musical plays at the Orchard Theatre, Dartford till Saturday 18th September 2021 for ticket information go here. Please note that the role of Vince Fontaine and Teen Angel will be played by John It will then continue on its UK Tour, for all dates and locations go here.