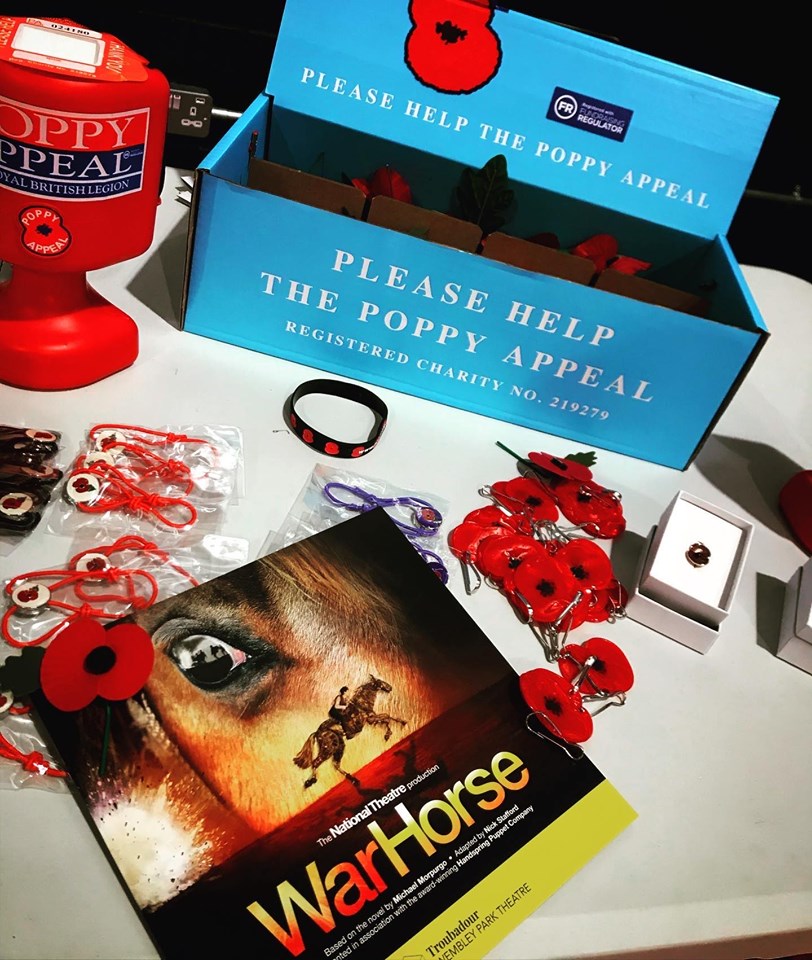 On Remembrance Sunday, the day we remember those who had fallen in their fight for their country I was delighted to have been invited to collect on behalf of the Royal British Legion at the matinee performance of the lastest production of the National Theatre's War Horse at the Troubadour Theatre, Wembley. It was a perfect way to celebrate a powerful day and watch an amazing production.
War Horse is a play based on Michael Morpurgo's novel of the same name. It tells the story foal Joey a Hunter. who is auctioned off and won in a betting battle by Ted. Joey gains an incredible bond with Ted's son Albert, who trains him up from foal to horse and teaches him to plow – after his fathers drunken bet with his brother. The two are inseparable until the 1st World War shadows over England leading Ted to sell Joey to the Cavalry. Albert distraught but too young to sign up to the War promises Joey that they will be together again and he will find him. We then follow Joey through the truths of the war and view it through his eyes.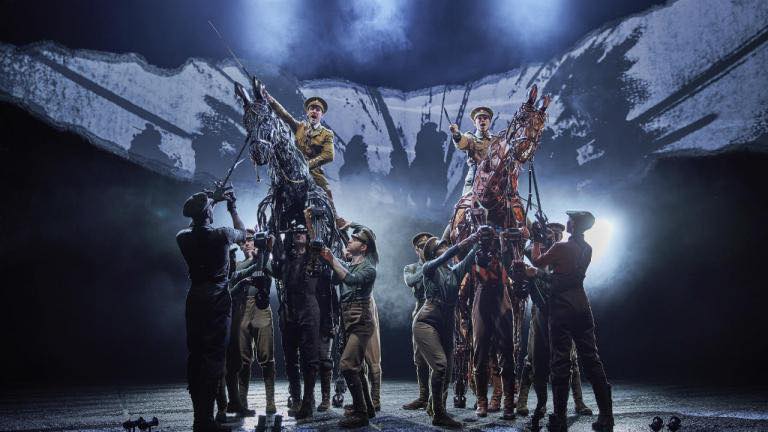 Michael Morpurgo thought that 'they must be mad' to try and make a play out of his novel, but boy did Nick Stafford (Book), Marianne Elliot, and Tom Morris prove him wrong because this production is truly a magical work of art. The whole production is beautifully done, with limited staging and the amazing puppetry stealing every scene. Created by the Handspring Puppet Company of South Africa, they have created a life-size horse puppet manned by 3 puppeteers (head, chest, and behind) and with the 'horse choreography' by Toby Sedgwick created two outstanding horses Joey and Topthorn. Having researched a lot in this production I am amazed at how much work went in to create these characters is outstanding, not only did the amazing puppeteers have to study the Kings horses – riding, interact with them, but all three have to breath in unison to ensure that they all go off on the same beat and movement to make them true.
The story itself is also so powerful, really getting into the depth and horrors of the war field through both Joey's eyes and Alberts (for when he fakes his age to enlist). Having seen this production before todays viewing twice already, I am still moved by every scene however this time I was more so being that I now have a beautiful Cob in my life that I am privileged to ride. Watching the horse puppets come to life but also see them fall in the war, it meant so much more to me that I was truly moved to tears.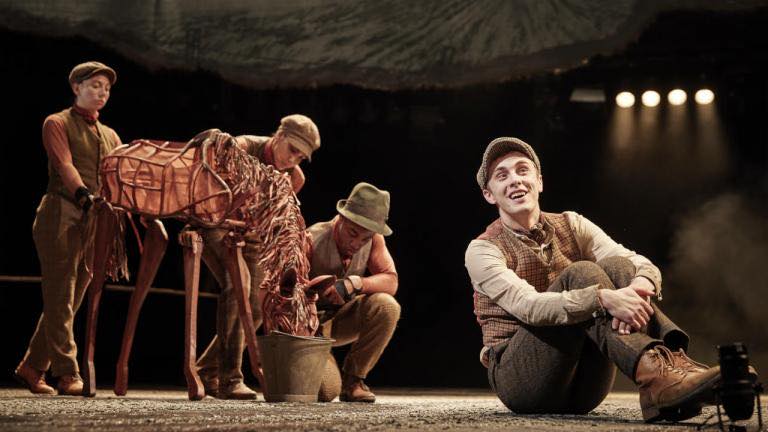 But all this would not be possible without the amazing cast, who excel in all ways the true emotions and heart of the story throughout. Albert Narracott played by William Ilkley, it takes a lot to build a relationship with an actor but to grow a bond with a puppet is something else and William showed us how it was done. He was so enjoyable to watch and was instantly loved by the audience.
Along with the puppets were the soldiers who were able to show another side to the war Danny Hendrix in the role of Billy showed the horrors of shell shock many men suffered when fighting. Christopher Naylor as Friedrich Muller – a German soldiers who clearly displays the other side and how they too were just men fighting a war but also just wishing they make it home to his family safely.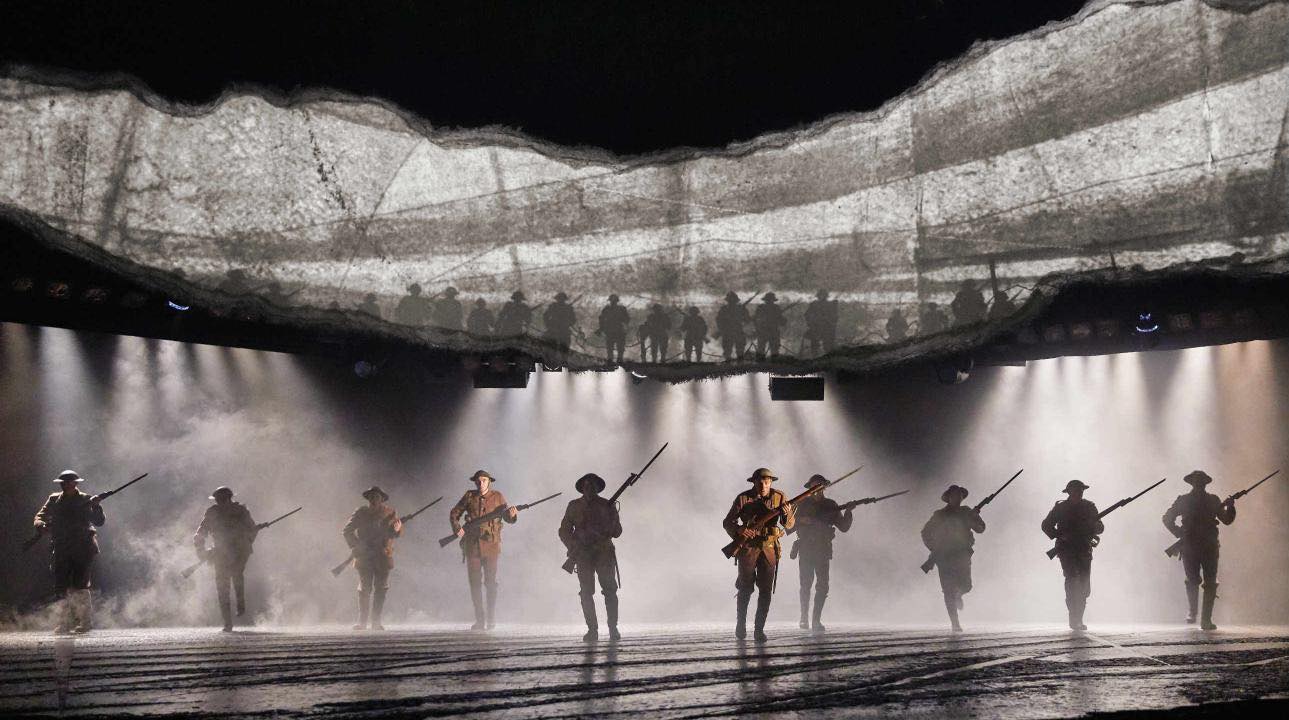 I could go on and on about how much this cast blows you away, from the moment it play starts you are with them through each scene and with Joey in his powerful journey. I came away so moved that all I wanted to do was hug my cob and tell him I loved him!
I am so happy that I was able to catch this amazing play once again, especially on Remembrance Sunday. It just really hit home when watching it. I am sure this is no the last production of War Horse that we will see, that it will rear once again in years to come as it really is one for all to love, learn and enjoy.
Playing at the Troubadour Theatre, Wembley until the 23rd November for all ticket information head to the website here. You will not be disappointed