The theatre world held its breath when news that the Queen's Theatre would be undergoing renovation, unsure as to what fate this would lead for the longest running musical Les Misérables. Lucky for us Sondheim had thought of this and announced that the production would be moving next door and will take form of a musical concert – similar to the 25th Anniversary production at the O2 Arena. There was then the announcement of the cast – it was a given I was not to miss this!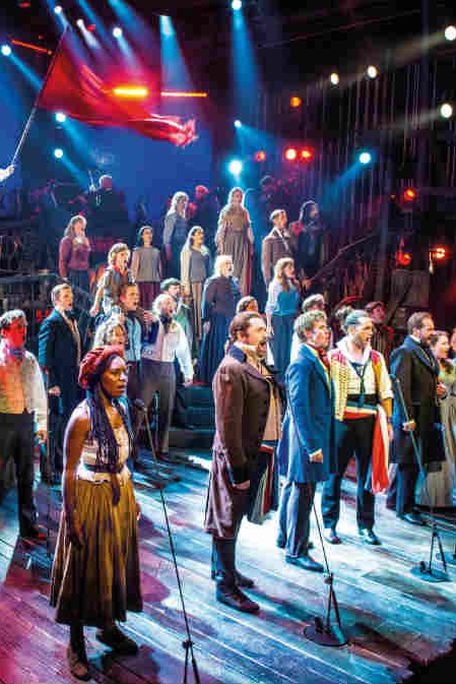 Les Misérables is a sung-through musical adapted by Claude-Michel Schonberg, Alain Boublil, and Herbert Kretzmer (English Lyrics) from the French Poet and novelist Victor Hugo's 1862 novel of the same name. Set in the early 19th Century France, it tells the story of convict Jean Valjean having served his 19 years in jail for stealing a loaf of bread for his sisters starving child. Wanting to escape, he breaks parole and starts a new life anew without its difficulties as police inspector Javert will stop at nothing to find him. Along the way, Valjean and a slew of characters are living through the French Revolution, where a group of young idealist attempt to overthrow the government at a street barricade.
The thing about this performance is it is a concert, for those who are thinking they will see the production will be a little disappointed – because the cast is what makes the show! The concert means that the full musical score is performed with limited acting but that of the characters standing by microphones in costume singing live with the orchestra being the made feature of the set – in the form of the barricade, which was excellently designed by Matthew Kinley. Having brought along a friend, who had not seen the full musical which lead him to being a little confused as to what was going on. As the show is not being 'acted' as such I can understand that some of this story would be missed, that being said there is no denying this is not a stunning show to witness…again mainly to those who are singing.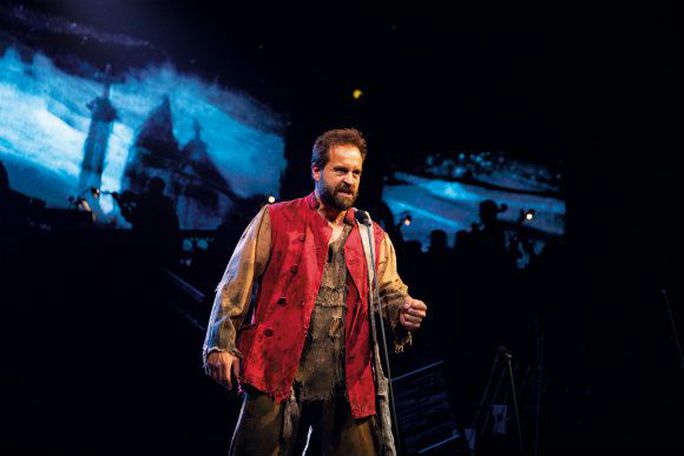 Today's production had a fantastic full cast of talent, the leading roles were:
Jean Valjean – Alfie Boe
Javert – Michael Ball
Fantine – Carrie Hope Fletcher
Madame Thenardier – Katy Seccombe
Thenardier – Matt Lucas
Cosette – Lily Kerhoas
Eponine – Shan Ako
Marius – Rob Houchen
Enjolras – Bradley Jaden
Now I would be lying that I didn't freak when I heard that Alfie Boe would be reprising his role as Jean Valjean, owning the 25th anniversary O2 DVD to hear him live was just amazing. His voice is just saw warming and with every lyric passionate and true. You can tell that he loves the role as much as the audience love watching him play it. Another highlight was also getting to see Michael Ball alongside him, having originated the role of Marius he now steps into the shoes – and hat of Officer Javert! At first I was sceptical about this casting, but once he started to sing you realised the casting was perfect, his rendition of 'Stars' was so powerful. We all know that Ball and Boe have a great partnership and seeing them both on stage was breathtaking.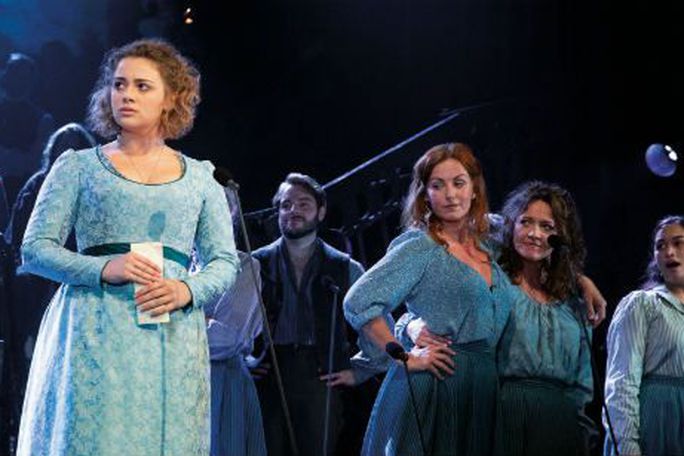 Returning also to Les Mis is Carrie Hope Fletcher in the role of Fantine, having previously played both young Eponine and Eponine in previous cast she is one of the first actresses to play 3 roles in the same show. Fantine being a dream role for her to play and she excels in it. Her Dreamed a Dream was special and unique and I can understand why McIntosh chose her. Carrie will be amazing continuing the role in the new Sondheim Theatre! Along with her Matt Lucas also returns as Thenardier, who is perfect for the role and brings a little comedy and adlib to the production.
The whole production is magical and you really get to experience the beauty that is the score of this musical. Not only does the cast win us all over, but you see the orchestra up front receiving the praise of the music they bring every night. I was so happy I got to his this production, with the new cast being announced for the return at the new Sondheim Theatre, I will of course be heading back to France!
Playing until Saturday 30th November, for all ticket information go here. For all information and tickets on its return to the Sondheim Theatre, go here.