With a matinee planned with some great friends, its only natural to see what tickets I could snap up for a evening show right? Being successful in obtaining Rush Tickets, I had made this Saturday a two show day! I was so excited to finally be seeing Come From Away at the Phoenix Theatre!
Come from Away is a Canadian Musical from the creative minds of Irene Sankoff and David Hein. Set in the week following the September 11 attacks and tells the true story of what happened when 38 planes were ordered and diverted to land in the small town of Gander within the province of Newfoundland and Labrador, Canada, which was part of the Operation Yellow Ribbon. All the characters within the story are based and in most cases share the names of the real Gander residents, along with some of the 7,000 stranded travellers that they housed and fed. The musical has been a huge success everywhere it has performed including Broadway and is now spreading this reception to the West End when it opened in 2019. it has been received by the audience and critics as a cathartic reminder of the capacity for human Kindness even in the most difficult and darkest times and the triumph of humanity over hate.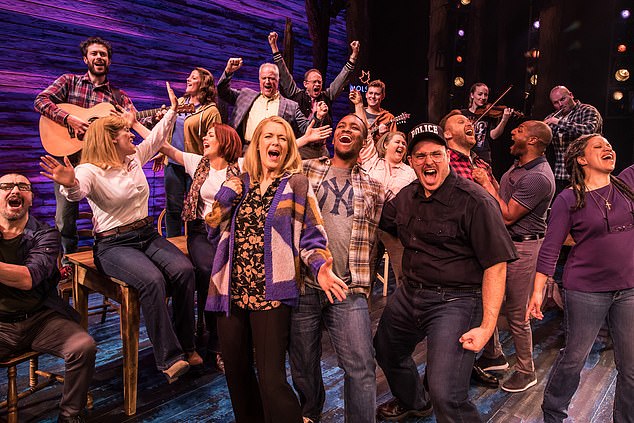 I was happy to say that I had avoided listening to any of the soundtrack and the only knowledge i knew about the show was the storyline – but not how it was told. The production itself is only 1 hour 40 mins with no interval so the story flows throughout, it also has a smaller cast than some musicals with many of the actors playing two or more different roles and characters of the story. The staging is simplistic, with a revolving stage and chairs and tables and accompanied by the band on stage. Irene and David catch the amazing lives of all the characters and with assistance from director Christopher Ashley, you feel every emotion portrayed and capture every moment, it is truly a moving productions that pulls the heart string but also teaches those another side to the horrible day that affected many lives in the states and world. Where friendship goes along way and sometimes building new ones are even better! The music, where the script is mainly that or lyrics and song helps demonstrate those emotions and tales beautifully and you immediately fall in love with the music – it was within seconds that i was listening to it again when travelling home that evening.
The cast tonight was as follows:
Beulah and others – Jenna Boyd
Bob and others – Nathanael Campbell
Claude and others – Clive Carter
Bonnie and others – Mary Doherty
Nick and others – Robert Hands
Diane and others – Chiara Baronti (understudy)
Kevin J, Ali and others – Jonathan Andrew Hume
Oz and others – Harry Morrison
Janice and others – Emma Salvo
Kevin T, Garth and others – David Shannon
Hannah and others – Cat Simons
Beverley, Annette and others – Rachel Tucker
I was very excited to see that Rachel Tucker was on, having heard nothing but rave reviews about her performing. I wasn't disappointed her voice is beautiful which is portrayed excellently during her solo as pilot Beverley 'Me and the Sky' a powerful song that really hit me, how someone can have such a passion for something such as being a pilot and seeing something that she loved be turned into a weapon bringing a whole new perspective on her life. Along with Beverley showed Rachel showed off her amazing ability within all the roles she portrayed and transformed with just a small help of a wardrobe change such as a pilot jacket and waistcoat.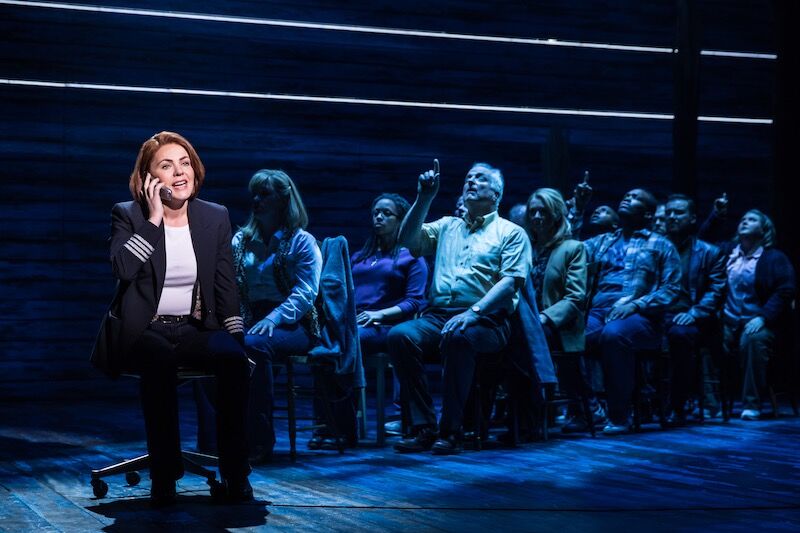 Clive Carter i have had the privilege to have seen before as Khassoggi in We WIll Rock You and also when he was in Charlie and the Chocolate Factory tonight's performance just showed how no role is difficult for him, it was great to see him on stage. Throughout the show there are many relationship formed, Nick and Diane performed by Robert Hands and Chiara Baronti show great chemistry when two strangers meet on a plane and find love in the hardest of times. Hannah and Beulah played by Jenna Boyd and Cat Simons, form a friendship over something in common (their sons being firefighters) the support that Jenna provides Cat through their roles is true to its word and Cat's song 'i Am Here' was strong, showing a mother desperate to hear from her son who was out in New York City. But with relationships formed some broke down, greatly demonstrated by David Shannon and Jonathan Andrew Hume as Kevin T and Kevin J.
The full cast take on every role to heart and display all emotions truly understanding what the feelings, fears and joys would have been during that hard time when the world stopped. The Production deserved the many awards it won about both the Tony's and Olivier's as you go away humbled and uplifted by this powerful story and I am so happy i finally got to see it! If you want to know more about a trip to the Rock, you can find out ticket information here. Or if you want to try your luck like i did, all information about TodayTix and rush tickets find out here.