Having a few weeks off, I was in need of a theatre trip! Lucky the Orchard answered my call and it was back to Dartford for this weeks opening night of the current tour Annie! 
Annie is the red haired girl that everyone knows, whether you have seen it on stage or the film version it is a story known by even those that don't call themselves theatre lovers! Based in the city of New York, it tells the story of little orphan Annie, who lives along with other young orphans with Miss Hannigan. Given the chance to escape the run down 'hard knock life,' Annie is chosen by the secretary, Grace to spend Christmas with top business man Mr Warbucks. Finding that he is falling for Annie, Mr Warbucks plans on adopting Annie. But Annie is still determined to source her parents who left her long ago, a world wide search is arranged to find them – which doesn't always go to plan!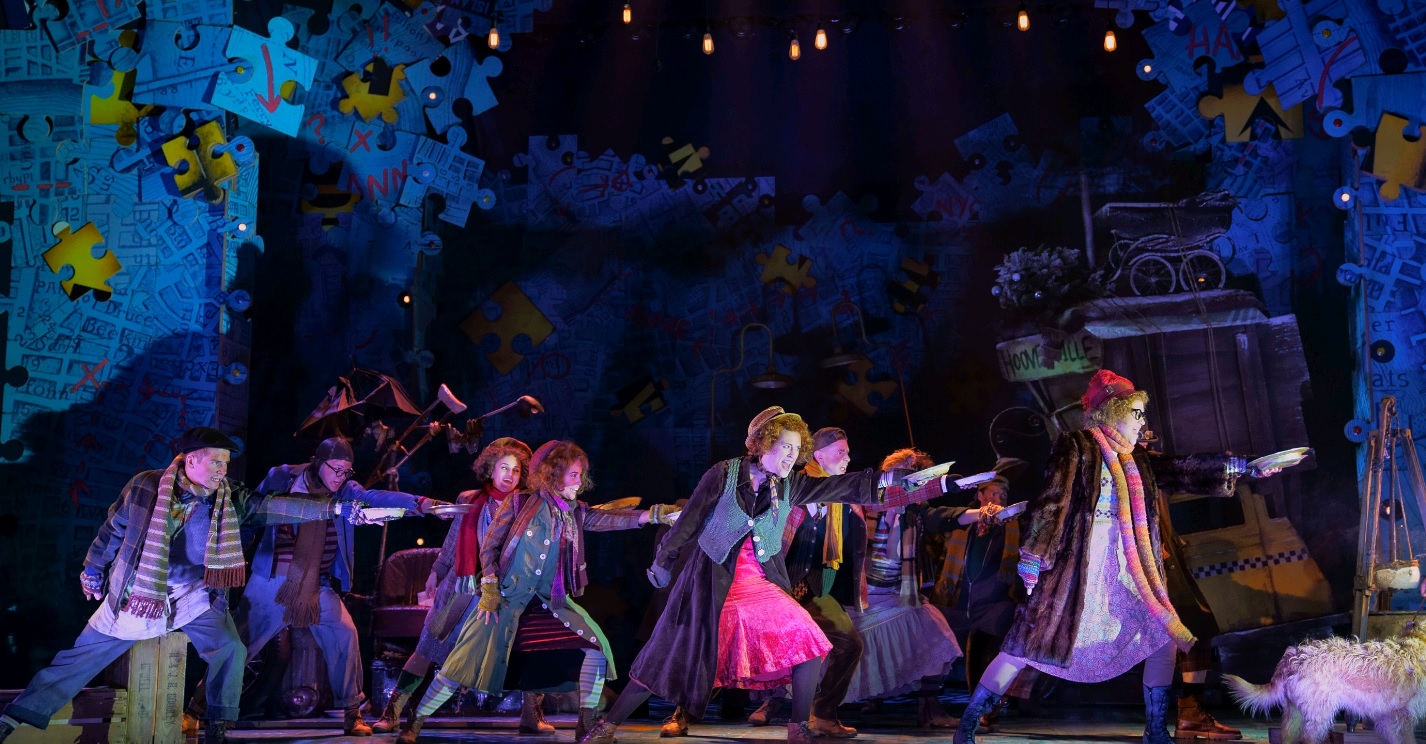 Annie, is one of the best musicals to introduce the children to theatre. It was great to see so much youth within the auditorium, but that is not to say that its not one for the adults too. Annie is a classic musical, with numbers such as 'Tomorrow' 'NYC' 'Little Girls' and 'Hard Knock Life' and a uplifting story there is much to enjoy! Some things that striked me the most was one, the chorography! From the mind of Nick Winston each dance has been carefully put in place step by step with the mixture of tap, Charleston, and modern, it brought a new breath of life into the classic. I just loved how each dance was presented, making it exciting and enjoyable throughout. Another thing that drew the eye was the set design, created by Colin Richmond having a musical being set in New York City you'd expect a busy set, but Colin's simplistic take with the main focus being a jigsaw puzzle allowed us to focus on Annie's story being put together – like a jigsaw. It was a stunning set, that wowed the audience as soon as they took their seats!
Kids – Team Empire
Molly – Tia Grace Issac
Duffy- Romanie Jija-Wakeham
Tessie – Dulcie Allsop
Pepper – Charlotte Pourret Wythe
July – Saskia Salmon
Kate – Emily-May Stephenson
Annie – Ava Smith
Adult Cast 
Miss Hannigan – Craig Revel Horwood
Lt. Ward/Roosevelt – Gary Davis
Grace Farrell – Carolyn Maitland
Daddy Warbucks – Alex Bourne
Rooster – Richard Meek
Lily – Jenny Gayner
Bert Healy – George Rae
Ensemble –Michael Anderson, Andy Barke, Caroline Bateson, Blaise Colangelo, Ashleigh Graham, Matt Trevorrow, Susannah Van Den Berg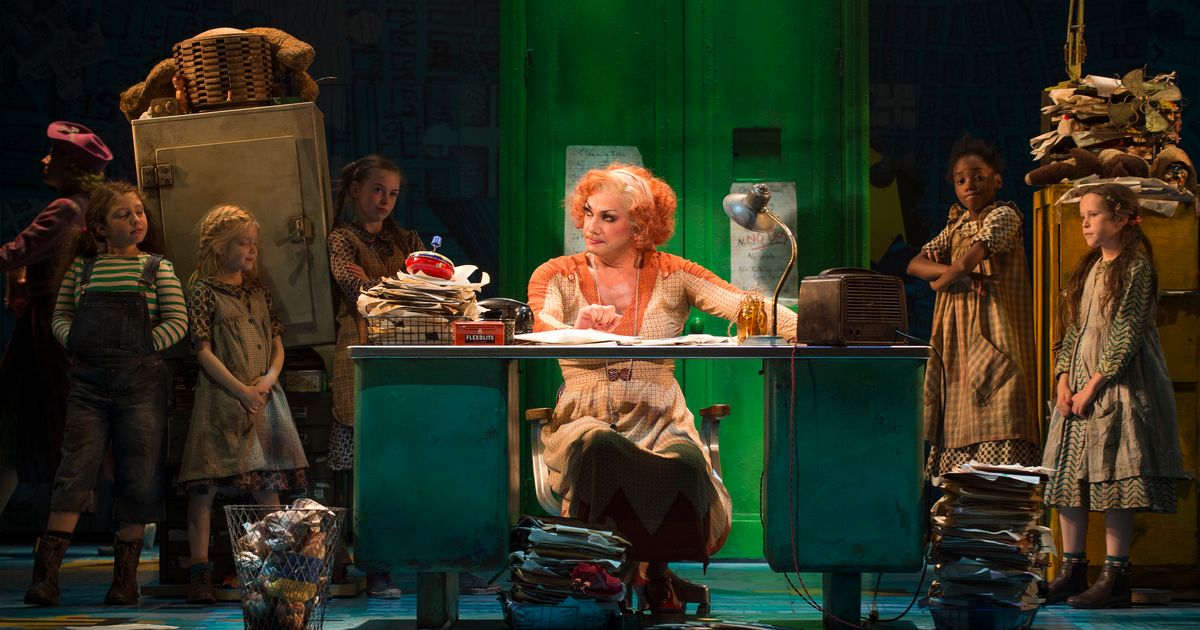 Craig Revel Horwood, the 'strict' Strictly Judge steps into the high heels of strict Orphanage manager Miss Hannigan, a first for Annie I understand that Craig is the first dragged performer to play the role – and was FAB-u-LOUS! His take on the role was perfect for the characteristics of Hannigan, who dreams of easy street but instead results to the bottom of the gin bottle. From his drunkenness comedy, to his great toned voice which is greatly shown in 'Little Girls' and 'Easy Street.' But also, one things for he could not put a dancing step wrong and it was great to see him in the dancing shows and not behind the judging panel!
One person I loved seeing back on stage was Alex Bourne, having seen him in the past as Khassoggi in We Will Rock You it was great to see him in a new, alternative role as Daddy Warbucks. He was a stern billionaire, but with such a big heart that led the audience to warm to him instantly. He had his subtle comedy moments that you could see he enjoyed performing, and his voice is warming to the ears. His relationship with Annie, Ava Smith was also clearly displayed, truly showing how much she meant to him. Ava's taking on the title role, has the innocence, sweetness, and a set of pipes that are strong throughout. But also, knew how to get the quick witted, strong willed and driven characteristics shone within her acting ability.
There is a great share of children talent, and they clearly steal the show throughout. Showing again the many talents we have in our youth and currently on the West End, along with the adult ensemble they all just looked so natural together.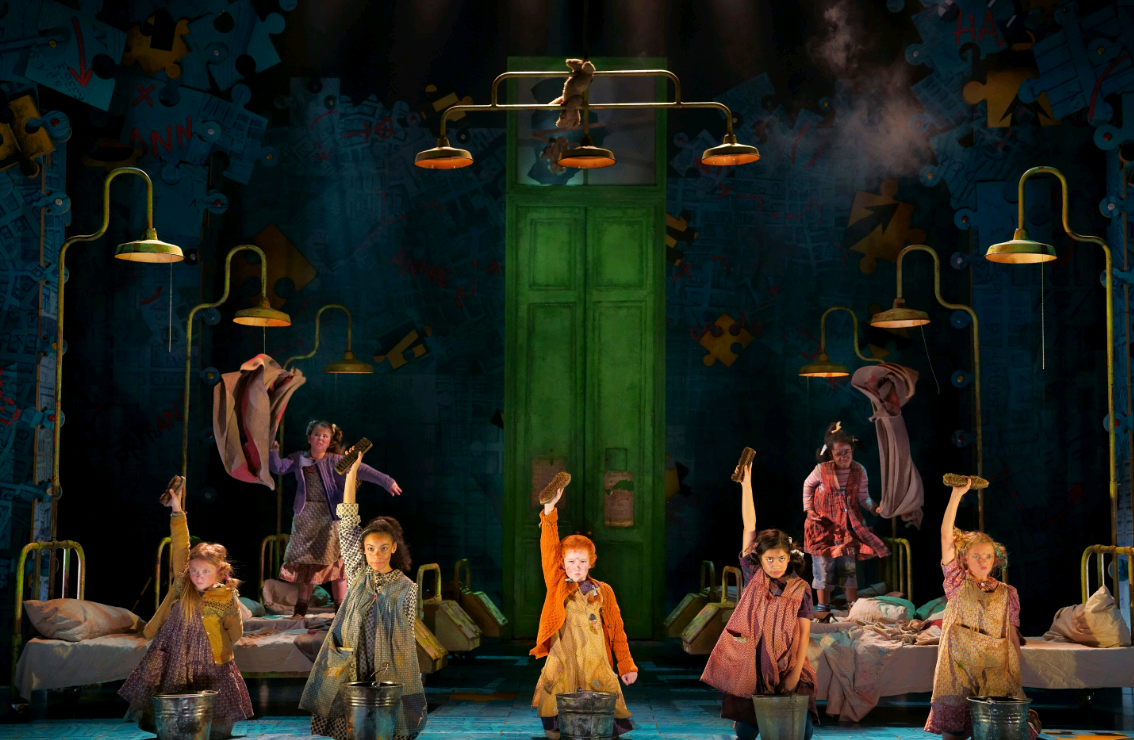 If you love the classic musicals, or want to introduce your family or children into the West End, Annie is the perfect one to attend. A feel good, loveable story that is guaranteed fully dress you and put a smile on your face!
Playing at the Orchard Theatre until Saturday 22nd June, for all ticket information go here. It will then continue on its UK tour, for all dates and ticket information go here.