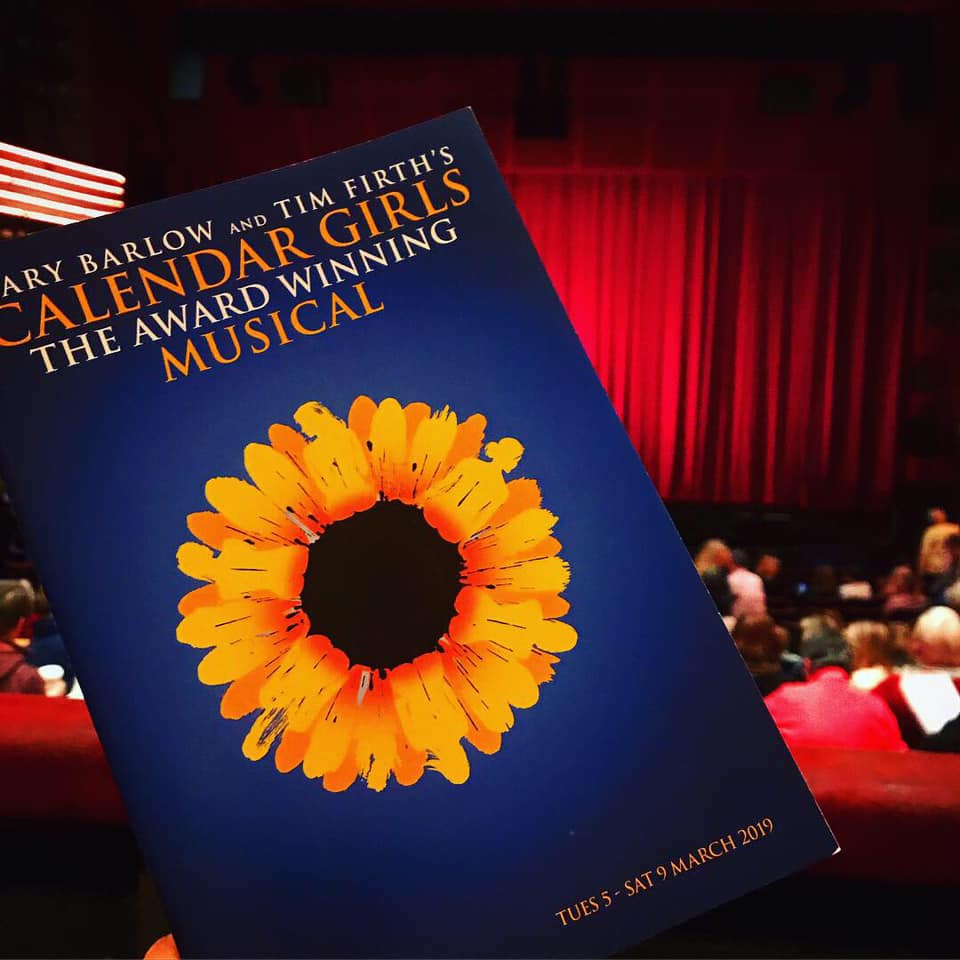 It was back to blogging myself for tonight's opening press night of Calendar Girls at the Orchard Theatre, Dartford. Having seen it as then The Girls in London, I was intrigued to know how it transferred to a touring production along with a brand new cast – with some well known names.
Calendar Girls is a musical Comedy based on the Feel-good 2003 film of the same name which starred Helen Mirren and Julie Walters. The musical itself was written by the same screen-writer of the film Tim Firth, and Take That icon Gary Barlow joining to create the musical score. Based on a true story, It tells the tale of best friends Chris Harper and Annie Clarke. both members of the charitable Rylstone Women's Institute in North Yorkshire. After Annie's husband John sadly succumbs to leukaemia, their friends are motivated to take some action in the form of raising money for a new Sofa for the family room in the cancer ward in the local hospital. They convince the group to craft a tastefully nude calendar featuring the usual Women Institute activities of gardening and baking, photographed by the young amateur Lawrence. Despite the disapproval of the Institute's leader Marie, the calendar quickly becomes a best-seller and leads to more than the girls expected.
The best thing about this musical is it focuses a lot more on the music, and story, rather than the usual break out into song and dance with the glitz and glamour like some of the musicals on the West End – and that's not to say its a bad thing! But with such a beautiful story, it compliments it very well. With classic British comedy, your really can't go wrong with this show. I also loved that each one of the girls had their story, or song to show given them each a moment in the light – as well as a lesson to learn. Such as Jessie stating that age is just a number not a restriction, Cora showing that you need to have a little fun now and then (or a Christmas boogie!). Without a doubt each one of those stories the ladies told would have reflected on many of the audience members, especially the main story line. Its warming to watch and true to the film, complimenting it fantastically. Along with the beautiful songs by Gary Barlow it is such a feel good musical that's hard to fault.
The only huge difference from the tour was mainly the set, as like any touring productions they need to be able suitable to fit a variety of stages unlike when they are settled in one place. But trust me Yorkshire countryside shines through on the stage, along with some amazing cast members:
Ruth – Sara Crowe
Annie – Anna-Jane Casey
Celia – Denise Welch
Jessie – Pauline Daniels
Cora –  Karen Dunbar
Marie – Fern Britton
Chris – Rebecca Storm
Tommo – Tyler Dobbs
Rod – Richard Anthony – Lloyd
Brenda – Pauline Daniels
John – Phil Corbitt
Lawrence -Derek Elroy
Miss Wilson – Ellie Leah
Danny- Danny Howker
Colin – Sebastian Abineri
Jenny – Isabel Caswell
Miss Wilson – Catherine Digges
Best friends Annie and Chris played by Anna-Jane Casey and Rebecca Storm were excellent in their roles with their friendship displayed throughout. Anna's emotions shone throughout, and her voice has a warming yet powerful tone which shone through her solo numbers – it was lovely to see another side to her, having seen her as the Lady of the Lake in Spamalot a few years ago! Rebecca was also great to watch, with a full of life mother – much to Danny's embarrassment at times, who stands by her friend throughout. She defiantly took Helen Mirren's characteristics to influence her on the role, but yet still managed to make it her own. She was also the first to display all.
Now to the other Girls of the show, to which I totally respect them and congratulate them on their confidence. For they are the ones along with Anna and Rebecca who dares to bare all! With no hesitation or nerves holding them back, but love for their body and what they are doing! Cora played by Karen Dunbar has great comic moments as the 'innocent' single mum to Tommo, her number 'Who wants a Silent Night' was one of the best songs of the night, with her busting a move like no other and completely baring all behind the piano during the shoot. Pauline Daniels's Jessie really did show that age is just a number, proving that you are only as old as you feel which shouldn't stop you from joining in the fun with your friends. I can only hope I am like her when I am that old, or rather I plan to be! The character I loved the most was Ruth, with such a strong story of a wife who hides the fact that her marriage is not at his best. Sara take on the role was perfect, she displayed the emotions but yet also when finally she decides she deserves better (with a help of a 'Russian friend') it was great to watch her confidence shine, and the audience cheered her on when she posed for her July, sorry November photo!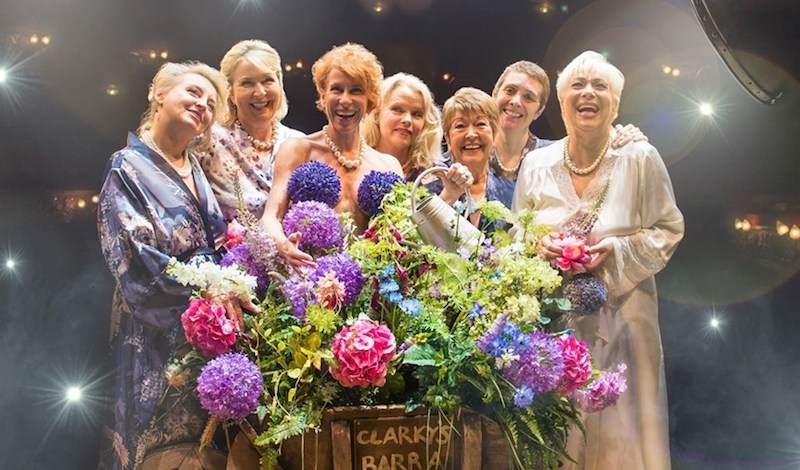 Known names Fern Britton and Denise Welch played the roles of chair of the W.I Marie and air hostess Celia, both were naturals on the stage with two contrasting personality's. Fern had the strict yet friendly Marie down perfectly and Denise had the audience chuckling away at her perfectly timed comic moments. It was great to see them live and take to the stage stupendously.
Along with the Girls thought there is a wide range of characters, the kids on the stage Danny, Tommo and Jenny (a only new addition to the story) played by Danny, Tyler, and Isabel had great moments on the stage that had the audience roaring. They were moments that we can all relate to when we were younger, with friendships and emotions driving us, but also how we can all be embarrassed by our parents and still love them no matter what!
This musical is one for all ages, it would be perfect though for a mum and dad date night, or family outing that would be hard to disappoint – making you chuckle throughout – especially at towards the end of Act 2. It is a feel good musical that leaves you smiling throughout – even with the tearful moments the passion the cast portray is second to none and you instantly fall in love with the show!
The Calendar Girls plays at the Orchard Theatre until Saturday 16th March 2019 (a whole two weeks!) for all ticket information go here. It will then continue on its UK tour*, for all dates and ticket info go here.
*New casting has been announced so double check who will be coming to your venue to avoid disappointment!