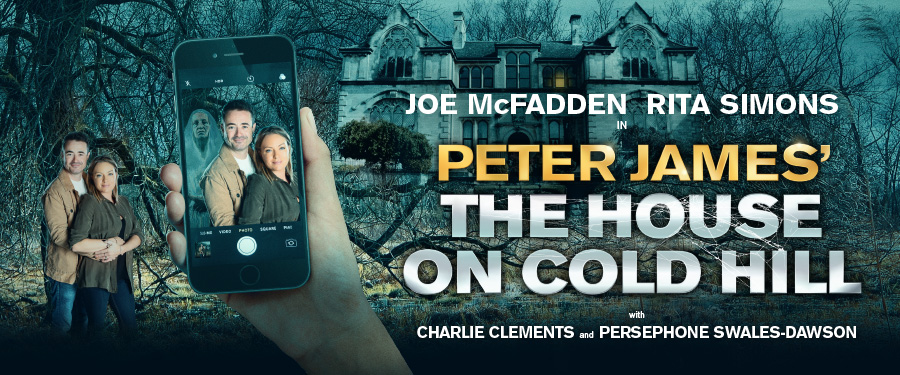 It was back to the Orchard once again, for the opening night of the new Peter James' play adaption of The House on Cold Hill. Having seen some of his previous plays, I was intrigued to what take this one would be!
When the Harcourt family move into the house of their dreams, it quickly turns into the stuff of nightmares as they begin to feel that they may not be the only residents at Cold Hill… this supernatural thriller brings a modern take to the genre that many of us can relate to. With plenty of bumps to enjoy, The House on Cold Hill is great for those that love to be scared! It's hard to discuss the play in full capacity without giving any spoilers, seeing as it would be better to discover yourselves. That being said, the audience tonight were fully enjoying the tongue in cheek humour moments and were defiantly being drawn into the story when things became intense.
One thing about this play however, is the star studded cast and for this Peter James production they went all out!
Ollie – Joe McFadden
Caro – Rita Simons
Chris – Charlie Clements
Jade – Persephone Swales-Dawson
Annie – Tricia Deighton
Fortinbras – Padraig Lynch
Phil – Leon Stewart
O'Hare – Simon Balcon
Throughout the cast there were many well known names, Joe McFadden star of 'Holby City' and winner of Strictly Come Dancing takes to the stage as a father of a much loved family. Joe is no stranger to the stage, which you can see through is brilliant portrayal of Ollie. He displayed the many emotions greatly throughout the journey of the story. One that clearly showed was his relationship with Rita Simons as his wife Caro, the two looked very natural together and Rita was fantastic throughout.
Charlie Clements, known for his role as Bradley in EastEnders takes on supernatural fanatic Chris. It was great to watch him perform as his timing and control of the character was fantastic. Tricia Deighton was also a delight to watch as Annie, she was sweet and had great moments that made her instantly loved by the audience for her quirkiness!
If you are a huge fan of Peter James, this would be a great play to add to your viewing this year. It is also a great one to see to be introduced to his many chilling stories! The cast alone is a great asset to the story as the all pull out the stops to make sure this play gives the audience the chills!
Playing at the Orchard Theatre until Saturday 26th January 2019, it will then embark on its UK tour. For all information on venues and dates go
here
.