I was so excited to be returning to the sunset strip and catch the current uk tour of Rock of Ages! When it was announced that it was closing on the west end, a dark cloud came over London but it's great to have it in so many new places! This week it's rockin' out at the Orchard theatre, Dartford! 
Rock of Ages is set in the 80s on the sunset strip of LA, where rock music was god and love and drugs followed. Drew a wannabe rock star, dreams of his name 'Wolfgang Von Halt' in the billboards, and Sherrie a wannabe actress dreams of the oscars. Though upon meeting the realise that maybe dreaming isn't what it's cut out to be! With musical songs from rock bands such as Journey, Bon Jovi, and Poison, this rock jukebox musical is loud, in your face and unique in every way!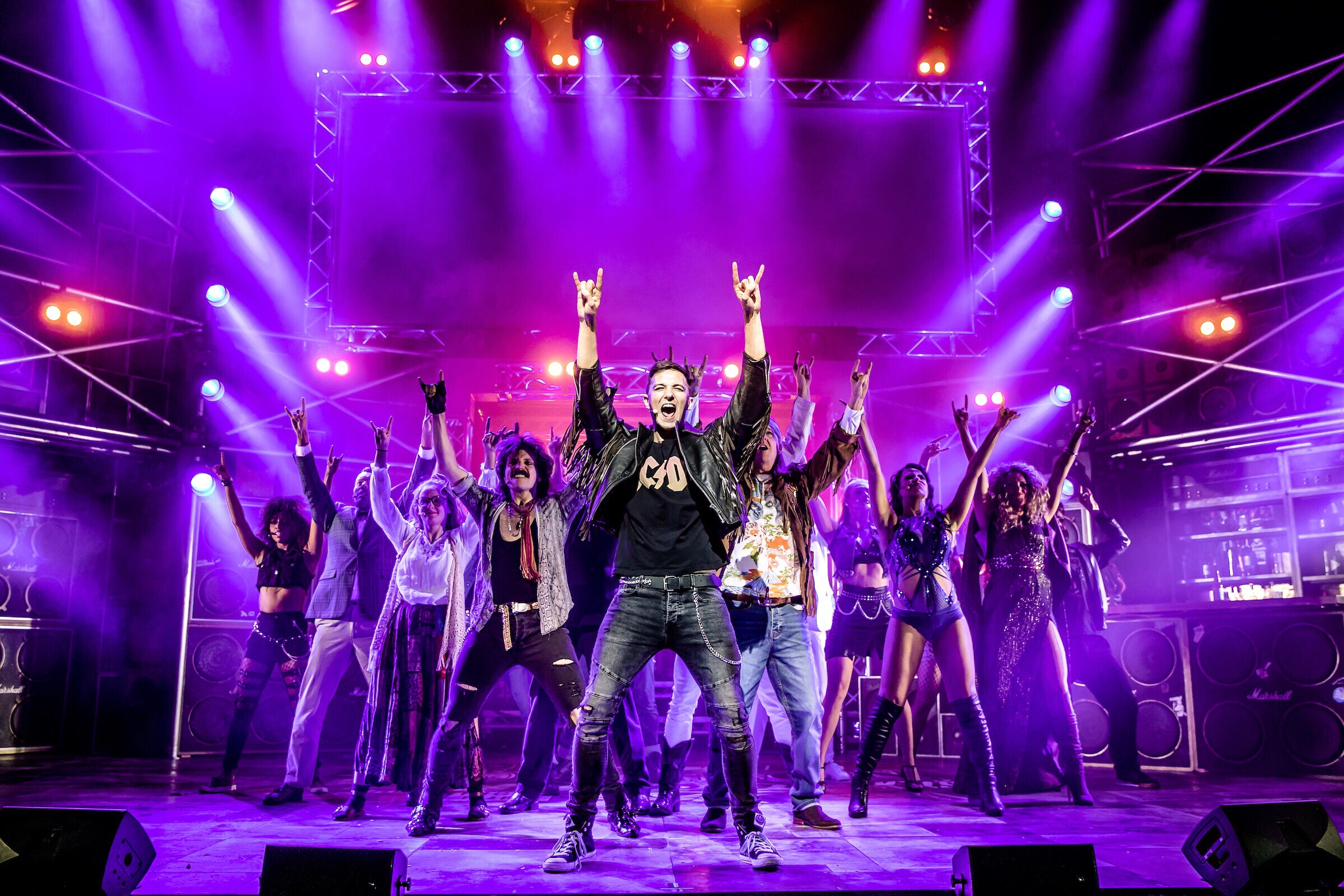 Nick Winston takes on directing and choreography for this current tour, giving it a bit of a uplift from its days on the west end. The thing with this musical is it makes fun of itself, with many of the actors breaking the fourth wall to interact with the audience it's not deemed in anyway a serious show and one to not be taken to seriously. That's the whole point of this show, it to let loose and enjoy the amazing music with an entertaining yet simple story. I personally love it! Nick ensures all of this is included within this production, but brings his on take – including some interesting use of kids mobile vehicles, classy!! Along with directing Nick choreography blows me away as he plans every step to a fine detail which looks amazing complimenting each song. Showing amazing lifts and steps, especially in the Venus room! 
But this show wouldn't be what it is without it's cast!
Sherrie – Danielle Hope
Drew – Luke Walsh
Dennis – Kevin Kennedy
Lonny – Lucas Rush
Justice – Zoe Birkett
Stacee Jaxx – Sam Ferriday
Regina – Rhiannon Chesterman
Franz – Andrew Carthy
Hertz – Vas Constani
Various Roles/Ensemble – Erin Bell, Alexander Day, Joshua Dever, Sinead Kenny, Adam Strong, Bobby Windebank, Saran Webb.
From the very beginning of the musical the audience is introduced to Lonny, the narrator and conjurer of the musical.  Lucas Rush takes the role in his stride and brings the comedy and energy throughout. He drew in the audience with his quick wit and additional ad-lib to the script; you never knew what he was going to do next but looked forward to it which ever scene he was in. You could tell that he loves the character and the audience clearly loved him! His partner in crime was none other then Kevin Kennedy in the role of Dennis Dupree; having seen Kevin as Pop in We Will Rock You, I knew he was well suited for the rock music and style of the show compared to other roles I have witnessed, he seemed more comfortable within this character – and did not disappoint!
The romantic duo of the night were Sherrie and Drew played by Danielle Hope and Luke Walsh. Luke has the perfect voice to suit every musical rock number, but along with that his character was ideal for the sweet yet determined Drew. His relationship with Danielle was portrayed brilliantly, from the awkward first dates to the finally getting the girl. Danielle's innocent yet sexy Sherrie again was good within her role. Her voice at times for some of the numbers felt forced and too much, it was when she softened it that she had a lovely tone that complimented the songs. Her duets with Luke especially blew me away.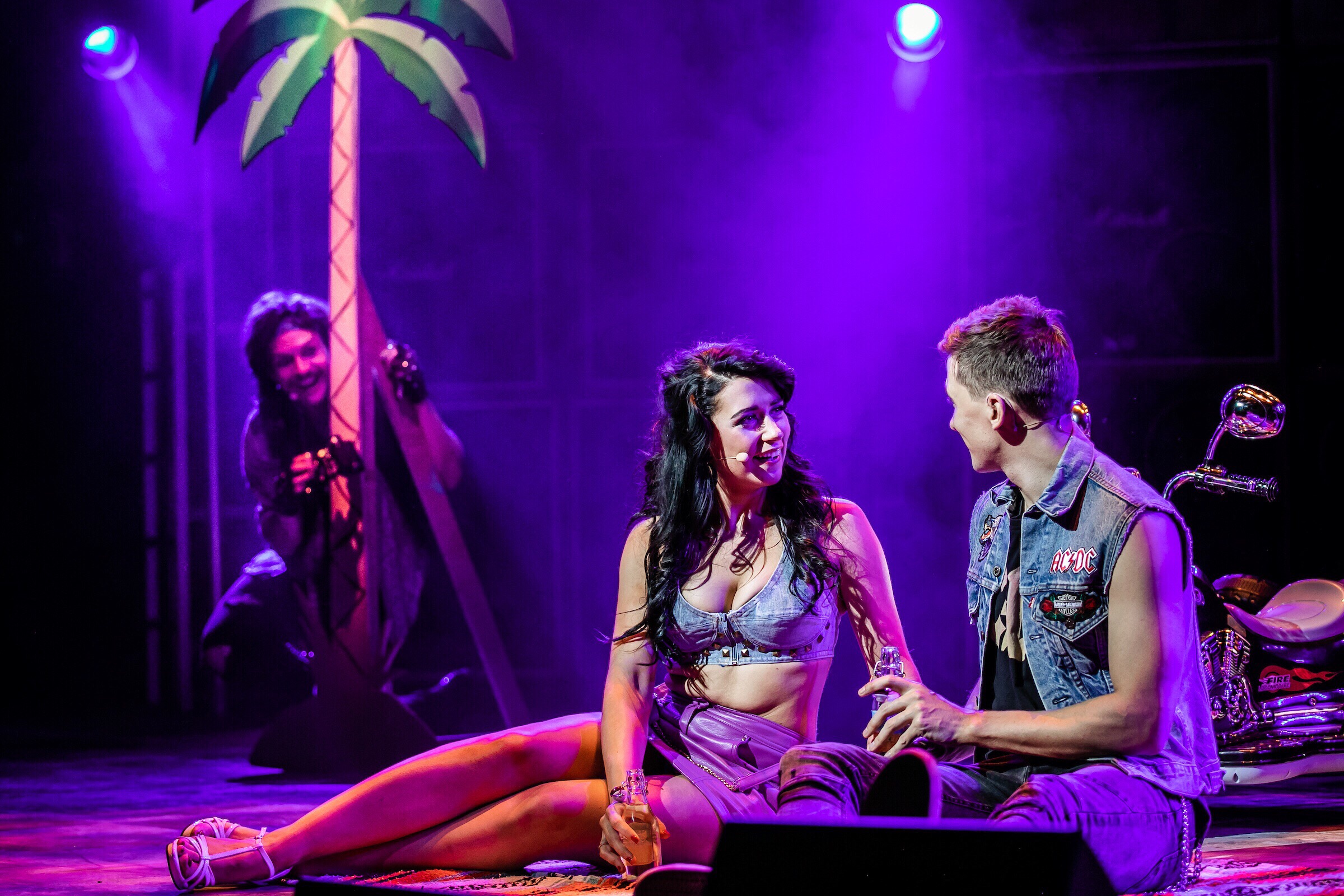 Regina played by Rhiannon Chesterman Voice is beautiful and warming, her character was witty and 'hypie,' her relationship also with Franz played brilliantly by Andrew Carthy was perfect. Pop Idol star Zoe Birkett takes on Justice, a role that is usually played by an older actress, Zoe Brings youth and attitude to the owner of the Venus club, her voice also has a soulful tone which is easy on the ears!
There is no denying that Rock of Ages is a great night out, a chance to let loose and enjoy the show! If you are looking for a serious show, then this isn't the one to go to. If you're looking for entertaining and funny, get out your purse now and purchase tickets from here. Playing until Saturday 24th November at the Orchard Theatre, guaranteed you will be up in your seat dancing by the finale and come away smiling. It will then continue to rock around the UK, for all dates and venue go here.