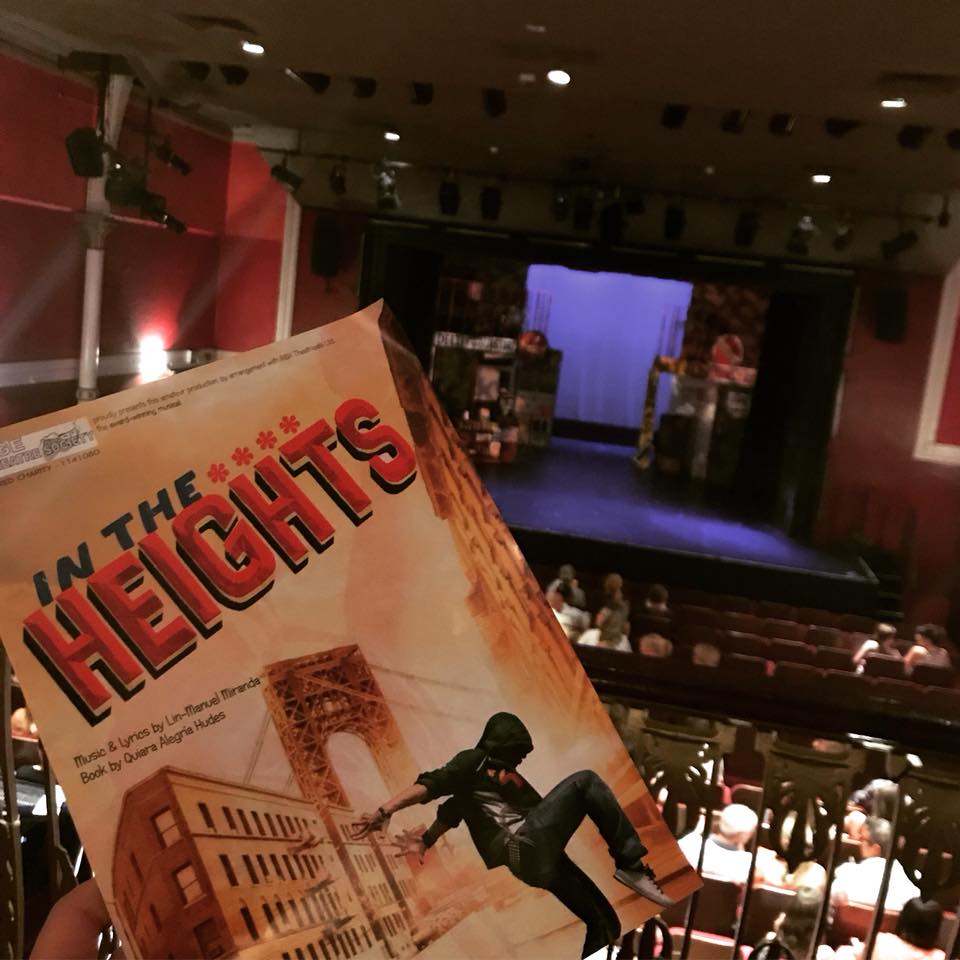 Having missed this production when it was on the West End, it was hard to turn down a chance to see it! Local Youth performance groups Stage Theatre Society were performing their current production In the Heights. 
From the Tony award winner Lin-Manuel Miranda, comes the story of largely Hispanic-American neighbourhood of Washington Heights in New York City. Set over the course of three days we see stories of those living 'In the Heights' and view their daily lives. But in the end they are all connected. It's a fantastic story that draws you in, wanting to learn more about each of the characters, Lin created this production around those he knew from his time in New York City, it was also a first musical to have rap within its soundtrack – a first of many to come!
I had no idea what was in store for me, I have been so lucky to have caught Hamilton another of Lin's amazing work but I couldn't wait to see what this one was about – and see it be done by some talented youth of today! Stage Theatre Society have been rehearsing for a fair few months, I couldn't believe how much they had to learn! Not only sing, rap and dance but for some of the cast members  sing and speak Spanish, they all made it look so easy!
Along with the principles stood a very strong chorus full of dancers and performers. All were excellent on stage, you could see that they were loving performing to the audience! The principle cast were as follows:
Usnavi – Cameron Falconar
Abuela Claudia – Hanan Ameur
Kevin Rosario – Aaron Ramsden
Camilla Rosario – Oliver Prudence
Nina – Millie Brown
Sonny – William Dunn
Vanessa – Alice Abbot
Daniella – Rebecca Henderson
Carla – Emily Crompton
Benny – Matthew George
Yolanda – Brooke Crashin
Piragua Guy – Cruz-Troy Hunter
Graffiti Pete – Henri Alabi
The leading cast were all fantastic within their roles, taking each of their moments with pride when performing on the stage. In particular Cameron Falconar in the role of Usnavi, a role that was performed by the one and only Lin-Manuel Miranda. Well Cameron did him proud, having a stage presence perfectly for the role. Alice and Millie in the roles of Vanessa and Nina had lovely voices that hit every note, Millie in particular displayed every emotion her role would need excellently and she was great to watch!
Its hard to single out so many of the amazing cast, but I just wanted to write up and congratulate them on a fantastic job for the end of year production. I interesting on how they take on Legally Blonde next February! Its great to see such talent in our youth theatre today!