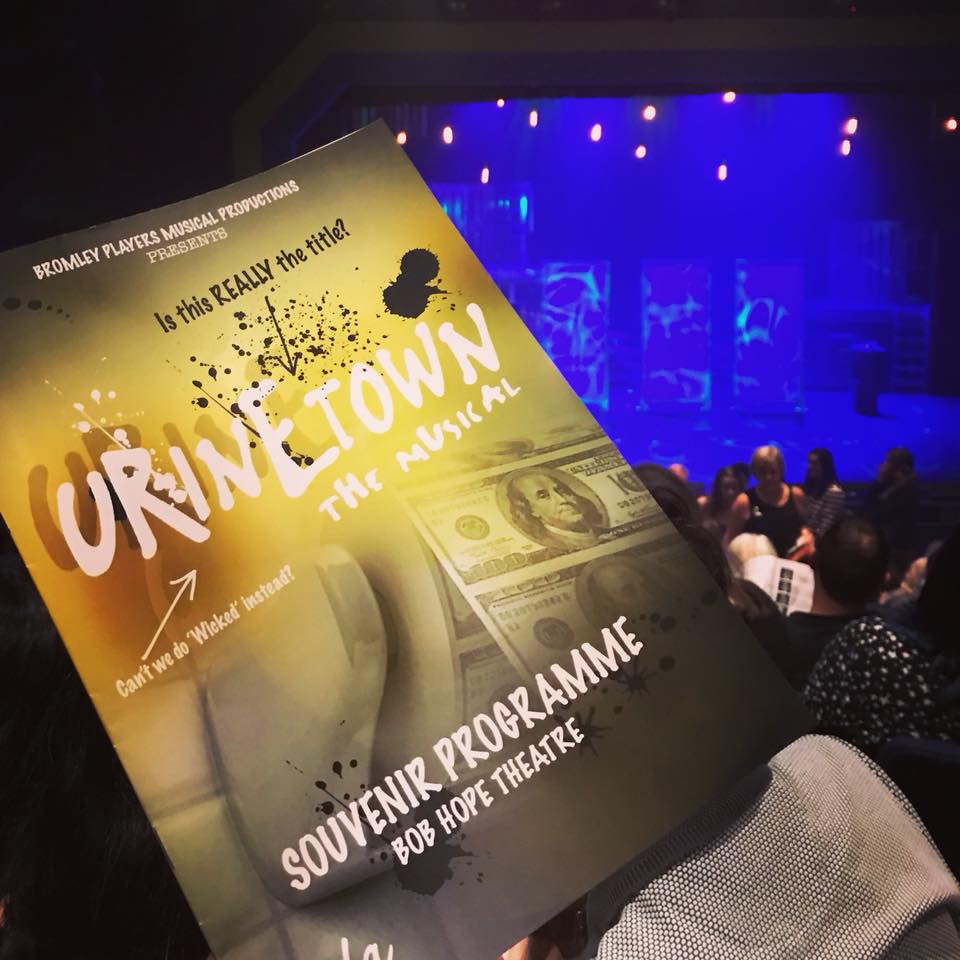 I was delighted to be invited to see one of my local Amateur Dramatics groups Bromley Players current production, although the name may put you off… it shouldn't! Performing the Tony award winning musical Urinetown. 
Urinetown is a comedy musical, is a social and political satire which is set in a fictional future where a terrible 20-year drought has crippled the city's water supplies. Water is so scarce that the government (YourinGoodCare – UUG) enforces a ban on all private toilets in an effort to control water consumption. Forcing the public to pay to pee and if they don't abide its off to the land of 'Urinetown.'  This musical satirizes the legal system, capitalism, social irresponsibility, populism, bureaucracy, corporate mismanagement, and municipal politics. What I also loved is it parodies Musicals  as a form but also parodies fellow musicals with snippets of The Threepenny Opera, The Cradle Will Rock and Les Misérables.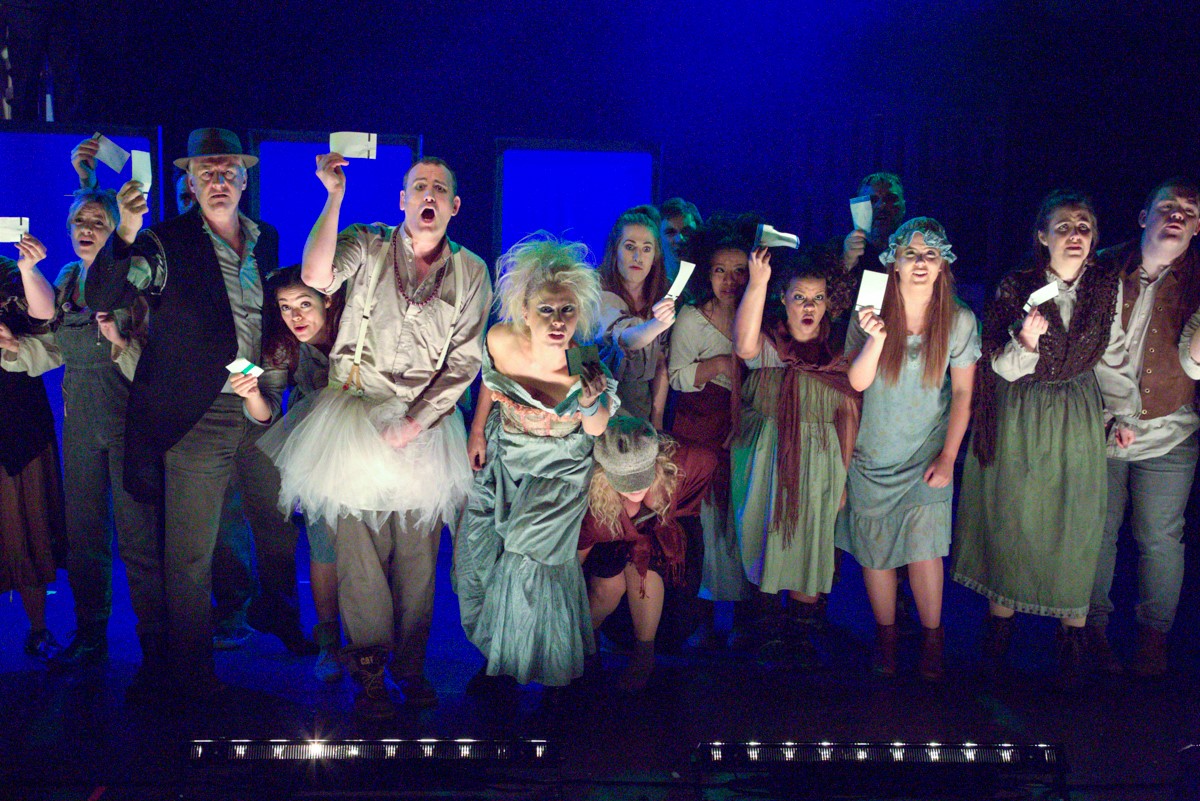 Daniel Lawrence steps off the stage and into the directors chair for this production. Daniel clearly understood the story, making sure each line and joke was delivered excellently by the cast who displayed their talents throughout! Also ensuring that each member of the cast had a moment that made them shine. William Rye returns as the choreographer with each number as great as the next, with the space provided he displayed his dancing talent with each dance. Even the musical director James Hall who couldn't step out of time in the tap number, but also made sure each song showed the talented group to their fullest. Although at times some dialogue and lyrics were missed due to the volume, it didn't take away from the show as a whole. The case were buzzing for their opening night!
Matthew WestRip takes on the narrator role of Officer Lockstock, he was perfect for the role making sure everyone knew what was happening with a bit of shazaz and sprinkles. Along with his tag along Little Sally played by Roxana Kashani, who excels as the sweet little girl with a big personality and quick wit! She was instantly loved by the audience, when with each other had the audience chuckling throughout.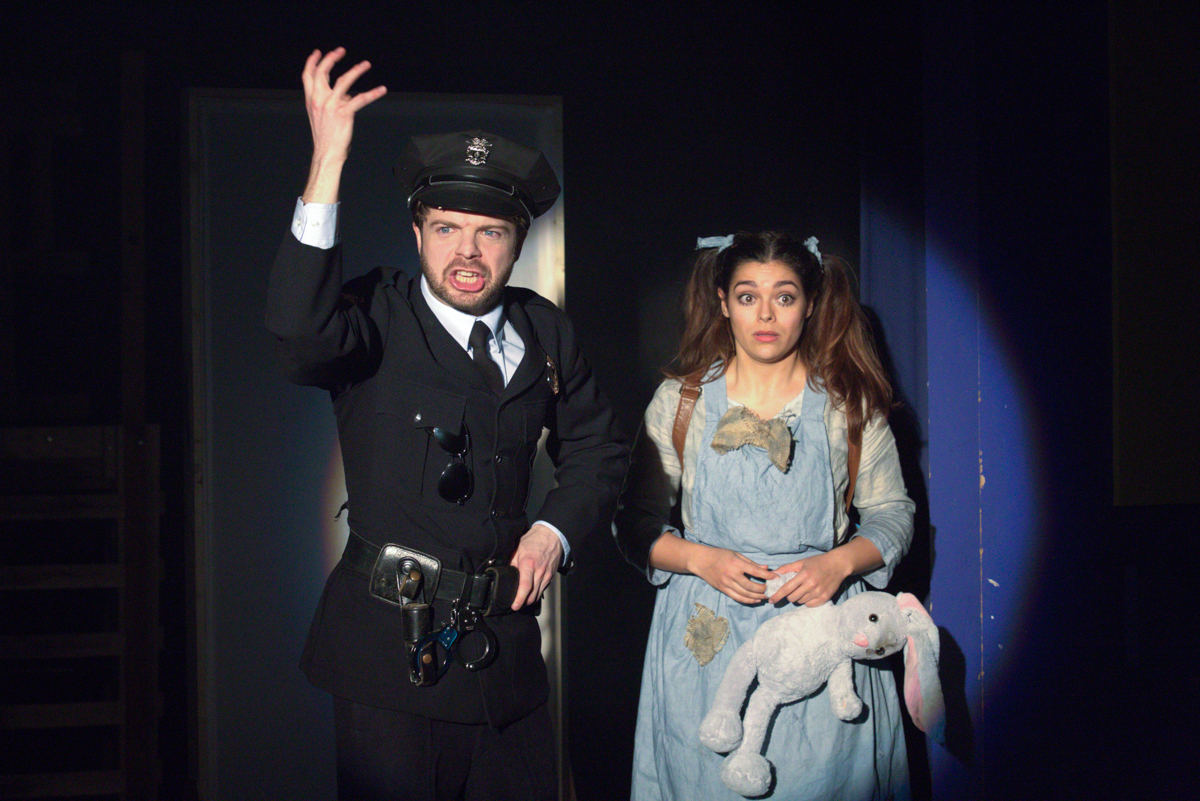 Tom Harvey and Alexandra Wharram performs as Bobby Strong and Hope Cladwell, both of whom have wonderful voices that are clearly displayed through each of their numbers. Their portrayals of each role were well supported by the audience, Tom's rendition of 'Run, Freedom, Run' was a personal highlight and made it look easy. Along with the hero's there are always the 'baddies' tonight it was Mr Cladwell B Cladwell played by Shane King, who displays a very strong voice with a powerful presence on stage. His workers also each had a wicked side, Alida Young as Mrs Millenium and Lisa Daniels as Mrs McQueen, you then had a small contrast of nervous, money driven Senator Fipp played by Adrian Smith – who does not loose site of his briefcase! Adrian had the audience chuckling throughout his scenes.
One thing I loved about this show was that each member of the cast had a role within the story, clearly understanding their characters within the chorus that during each scene they were doing something that represented who they were. It was great to see so many personalites come to life, it really showed how much they were enjoying themselves. Mmentions in particular was Claire Goad as Little Becky Two Shoes, who was mesmerizing to watch, Cory Wordlaw as Hot Blades Harry also shined within Act two.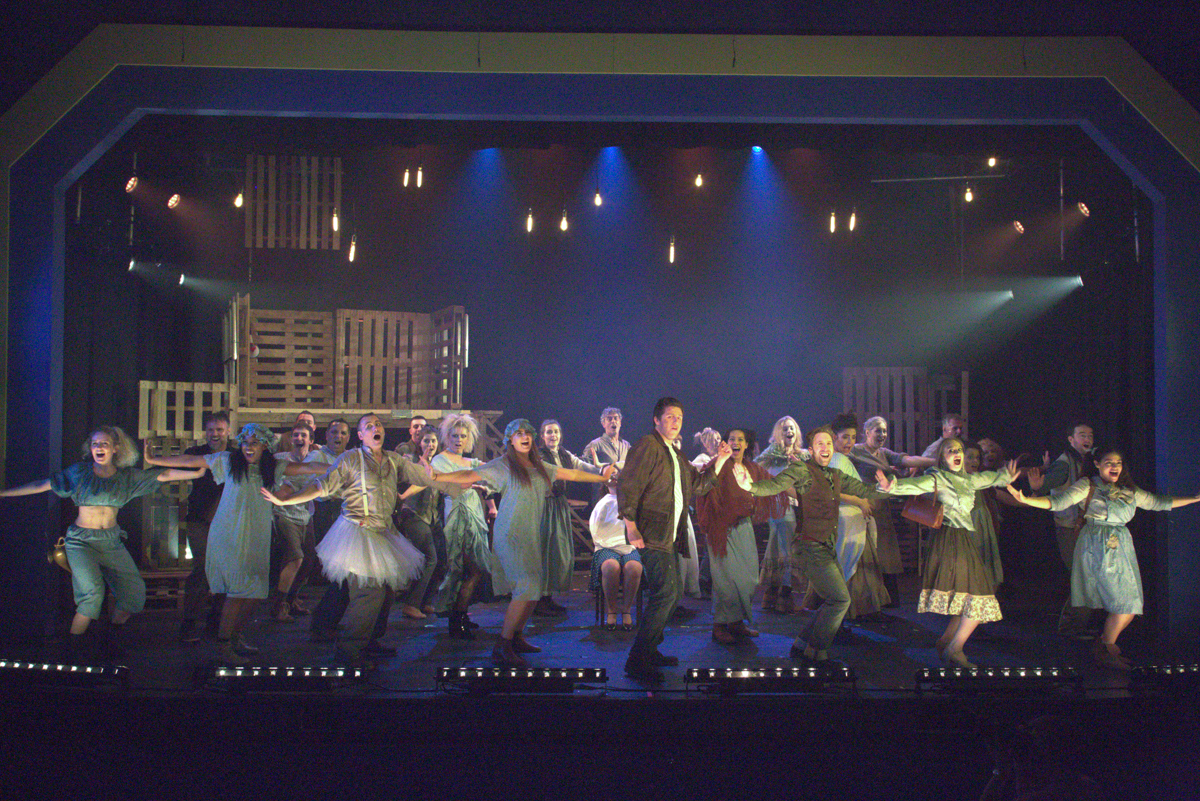 Although at first its a guarantee the title of this Musical is not a selling point, but you have to give it a chance. Because once you've seen it, you can't not enjoy it! With a great music, story, and dances this is a talented group performing what can be a difficult show – but they excel at all expectations. If you don't catch this unique show, you will be disappointed. So give Urinetown a go, isn't the saying 'never judge a book by its cover?'
Urinetown plays at the Bob Hope Theatre, Sidcup until Saturday 21st April. Tickets are available at the box office 0208 8503702. For all information on Bromley Players go to their website here.