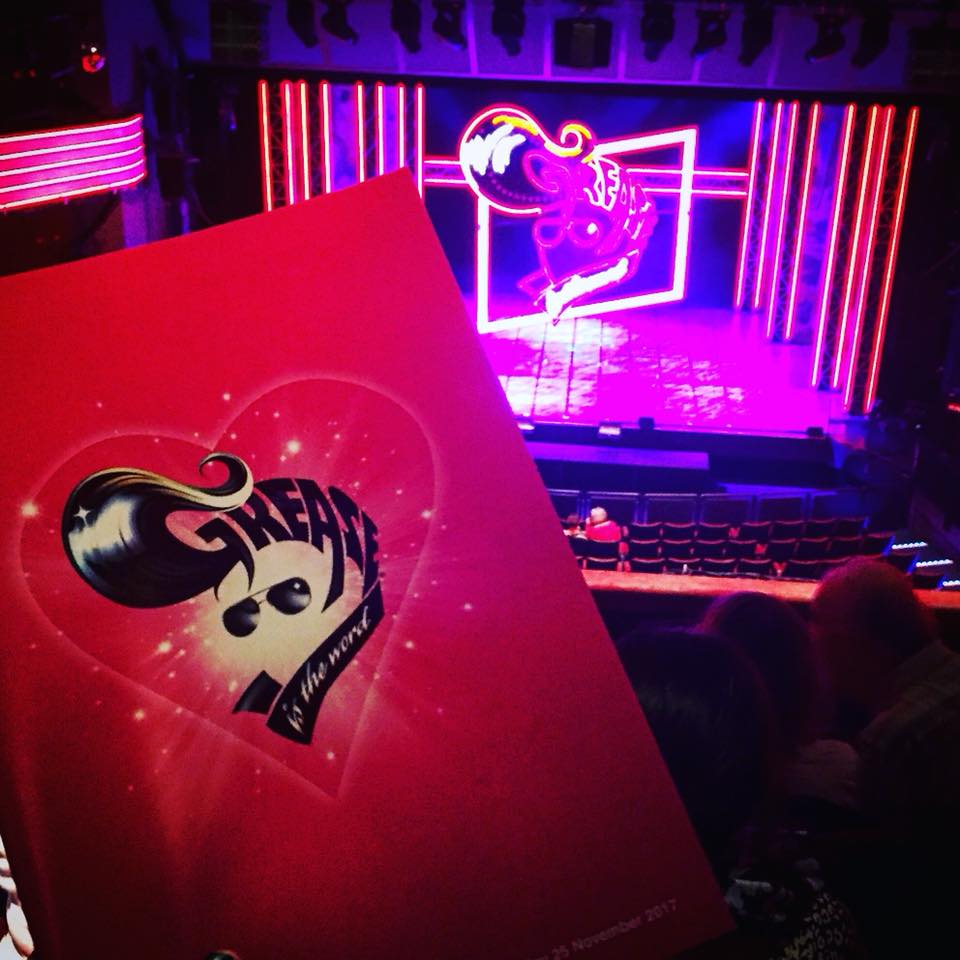 It was back to the Orchard Theatre for tonight's viewing, having heard mixed reviews I was looking forward to seeing it myself!
Tonight I was seated in Row F seat 26, although it was the second row from the back, you wouldn't have thought it, I was central to the stage, with a full view of everything! It really is a great view from every seat at the Orchard! Awaiting the show to start, it was great to see so many children and youth in the audience excited to see the show. It was uplifting and gave a great vibe for the show.
Grease is the 50s musical classic, it tells the tale of Danny Zuko, and Sandy. Having met during the summer holidays and fell in love, they believed at first it was a summer romance. But when Sandy unexpectedly enrols at Rydell High, she sees a side of Danny that she never knew. Will their relationship blossom? With the support of the T Birds, Pink Ladies, and students, only the school year will tell. With the support of the classic musical numbers such as 'You're the One that I Want,' 'We Go Together,' 'Summer Loving' and 'Beauty School Dropout' this hand jiving musical is great for the youth!  
Now many of the public know of Grease mainly from the 1978 film version, starring John Travolta and Olivia Newton-John,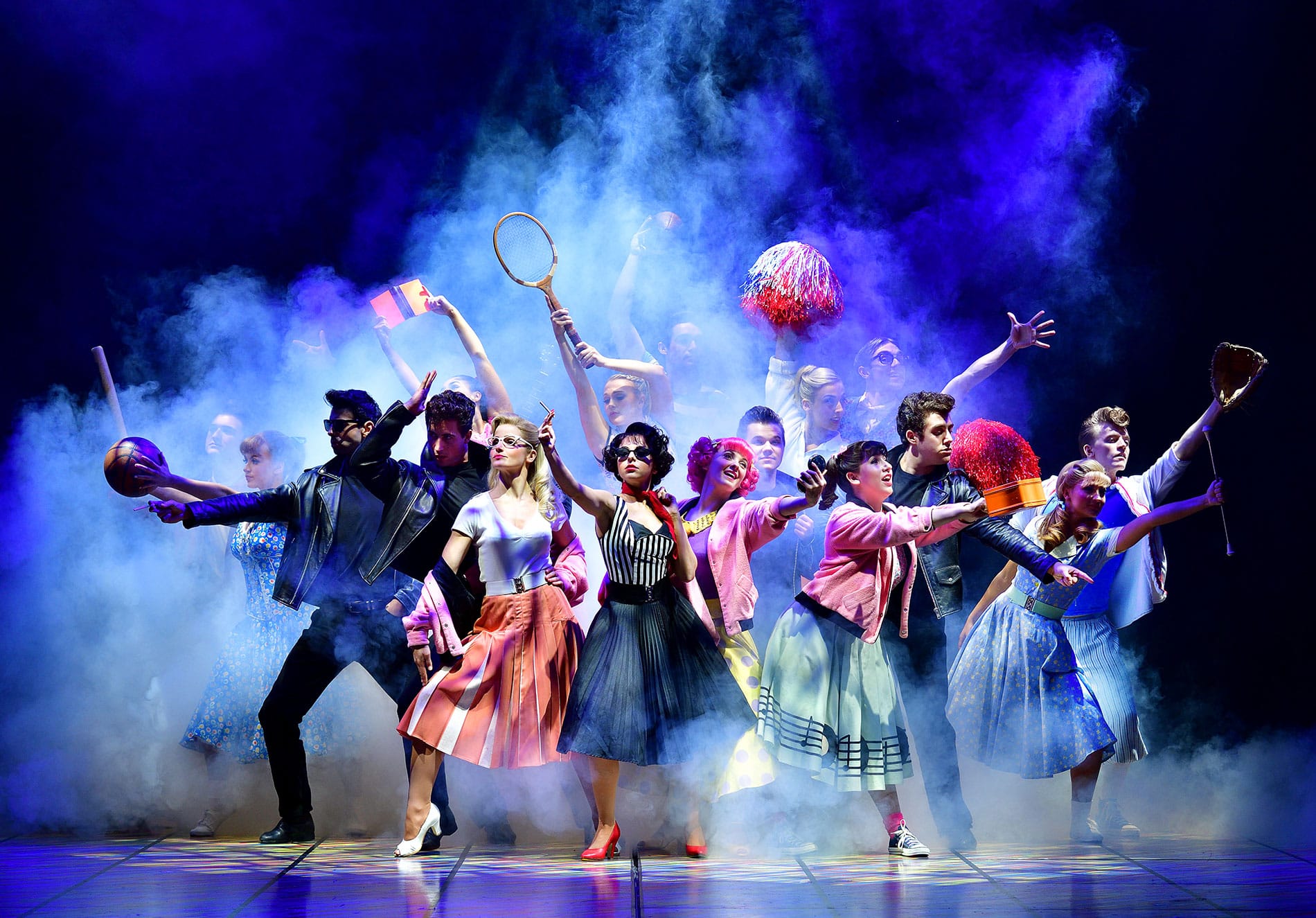 however it was the film that is based on the musical. Therefore, if you go in thinking you will see the film, you are mistaken. In some ways this musical is a whole different take on the story, at times it may confuse you as 'We Go Together' is in the middle of the show rather than the finale, also Sandy doesn't attend the prom. So those who are the die hard fans of the film, go in fresh faced as you may be confused if you don't!
The show is mainly tongue in cheek humour, with moments that got the audience chuckling, however for me it just didn't work and looked at times tacky, unprofessional, and lacked in so many areas. Although the cast were professional and loving every minute -clearly displayed. It didn't give me the wow factor, however I did love the choreography by the well known Arlene Philips. Having learnt the dances in summer school, it was great to see them still being performed, with great 50s moves to display!
The cast tonight was as follows:
Danny – Tom Parker
Sandy – Danielle Hope
Kenickie – Tom Senior
Rizzo – Louisa Lytton
Doody – Ryan Heenan
Roger – Oliver Jacobson
Sonny – Michael Cortez
Frenchy – Rhiannon Chesterman
Jan – Rosanna Harris
Marty – Lauren Atkins
Teen Angel/Vince Fontaine – George Olney
Eugene – Callum Evans
Patty – Gabriella Williams
Miss Lynch – Alisa Davidson
Cha Cha – Natasha Mould
Students – Anthony Hughes, George Olney, Rory Phelan, Anna Murray, Alessia McDermott, Charlotte Coggin, Grant Thresh, Ross Lee Fowkes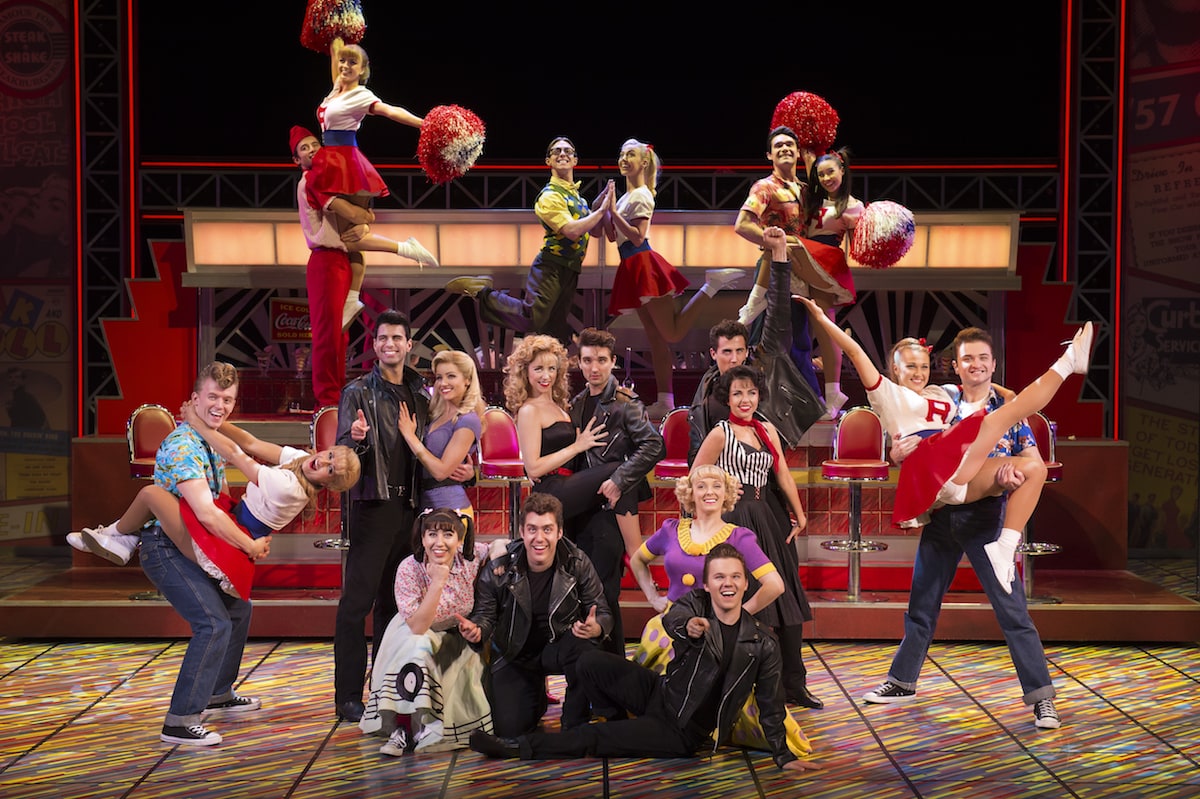 There were many recognisable names within the cast tonight, Danielle Hope who is known for winning BBC's Over the Rainbow takes on innocent Sandra Dee tonight. There is no doubt she has an excellent voice with so much range, every note come at ease it seems. Her take on Sandy was good, clearly displaying her growth and change throughout the show. The other two well known names of the night was Danny Zuko played by Wanted star Tom Parker, and Rizzo, EastEnders actress and Strictly contestant Louisa Lytton. They are both new to Musicals, they take on two leads in this production. Louisa had the sass for Rizzo but didn't have the voice unfortunately, when acting it came natural to her, dancing also, but when it came to singing it came forced. She does have the potential to sing, but when she did sing it seemed as if she was focusing on the notes rather than the performance. This was clearly displayed during her number 'There are Worse Things I Could Do' where she stood dead still singing, then acting through the song feeling the emotions that Rizzo is clearly displaying in the lyrics, it just felt wooden. This is similar to Tom Parker, although part of a top singing boy band, he struggled with his singing again wooden within his acting during the numbers, clearly focusing on the notes – which at times were flat. Although he had the sweetness of Danny, to me he wasn't Danny Zuko, struggling with the character and confidence that Danny should have. It was disappointing to see, when so many trained performers could have taken on the role.
The T Birds, and the Pink Ladies, took on their roles and made them their own. Roger and Jan played Oliver Jacobson, and Rosanna Harris had excellent chemistry I particularly loved their number 'Mooning' was a personal highlight. Doody also played by Ryan Heenan number 'Those Magic Changes' was great to watch, showing off his voice, and musical talent – joined with some shower boys in small white towels!
This show brings entertainment, I feel as though it is a great 1st Musical for the youth today, with a simple storyline, classic musical numbers, joined by great dance numbers too. Unfortunately it wasn't for me, but for many in the audience they seemed to have loved it. A great one to bring the kids for a great night out, or cheeky matinee.
Grease performs at the Orchard Theatre, until 25th November for all ticket information go here.