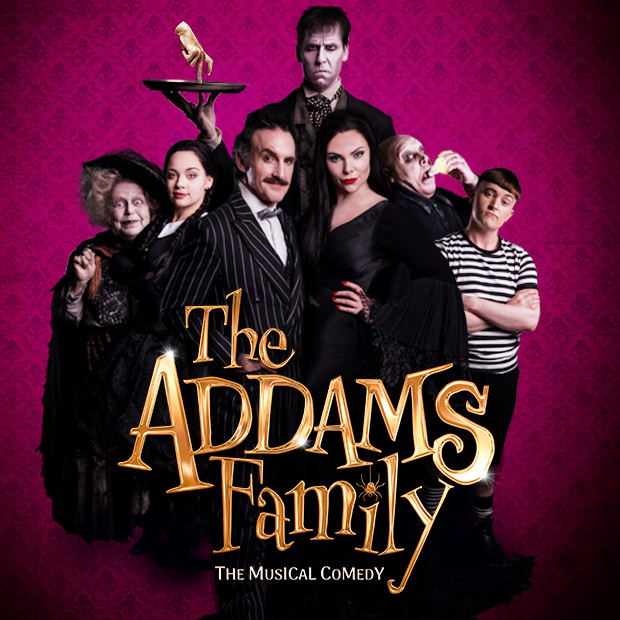 Thanks to the Orchard Theatre, I was ecstatic to have been given the chance to interview West End star Carrie Hope Fletcher! Especially on Friday the 13th, which is very fitting with the current show Carrie is starring in!
Hi Carrie, Thank you very much for talking with me today, it is lovely to speak to you especially on Friday the 13th which I am sure is Wednesday's favourite holiday!
Its the day she was born actually!
What a coincidence, something I have learnt new today! So again thank you very much for speaking with me today. I know you are currently playing Wednesday Addams in the Addams Family Musical tour which is sadly coming to a close at the end of this month at the Orchard Theatre, in Dartford actually on Halloween, which is really exciting. Could you tell us about the show?
The show sort of revolves around a decision that Wednesday's made. She is now all grown up, she is 18 years old and dating a normal boy from a normal family! This whole show is about the normal boys family called the Beineke's coming over to the Addams family mansion, its all about the families meeting for the first time on this one night and Wednesday desperately just wants it all to go well and she wants her kooky family to behave! And this show is all about how it goes horribly wrong!
So it is set in the future, and for those who probably think 'we are just going to see the film' it is actually nothing to do with the films?
No, no its a completely different story, that no one has seen before. We are seeing the family a good few years on from how we see them in the film.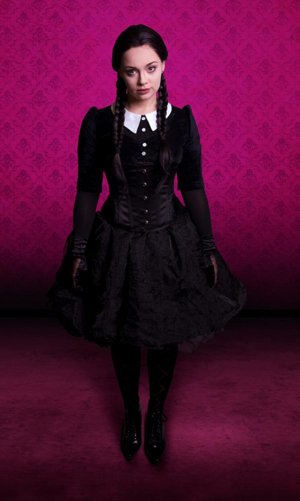 Exciting! So with regards to playing Wednesday, how similar are you to her?
She is crazy, I definitely don't own a crossbow and definitely don't torture my brother (Tom Fletcher from Mcfly) as much as Wednesday tortures Pugsley. But everyone knows what it is like to be completely consumed with love and completely infatuated with a boy when you were in your teens. The thing about Wednesday is usually her whole world is very dead panned, very dark, very serious, and all of a sudden she is dreaming of puppies with droopy faces and she wants to go to Disney world and all these things all, these happy wonderful things suddenly are very appealing to her. Which is very odd to her and completely utterly new, so I definitely relate to Wednesday in the sense of her being completely infatuated with a boy, but I'm a big Disney fan you know so that's where we differ!
But who doesn't love Disney? So within the show, you work alongside quite a few actors you've worked with in the past such as Cameron Blakely who you worked with in Les Mis, and within the tour you can see you get quite a bond with your group. Which we do get to see currently in your 'Watch Me Wednesday's'  videos on YouTube. They have definitely got me really excited about seeing the show and I can see you have so much fun, you do go on and tour lots of different venues when in the past you have been on West End. So what do you enjoy about touring?
I love seeing and travelling parts of the country that I have never seen before and probably not got the chance to see had I not been on tour, that's always really lovely. There is also a certain bond with a cast, that you get with tour that you don't necessary get in town because, when you are in a west end show everyone just goes home to their own homes at the end of the day. Whereas when your on tour you all stay together, like currently right now I am staying with Scott Paige who is understudy Fester and currently on as Fester. So I am staying with Fester, Lurch and Lucas from the show. So yea you all go home together, you cook together, and we all play board games together when we come home from the show. I know it sounds cliché but there is a more family vibe on tour than in town, when your in a west end show, because you are constantly in each others pockets! You wake up together, you work together, you go back home together.
And by the end of it you will miss them dearly!
Oh apsolutley! I don't know what I will do without everyone.
So with regards to the show, do you have a favourite part, or favourite song?
I loved 'Pulled', 'Pulled' is my big solo song but, it does put the fear in me every single night because it is just very, very wordy and its just me on my own and if screw up I have no one to blame it on, its just me! I do love it, but I think my favourite part is 'Crazier Than You' which is the duet between Wednesday and her boyfriend Lucas, its just such a great message. Its where Wednesday comes round to the idea that she doesn't need to act normal in order for people to like her, she is happy just being her crazy self and she sings this amazing line which is 'I'm crazier than you, so get on board or simply move along,' and I think more young girls need to take note of that. That's the great thing about this show is it comes with so many different very deep messages. its the Addams family that we all love, its the kooky, crazy family but there is so many amazing messages that if people are really listening they'll be able to pick up on. I think that one, Wednesday's main message is that it's ok to be who you are, and its ok to be confident with that. If someone doesn't like it then they can just move along and you don't need that person in your life dragging you down.
I really like that! Having watched your video's 'Crazier Than You' has been in my head for the past 2 days!
Its a very catchy song, I have it going round my head on a constant loop.
I can't wait to finally see it live, cause I've made a purpose not to know anything about the show or listen to any of the songs so I can go in fresh faced. But I do know that you have a lot of ancestors on stage with you who are on stage with you. So rather than asking out of all the characters you would like to play, out of all the ancestors which one do you think, you would most likely want to be?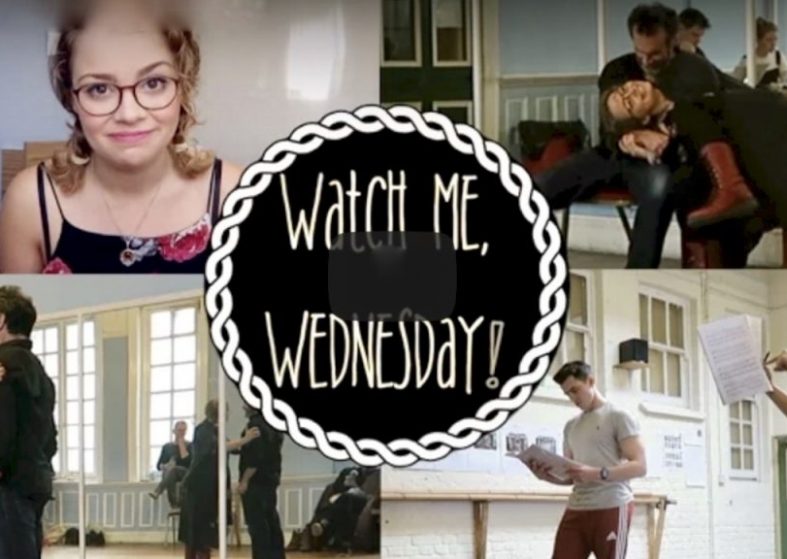 Well there is actually a quiz, on the Addams family website where you can find out Which Ancestor You Are, and I got prudence Addams who is played by Kathryn Barnes, one of our lovely swings. I agree with that, she is a English ancestor from a Victorian era and in London and she is a madam. Her costume is unbelievable, its such an amazing costume and I think if I was to pick any of the costumes it would be hers that I would have been drawn to. She has this massive crazy curly wig with a tiny top hat, its very, very cool. There is also a girl in the cast called Perola who plays a warrior princess and she looks like Wonder Woman in her costume, she looks amazing. I think those two are the ones I love the most.
I am looking forward to see them all, having seen a glance of the men ancestors in your 'Watch Me Wednesday' videos – which I'm sorry I keep mentioning  them, but they do give a great insight on what touring life is like for you.
I am glad you are enjoying them.
They are great, and I am a big YouTube fan anyway. I love the vloggin' getting to know people, and I love the theatre so knowing about the backstage and how much fun you have is great.
Yes it is really nice to have those two worlds combined and putting theatre into YouTube, I really enjoy that.
Do you find it difficult, balancing both the videos and the performing?
It is difficult especially when you throw writing in to the mix, it is kind of difficult to balance all three. But I think I managed just about.
But it is nice to be busy and seeing you achieve this, it makes me want to go ahead and achieve more also!
So Addams Family is coming to the Orchard Theatre, Dartford on Halloween. So I wanted to ask are you a big Halloween fan, and in the past what have you dressed up as and what has been your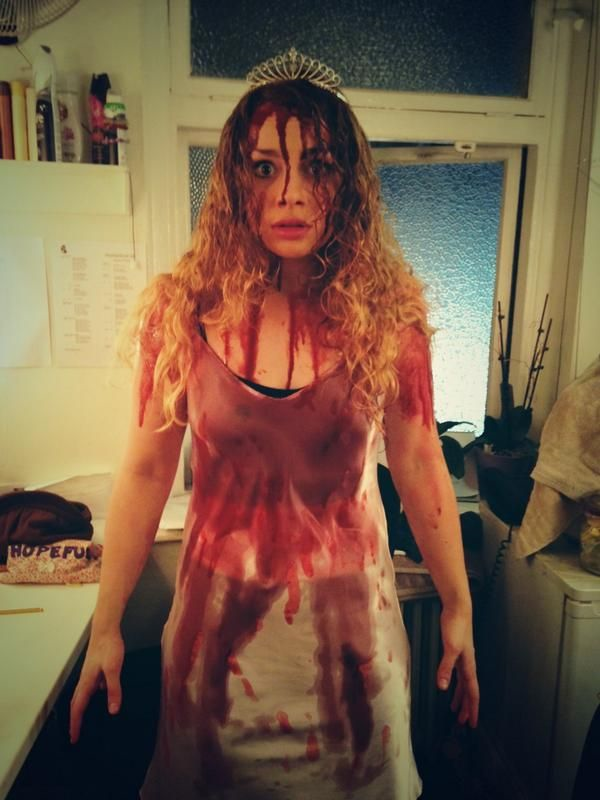 favourite costume?
I love Halloween so much, it helps that it is my birthday month. My birthday is October 22nd so when I was a kid, my birthday parties used to be Halloween themed. So they have always come hand in hand for me and I get just as excited about Halloween as I did about my birthday as they used to be combined when I was a child. I love Halloween, so much and when I was a child I used to love the Addams Family, and Tim Burton movies, I think I've got a sort of a very dark gothic streak within my soul somewhere I love it all, I really enjoy it. See I missed a trick for so many years, until I was in Les Mis and we all went out for Halloween, and I thought 'oh my god I am going to dress up as Stephen king's Carrie, how have I never done this before? 'and so I pinched the bottle of Eponine's fake blood, dressed myself up in a white nightie dress and put a tiara on like a homecoming queen and then poured the bottle of blood all over me.
So you have mentioned Eponine, and you have recently toured with Chitty Chitty Bang Bang where you played Truly, now out of all the character you have played do you have a favourite?
Oh its like choosing my favourite child! its so difficult, I think Eponine will hold a very special place in my heart because I had wanted to play her for nearly half my life. It was 12 years since having played her as a child to then playing her as an adult which, is a long time to want desperately to play a role. So when I finally got to play her it was like my wildest dreams coming true! So I think she will always by default have the top spot, just because I wanted to play her for so long.
But Wednesday… Wednesday is so much fun she's absolutely barking mad! She is unlike anything I've ever played before and maybe unlike anything I will ever play, but she is so out there and so crazy! How many other characters are there that I can play that wields a crossbow and shoots at boys? So Wednesdays' definitely up there, and her costumes are incredible, the show is just an amazing thing to be apart of. You know I've never seen a cast so in love with a show. You usually get, sort of 6 months into tour and everyone's like ok right when's it ending, we've done this 200 times, you start sort of not getting bored of it, but just the routine you know it backwards, and you start itching for something slightly new. But no one feels like this about this show and there is something new every single night,  it is such a funny show that we a constantly entertained. Cameron Blakely who plays Gomez is always doing something new and unexpected, its just such a wonderful production to be part of so I think Wednesday will always be at the top of the list somewhere.
Is there any future plans, or roles that you have your eye on or would love to play.
Well I have always wanted to be a Disney princess, and Frozen is heading to Broadway, and I am praying it heads to the West End just so I can see it more than anything! I have heard so many different things, and the things that have been put online it looks ridiculous, I am desperate just to see it. But I would love to be a Disney princess one day.
You also have Belle in Beauty and the Beast?
Yes! I remember seeing that as a kid at the Dominion Theatre, I'd love to play Belle. But Elphaba has been a huge one for me, ever since my brother when to New York, and he brought back for me a pair of Pink Converses and a soundtrack of Wicked and the sheet music. Ever since then I've been completely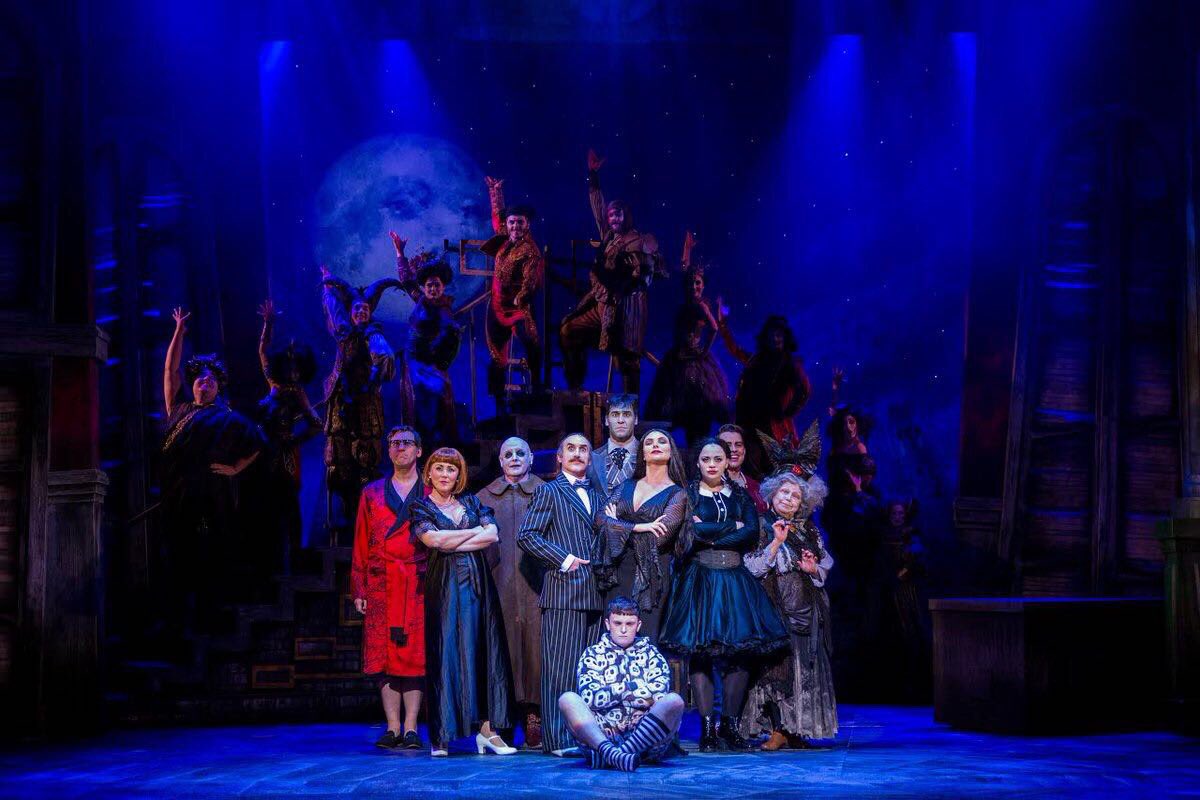 obsessed with it and I forced my school to do a concert just so I could play Elphaba, I just love that show so much, I've always wanted to play Elphaba.
Maybe one day, you just never know! So once again it is going to be Halloween –  it's Addams Family's first performance at the Orchard Theatre in Dartford. So why do you think the public should come and see he Addams Family?
Everyone loves the Addams Family, everyone knows who the Addams family are. They are a sort of cult favourite but, this is the Addams family as you've never seen them before. They are still the same family that we all know and love, they are still Kooky and still crazy. We've still got the theme tune and you an click along to it if you want. But it is a new story, with incredible music, the costumes and the set are unlike anything you'll ever see in a show, because this show is so out there and we have the artistic license to really be crazy! Its fun, and its funny and its moving, there are parts of the show that are really tear jerking. There are so many characters that you can find and relate to. There is just something for everybody. You are going to enjoy it, there is nothing about this show that you wont enjoyT
I really can't wait, and I shall be there on Opening night on Halloween and i am torn about do i go ahead and I dress up for Halloween.
Do it!
We shall see! But Carrie, thank you so much for talking the time out again to talk to me today.
Its been a pleasure.
I look forward to finally seeing you in the Addams Family at the Orchard Theatre, Dartford playing from the 31st October – 4th November!
Thank you!
For all ticket information for the Orchard Theatre, go here.