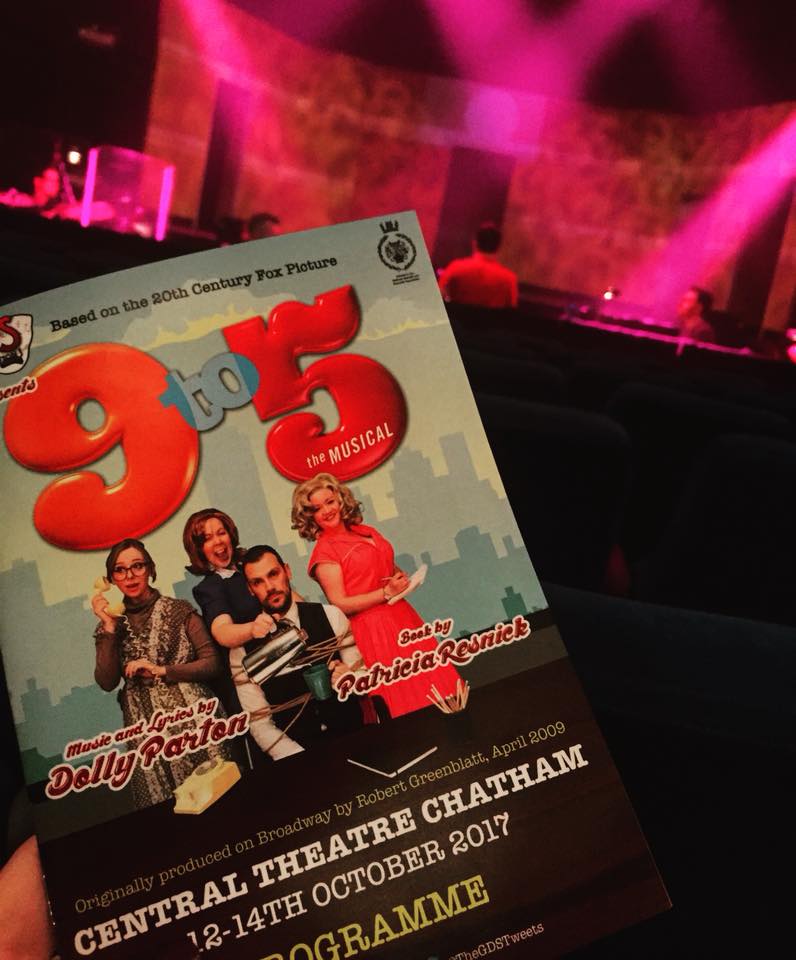 I was very delighted to be invited to attend and support local amateur dramatic group before their opening night! Gillingham Dramatic Society (GDS) were about to start their run of 9 to 5 the Musical!
I took my seat in the theatre, my first time at Central Theatre in the heart of Chatham, I was lucky to have chosen mine so placed myself centre of in the middle of the stalls with a great view. It's a lovely theatre, with a circle level wrapped around the auditorium, I feel similar to the Orchard any seat will be a fine view.
9 to 5 the Musical is based on the 1980 movie of the same name, with music and lyrics by the famous country singer Dolly Parton. Set in the late 1970s, it tells a hilarious story of friendship and revenge in the Rolodex era being outrageous, thought-provoking and even a little romantic. Pushed to the boiling point, three female co-workers  and unexpected friends concoct a plan to get even with the sexist, egotistical, lying, hypocritical bigot – their boss. They dream of giving their boss the boot! While he remains "otherwise engaged," the women give their workplace a dream makeover, taking control of the company that had always kept them down.
It would be my first time seeing the show, knowing little about it before curtain up. At first I thought this was going to be a jukebox musical of Dolly Parton's classics, but loved the fact I was wrong! With all new music, and lyrics – that were written by Dolly except one classic number '9 to 5'.  The story is a feel good, revenge comedy musical that displays a strong theme of girl power and rights! It will leave the audience cheering on the cast to fight for what is right, hoping they can and will succeed.
Director, Rachel Ann Crane-Herbert, and Choreographer Amy Allen have a brilliant cast under them, with talents far and wide. Along with Musical Director Owen McColgan tuning the voices and maintaining the band. With limited set and with smooth transitions of scenes, you never loose site of the story. At times however the band would be a little over bearing than that of the microphones however this slowly improved throughout the performance.
The cast is very female driven, with some good male parts supporting. The full ensemble took to the stage, clearly displaying their own characters and professionalism throughout. You could tell they were enjoying being part of the show.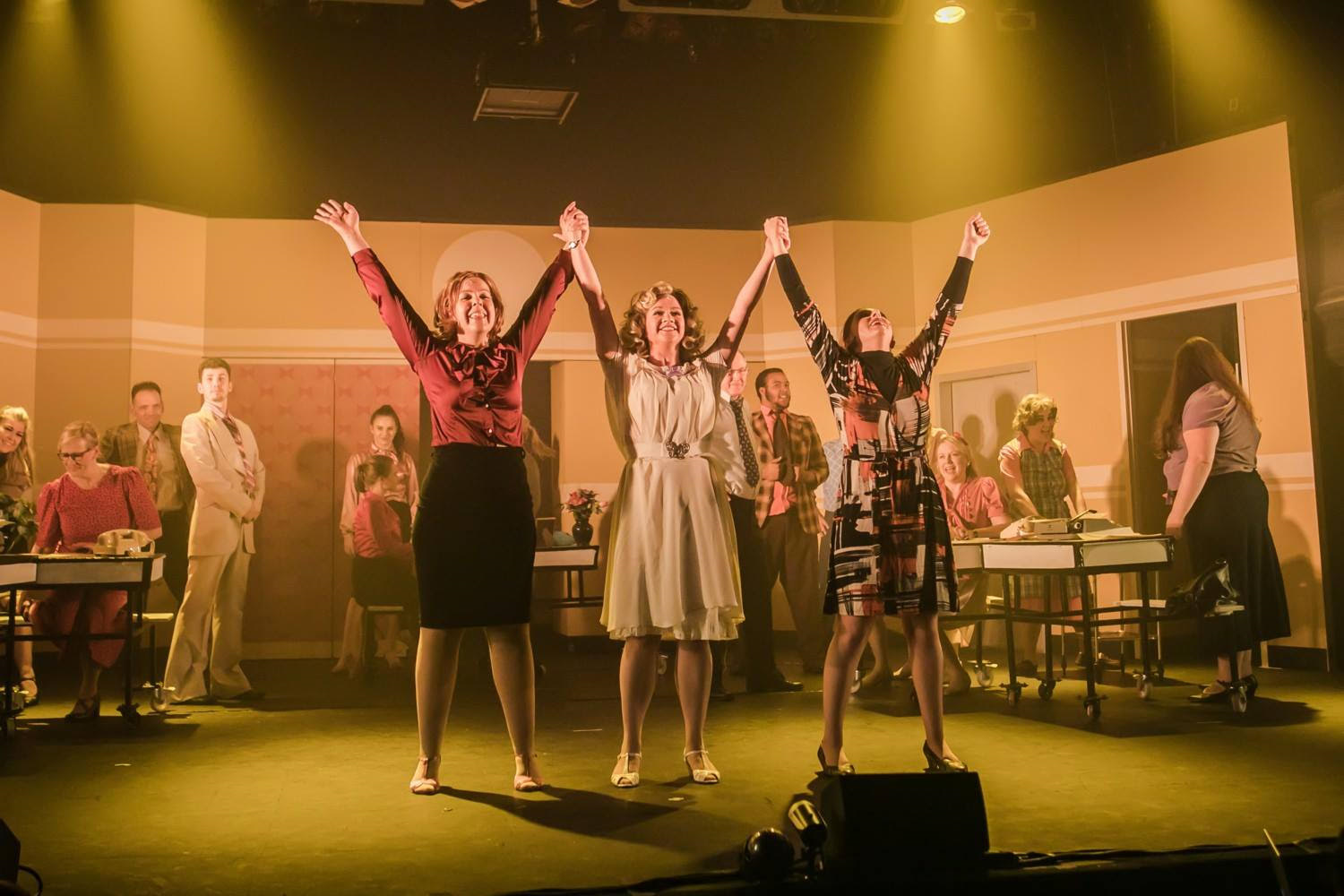 The three leading ladies were a delight to watch, newcomer to GDS Claire Scholes played Judy Bernly, the sweet, quiet, unconfident, recently divorced newcomer to the 9 to 5 working life but with her voice was strong and powerful. She was great in the role with great comic timing, leading you to watch her finally grow into the strong independent women she was born to be! Her number 'Get Out & Stay Out' blew me away, owning the stage throughout. Filling in some big cups was Laura Dee in the role of Doralee Rhodes, the role in which Dolly Parton herself played in the film, and Broadway star Megan Hilty in the original Broadways cast. She achieved, her character was top notch country girl with the voice to suit – especially in 'Backwoods Barbie'. You could clearly see how influenced she was by Dolly, that makes the audience love her for the strong confident woman she is. The last of the trio was Violet Newstead played by Jeni Boyns, her first leading part which along with her co stars she took on strong, her character was great in the role, giving good comedy moments and timing which will get the audience chuckling and behind her. Her passion was clearly displayed throughout, fighting for what she believe in and the audience egging her on to do so. Her voice also held strong throughout her many numbers. Her Duet with Joe played by Lewis Matthews 'Let Love Grow' was another personal favourite complementing each other, with Joe's love for Violet clearly displayed through his little meetings and determination of asking her out finally succeeding.
Taking on the role of the sexist, egotistical, lying, hypocritical bigot or Franklin Hart Jr was Glenn Atkinson. Glenn looked the part, having a nice warming tone to his voice during his number 'Here for You'. However at times I felt he lacked a little in character, feeling that he needs to be a little more confident in taking on the role of the 'baddy' and be a little more sleazy within the role. During the Ladies Fantasy scenes especially, I would have liked him displaying more fight in him, as at times it felt a bit underwhelming. That being said his relationships with the ladies were greatly displayed about how he felt about each one, especially with Roz Keith played by Liz McSherry. Another newcomer to the group she brought great character to the role, and has a belt on her like no other.
I always hate it when professional shows get deemed sometimes as 'amateurish' because this amateur production had by far great professionalism throughout that could be up their with some recent professional shows. It will leave the audience clapping in their seats, and feeling good leaving. Guaranteed smile to your face, a great evening out for the whole family. I can't wait to see what next GDS Productions have next in store, as I won't think twice about seeing it.
9 to 5 the Musical plays at the Central Theatre, Chatham from the 12th October until the 14th October for all ticket information go here.