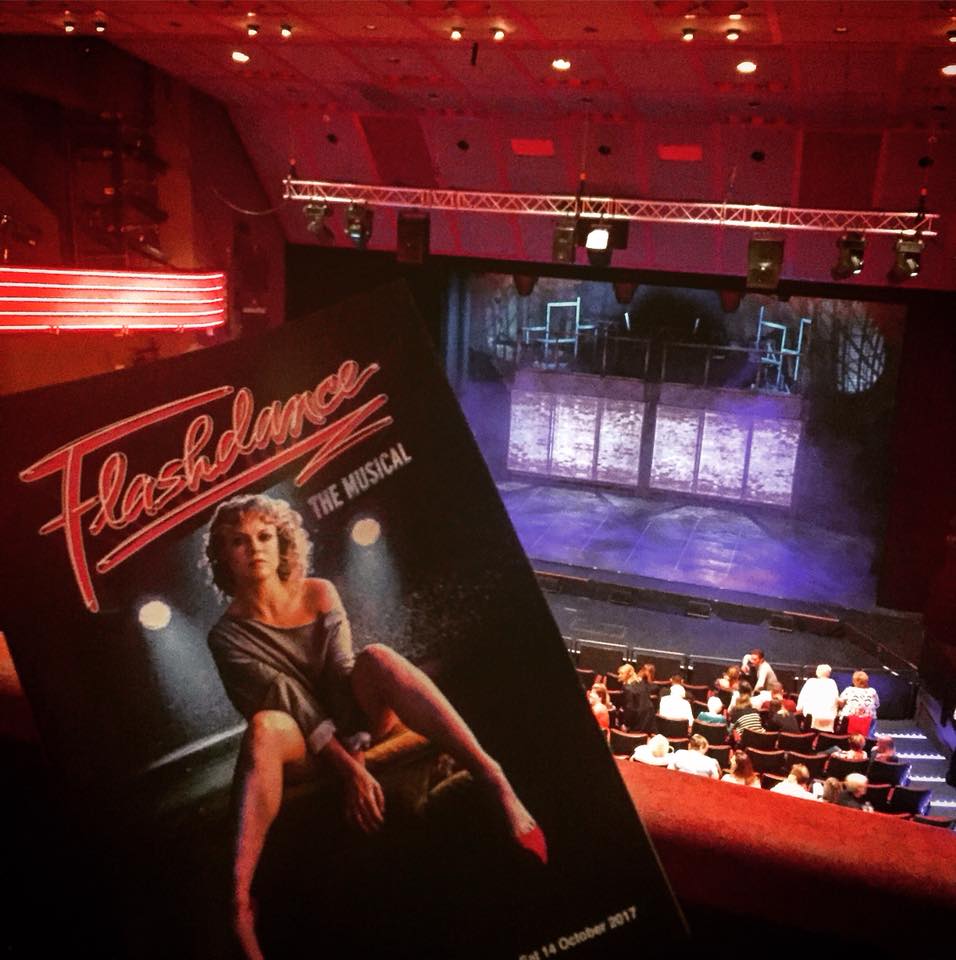 It was back to the Orchard for tonight's viewing, after interviewing the star 2 weeks prior I couldn't wait to see this show live!
We took our seats in the upper circle today in row B seats 7 and 8. I always say this about the Orchard, but one of the best thing about the seating is anywhere you seat, your guaranteed a great view. Faces visible. and the whole stage could be seen from this seat. The only thing I would mention is those that are seating in Row A have the tendency to want to lean on the edge of the Circle barrier, causing your view to be disrupted with the top of their heads. But a little kind comment, they should be happy to lean back!
Flashdance the Musical is an all dancing, singing show, based on the classic 1983 film of the same name. It tells the tale of Alex, an 18 year old welder by day and 'flashdancer' by night, who dreams of going to the prestigious Shipley Dance Academy and becoming a professional dancer. When a romance complicates her ambitions, she is given the drive to chase her dream!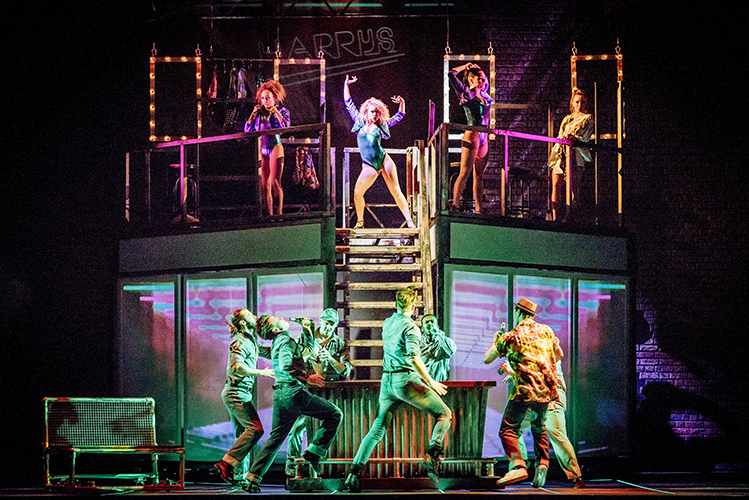 I hadn't had the chance to catch the film, I know shock horror with it being such a classic, having had a briefing from Joanne during the interview I was looking forward to once again seeing something new! The one thing about this show is it has to have dancing, and boy does choreographer Matt Cole deliver! I was mesmerised by each step and move shown by the cast. Combining all aspects of styles, from punk rock, and street to contemporary and Ballet, I am always jealous of those who make it look so easy as it is something that I am not particularly good at. Being the opening night, it was clear the sound crew were having difficulties balancing the sound between the band and the microphones, for at times you wouldn't be able to hear what those who were singing were saying, even at time there was clear feedback from the mics coming from the speakers. This was a little disappointing, but was quickly settled with the second act being a lot clearer. It was great to see the classics brought to life with songs such as 'What a Feelin" 'I love Rock and Roll' 'Gloria' and 'Maniac' got the audience clapping and dancing in their seats. However the songs that were written for the production at times lacked the same oomph that the classics gave, sounding similar to one another, that being said I did enjoy the duet 'Here and Now' and 'A Million to One.'
It was full cast for tonight was in full swing and spins!
Alex Owens – Joanne Clifton
Nick Hurley – Ben Adams
Gloria – Hollie-Ann Lowe
Kiki – Sia Sauda
Tess – Demmileigh Foster
Jimmy – Colin Kiyani
Hannah – Carol Ball
Harry – Rikki Chamberlain
CC – Matt Concannon
Louise – Sasha Latoya
Andy – Rhodri Watkins
Joe – Alex Christian
Swing – Simeon Beckett, Emily Kenwright, Verity Jones,RossMeagrow, Garry Lee Netley, Amelia Rose Fielding.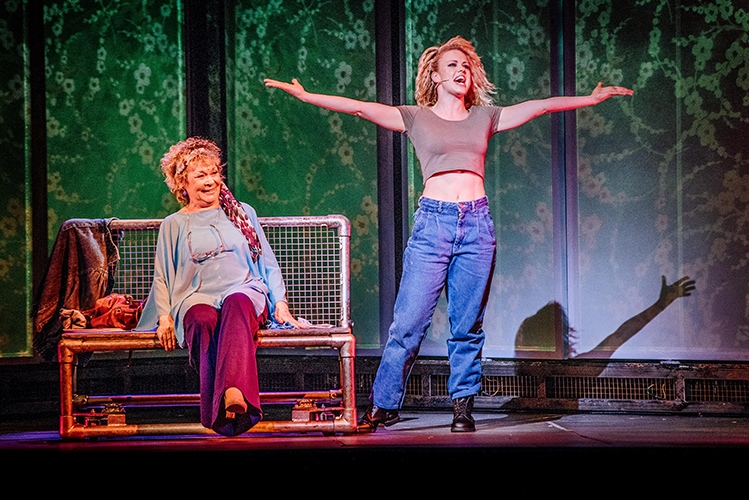 Top two known names tonight were that of BBC Strictly Come Dancing winner Joanne Clifton, and Boy Band A1's Ben Adams. Playing the roles of Alex, and Nick it would be the second time I have seen Joanne, having previously seen her as Millie in Thoroughly Modern Millie, the role of Alex was a complete opposite and I completely agreed with what Joanne had said in regards to her character, she was a tom boy but sexy, her voice had a great 80s tone complete opposite to ditzy 1920s Millie. It proved just how much Joanne can adapt to any role she is given and make it look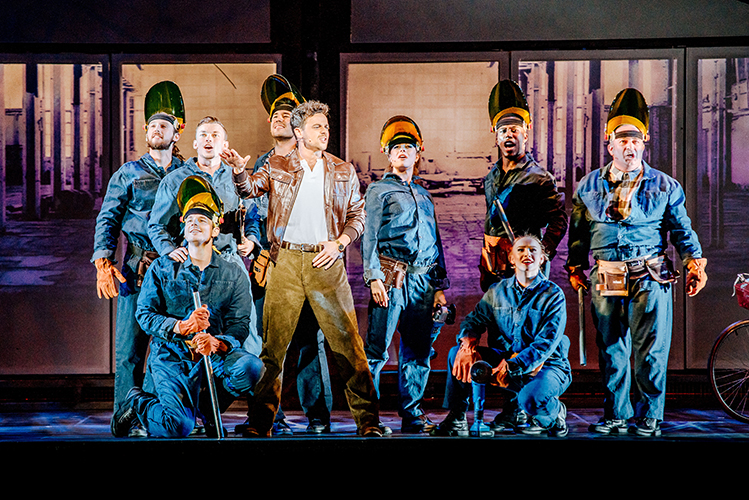 easy doing it, she looked as though she was loving every minute. Ben Adams; Nick, was very sweet in the role, his relationship was greatly displayed with Joanne and you could see that they cared for one another, Ben's voice is still very much the boy band style but during the duet with Joanne in 'Here and Now' it sounded beautiful throughout and they complimented each other well – I look forward to seeing it in the charts potentially soon!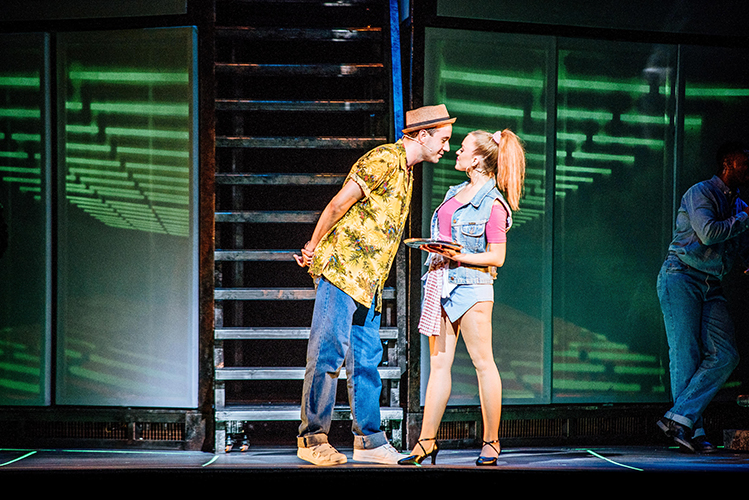 The three ladies, friends of Alex's and fellow 'flashdancers' were played by Sia, Hollie, and Demmileigh, each having their own numbers I particular enjoyed Gloria, Hollie Ann Lowe character which was greatly performed, her relationship also with Jimmy played by Colin Kiyani was very sweet, with Colin's voice warming to my ears during 'Where We Belong' I would have liked to have seen more from him.
Two performers of the night I enjoyed watching was that of Hannah and Louise, played by Carol Ball,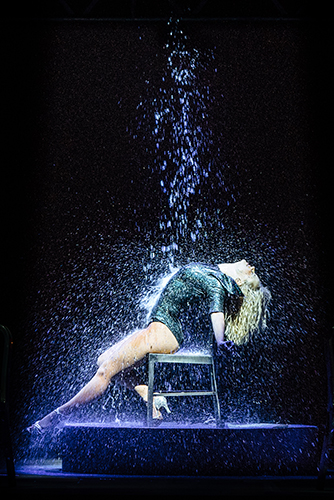 and Sasha Latoya. They both played brilliantly off each other, and I specially loved Carol's friendship glow with Joanne, you saw she really cared for her like a mother.
The rest of the cast were buzzing, mesmerising the audience with their moves, kicks, and lifts, a very talented bunch they were and I was amazed to see that Flashdance was some of the the casts professional debut, being that they looked like they had been doing it for years!
Flashdance is a great night out for the ladies and the men for that matter. Having you dancing in your seats, if you love dance, disco, rock, and heart this musical has it all.
Flashdance will continue its run at the Orchard until Saturday 14th October, for ticket information please go here. It will then continue to embark on its UK tour, for further information go here.
Please be aware Joanne will not be playing at certain venues at the end of the year, but has announced she will be continuing the role of Alex in the new year, Ben Adams is only due to play the 2017 dates.
if you would like to jump to my previous interview with Joanne, who talks all about the role, show, and her experiences please click here!